The game didn't appear in Ireland

 

until the 1850s—400 years or more after the Scots began hitting the links. But oh, how the Irish caught up.
By Tony Dear | All photography courtesy of the courses
ANYONE WHO HAS ever met the man knows Pat Ruddy doesn't do small talk—not for long anyway. There's rarely any icebreaking chat about the weather. Instead, he launches into a stream of anecdotes, memories and observations that make you laugh, wonder and, sometimes, late for your tee time.
A prolific writer before moving into course design and establishing himself as Ireland's second-greatest-ever architect behind only the peerless Eddie Hackett, Ruddy possesses the four Gs of Irishness—Geniality, Graciousness, Gregariousness and Generosity—in spades.
THE EUROPEAN CLUB
That said, he's not terribly humble about his design of the European Club. The book he wrote about it is titled The Perfect Golf Links, and the words "A Truly Great Golf Links" are front and center on the club's website. Actually, the club's name indicates how highly Ruddy regards his course.
But while his pride may seem incompatible with all the Gs, the ego is admissible because the European is every bit as good as he says it is. Three of its holes—par-4 7th, par-5 13th, and par-3 14th—were listed among the best 500 in the world by George Peper and Golf Magazine in 2000.
In a country where great golf courses bunch together, one stuck out by itself on the Wicklow coast may seem a little out of the way. It really isn't. Just 30 miles south of Dublin, the European is easily reached on the E1 (European Route 1), part of the international E-road network that connects cities, ports and airports across the continent. "It is, in effect, a super golf highway linking four of the World's Top- 100 Golf Courses—Royal Portrush, Royal County Down, Portmarnock and the European," says Ruddy. "We get a lot of play from Dublin, but we've welcomed golfers from Canada, Mexico, Argentina, Australia, New Zealand, South Africa, Zimbabwe, Nigeria, Dubai, Singapore, India, China, Japan, Sweden, Norway, Finland, Germany, Italy, France, Spain, Portugal, Belgium, Austria, Switzerland, Holland, Denmark, Iceland, Scotland, Wales, England and the USA—I'm probably forgetting a few."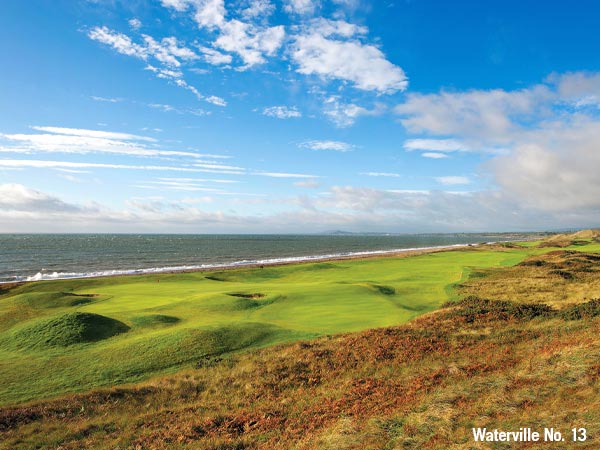 The European opened in 1992, five years after Ruddy had undertaken a helicopter tour of the Irish coastline in search of his dream property. He had no partners and wanted to keep his debt to a minimum, so he began with a prefab for a clubhouse and built the course as inexpensively as possible.
As income flowed in, he built the clubhouse and improved the course. Ruddy still constantly tinkers with his design and added two new short holes in the late '90s so he could work while still making 18 available.
"A lot has changed since the start as I keep working on the links' evolution," says Ruddy. "Just this winter, I decided to drop hole 2 and use 12a instead. I also added a new championship tee on the 9th extending the course to 7,490 yards."
Ruddy doesn't so much talk as sing. There's a gentleness (another G), levity and cheer in his voice that he shares with most of his countrymen. It's a jauntiness that's hard to fathom.
How can a nation tormented by centuries of struggle caused by famine, mass-emigration and occupation by the Vikings and later the English be home to a people whose sense of humor and eager hospitality rarely, if ever, fails them?
Ireland and its people are beyond explanation. Clare-born novelist Edna O'Brien perhaps comes closest to accounting for a disposition seemingly at odds with its past. "When anyone asks me about the Irish character, I say look at the trees—maimed, stark and misshapen, but ferociously tenacious."
Some might argue Ireland's links share those same characteristics. Battered and eroded by the elements, they are austere and, at times, wretched places where the wind howls, blowing the cold rain into your face and through the thickest of outer-garments—places where a ferocious tenacity is required to see the round through.
Others insist their bleakness hides an awesome, unblemished beauty, whatever the weather. Places like Lahinch, Ballybunion, Portmarnock and Ballyliffin; Rosapenna, Tralee, Connemara and Carne; Enniscrone, Killarney, Sligo and Old Head; Donegal, Doonbeg, Dingle and Dooks might look desolate to the untrained eye, but the curves of the dunes and the firmness of the ground promise an exhilarating ride for the links golfer.
Add to that murderer's row my two favorites: Waterville and Narin & Portnoo.
WATERVILLE
An Irish-born American, John Mulcahy, rescued Waterville's original nine holes— which first appeared in the 1880s—from neglect when he purchased the property and hired Eddie Hackett, who had learned the trade under Fred Hawtree, to restore the original nine and create nine more. The new Waterville opened in 1973.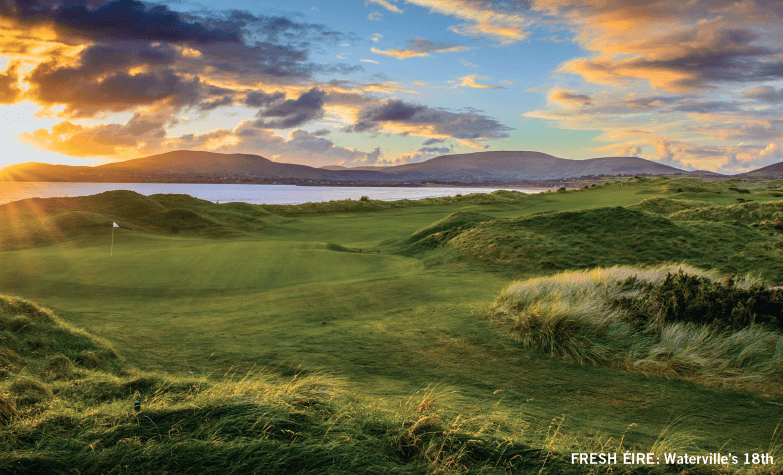 Hackett built an unforgettable stretch of holes among the dunes to the south of the original course—holes like the par-5 11th—"Tranquility"—which threads the needle through a magnificent channel of sand hills, the par-3 12th—"The Mass Hole"—which features a large depression in which devout Catholics celebrated Mass in the 1700s (Hackett wanted to build the green there but local laborers resisted, forcing him to put it on the neighboring dune), the par-4 16th which finishes close by the Atlantic Ocean, and the par-3 17th named in honor of Mulcahy who would scan the site from the "peak" that became the tee.
In 1987, a group of investors led by former US Army helicopter pilot and Wall Street investment banker Jay Connolly bought the club from Mulcahy and, 15 years later, hired Tom Fazio to "freshen up" the somewhat tired-looking links. "We wanted to retain as much of Eddie's work as possible," says Connolly. "But it needed a new pair of eyes to bring it into the 21st century."
Fazio added the par-3 6th and par-4 7th and, in all, made alterations to 13 holes. Like Hackett, he did a superb job, the course rightly vaulting back into the country's top three or four.
Waterville records roughly 30,000 rounds a year, about 75 percent of which are played by overseas golfers. The wonderfully good-humored and welcoming Noel Cronin (you meet a lot of people like Noel in Ireland) manages the club and, like most club managers in Ireland, will go out of his way to ensure you have a memorable day. To be honest, though, he really doesn't have to do much on that score—Hackett/Fazio's treasured layout sees to that.

NARIN & PORTNOO
A typically brilliant renovation by Gil Hanse and Jim Wagner will do much the same for Narin & Portnoo Links on the Donegal coastline 130 miles west of Belfast.
First conceived by five local golfers (including two men of the Cloth) and laid out by Portrush professional Hughie McNeill, the course opened in July 1930 and enjoyed a peaceful existence until catastrophic financial issues set in following the rebuilding of the clubhouse and parts of the golf course in 2007.
The club's debts were eventually taken on in July 2017 by Connecticut-based businessman Liam McDevitt, who was born an hour south of the course in Ballyshannon and vacationed in a mobile home near the club's entrance as a boy. McDevitt, however, was unable to resolve a legal dispute with a local landowner who leased a part of the course to the club, which was forced to close in February of last year, saying it had run out of money. An agreement of sorts was reached at the club's AGM and play resumed shortly afterwards with McDevitt announcing numerous changes, initiating a new club constitution and drawing up a new master plan.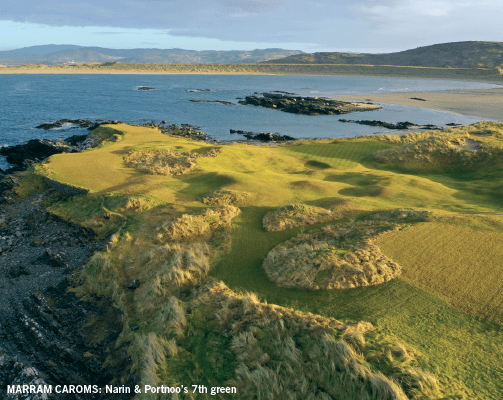 Hiring new staff and the redevelopment of the clubhouse and catering operation has had a big impact, but the most noticeable changes are happening to the golf course where McDevitt's "dream team" of Hanse and Wagner have made a number of significant changes.
"We felt the routing didn't make the most of the site," says Hanse, who first visited in 2017 but began work last October, clearly excited to be given the job of enhancing Ireland's linksland for the first time. "Mr. McDevitt is committed to maximizing the course's potential for the benefit of members and visitors."
Hanse has made four visits to Narin and will return later this year to complete the job alongside Wagner and their man on the ground, Scotland's Neil Cameron.
Though popular enough, Narin was never a top-tier must-play for American golfers. Those who did play it always sang its praises, but it was usually a quick 18 for golfers headed elsewhere. Don't be surprised, though, if Narin & Portnoo becomes a vital component of a great many Irish itineraries within two or three years.
GOLF COURSE AT ADARE MANOR
Somewhere else that will be included on many more itineraries than it has in the past is the Golf Course at Adare Manor (be careful, Adare Manor Golf Club is a separate entity), perhaps Ireland's finest parkland course. Owner JP McManus had Tom Fazio and his senior design associate Tom Marzolf update Robert Trent Jones's 1995 original. "Update" isn't really accurate for what Fazio, Marzolf and the 150 or so turf, drainage, irrigation, construction, bunker and infrastructure experts did to Adare, though. They totally transformed the place.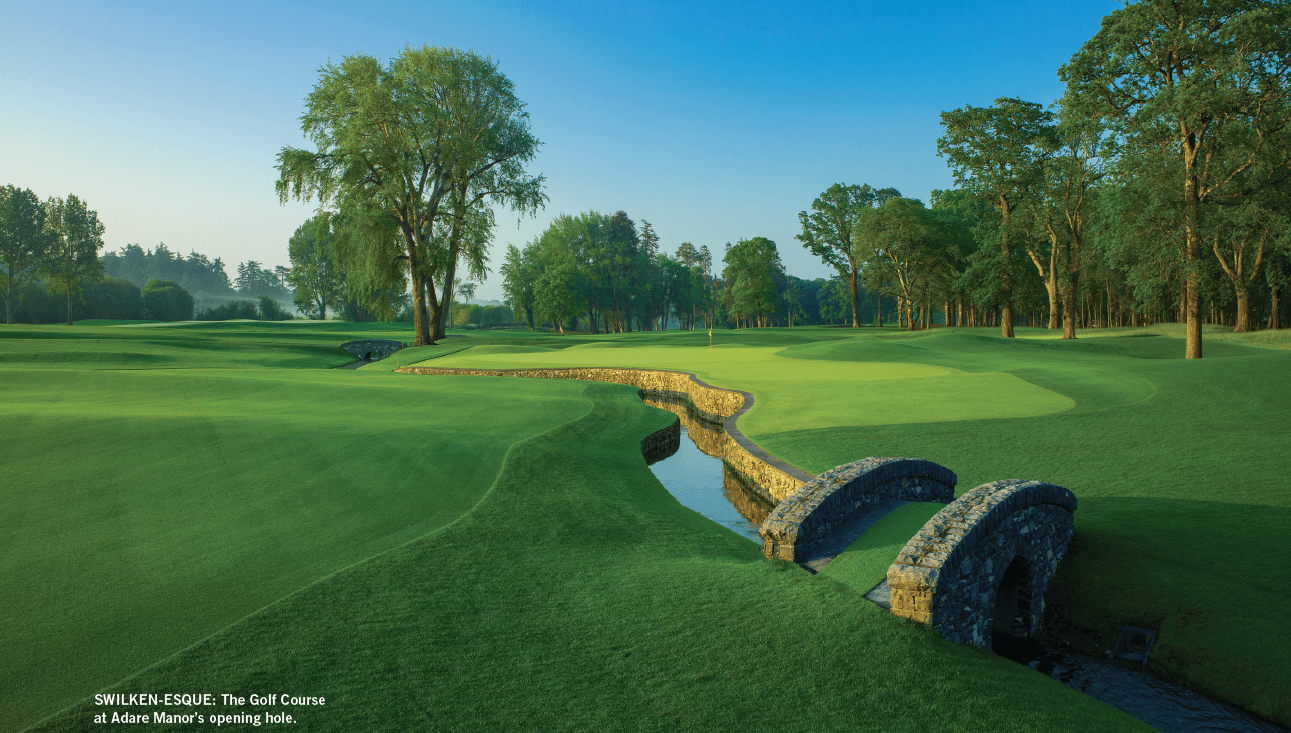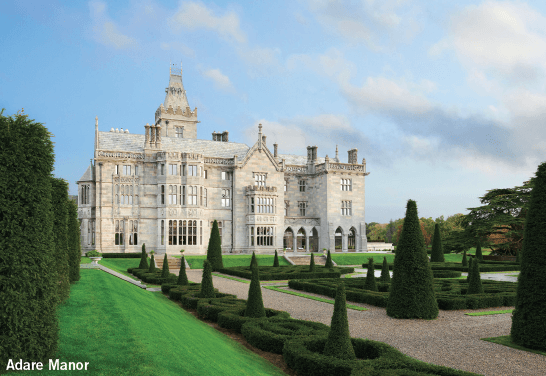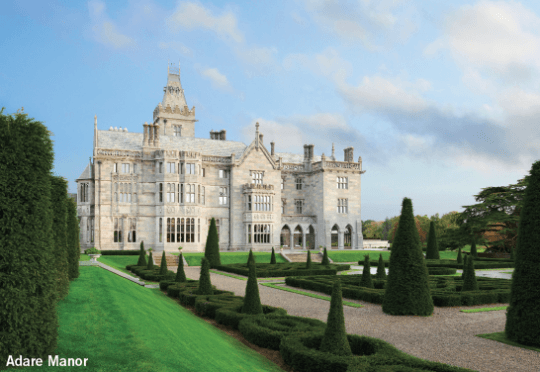 The routing remained, but a six-inch layer of sand, 50 miles of drainage pipe and Sub-Air moisture-removal systems beneath each of the Pure Distinction bentgrass greens ensure near-perfect playing surfaces year-round, while the absence of rough and just 42 bunkers give hope to those who can afford the roughly $420 green fee.
Adare, like the European, Narin & Portnoo, Waterville—every course in Ireland in fact—stands to gain from the exposure this year's Open Championship at Royal Portrush will bring. TV pictures showing craggy links (and Adare) can't help but drive American golfers across the Atlantic. Plenty have been coming for decades already, of course. First-timers will find an enchanting land and charming, charismatic people they'd heard about but didn't believe could really exist. They, too, will become regulars.
Links to the Links:
The European Club: theeuropeanclub.com
Waterville Golf Links: watervillegolflinks.ie
Narin & Portnoo Links: narinandportnoolinks.com
Golf Course at Adare Manor: adaremanor.com
CAG Contributor Tony Dear, an Englishman by birth, lives in Bellingham, Wash., and writes for numerous publications both in the U.S. and U.K.
---
This article appeared in the 2019 July Issue of Colorado AvidGolfer.
Colorado AvidGolfer Magazine is the state's leading resource for golf and the lifestyle that surrounds it, publishing eight issues annually and proudly delivering daily content via coloradoavidgolfer.com.