CSU Ram Connor Jones' brilliant win streak seemed to come out of nowhere. It didn't.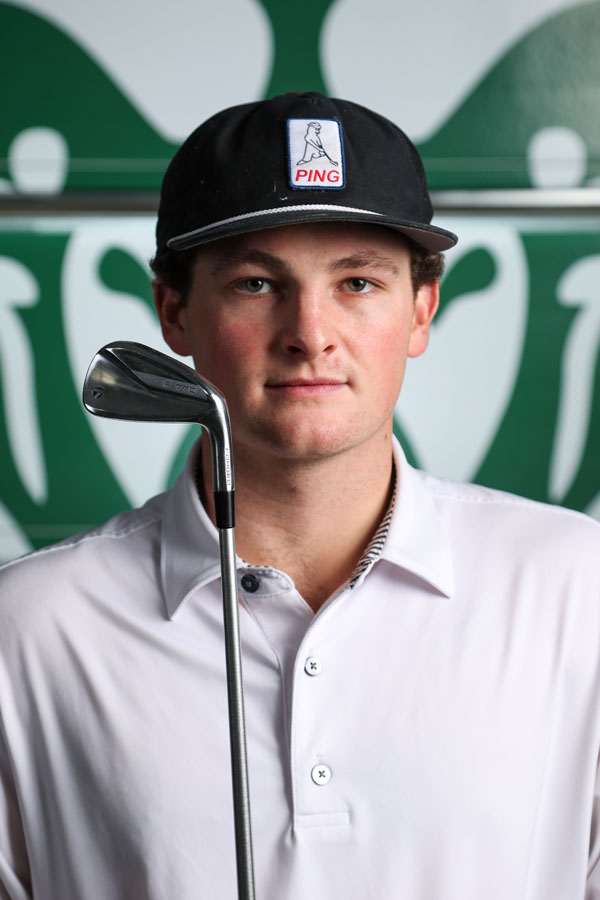 By Andy Bigford
If Connor Jones' explosive 2022 season were summarized in one movie title from the same year, it would be "Everything Everywhere All At Once." In eight busy months, Jones went from unheralded to nearly unbeatable, compiling what is arguably the most dominant season in Colorado amateur golf history.
Jones, a senior at Colorado State University, rose from third on his own talented team to at one point being ranked among the top five collegiate players in the nation (per Golfstat), shattering a slew of records along the way. He captured five titles in premier events, becoming just the third player ever to win the Colorado Golf Association match and stroke play tournaments and to finish as low amateur in the Colorado Open. Jones slashed his tournament scoring average by almost five strokes, extraordinary for an 18-handicapper much less an elite player. He won nearly half of the tournaments he entered in a game where 20 percent is Tiger territory, and his trio of top-three finishes was every bit as impressive due to field strength.
Earning the CGA Les Fowler Player of the Year Award as the top amateur in the state was a foregone conclusion: Jones amassed more than twice as many points as the runner-up, his teammate Davis Bryant, who had won the honor in 2019. Meanwhile, Jones leapfrogged some 400 competitors in the World Amateur Golf Rankings (WAGR), setting the table as a potential pick this spring to represent the U.S. side in the elite Palmer Cup.
Jones' season was even more remarkable because of how it all began. Late to the game, lightly recruited, and usually overshadowed, Jones was the very embodiment of "under the radar." But the Westminster native was exactly where he needed to be in the spring of 2022; his sudden ascent was not due to some quick fix, but rather the culmination of years of hard work and fine-tuning.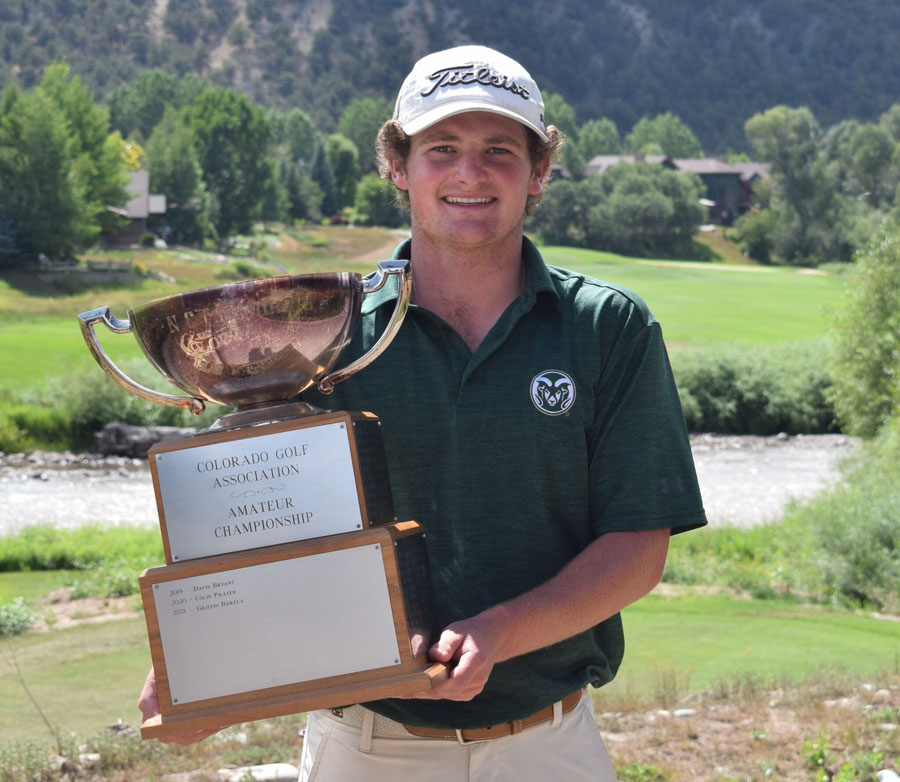 "Everything fell into place," shrugs Jones, who appears unchanged in the wake of his win streak as he relaxes in CSU's indoor practice facility at the Harmony Club in mid-January, staring out at a still-snow-covered golf course. Those "things" included a rebooted mental approach that saw him morph from a club-breaking prep player into a mature team leader with big-picture perspective.
"Nobody cares if you make a bogey," he laughs. "I am but a small speck in the golfing universe."
Making threes, not birdies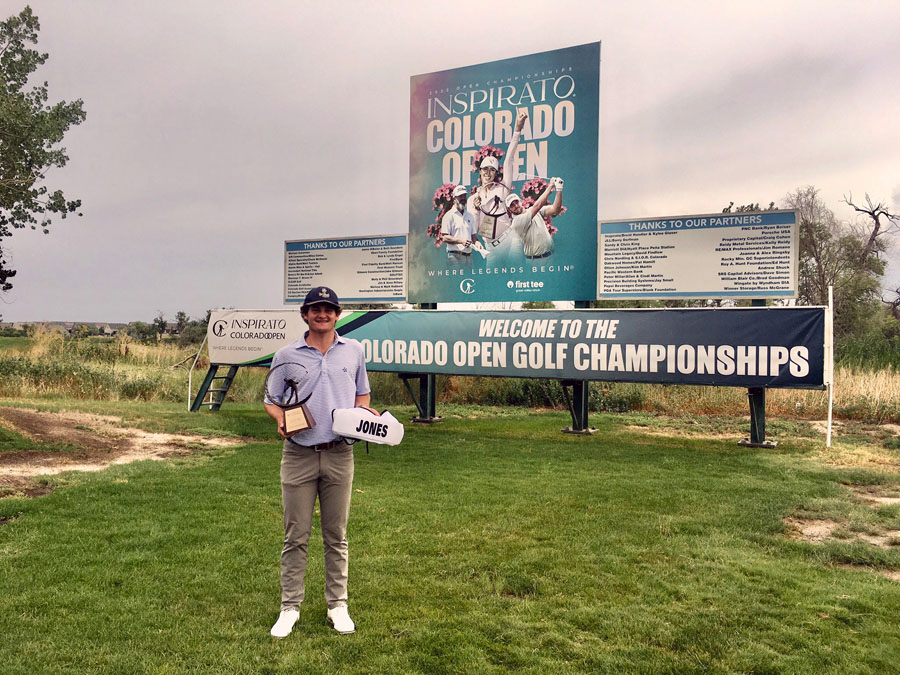 Connor Jones (his friends call him C.J.) grew up in a neighborhood surrounding The Ranch Country Club in Westminster but focused mainly on basketball. As a scrappy, sharpshooting guard at Mountain Range High School, he led the state in three pointers in 2018. He didn't get serious about golf until his freshman year at Mountain Range, when he broke 80 for the first time to qualify for regionals. A par shooter by his senior year, he finished as runner-up in the 5A state championships, which didn't win him much recruiting interest.
Former Denver University head golf coach Erik Billinger has an eye for raw golf talent, especially when it comes from ex-basketball players with a strong work ethic, a repeatable swing, a winning attitude and mental toughness. He saw all that in an unpolished Jones, a player who'd never even travelled out of state to play golf and had only a vague notion of the competitive landscape.
"I'd rather work with a stallion than a donkey," Billinger says. He offered Jones a scholarship in January 2019, and that summer his recruit won the Colorado Junior Match Play. At 5-foot-10-inches and 165 pounds, with a curly mop of hair and a ready smile, Jones might resemble a young Rory McIlroy. But his game is more like that of Collin Morikawa.
"He's a ball-striking machine," Billinger says. "Hits it on a rope. But when you are hitting 16 greens in regulation, the short game is not a priority. And when you are taking 35 putts a round, that doesn't instill confidence in the putter." The teacher and pupil agreed: Jones' short game "sucked."
After working tirelessly at DU and then CSU, Jones today is a "great putter" and "above average chipper," says Billinger, who has moved on to a career outside of golf but still oversees Jones' short game. Perry Holmes, who works out of Columbine and Colorado National, is Jones' longtime swing coach. The student credits the two equally as the most significant influences on his game.
Next up was that mental thing. "I always ran a little hot on the golf course," Jones admits. "It hurt my scoring." At DU, Jones worked with a mental coach, learning to spot the on-course triggers that would eventually send him over the edge. He played too fast when he blew hot, so Jones worked on slowing down and taking deep breaths. He discovered other ways to lower the temperature, like repeatedly un-fastening the Velcro on his glove or tying his shoelaces tighter. He constructed his own internal traffic light, cruising in the green; taking stock when it turned yellow; and always avoiding the red.
Jones' two years at DU were unremarkable on the scorecard, especially after Billinger left and Jones' scoring average ballooned from 73 to 75 in his sophomore year. But the lessons he learned were essential. So was the Covid shutdown, during which Jones practiced relentlessly at The Ranch with neighbor Walker Franklin, the son of former professional golfers Brett and Kris Franklin who plays for the University of Louisville. Jones and Franklin would often join their best buddies, T.J. Shehee (Northern Colorado) and Billy Howenstein (SMU), for dawn to dusk rounds at The Ranch or Boulder Country Club. The atmosphere was highly competitive but also fun and relaxed, the perfect laboratory to polish the game.
"I wouldn't change that for anything," says Jones, who was pleasantly surprised when, after placing his name in the transfer portal for his junior year, CSU coach Christian Newton offered him a roster spot. As it turns out, Newton had sought the input of Billinger, and the rest is history.
Ram Tough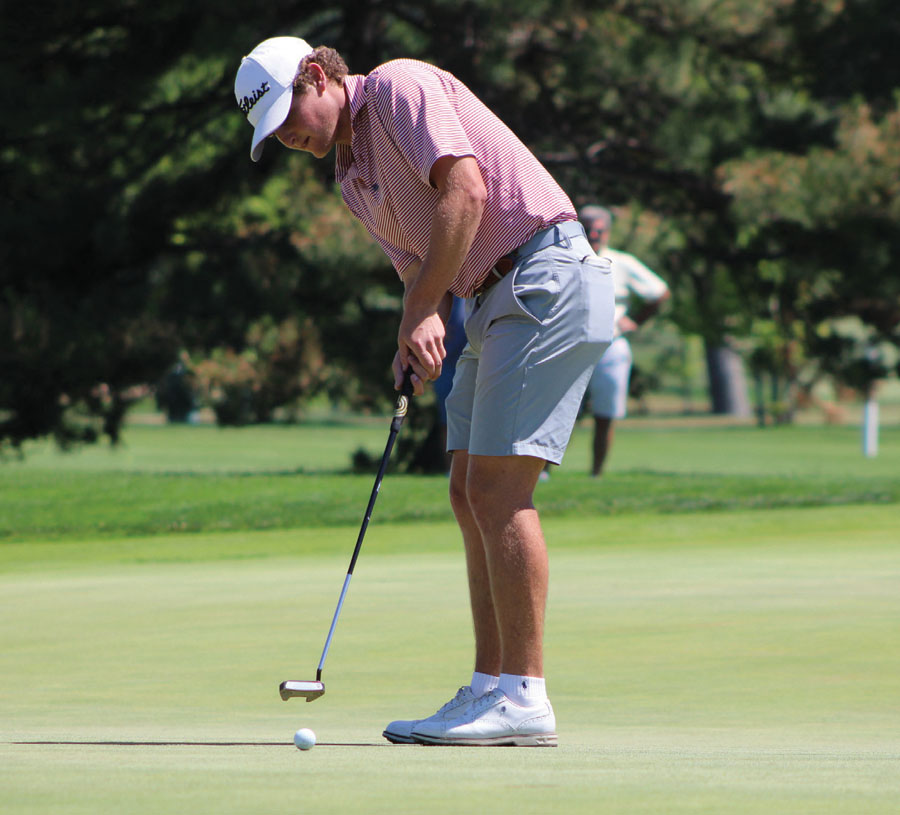 Entering the late spring of 2022, Jones was an integral part of the Rams lineup, but no superstar, sitting just behind two more accomplished teammates, Bryant and Christoph Bleier from Linz, Austria, who had been CSU's highest-ranked recruit ever. But in May, Jones became just the third Ram in history to win the Mountain West Conference tournament, shooting 10-under (67-66-73) on the Gold Mountain Golf Club's Olympic Course in Bremerton, Wash. CSU finished second as a team.
Jones next went 60-plus holes without a bogey in the grueling Colorado Match Play in June, which required eight rounds to get to the winner's circle. He beat Colin Prater, Colorado's 2020 Player of the Year, and then in the finals dispatched alpha dog Dillon Stewart of Oklahoma State, a player Jones had always looked up to in awe.
For the 36-hole final on Broadmoor's hilly and historic East Course, Jones was 8-under and five up after 27 holes. In those formative practice sessions back at DU, Billinger and his student often repeated this motivational mantra, reinforcing just how much Jones needed to improve: "You'll never beat Dillon Stewart."
At the Colorado Amateur the next month at River Valley Ranch in Carbondale, it seemed to be shaping up as Davis Bryant's week. Wooed to CSU after a stellar junior career and having led the school in scoring during an all-conference sophomore season, Bryant posted a scorching 12-underpar 60 to take the first-round lead. He then tied the all-time 72-hole tournament record of 21 under, a mark set by Hale Irwin back in 1963. Alas, those fireworks would merely earn Bryant the runner-up trophy, with Jones shooting 68-64-64-68 to win by three.
Even when he didn't manage to hoist the champion's trophy in the summer of '22, Jones' non-wins were arguably more impressive. In early July, the 118th annual Trans-Mississippi Amateur came to Denver Country Club. Jones should have put his name on the trophy alongside Bryson DeChambeau, Will Zalatoris, and Collin Morikawa, but over the week he took five swings in two bunkers, leading to a double and triple bogey ("I'm working on that," he says).
As it was, Jones' 65-67-73-66–271 put him into a playoff with Pepperdine's William Mouw, ranked in the top 40 among the world's amateurs. Mouw's 25-foot birdie putt on the second playoff hole deprived Jones of what would have been his most significant title.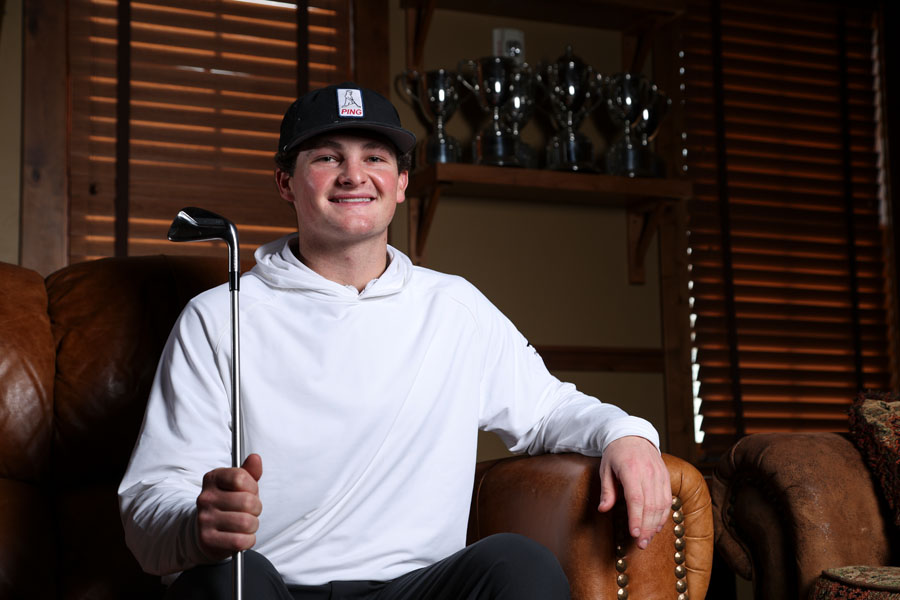 A couple weeks later, at Green Valley Ranch, Jones became just the third Colorado amateur to follow wins in the state match play and stroke championships with the low- amateur honors in the Inspirato Colorado Open, setting a tournament record in the process. He shot 67-67-63-68 to finish T3 at 19-under, four strokes better than the previous amateur mark and a whopping 12 strokes ahead of the next player not cashing a check.
When Jones returned to CSU in the fall, it was under his fourth coach in four collegiate seasons, with the highly regarded Brian Wilson arriving from a successful stint at Long Beach State (Wilson also played on the University of California's 2004 NCAA Championship team). For Jones, another memorable duel with teammate Bryant ensued in early September at the Gene Miranda Falcons Invitational, held on the Eisenhower Blue Course. Jones shot minus-13 (68-69-66) to win by one. The Rams as a team were minus-30, thrashing the second-place Colorado Buffaloes by an astounding 25 strokes. Next came the Denver TPC Colorado Invite in Berthoud, held at the site of the annual Ascendant Korn Ferry Tour stop, where Jones won at 9-under, collecting his fifth and final title of 2022.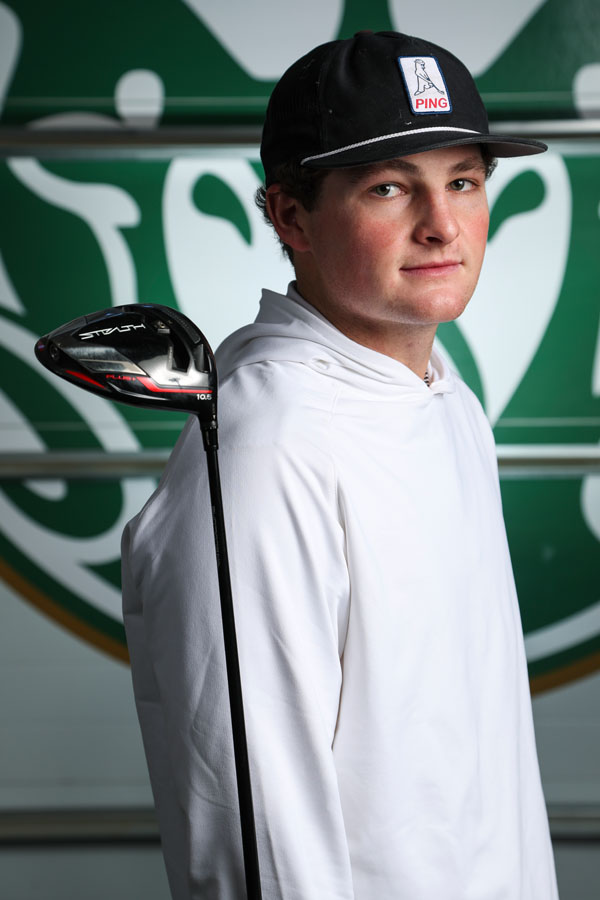 Jones' season wasn't over quiet yet. In the waning days of year, the nation's best collegiate players were invited to the Wigwam Club outside Phoenix for the Patriot All-American. Jones shot 10-under (67-69-67) on the Gold Course to finish third. The WAGR system rates finishes by field strength, and it ranked Jones' Trans-Miss near-miss and then his Patriot performance as first and third best for the year, with the Mountain West conference title sandwiched in between.
Rising Rams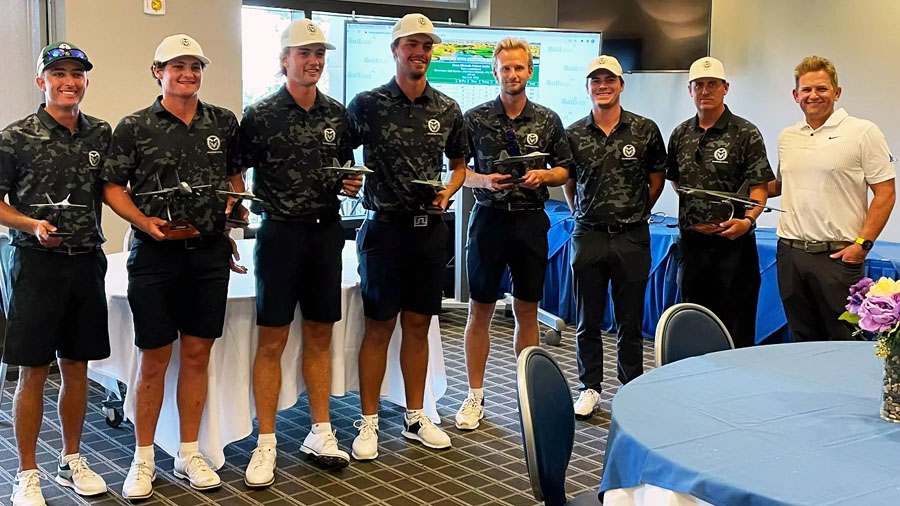 This is all you need to know about the strength of the CSU Rams entering the 2023 spring schedule: Connor Jones never even won a team qualifier in fall 2022, rounds which typically rotate between two very different golf courses, old-school Fort Collins Country Club and sod-bunkered TPC Colorado.
"There are eight guys, and we can all beat each other," Jones says. "Everyone has to qualify, no one is exempt. It's the closest you can get to tournament golf."
The ascending Rams qualified for the NCAA regionals in spring 2022, then won three of four tournaments in the fall season, ranking 21st nationally per Golfstat as they prepared for the first spring event, The Prestige in La Quinta, Calif., Feb. 20-22. Jones, Bryant and big-hitting Bleier form the core, but Jay Pabin, Rasmus Hjelm, and Mathew Wilkinson are just a step behind, with Gavin Hagstrom and Jordan Jennings also pressing forward.
In an unusually mature outlook for a 21-year-old, Connor Jones' focus is not at all on himself. "To help the team win conference, that's my goal," he says. Beyond the Mountain West, there is the quest to be among the 81 teams who qualify for the NCAA Regionals, and then the 30 who advance to the NCAA Finals at Greyhawk Golf Club in Scottsdale in late May. From there, the field is winnowed to eight teams for match play, and Jones thinks the Rams can be there.
For now, Jones is taking it dayby- day, shot-by-shot. He loves hanging out with teammates and travelling with them to play great golf courses (all expenses paid). "College golf is a really good gig," he smiles, adding that he will take advantage of his extra Covid eligibility to play a fifth season in 2023-24. After that? "I absolutely want to play golf for a living."
---
Andy Bigford is a Colorado AvidGolfer contributor.
This article can also be found in the Spring 2023 Issue of Colorado AvidGolfer.
Colorado AvidGolfer is the state's leading resource for golf and the lifestyle that surrounds it, publishing eight issues annually and proudly delivering daily content via coloradoavidgolfer.com.