We've gotten familiar with the Srixon Q-Star (Spin, Trajectory, Acceleration and Responsiveness) since it first appeared in 2012. You won't recognize this one, but it could prove very beneficial on and around the green.
It would be a fairly simple task picking out Srixon's new Q-Star Divide in a line-up.  If you're of a certain vintage, however, you may mistake it for Ping's two-tone Eye 2 ball that first appeared in 1983 and which can now attract big money on ebay depending on quality and which color combination it is. Ping stopped making golf balls in 1997, and given how popular the Eye 2 was it's a little odd perhaps no one tried something similar. US patents last 20 years, so ball-makers have been free to copy the style for some time though no one has dipped their toe into the dual-color water until now.
Colored golf balls are currently enjoying a huge moment with optic yellow models becoming increasingly popular and other colors such as Vice Golf's Living Coral and Peach Parfait, Wilson's pink, green, red, yellow, and orange for the Duo range, Volvik's M&M packet assortment of hues, and Srixon's own Brite colors in the Soft Feel series, appealing to a growing number of golfers.
The difference between them and Srixon's latest ball, of course, is that the Divide uses two colors on a single ball and, instead of being painted the Divide's orange and yellow pigments are infused creating a matte, but still highly-visible, finish.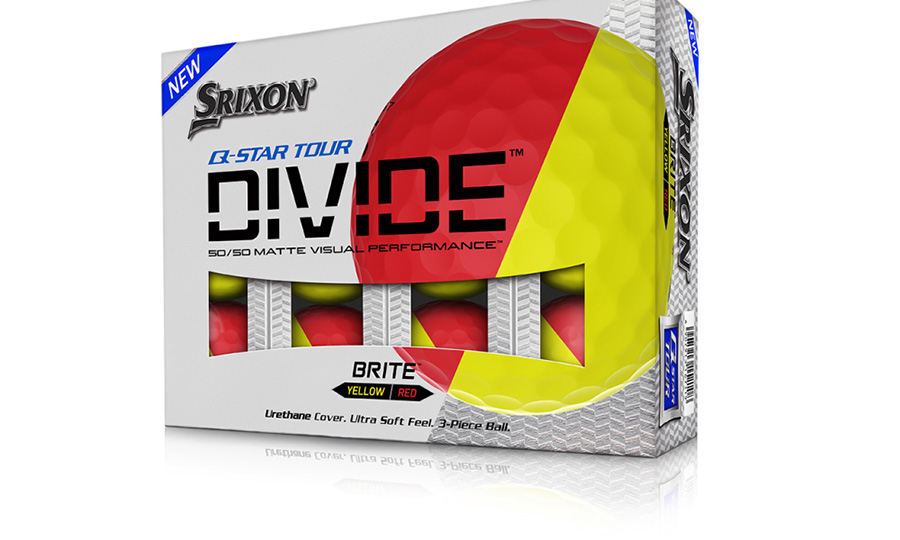 Perhaps the Divide's primary objective, like that of Ping's Eye 2, is to provide feedback. By observing the movement/rotation of the ball's two hemispheres the golfer can assess how the ball spins. Srixon says this is especially useful on shots around the green, and that the seam separating the colors can also be used to line up putts and assess quality of strike. "Easier putting alignment and increased visual feedback on your chip and pitch shots really adds to greenside performance," says Brian Schielke, Srixon's Senior Product Manager. "It's a ball every golfer must try."
It's not just about color though. The three piece Q-Star is built on Srixon's FastLayer core whose softer center and firmer extremes seeks to provide a combination of soft feel and greater ball speeds. And the thermoplastic urethane cover has a 338-dimple pattern that Srixon says provides stability in the wind and extra distance thanks to low drag.
"The new Divide ball comes at the perfect time," says Srixon PR Specialist Noelle Zavaleta. "The recent trends in golf balls have been better alignment capability, color, and matte finishes. This ball has all three."
$33/dozen
Available – 4/15/21
---
For more on the latest and greatest gear in golf, visit our GEAR PAGE.
Colorado AvidGolfer Magazine is the state's leading resource for golf and the lifestyle that surrounds it, publishing eight issues annually and proudly delivering daily content via coloradoavidgolfer.com.