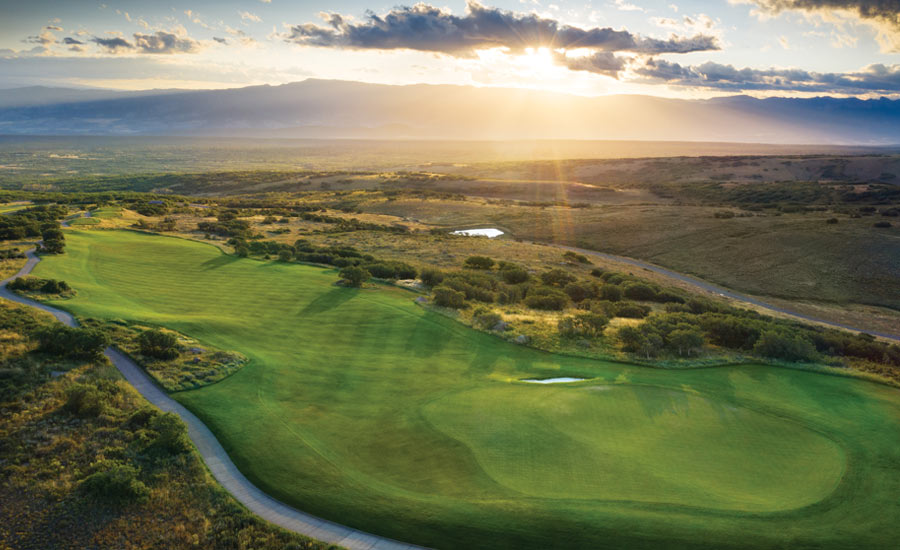 The only thing more marvelous than the Montrose course itself might be the story of the club's reboot.
By Jon Rizzi
PERCHED ATOP the Uncompahgre Plateau, at an elevation above 9,000 feet, the par-4 12th hole at Cornerstone Club stretches a full 431 yards. From the rear teeing area, you're looking at a 150-yard carry into the wind to a rippling, bunker-less, uphill fairway.
Instead, however, your sights turn towards a 180-degree eyeful of Western Slope grandeur: the tabletop of Grand Mesa to the north, the serrated and notched peaks of the West Elks and Cimarrons due east, and the saw-toothed San Juans in the south—all of it framed by waves of aspens and piñons gleaming beneath a cerulean sky.
It's far from the only photo-prompting panorama you'll encounter on this 7,793-yard masterpiece. Fourteen of the 18 holes boast a view of a mountain pass, while other "signature" shots come at the cliffhanging green on hole 10, which balances above the Cimarron Ridge, and a face-to-face encounter with Mount Sneffels when you reach the green that awaits after you've teed off on 12.
Although it climbs from 8,500 to 9,361 feet above sea level, it's not the extreme up-and-down, high-wire act that defines most mountain golf. Rather than repeatedly plunging from tee to green, you play through abundant aspen stands, meadows of sagebrush and thickets of scrub oak. The serene and sequestered journeys from green to tee are a forest bather's fantasy.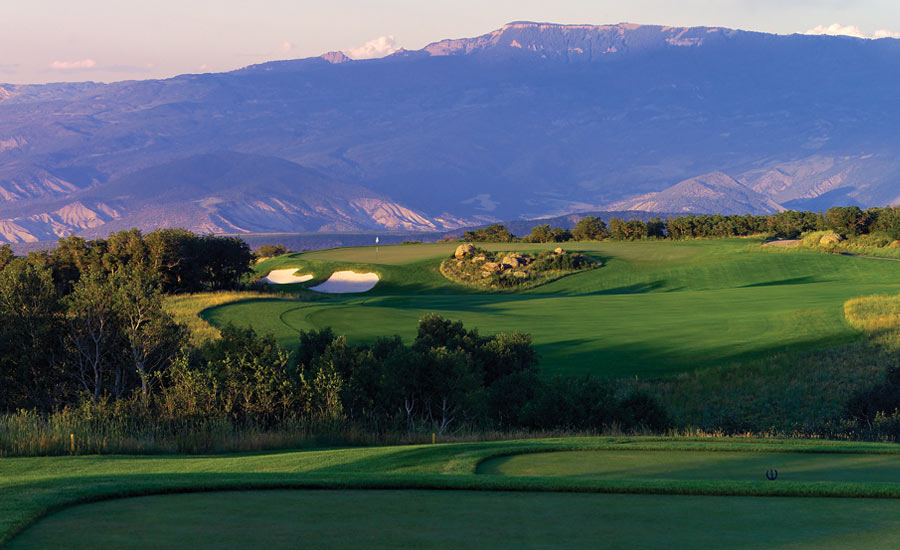 Cornerstone members first savored this property's natural bounty in 2007, when the Greg Norman-designed course debuted as one of the best new private layouts in the U.S. Located 22 miles from the airport in Montrose and 40 from the one in Telluride, the club attracted a geographically diverse cross-section of about 60 members—all of whom purchased one of the 6,000-acre property's 412 "Homestead" lots as a condition of joining.
Then the recession hit, and in January of 2012, the original developer, Texas billionaire Ray Hunt, sold the entire property to a private equity firm, whose under-financed ownership lasted six months. The ensuing years brought the selling off of 1,200 acres, as well as financial and legal issues that pitted the Cornerstone Homeowners Association against various investors and subdividing developers. Meanwhile, the course—which encompasses a whopping 350 acres, 7.2 miles of cart path and 32 miles of irrigation pipe (including 3,100 valves and sprinkler heads)—went fallow after the 2011 season and would not host another round of golf for seven years.
Before shutting down the course, however, the homeowners put in money to have the irrigation system flushed and drained. "The best investment we ever made," says Bob Aisner, president of the Cornerstone Owners Association. "Hunt spent $8 million putting in a water system in 2006. Blowing it out after the 2011 season cost less than $6,000. It took [Course Superintendent] Jason [Stroehlein] three or four days, and when he turned it on again in 2017, all but about 30 heads were working perfectly." Tuning up the elaborate system thus wound up costing $50,000 instead of the millions it would have cost to repair or potentially replace it.
Aisner had restarted the irrigation in 2017 after a prospective ownership deal went south. He and a group of seven other homeowners had taken over Cornerstone. Chief among their priorities: Resurrect a golf course that had not been maintained for more than five years.
Key to accomplishing that was rehiring Stroehlein, who'd originally worked at the property and had since moved to St. Louis. "Getting Jason back was spectacular," Aisner says. "Nothing was more important."
The group also brought in another pivotal person with a history on the project: former Greg Norman senior design associate Matt Dusenberry, who had been integrally involved in Cornerstone's original layout and had since struck out on his own.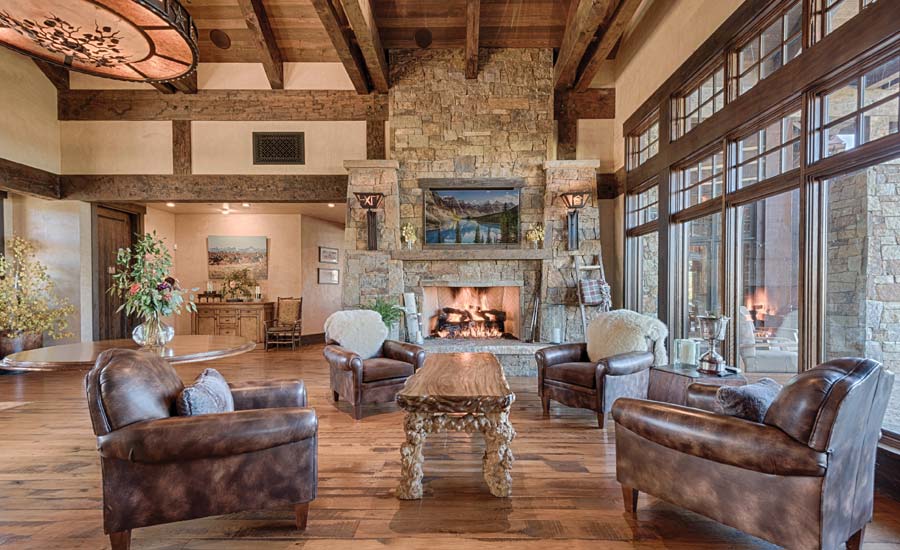 "It wasn't Armageddon," the architect says, describing the conditions he encountered. Thanks to the short growing season in the high-desert climate, the low-mow bluegrass fairways "looked like they had maintained themselves," having only grown to about four to five inches, while the sand-profile bentgrass tees, approaches and greens "were desiccated with very limited turf."
The course's 84 bunkers were another story. They had become "vacation homes for the elk," Aisner jokes, and coyotes would dig and tear out the lining. Dusenberry and his design partner Jim McKenna didn't just have to restore the course. They had to make the sprawling layout more playable, sustainable and efficient—no small task for 18 challenging golf holes that occupied enough acreage for 36 or 54.
To help achieve those goals, Aisner—who also belongs to the celebrated Congaree Golf Club in South Carolina—brought in that club's managing partner, John McNeely, to consult at Cornerstone. Ranked by Golf Digest as the top private club to open in 2018, Congaree only irrigates 65 acres.
"The combination of Matt, Jason and John brought it all into place," Aisner says.
"There's always a push-pull in these relationships," Dusenberry explains. "We always look to reduce irrigated turf, but it can't come at the expense of the players' enjoyment."
Dusenberry decreased the number of teeing areas from seven to four per hole and the total course length by 128 yards. He necked the bluegrass fairways without losing their receptivity or the proportionality critical for such a huge site.
He also shrank the high-maintenance bentgrass approaches on some holes, but would not eliminate any. "Bent approaches are a distinctive element at Cornerstone," the architect explains. "They're part of the course's identity, its memorability and, above all, its playability. We decided early on to keep those, but shrink them where possible."
Understanding that many of the blindingly white sand bunkers were more aesthetic than strategic, Dusenberry reduced their number by one-third, eliminating many to create grassed bailout areas and sometimes combining two or three into one for easier maintenance. He also lifted their floors and shaved down many of their noses to promote player-friendliness.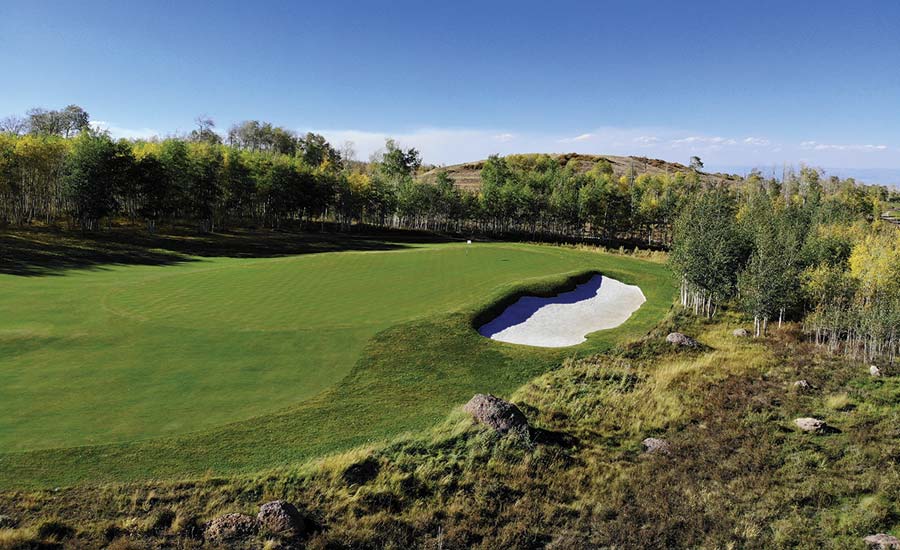 In addition, the club rebuilt all 56 of those bunkers with the Better Billy Bunker System, which hadn't existed when the course first opened. The system eliminates the need for lining and improves drainage and durability.
After reopening the ample and versatile practice area and eight holes in 2018, Cornerstone debuted its full 18 last year. Members who loved the original layout raved about the modifications, and the owners appreciated the 12.5 percent reduction in water use—from 72 to 63 million gallons—that resulted from irrigating five fewer acres and removing 2.7 acres of sand-capped bentgrass.
With the course fully operational, so is everything else at Cornerstone. Since Congaree closes in summer, its head PGA professional, Tom Craft, works as Cornerstone's general manager, and its pantry chef, Ashley Depew, serves as Cornerstone's executive chef. Danny Lee, an assistant head PGA professional at Florida's Miromar Lakes Golf Club, is the PGA Head Professional.
Cornerstone isn't just a golf club. The huge property boasts 20 miles of hiking, biking and riding trails, plus 100 acres of horse corrals and pastures that will become a full-on equestrian center. Shooters can take aim on a target range, while fly-fishers can cast into a stock pond or head to the trout-rich waters of the nearby San Miguel, Dolores and Gunnison rivers. Come winter, members cross-country ski on 10 miles of trails and snowmobile and snowshoe for hours.
Four plushly appointed homestead cabins—replete with steam showers, soaring ceilings and four bedrooms—welcome guests and prospective members.
And if you're thinking of joining, know this: Although lots and homes are available, you no longer have to purchase one in order to join. Nor do you have to pay the $65,000 that Aisner originally paid to become a member. "Now it's $15,000, no property to buy and $12,000 in annual dues," he says.
Cornerstone has come all the way back. And, at least for now, one of the West's finest mountain courses is also one the country's best private-club values.
---
Jon Rizzi is the editor of Colorado AvidGolfer. For information on Cornerstone, visit cornerstoneclub.com or call 970-249-1922.
This article was also featured in the April 2020 issue of Colorado AvidGolfer.
Colorado AvidGolfer is the state's leading resource for golf and the lifestyle that surrounds it, publishing eight issues annually and proudly delivering daily content via coloradoavidgolfer.com. Follow us on Twitter, Facebook and Instagram.