Your Guide to Private Clubs
Go Beyond Golf How to Find the Perfect Club for You
Well Worth the Price of Admission
GAS, ELECTRICITY, food, furniture, clothing, golf balls—the cost of everything keeps rising. That includes private-club memberships. Compared to last year, the average initiation for a club in Colorado has jumped 31 percent, and monthly dues have increased by 13 percent. Also growing, however, is the number of waiting lists to get into these clubs. Gone for now are the post-recession days of oversupply and low demand that produced a buyer's market of "market-based" pricing, dues-only and non-equity memberships, and other incentives.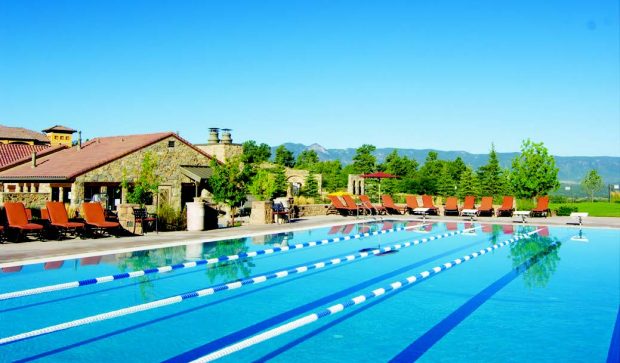 Many clubs tried appealing to spouses and families by adding lifestyle amenities—spas and fitness centers, tennis and pickleball courts, splash pads, cooking classes, indoor golf simulators, childcare, family programming—and even building, rebuilding, or remodeling entire clubhouses. These capital improvements, coupled with a strong economy, started flipping supply and demand. Then the pandemic finished the job. "People became strongly motivated to have a social and recreational life in a haven," Columbine Country Club COO/General Manager Kevin Hood explains. And that's still happening."Columbine, which opened an amenity-rich, 56,000-square-foot clubhouse in 2017, currently has a has$90,000 initiation (up from$27,500 when the $25 million clubhouse project was approved)and a waiting list. People are also lined up to join the Country Club at Castle Pines, which in 2019 you could do—no wait required—for $21,000 plus$720 in monthly dues. After membership approved a $17.1 million clubhouse expansion the following year, he jumped to$39,000. This year, you're looking at $75,000 and $797 in monthly dues—but first, you're going to have to queue up. In both cases, the club financed the money to pay for the clubhouse. To service all or a portion of that debt, the clubs assessed existing members' "capital dues." In addition to their monthly dues, which cover operations (most clubs keep capital and operating ledgers separate). Clubs then baked those capital dues into the higher initiation fees paid by new nonassessed members. Not all clubs are member-owned. Even if a club's ownership structure is private or corporate, inquire about assessment history and what capital projects are planned, and how they will be paid for. However, when the appeal of belonging to a club with friends, a course you could play every day, and a clubhouse your family will use is strong enough, you're likely to pay what you have to. Even with prices rising, it's still a great time to join. Things are only going to get more expensive. Beyond saving on cart and green fees, gym memberships and kids' activity fees are the valuable social, emotional, and time-related benefits of a "haven" afforded by the clubs in this section.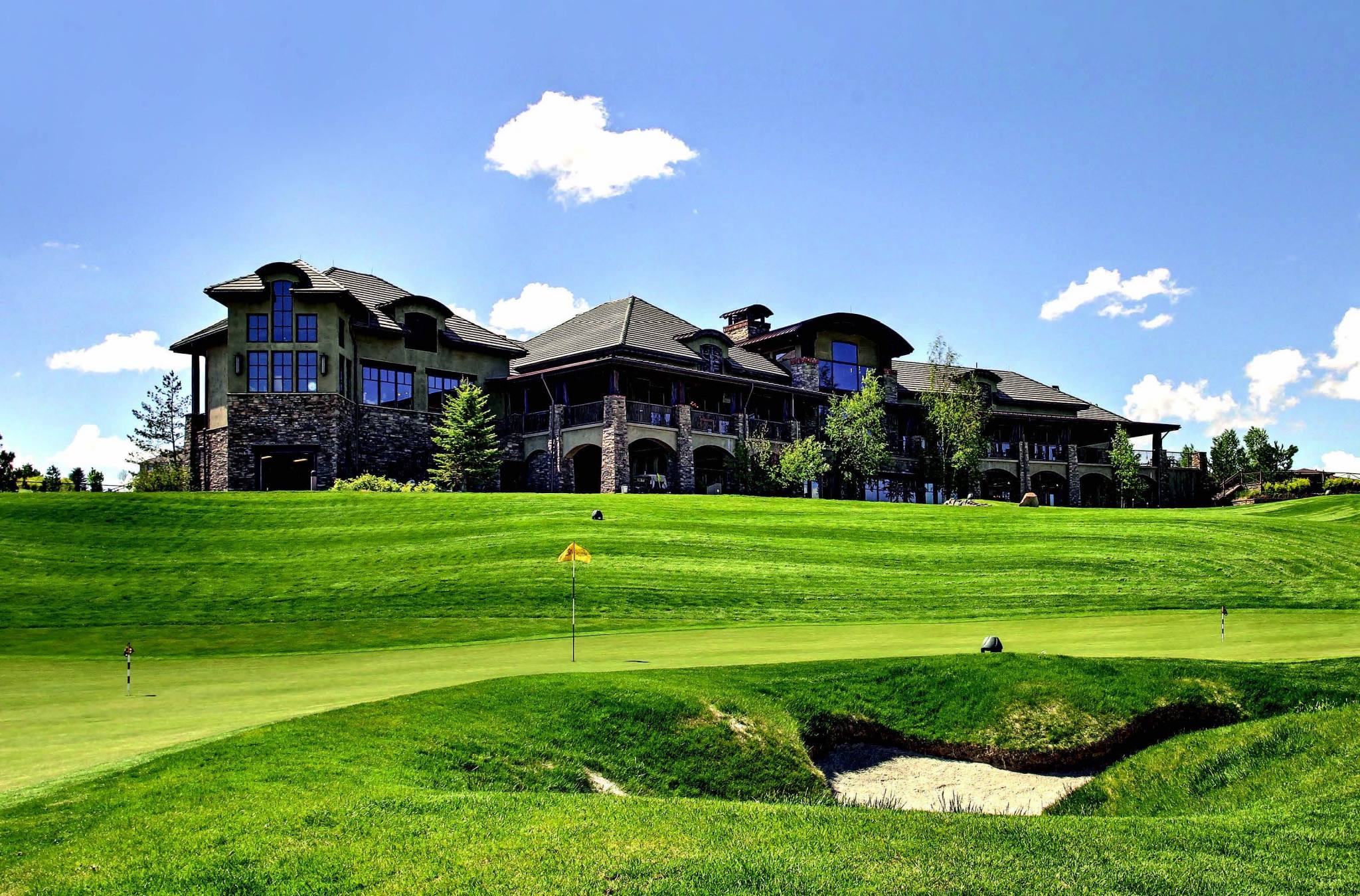 Onward, Colorado Golfers!
NOTORIOUS FOR SPOILING good walks, golf now spoils its participants with good—if not great—rides. Amenities on today's golf cars include plush leather seats, quick acceleration, a locking under-seat trunk, lifted suspension, LED headlights and taillights, custom tires, Bluetooth speakers, and a graphic touchscreen (Club Car Connect) to relay battery life, mileage, and distances to the hole or home or other spots in the neighborhood. All this—and much more—is available on the club Car Onward. "It's as much about lifestyle as golf," says Abbie Randel, the Colorado Golf & Turf vice president, Club Car's exclusive Colorado distributor. With a growing number of private clubs allowing members to ride in their carts, the highly customizable Onward has become the choice model for members who live near their clubs. Why waste gas or let someone valet the BMW when you can head to the club or the neighbor's house in your sleek Blue Onyx, Candy Apple Red, or other metallic-hued Onward? The latest model, the electric Onward HP Li-Ion, The electric Onward HP Li-Ion's latest model features a 3.1 kW hour Lithium-Ion battery that never needs watering or service. Its 375 Amp controller powers the 29hp motor to deliver great hill-climbing power and acceleration that will not diminish during the six years the battery is warrantied. CG&T can even program the drive mode to econ, regular, or sport to maximize its performance to your liking. An eminently customizable Personal TransportVehicle (PTV), the Onward HP Li-Ion comes in two-, four-, and six-seat models. They share the CG&T showroom floor with street-legal (on roads 35mph or less) Low-Speed Vehicles (LSVs) such as the villager and the Current.The latter, a mini flatbed truck, delivers packages in Vail Village as the town tries to eliminate the exhaust, noise, and traffic caused by gas-powered delivery trucks. There will always be golfers who prefer traversing the path on foot on the golf course. For them, Club Car makes the Tempo Walk. The electric, hands-free, remote-controlled bag carrier has been spoiling golfers at Bethpage State Park, TorreyPines, Desert Mountain Golf Club, and locally atCherry Creek Country Club.
THE CLUB AT RAVENNA
LITTLETON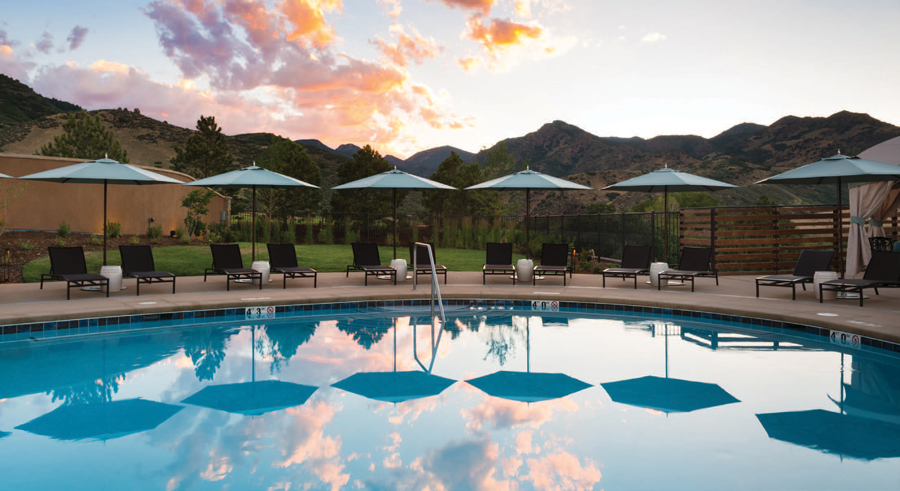 DON'T MISS RAVENNA'S NEW CLUBHOUSE
Opening this spring and features casual elegance and European old-world sophistication. Its dining areas, an extensive wine cellar, the Mountain View bar, and all-season veranda reflect the latest clubhouse design and amenities.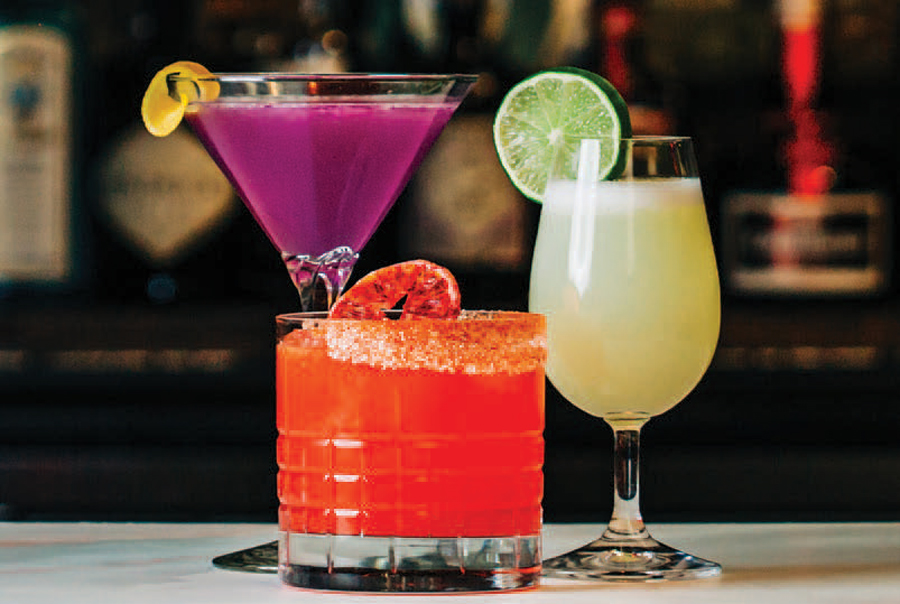 OUR EXPERIENCE
SET IN THE SCENIC FOOTHILLS of the Rocky Mountains, The Club at Ravenna ranks among Colorado's most notable private golf clubs. While members enjoy golf on an award-winning course, casually elegant dining, extensive fitness facilities, and lounging by the pool, the club's small, friendly community set it apart. Limited membership means fewer crowds and ample room to enjoy live events, host board meetings or rehearsal dinners, and find accessible tee times—among other advantages. Comfortable seating enclaves, a commissioned art collection, a locker-room lounge with adjacent patios, cart storage, and a golf shop complete the multimillion-dollar investment and latest technologies to deliver an exceptional club experience. A new clubhouse, a player-friendly course, state-of-the-art fitness equipment, and poolside cabanas will bear close inspection by the discerning eye. The Club at Ravenna is a welcoming haven from the rigors of the everyday world while just minutes from C-470, downtown Denver and the Tech Center.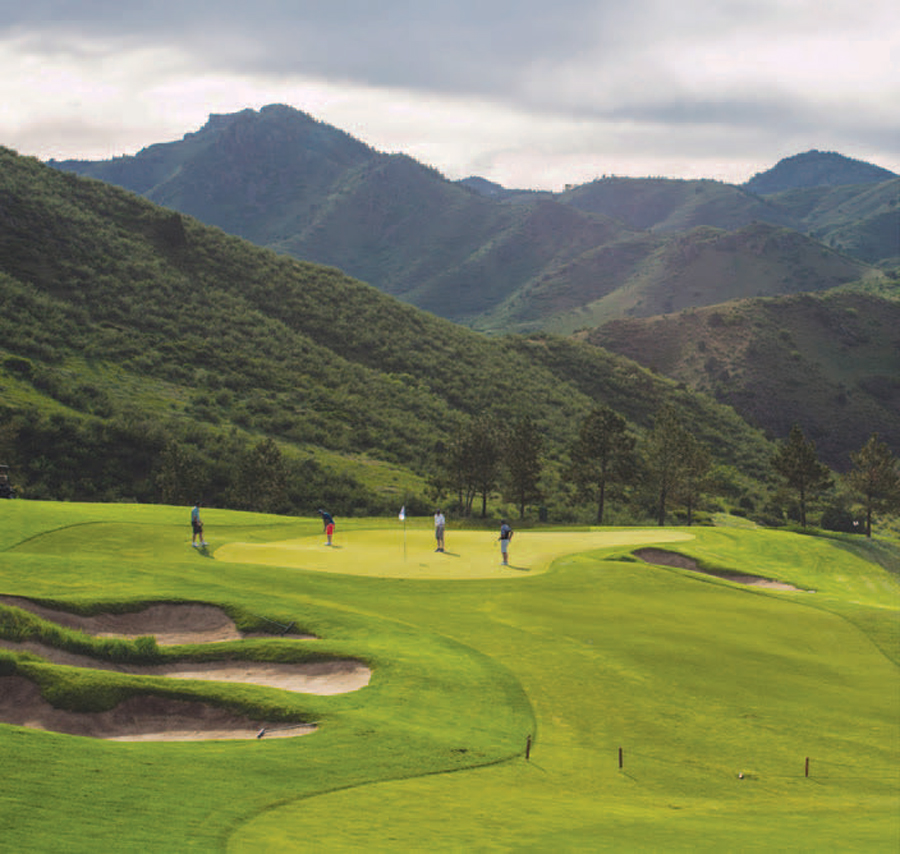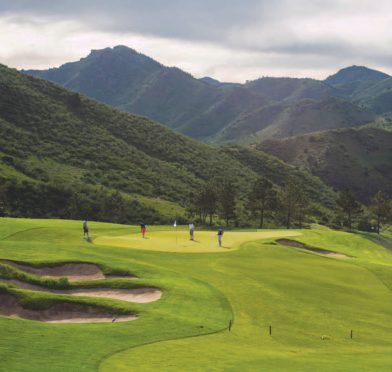 THE GOLF
RAVENNA'S JAY MORRISH-DESIGNED, world-class, 18-hole, par-71 course is meticulously maintained and accessible to golfers of all skill levels. Players can choose from nine different tees. Each signature hole is set in lush terrain flanked by natural rock formations. Limited membership means available tee times and a fluid pace of play. Awarded one of America's Top 100Residential Courses—ten years in a row—The Club at Ravenna has earned its place among premier private clubs.
PERRY PARK COUNTRY CLUB
LARKSPUR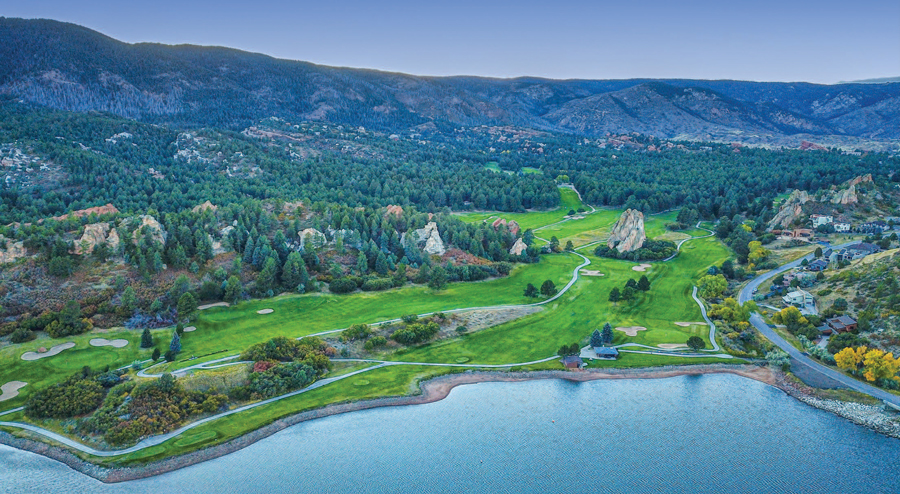 DON'T MISS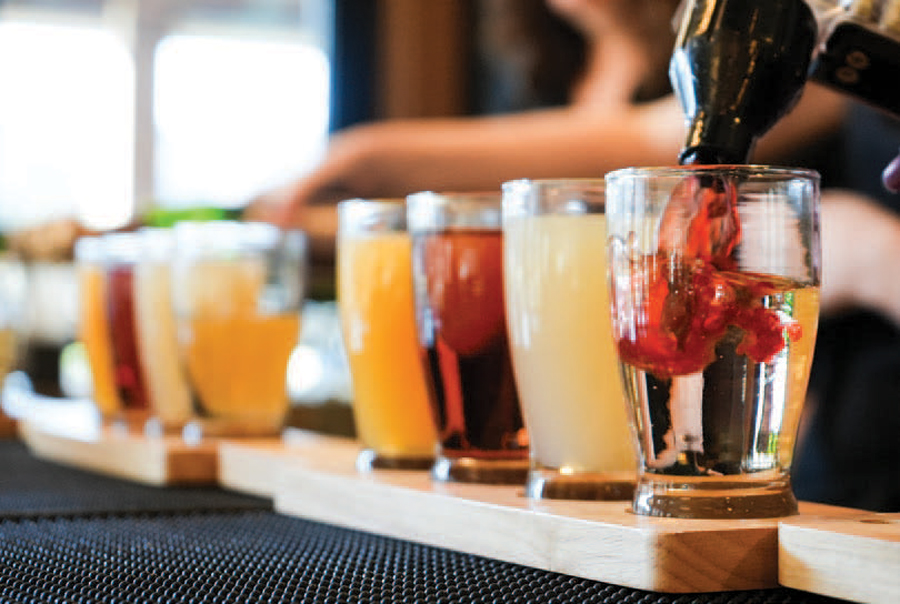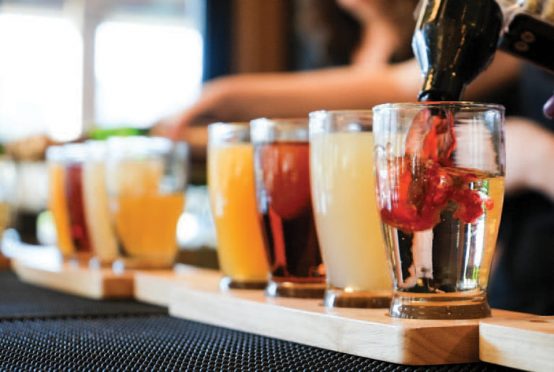 PERRY PARK'S SPECIALTY Wine, Beer, and Whiskey dinners have become our members' favorite events. Our Executive Chef pairs a 3-5 course meal with imported wines, local craft beers, or specialty whiskies every month.
OUR SERVICE
PERRY PARK COUNTRY CLUB members have long enjoyed what most golfers are looking for—an escape from the normal. Perry Park complements its majestic views and uniquely\Colorado golf experience with a world-class team. Members pride the sunset view over lake Wauconda from the new outdoor patio. The Manor House (est.1891) is a great place to reflect on your golf experience with a cold beer or a glass of wine from our vast selection. Executive Chef Justin Schwarz creates a new menu every three months, so members never tire of their dining options. Golfers lose track of time in the eternal beauty of the rock formations. The leadership team publishes a monthly newsletter to keep members informed of their upcoming favorite events. Bingo, Trivia, Live Music nights, Cornhole contests, kids' events, fitness classes, and monthly Wine Dinners are just a few club favorites you can experience at Perry Park Country Club.
THE GOLF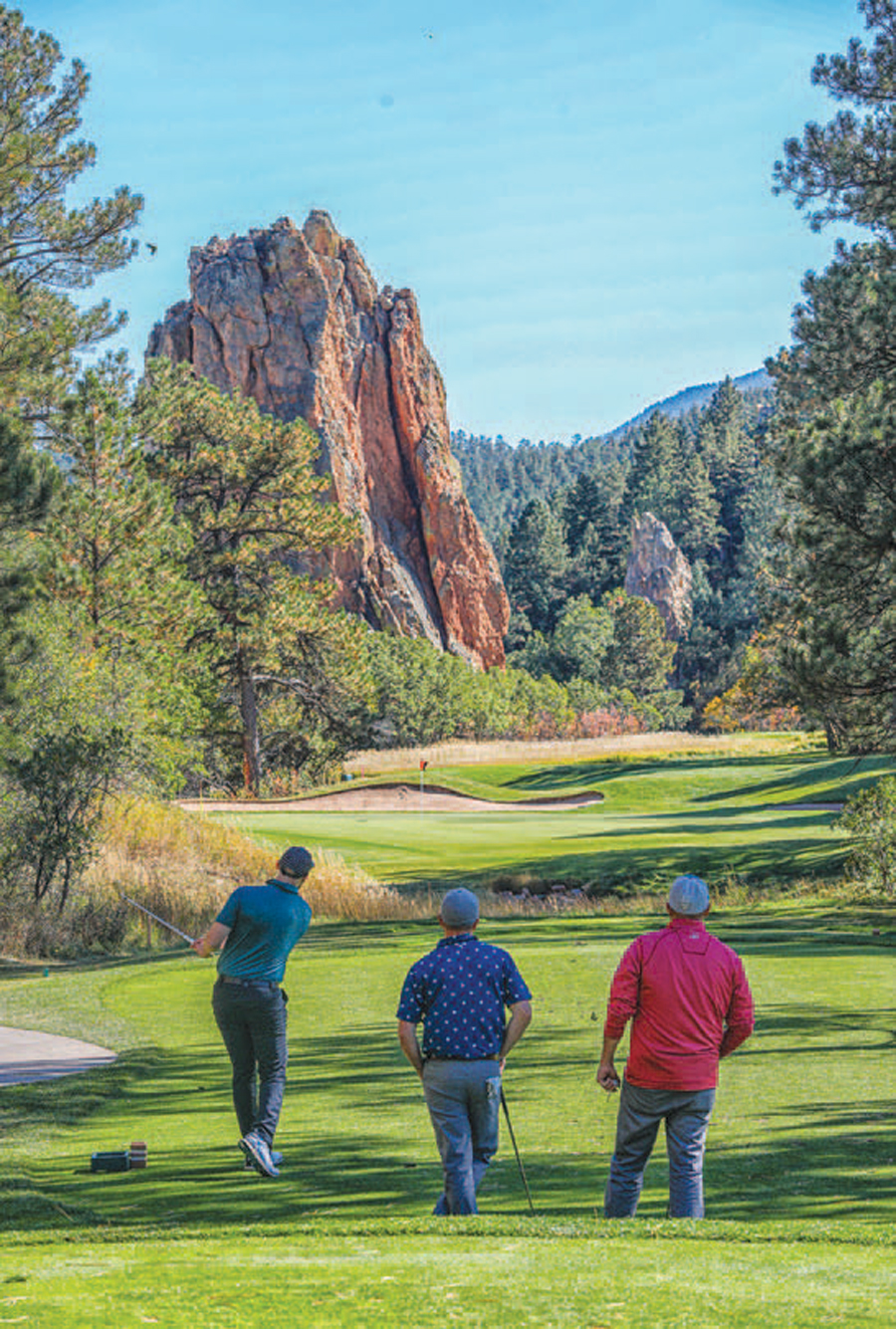 PERRY PARK COUNTRY CLUB'S golf course is spectacular as its setting amid the red, pink, and white sandstone formations that thrust their pinnacles through the strong stands of pine lining the fairways. Challenging to play from any tee between 4,816 and 6,927 yards, the secluded Dick Phelps-designed layout rewards accuracy more than length off the tee. Top-notch course conditions always complement the narrow fairways, challenging approach shots, and quick greens. Framed by Pike National Forest, PerryPark offers a sense of seclusion on a scenic, walkable course you'll never tire of playing.
BLACKSTONE COUNTRY CLUB AND BLACK BEAR GOLF CLUB
AURORA/PARKER, CO

DON'T MISS WITH BENEFITS beyond the Club; enjoy our portfolio of owned or operated private clubs, a network of alliance clubs, and unique offerings at more than 1,000 hotels, resorts, and entertainment venues. JOIN AS A NEW golf member and enjoy double the amenities and double the fun with access to two unique clubs. Experience 36 holes of great golf, tennis courts, pickleball, vibrant dining venues and patios, a resort-style beach-entry pool featuring a splash pad/slide, outdoor hot tub and bar, a NEW fitness center, and event rooms, golf practice facilities, and tournament planning. We offer a country-club experience like no other with something for everyone, including golf instruction, leagues and tournaments, a wide variety of member social events, dining traditions, and junior programming. Are we hosting a golf outing or tournament? Look no further than our two beautiful courses. Our talented and professional staff will help with your tournament planning and catering needs. Whether you will have a party of 15 or 200, let us walk you through your event from start to finish. Our two clubhouses are the cornerstones of connection in their communities, and we invite you to be a part of it all.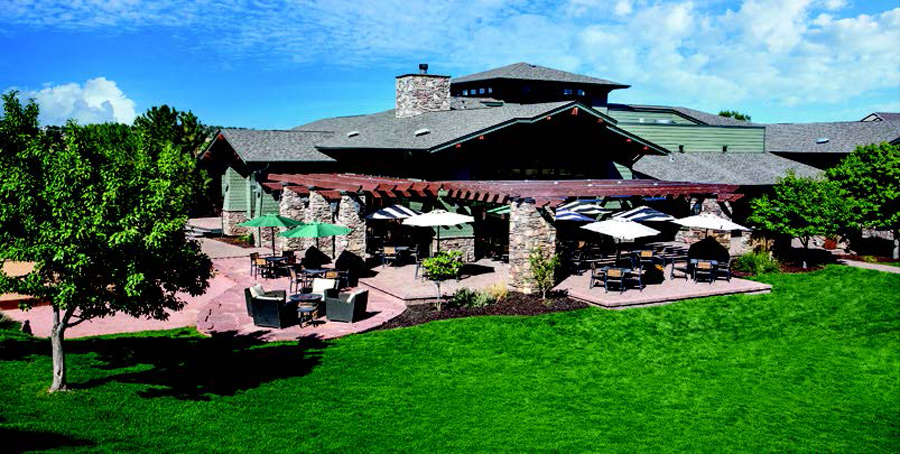 THE GOLF
THE 18-HOLE championship golf course at Blackstone was the vision of Jay Morrish. By incorporating water features, strategic bunkers, and meandering fairways, Blackstone provides a unique round amid the distinguished rock Mountains. Designed by Jeff Brauer, the 18-hole championship Black Bear golf course is one of the most distinctive in the rocky mountain region. More than 200 feet in elevation changes create dramatic views from Pikes Peak to Longs Peak.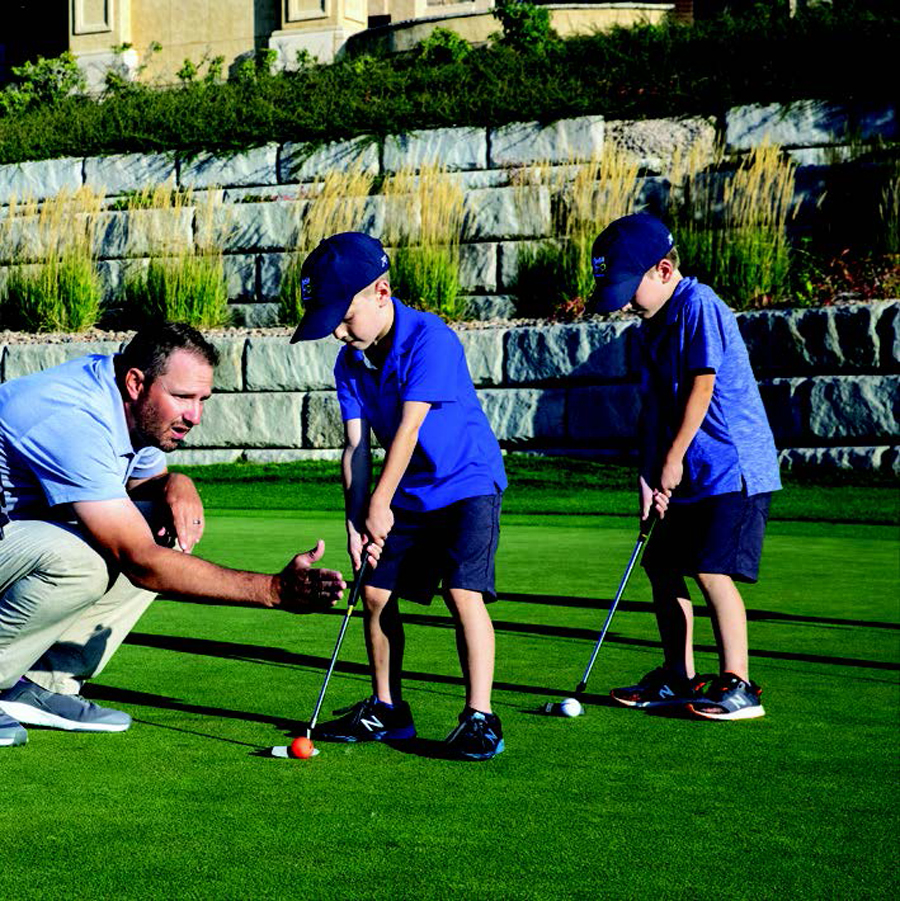 FLYING HORSE CLUB & RESORT
COLORADO SPRINGS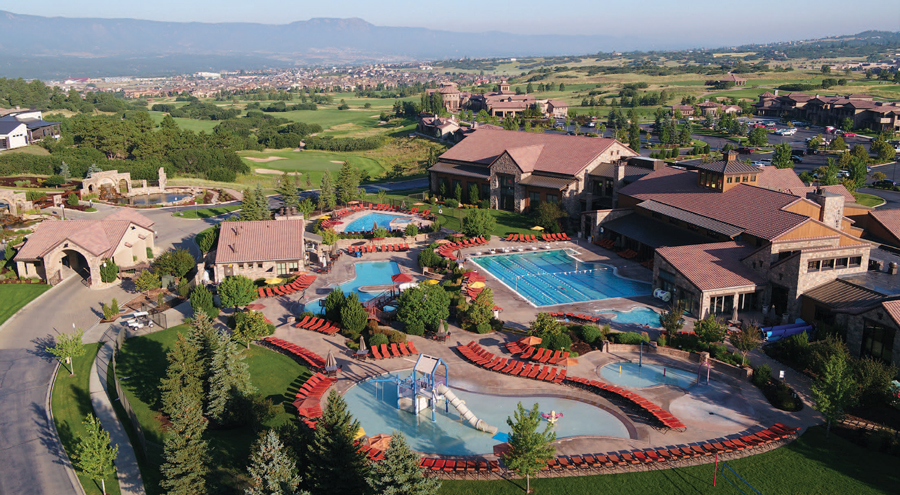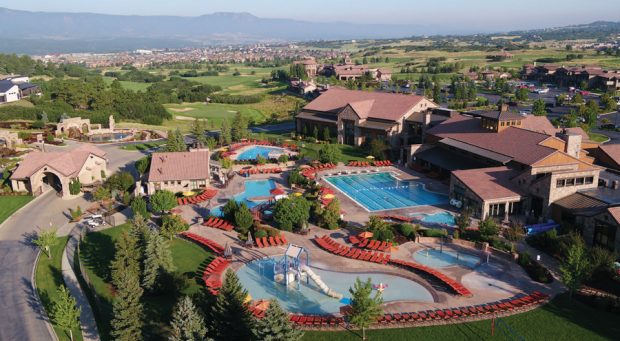 DON'T MISS The artful skills of the culinary team at The Steakhouse at Flying Horse elevate delicious meals into transcendent gastronomic experiences featuring world-class cuisine and magnificent wines in an exquisite setting.
OUR EXPERIENCE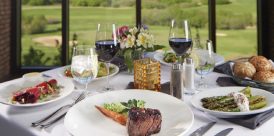 DISCOVER THE UNBRIDLED majesty of Flying Horse, north Colorado Springs' only resort lifestyle golf community. Enjoy the Athletic Club, with swimming pools, clay tennis courts, state-of-the-art exercise equipment, and group fitness programs, or visit the Spa, where our rejuvenating therapies and curative treatments are so indulgent, so relaxing, so deliciously refreshing; we promise you'll leave an entirely new person—inside and out. Spa services include massage, body, facial, and nail and hair services. Within the famed and award-winning Flying Horse community and country club, The Lodge at Flying Horse is one of Colorado's most desirable boutique resorts and meeting destinations. The hotel features a "Rocky Mountain Tuscan" style atmosphere, offering a rich, warm, sophisticated, and elegant ambiance with posh yet comfortable furnishings and finishes. With a 54-room expansion currently underway, The Lodge will offer 102 luxurious guest rooms and suites by late 2022. When you're ready to discover everything Colorado offers, we invite you to book your stay with us.
THE GOLF

EXPERIENCE THE BEAUTY, serenity, and challenge of our famed KissingCamels Golf Club. With immaculately groomed fairways, bunkered greens, and towering pines, the 27-hole facility designed by renowned architects J.Press Maxwell and Mark Rathert boasts spectacular western views into the Garden of the Gods the mountains beyond. Those same vistas accompany drinks and delectable lunches and dinners at the Kissing Camels Grille & Bar! PLAY LIKE NEVER BEFORE. SignatureMembers and guests of The Lodge have the opportunity to play two 18-hole championship golf courses. The Weiskopf course is located adjacent to the clubhouse and Lodge, while the FlyingHorse North Golf Course gallops through the trees of the Black Forest. Golfers who want to take time to improve their games will enjoy access to year-round golf instruction at the Flying Horse GolfAcademy, located on-site.
GARDEN OF THE GODS RESORT & CLUB
COLORADO SPRINGS
DON'T MISS VOTED BY TRIPADVISOR: Top 25 Hotels in the U.S., The Garden of the Gods Resort & Club, invites you to come to play and stay for a weekend or enjoy a lifetime of extraordinary benefits and privileges as a member.
OUR EXPERIENCE
GARDEN OF THE GODS RESORT and Club and STRATA Integrated Wellness and Spa are the hidden gems of the Pikes Peak region, showcasing the best views in Colorado. We feature116 lodge hotel rooms, cottages, and casitas, including 1-3-bedroom suites—most rooms office Private patios to provide guests and members with a truly extraordinary experience. Exclusive Memberships come with a medley of inspiring activities and amenities, allowing you to choose a membership tailored to your lifestyle and liking. Categories include golf, culinary, sports, young professional, national, business, distinguished military, or corporate with dining privileges. Located adjacent to the epic 1,300-acre Garden of the Gods Park, we are minutes from the U.S. Air Force Academy and U.S. Olympic and Paralympic Museum. Set against a backdrop of towering spires, balancing boulders, and lush mountain valleys, our 27-hole Kissing Camels Golf Club, represents just one of our many luxurious amenities. Others include tennis courts, a fitness center, spa, salon, concierge services, state-of-the-art health and wellness treatments, plush resort accommodations, world-class cuisine, and engaging social events and activities.