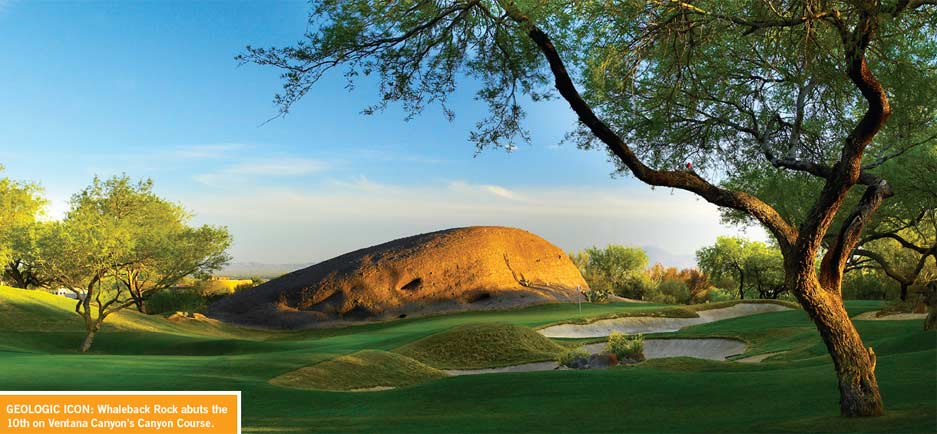 Tucson

delivers an irresistible feast of glorious golf, world-class gastronomy and natural splendor.
By Jon Rizzi
Saguaros are Fascinating. Silent sentinels of the Sonoran Desert, these prickly slow-growing, long-living giants symbolize Arizona—especially Tucson, which perches at precisely the elevation at which they thrive. Thousands upon thousands of them stud the foothills that rise in every direction from the city, their anthropomorphic appearances suggesting everything from surrendering soldiers to saluting greeters to multilimbed Hindu deities.
The saguaros bestriding the golf courses form a noiseless gallery watching from stadium seating. They raise their arms exultantly after a birdie or exasperatedly after a wayward drive.
Saguaros sprout flowers and fruit, provide homes for pecking birds and can hold more than a thousand gallons of water, all while greeting hikers, bikers and horseback riders along the glorious trails of Catalina State Park, Sabino Canyon and hundreds of other dedicated open spaces.
Over the past 13 years, Tucson's cacti have also done lots of waving goodbye. In 2006, the Omni Tucson National's Catalina Course hosted the PGA TOUR's 62nd and final Tucson Open, and the 2014 Accenture Match Play Championship marked the last of eight World Golf Championships played in nearby Marana. By 2011, the three Major League Baseball teams with spring training facilities in Tucson—including your Colorado Rockies—had relocated, and two years later, so did the Pacific Coast League's Tucson Padres.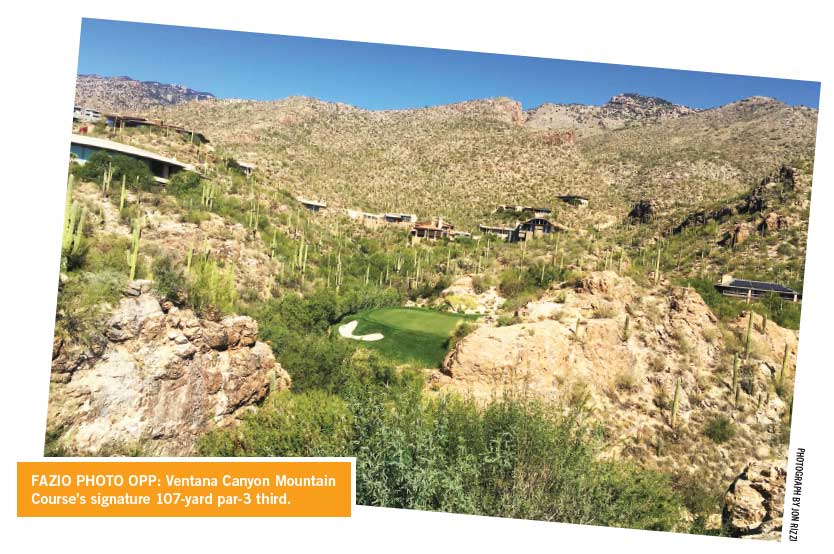 Tucson more than survived these defections. The PGA TOUR Champions Cologuard Classic has come to the Omni every year since 2015 (the next takes place Feb. 23–March 1, 2020). Minor league baseball and hockey teams—the independent-league Saguaros and American Hockey League's Roadrunners (a Phoenix Coyotes affiliate)—satisfy sports fans when they aren't attending University of Arizona Wildcats games.
Instead of bright lights, Tucson has starlit nights, thanks to "dark sky" codes regulating light pollution. This doesn't mean they roll up the sidewalks at 9 p.m. Downtown pulses with electricity. Shops and craft breweries abound. The venerable Hotel Congress features music at the outdoor Club Congress, as do the nearby restored 100-year-old Rialto Theatre and the 1930 Art Deco Fox Tucson Theatre.
Tucson rocks. Best of all, as my wife and I discovered during a recent long weekend there, the saguaro-rich city known as "the old Pueblo" has youthful energy. It has retained its authenticity and distinctive character by avoiding much of the carpetbagging and Californication that has overtaken other snowbird nesting grounds.
Omni Present
The 128-room Omni Tucson National Resort's golf heritage—32 Tucson Opens and sponsorship of a 22-year-old Jack Nicklaus—made an ideal first stop. The labyrinthine compound—which, in addition to to 18-hole courses, includes four lighted tennis courts, a pool complex and Forbes 4-Star Spa—quickly felt like home. An oversized room overlooking the Catalina course provided delightful seclusion.
Over cold pints of Thunder Canyon beer on the patio of the resort's Legends Bar & Grill, we watched the shadows grow long across the Catalina course, the same one, designed by Bruce Devlin and Robert Van Hagge, on which Mark O'Meara won the Cologuard Champions event earlier this year.
A rare par-73 layout, it's a demanding yet delightful test of tree-lined parkland golf in which no two holes repeat. Water factors into seven of them—including the 18th, where it borders both sides of a narrow, oddly angled fairway. I surprised myself there by making par using the same ball with which I'd teed off four hours earlier.
In contrast to the almost midwestern feel of Catalina, Tucson National's par-70 Sonoran course, which I drove but didn't play, fits the definition of desert golf, with fewer trees, more waste areas and forced carries.
When a Ventana Opens…
A more intimate and dramatic experience awaited 14 miles east at the 50-suite Lodge at Ventana Canyon, home of the masterful Tom Fazio-designed Mountain and Canyon courses—two of the most scenic and enchanting layouts you'll ever play.
The boutique resort treats guests with the kind of personal, solicitous attention afforded private-club members. And for good reason. The building also clubhouses the private Ventana Canyon Golf & Racquet Club. In 2004, an alliance of 13 members purchased from Wyndham Resorts the club and all the resort facilities, which now include the two courses, eight lighted tennis and four pickleball courts, a day spa, delectable restaurant and well-equipped fitness center.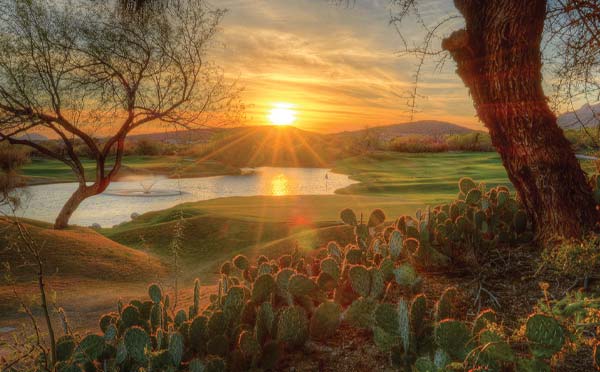 Guests have access to these facilities, with guest and member play alternating (comme Red Sky Golf Club) between the two courses. Similar golf privileges apply to those staying at the 398-room Loews Ventana Canyon Resort behind the waterfall on the 18th green of the Canyon Course. Loews guests can also purchase merchandise at their resort from the club's second, smaller golf shop.
Between the upstairs hike to the rear tee box and the photogenic setting of the hole, the 107-yard par-3 third on Ventana Canyon's Mountain course required some pulse-slowing deep breaths before teeing off. I nonetheless yanked an adrenaline-fueled pitching wedge left into the unplayable vegetation, but my reload hit the green and my putt found the hole for what my generous playing partner, The Lodge's Director of Marketing Aaron Aguilar, kindly described as "a birdie with an asterisk."
Ascents and descents characterized the following 15 holes—both through the craggy Catalina foothills and on the scorecard. But oh, what a glorious round—filled with slim, puckered fairways, lickety-split greens, views to Mexico and, on the 12th hole, an encounter with the standing skeleton of a dead saguaro—its wooden ribs looking bleached and brittle, a desiccated husk of the hyper-hydrated giant it once must have been.
The Mountain course impeccably camouflages colossal homes into its surroundings. For the most part, so does the Canyon course, which I played the following day with three entertaining owners of those homes. Putts on both courses succumb to the "mountain effect" we Colorado golfers know all too well.
The Canyon differs from the Mountain, as it meanders into Esperero Canyon. A number of holes play straight into the Catalinas, creating back-to-front sloping greens as well as a backcloth against which a well-struck ball will seemingly float forever. However, the course's most memorable geological feature is the massive Whaleback Rock breaching to the left of the Par-4 10th green.
Ventana Canyon currently has 700 members, and after enjoying the heck out of both courses, the friendly folks and lip-smacking fare in the grill, we found ourselves seriously considering joining them.
Food, Glorious Food
You can't talk about Tucson without salivating. In 2015, the United Nations Educational, Scientific and Cultural Organization (UNESCO) named Tucson the first City of Gastronomy in the United States and one of only 17 in the world. (The list has since swollen to 29 and now includes San Antonio.)
Tucson cuisine incorporates the bounty of the desert—agave, cactus pads, cholla buds, chiltepins, amaranth and white Sonoran wheat. The sweet, protein-filled pods of the ubiquitous mesquite trees make great snacks and a can be ground into a flour found in everything from bread to cookies to smoothies. Fruits such as quince, fig, prickly pear and white pomegranate juice up numerous dishes.
The superb restaurants of Wildflower and Downtown Kitchen take these and other ingredients to a global level.
From the worldly menu at Wildflower we settled on a satisfying lunch of jumbo lump crab avocado toast spiked with fresh jalapeños and chile-lime tajin seasoning. The barbecue chicken tacos overflowed with salsa fresca, white cheddar and Anasazi beans.
Downtown Kitchen features the culinary talents of James Beard Award-winner Janos Wilder, a Tucson legend who sharpened his talents at Colorado's famed Gold Hill Inn during the 1970s.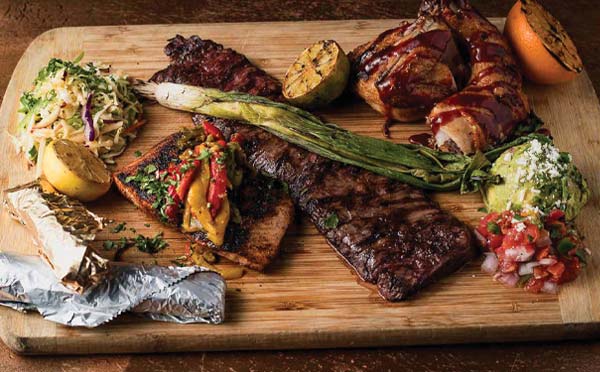 We indulged in a plate of lightly fried calamari with mango, candied ginger, Spanish peanuts and green-chile vinaigrette, and savored a Hibiscus Cured Hamachi Crudo (yellowtail) with prickly pear ponzu and a furikake featuring toasted Sonoran pepitas. The Chile en Nogada—a roasted poblano pepper stuffed with more than 20 ingredients and covered with a walnut cream and pomegranate seeds—did not disappoint. Nor did the grilled pork chop basted in red chile honey and posole broth and topped with pickled onions and chayote.
Tucson also touts itself as having "The Best 23 Miles of Mexican Food in America," which encompass the City of South Tucson, downtown and lower midtown. Yes, it's a brilliant marketing campaign—one that's annually highlighted by June's weekend-long Tucson 23 Mexican Food Festival at the JW Marriott Tucson Starr Pass Resort& Spa—but there's some serious steak behind the sizzle.
Charro Steak, in fact, is the latest addition to the 97-year legacy started by El Charro Café, reputedly America's oldest Mexican Restaurant in continuous operation by the same family.
The downtown restaurant dishes up perfectly turned mesquite-fired T-Bones, Rib Eyes and Carne Asada with optional complements such as smoked manchego and charred chiles (the "Estillo Charro") and the decadent "El Jefe" (avocado, bacon, chimichurri and a cage-free egg over easy). We split appetizers of Prickly Pear Glazed Albondigas with chiles and three cheeses and Cast-Iron Mushrooms stuffed with chorizo and masa beneath a crunchy queso frito. The Charrasco sampling of six meats (including bison, chorizo and pollo asado) regrettably left no room for the chocolate tres leches cake with peanut butter frosting and cacahuetes picantes.
A less filling but no less satisfying repast awaited the following night at the dimly lit Penca Restaurante—restaurateur Patricia Schwabe's downtown temple of ligeras like chicharrones dusted in chile citrus salt, elote with chipotle aoli, a split bone of well-seasoned beef marrow and selection of corn tacos containing everything from the usual fish, steak and tongue to red-wine braised beef cheek and grilled cactus. An entrée well worth sharing was the short ribs braised in mezcal served with chichilo mole sauce and horchata chochoyote (a cinnamon-flavored corn dumpling).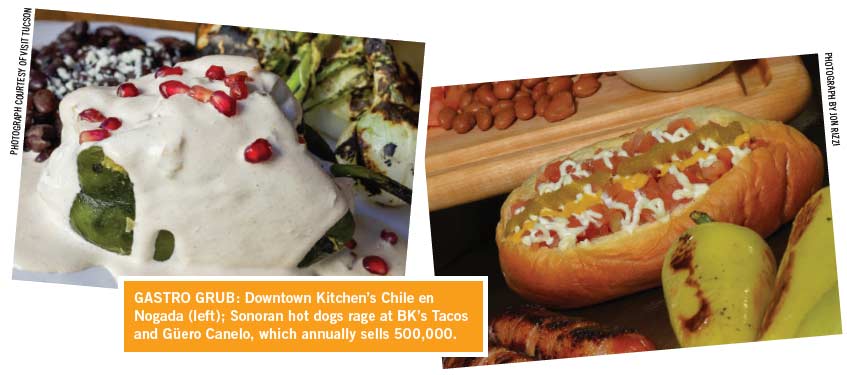 There's probably nothing more authentically and delectably Tucson than a Sonoran hot dog—a grilled bacon-wrapped frank in a bolillo bun slathered with pinto beans, grilled and fresh onions, jalapeños, fresh tomatoes, mustard, jalapeño sauce and mayonnaise—accompanied by a sizable and spicy grilled yellow chile pepper. Some prefer the ones at El Güero Canelo. Others swear by BK Tacos. We're not taking sides. Don't like hot dogs? Neither does my wife, but you'd never know it from the way she inhaled one of these decadent bad boys.
Between golf, hiking and eating, no time remained to visit the intriguing Biosphere II or the movie sets at Old Tucson, let alone the amazing eateries along 12th Avenue in South Tucson or the myriad courses and trails.
But there's always next time. As we bid farewell to Tucson in the early-morning hours, I could swear one of those saguaro semaphores was signaling us to return.
Make Time for Tubac
Less than an hour south of Tucson spreads Tubac Golf Resort and Spa. Built 60 years ago on the historic Otero Ranch, the resort is a tranquil, AAA Four Diamond oasis of 27 treelined golf holes (the Anza, Rancho and Otero nines), 68 uniquely appointed suites, 30 magnificently upgraded guest rooms, a world-class Aveda spa, scrumptious Stables Restaurant and the utterly enchanting Pancho's home design shop.
The resort has a strong Colorado connection. Its owner is Ron Allred, famous for developing Telluride's Mountain Village, and PGA Director of Golf Kristie Fowler grew up in Grand Junction, where her father, Tom Kolacny, designed and built Tiara Rado Golf Course. Fowler, who won the Colorado women's 1984 Colorado Match Play and 1985 Stroke Play, played collegiately in Tucson at the University of Arizona before competing professionally and transitioning to the business side. The variety and quality of merchandise in the shop has earned her the Southwest PGA Section's Golf Merchandiser of the Year.
A number of items for sale reference the film Tin Cup, which was mostly shot at Tubac. The fourth hole on the Rancho nine displays a plaque denoting the spot from which Kevin Costner's character, Roy McAvoy, carried the water with a 3-wood. Two holes later brings you to the three-hole stretch known as the "Tubac Triangle," the longest par 3, 4, and 5 on the course. tubacgolfresort.com
Teeing Up Tucson
In addition to the courses at Ventana Canyon (thelodgeatventanacanyon.com) and Omni Tucson National (omnitucsonnational.com), the region boasts more than 40 layouts. Among the best:
Starr Pass Golf Club (Tucson): Play 27 Arnold Palmer-designed holes at JW Marriott Tucson Starr Pass Resort. marriottstarrpass.com
Sewailo Golf Club (Tucson): The stunning Notah Begay-Ty Butler design is the chief amenity of the Casino Del Sol Resort. casinodelsol.com
The Golf Club at Dove Mountain (Marana): Nonmembers can play any of the 27 Nicklaus Signature holes at this former WGC venue. thegolfclubatdovemountain.com
La Paloma Country Club (Tucson): Play on the Jack Nicklaus Signature nines requires a stay at the Westin La Paloma Resort & Spa. westinlapaloma.com
Randolph North Golf Course (Tucson): Built in 1925 and a former Tucson Open site, it's the top of the city's four munis. tucsoncitygolf.com
El Conquistador Golf Club (Oro Valley): Two 18-hole courses and one nine-holer traverse the rugged terrain north of Tucson. elcongolfandtennis.com
---
Jon Rizzi is the editor of Colorado AvidGolfer. Learn more about Tucson at visittucson.org or call 800-638-8350.
This article appeared in the 2019 Winter Issue of Colorado AvidGolfer.
Colorado AvidGolfer Magazine is the state's leading resource for golf and the lifestyle that surrounds it, publishing eight issues annually and proudly delivering daily content via coloradoavidgolfer.com.