With eye candy to spare, HAWAI'I ISLAND serves up a nine-course feast to satiate the hungriest of vacationing golfers.
By George Fuller/Photographs courtesy of resorts or courses
THE MAGNIFICENTLY GROOMED courses on Hawai'i Island have come to define Aloha State golf for the millions of visitors who come to these sunny shores each year, as well as for the millions more who watch the professional tournaments that are broadcast each winter, including the Champions Tour's Mitsubishi Electric Championship at Hual-alai. The picture-perfect weather, gentle trade winds, whales frolicking offshore during the winter months, the unique landscape formed by ancient lava flows from the surrounding volcanoes … it all adds up to one of the best golf experiences anywhere. Combine those elements with Instagramable off-course activities (snorkeling in warm turquoise waters, horseback riding in green mountains, gushing waterfalls and myriad cultural attractions) and resort accommodations that suit every budget and taste—many grouped along the Kohala Coast—and it's easy to see why visitors quickly become Hawai'i Island devotees.
MAUNA LANI (North and South courses)
Mauna Lani offers guests one of the most enjoyable playgrounds in the state. The two championship golf courses—North and South—are immaculately manicured, with signature holes that will rank among the most scenic you'll ever play. In addition, two luxury hotels—Mauna Lani, Auberge Resorts Collection (set to reopen in January 2020 after a multimillion-dollar renovation) and the Fairmont Orchid—and a shopping center anchor the resort.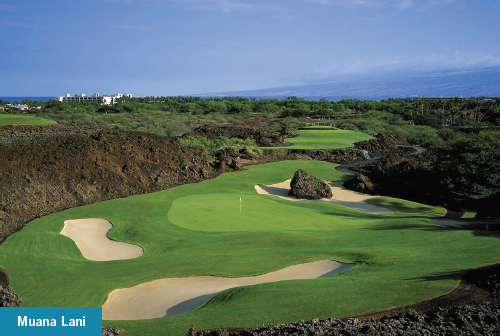 The South Course plays along wide fairways bordered by smooth black and brown lava with broad views of the island's interior mountains. It emerges at the ocean at No. 7, a medium-length par 3 that plays slightly downhill with ocean waves crashing against the rocks just to the left of the hole. But the course is perhaps best known for its memorable 15th. Another par 3, No. 15 provides a thrilling tee shot over an ocean inlet to a large green. Get your cameras ready here.
The North Course winds through stands of towering kiawe trees, with several oceanfront holes on the front nine. No. 17 is the postcard hole. A par 3, it plays 75 to 131 yards from an elevated tee box to a green situated in a lava bowl with giant lava boulders and sand surrounding it. maunalani.com
MAUNA KEA (Mauna Kea and Hapuna courses)
Two stellar courses, two of the best beaches in the state, and two luxurious hotels add up to one of the most popular golf resorts in Hawai'i. Mauna Kea Golf Course may be best known for its picture-postcard third hole, a par 3 that plays over an ocean cove, but—counting those on the adjacent Hapuna Golf Course—there are 35 other pretty remarkable ocean-view holes.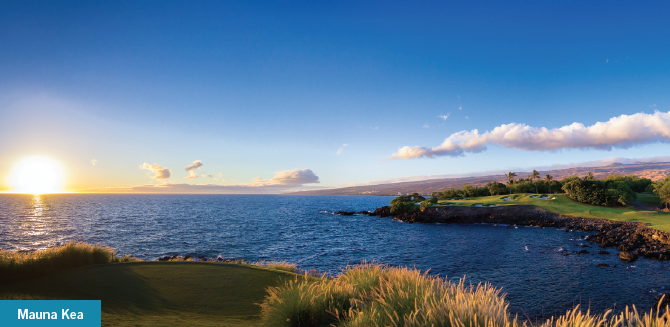 Ranging from the Pacific shoreline up into the scenic foothills behind the resort, roaming the fairways of these two courses is a special treat for players who enjoy a solid test of the game, as both of these gems will provide that in abundance. Still, broad coastal views and natural beauty ensure that everyone will enjoy their round, regardless of score.
Mauna Kea is the grande dame of island golf, opening in 1964 with an exhibition match between golf 's reigning monarchs—Arnold Palmer, Jack Nicklaus and Gary Player—and it remains on many players' bucket lists.
In 1992, Hapuna Golf Course opened, providing a perfect complement to its elder sibling. Designed by Arnold Palmer and Ed Seay, the King lives on with this stellar layout. maunakeabeachhotel.com
WAIKOLOA BEACH RESORT (Beach and Kings' courses)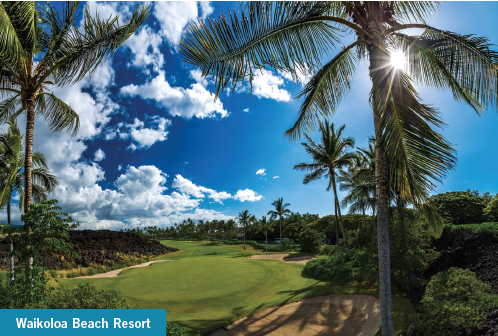 There are two 18-hole courses at this active, popular resort—Beach and Kings'—and both deliver thoroughly enjoyable rounds. The Beach Course artfully routes through jagged black lava rock formations as it makes its way to the Pacific. No. 7, the signature hole, is a par 5 with the Pacific Ocean straight before you off the tee. The hole doglegs hard to the left to a putting surface ringed by swaying coconut palms and crashing waves.
The second layout at Waikoloa, the Kings' Course, opened in 1990, and was voted one of the "Best New Resort Courses" in America by Golf Digest. The Kings' delivers a memorable round from the first tee to the 18th green. Low-handicappers can play it at 7,000-plus yards and have all the length and strategy they can handle, while resort-level players can select a tee that will provide the same excitement and challenge, but at a length that suits their game.
Two hotels—the Waikoloa Beach Marriott Resort & Spa and the Hilton Waikoloa Village—two shopping centers, a wide selection of dining options and a protected bay make Waikoloa Beach Resort "the gathering place of the Kohala Coast." waikoloabeachresort.com
WAIKOLOA VILLAGE GOLF CLUB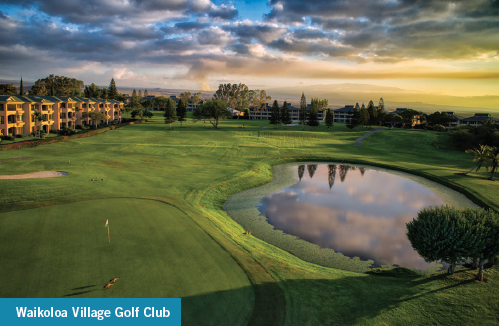 Located in the foothills of Mauna Kea overlooking the Pacific Ocean, Waikoloa Village Golf Club is truly a little piece of heaven—an oasis of emerald green overlooking the Kohala Coast. Designed by Robert Trent Jones Jr., the course fits harmoniously into the landscape. It's challenging enough for serious golfers but fun for beginners as well.
A relaxed pace makes this course a favorite of local players, who consider it one of Hawai'i's best-kept secrets. Located at approximately 1,000 feet of elevation, it treats golfers to views of five volcanoes (Kohala, Mauna Kea, Mauna Loa, Hualalai, and Haleakala on Maui) and the Kohala Coastline.
With approximately 12 inches of rain annually, Waikoloa Village Golf Club's arid location virtually assures warm, dry playing conditions 365 days per year. Its complete practice facilities and amply stocked golf shop make Waikoloa Village a great place to play, outfit yourself and work on your game. The club offers golf discounts for military members and seniors, as well as multi-round packages. waikoloavillagegolf.com
KONA COUNTRY CLUB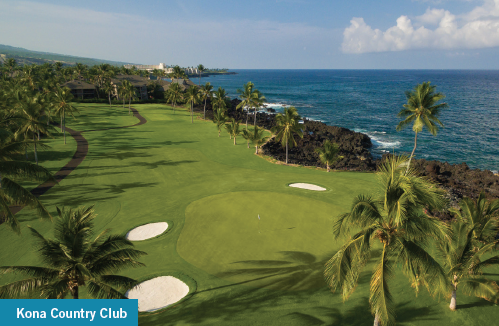 There's nothing quite as exciting in golf as a hole situated next to the ocean. The broad vistas, the crashing waves, the ocean spray. Kona Country Club features four such holes: two gorgeous par 3s—Nos. 3 and 12— set hard against the shore and two more with either the tee box or putting surface adjacent to the ocean.
Located just six miles south of Kona, the course underwent an extensive renovation in 2016. All tee boxes were leveled, new sand was installed in the bunkers, new golf carts brought in and an irrigation upgrade completed—all of which has led to superior conditions and a highly rated experience.
Keep an eye out for the blowhole to the left of No. 13 tee box, where the ocean waves push up through a puka (hole) in the lava rock shoreline, creating a "whooshing" sound and a grand plume of water. Coincidentally, the waters in this area are also frequented by humpback whales between November and March. konacountryclub.com
MAKANI GOLF CLUB
Makani Golf Club (formerly Big Island Country Club) is one cool place. It has a casual vibe, for sure, but at an elevation of 2,000 feet, it's literally 10-15 degrees cooler than it is at sea level, which makes it comfortable all the time.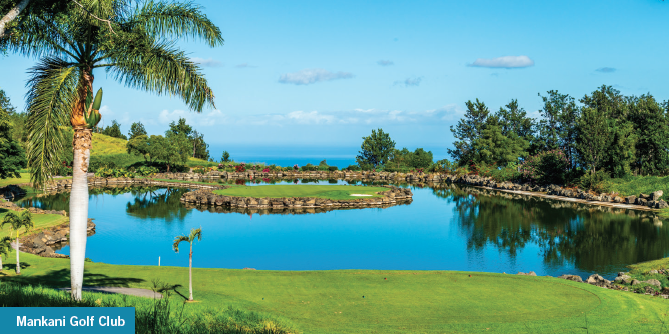 The Perry Dye design feels "organic," an extension of the rolling, upcountry ranchland into which it's built. "We like to say it's a golf course that Mother Nature built," says Peter Rice, senior director. "Many courses in Hawai'i have had to go to great lengths to crush the lava or build around and through the lava flows with their designs. But up here at the 2,500-foot level, the landscape is naturally green and rolling, with outstanding ocean views from many holes, stands of mature and colorful trees, and abundant wildlife, creating one of the state's most picturesque golf courses."
Recent upgrades to the course include new sand in the bunkers, an aggressive program to make the fairways and greens among the best conditioned on the island, new golf cars, and an expanded practice area. makanigolfclub.com
George Fuller has lived in Hawai'i on and off for more than 30 years. He currently calls Waimea on Hawai'i Island home.
---
This article appeared in the 2019  Fall Issue of Colorado AvidGolfer.
Colorado AvidGolfer Magazine is the state's leading resource for golf and the lifestyle that surrounds it, publishing eight issues annually and proudly delivering daily content via coloradoavidgolfer.com.