With expanded roles within Denver Golf, Pamela Smith and Susie Helmerich are making the city's seven courses more efficient, playable, welcoming and fun.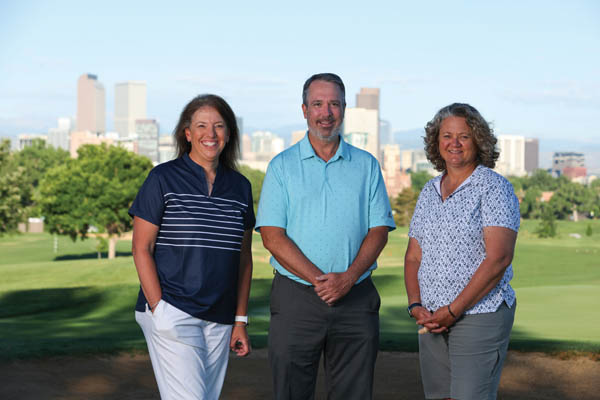 By Jon Rizzi
Susie Helmerich doesn't use the word customer. "I'm a bigger fan of guest," the LPGA professional says. "People who spend their time and money with us are our guests, not just wallets, and we should greet and treat them with the same top-notch service and welcoming atmosphere throughout our organization."
Her organization, Denver Golf, comprises seven courses—City Park, Evergreen, Harvard Gulch, Kennedy, Overland Park, Wellshire and Willis Case—as well as the 36-hole Aqua Golf mini-golf facility and driving range. At every one of those courses, the head golf professional has Helmerich as a supervisor as a result of her new position as director of golf shop operations.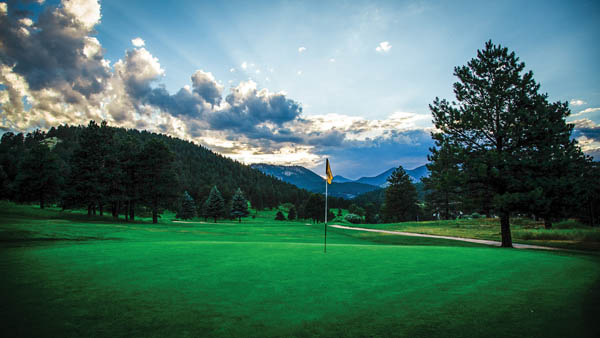 "Susie is a great leader and a great pro," says Denver Golf's PGA Director of Golf Scott Rethlake, who created the new position for her because the demands of his job were pulling him away from mentoring and supervising the 15 to 20 golf professionals who reported to him. Helmerich was one of those professionals, most recently as the head pro at City Park since the course reopened in 2020.
"I saw the need to give them more, and Susie has the right interpersonal skills to deal with other pros and create standards of service to keep all the courses on the same playbook," Rethlake explains. "If I'm a guest at a Denver Golf course, I should expect excellent service and an excellent product."
On the product side, Rethlake made a similar decision in 2008 when he hired Director of Agronomy Pamela Smith, a superintendent from Indiana. The two put together a "playbook" to establish course-condition standards for superintendents to follow. "We had to reset the expectations of how things should look, and then help the supers meet them," Smith recalls.
Her hands-on work during the past 15 years has dramatically upgraded all the Denver courses, creating a consistent level of quality between them. This has proved challenging with the dramatic spike in rounds during the pandemic (Willis Case and City Park each hosted more than 60,000 rounds last year) and golf seasons that routinely continue long after the grass goes dormant. Calling them "miracle workers," she credits her staff's success to being "all-in."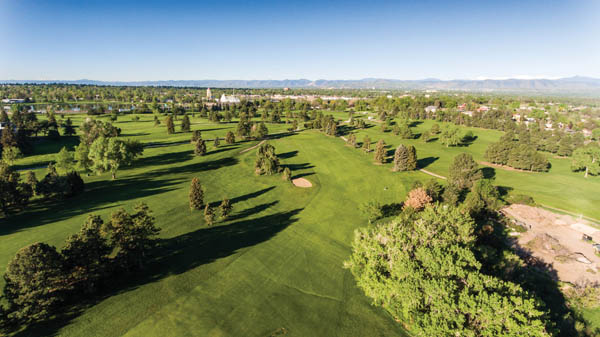 "They have gone beyond what I can give them as a mentor," she says proudly. "My job now is providing the resources and advice so they can succeed. They're taking something top-notch and asking how to take it to the next level."
Which Smith knows something about. In addition to being a Class A CGCS, she also holds two law degrees—a J.D. and a LLM (Master of Laws in Energy, Environment, and Natural Resources)—which prove invaluable in reviewing contracts, deciphering water rights and writing technical documents. She insists, however, she came to golf maintenance "not because of my education, but because I fell in love with it."
ON THE JOB
Helmerich touches base with each golf professional at least once a week and does quarterly site visits where she looks at certain standards: "How does the range look? The pro shop? Are you keeping your checkbook updated?" She also gets the seven head professionals on a regular group call to share best practices and build a culture that "kicks down the silos" between the courses.
As an example, she says, "For years we've all been meeting with the same sales reps individually and buying separately. If we went to the same rep as a unit, we could increase our buying power and get better pricing."
With diversity as one of the City of Denver's chief initiatives, Helmerich is pushing courses to hire staff that looks like the surrounding community—something she did successfully at City Park, long a melting pot for people of all ages, lifestyles and ethnicities. "Diversity in staff will propel things," he says. "People feel welcome when they can identify with a person working there. Plus, when a kid who lives near one of our courses starts to look for his or her first job, we want them to look at Denver Golf as their first opportunity."
Community and sustainability informed Smith's hiring of horticulturalist John Swain, who has started a garden at Harvard Gulch that produced 800 pounds of vegetables last year for the local community. Wellshire donates its pumpkin harvest to Denver Parks and Recreation (DPR) children's social enrichment program, and both Wellshire and Willis Case promote pollination with plantings and on-course honeybee hives that yield 100 pounds of honey a year.
Smith has also promoted organic treatments of fungi, reduced water consumption and beautified the grounds around the clubhouses with flowers and other plantings.
THE "WOMAN" QUESTION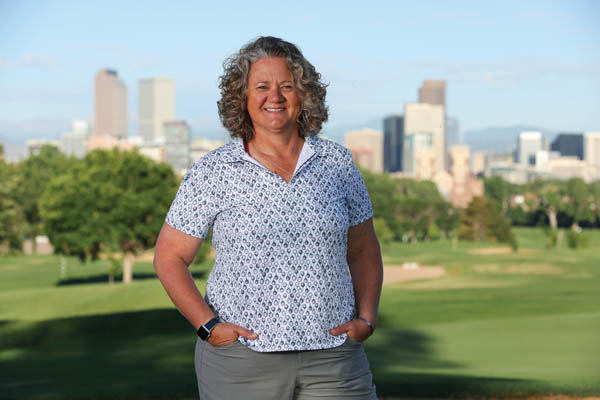 Together, Helmerich and Smith are exceeding the expectations of municipal golfers by upgrading experiences on the course, in the golf shop and with the staff. In turn, what Smith calls the "incredibly diverse and progressive world" of Denver Golf has enabled these women to excel professionally.
(While not directly related to course service or conditioning, Denver Golf also employs Paula Purifoy, the CEO of First Tee Colorado Rocky Mountains [née First Tee Denver]. The chapter is the third largest in the nation, serving 10,000 kids, with 91 cents of every dollar going to programming.)
"Unfortunately, the question has to be asked," Smith says when the subject of how gender has influenced her career arises. Early on, she says she was put in certain jobs because she wasn't a man. "But bosses don't care, as long as you work your tail off. Honestly, it's a huge advantage to be one of the few women in my field because when people know you, they know you."
She adds that "the chip fell off my shoulder when I finished a grow-in at the most beautiful course you've ever seen—Blackberry Patch Golf Course in Coldwater, Michigan."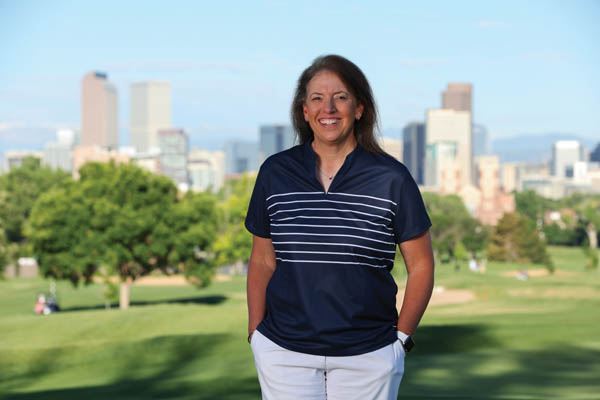 Helmerich—who worked at three public Colorado courses prior to joining Denver Golf—bemoans the fact that "every time I've applied for a job, I've been the only LPGA pro and the only woman."
She's proud of the fact that she was the first LPGA member to graduate with a class A managerial degree, but disappointed the organization eliminated the management school to focus solely on teaching. "Now they produce teachers who don't have skills in management, marketing or budgeting."
She says she'd like to see more women's apparel in golf shops—but not "stuck in a corner—and that the bigger questions center around how to treat guests if they're not wearing appropriate clothing or how to navigate the issue of music in carts.
Ultimately, she and Smith are on the same page of the playbook as Rethlake, who says, "When you play a City and County of Denver golf course, we want you to think you should have paid more because the value of the experience is that good."
---
This article can also be found in the August/September Issue of Colorado AvidGolfer.
Colorado AvidGolfer is the state's leading resource for golf and the lifestyle that surrounds it, publishing eight issues annually and proudly delivering daily content via coloradoavidgolfer.com.