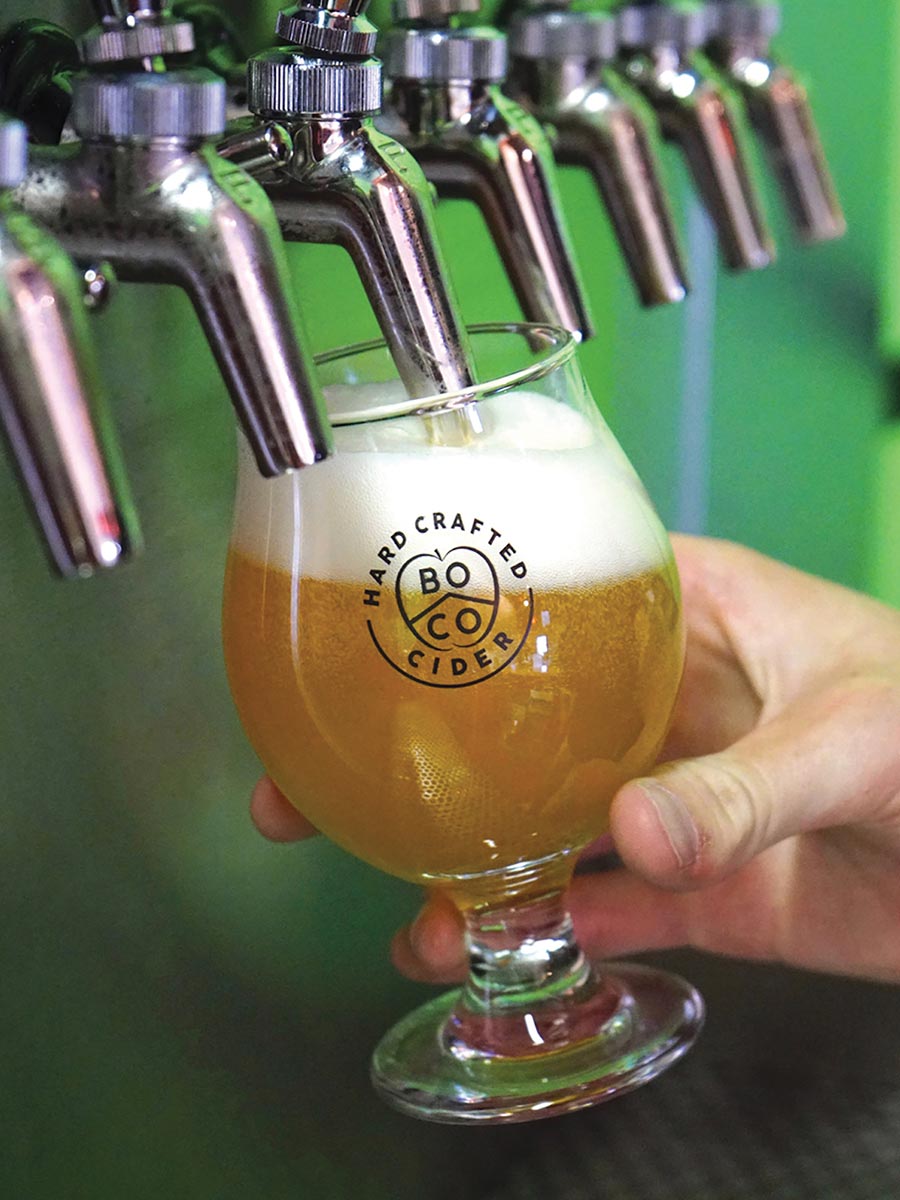 Pie's nice, but Colorado apples are finding a warm reception in award-winning hard ciders.
By John Lehndorff
LIKE BITING INTO one of those crisp fall apples, sipping a great cider is a burst of sweet-tart orchard juice on your palate.
Apples are the taste of autumn and harvest time. (Pumpkin spice is just a fad!)
It was only a decade ago that cider started nudging its way back into our collective consciousness and national brands like Angry Orchard appeared.
Beer may always be more popular, but traditional ciders are grabbing more attention in Colorado, following in the footsteps of the state's roster of craft breweries and distilleries. Local cideries and tasting rooms have opened, most bars and restaurants offer several ciders and liquor stores have shifted shelf space from endless ales to showcase locally produced ciders.
Colorado's apple cidery corps has steadily grown to include about 18 producers across the state, according to Brad Page, founder of the Colorado Cider Guild.
However, the ancient traditional beverage of cider is suffering from some significant misper- ceptions.
"The cider industry has catered to this mass market that likes beverages that are light, fruity and fizzy," says Page who is also owner of 10-year-old Colorado Cider Company in Denver.
The mass market prefers its beverages very sweet.
"A can of Angry Orchard hard cider has 28 grams of sugar. That's like a Coke. The semi-dry cider at Colorado Cider has 5 grams and in the craft market that's considered kind of sweet," Page says.
Part of the problem is that we think cider is the same as beer. "Cider should be treated more
POUR AN APPLE: BoCo Ciders has more than 12 ciders on tap at its North Boulder taproom.
like wine because it's all about the fruit and the area it's grown in," he says. It's the terroir French winemakers talk about.
The taste of a cider from an orchard can widely vary from year to year. "There's a flavor difference between a Kingston Black cider apple grown in New England, Michigan or Colorado," Page says.
Like wine, ciders are ideally enjoyed with food. "Ciders are more on the white-wine side of the palate," Page explains. "The acid level in some of these Colorado ciders is pretty bracing so they go well with rich, fatty foods: Spanish cheeses, salumi, and seafood."
At his Colorado Cider Co. tasting room in Denver, more than 20 ciders on tap and in bottles are available. This allows visitors to do vertical tastings—different years of the same cider—to snip and sip the nuances.
"Cider in Colorado has come a long way in ten years. People are making some very good ciders in in the state that are winning awards in the national competitions. We've etched out a little bit of a reputation," he says, pointing out the competition from cideries in big apple areas including the Pacific Northwest, Michigan, Virginia and New England.
Why are Colorado ciders getting noticed? The makers are growing and pressing the heirloom varieties of cider apples that are less sweet and high in the tannins that yield great flavors after fermentation. The British call them "spitters" because they don't taste very good raw.
Growers around the state, particularly in Montezuma County, have launched an effort to replant them.
"It's an incredibly long-term project. We need to grow these apples in quantity so we can play around with them in ciders," he says. It takes eleven pounds of apples to make a gallon of cider. Page is doing his part to bring back old apples by planting 4,000 trees in his Western Slope orchard since 2013.
"There are people all over the state making cider from traditional cider apples they've grown ranging from Fenceline in Mancos to Snow Capped in Cedaredge. At Colorado Cider Co we make bottled ciders including Heirloom, a blend made from old varieties we have in the orchard," Page says.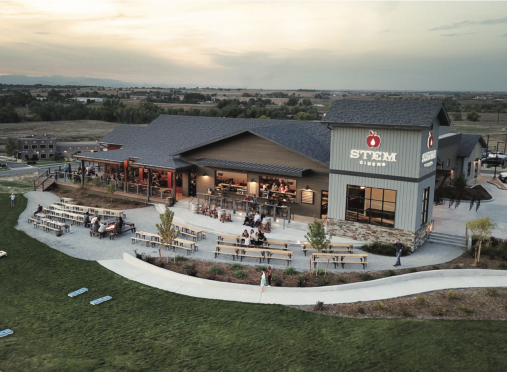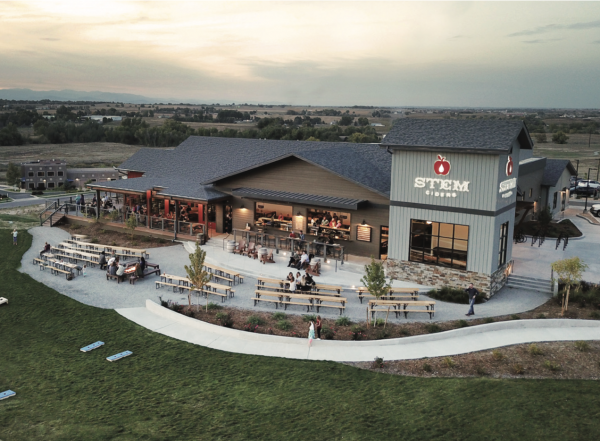 Like wines, many ciders are blends to achieve that refreshing balance between the tannin, tartness and sugar in the fruits.
Colorado ciders are as diverse taste-wise as ales ranging from dramatically dry or semi-sweet to fruit-forward, oak-aged or infused with other fruits, hops and even spruce and cucumbers. Ciders can be still or effervescent like Champagne.
"The general consuming public is still in the Miller Lite phase of cider appreciation. The same thing happened with beer. People were initially freaked out by hops and too much flavor," Page says.
"Craft cider is a smaller market of people who appreciate it, but it is growing. We're true cider believers. We're just waiting for everyone else to catch up."
FRUITS AND LOOPS
COLORADO APPLES AND GOLF COURSES HAVE GROWN HAND IN HAND
EVERY TIME A GOLFER bites into an apple on the East or West courses at The Broadmoor,
they get a taste of the long colorful history of apples and golf in Colorado. Back in 1867, before Colorado was a state, Jesse Frazer planted the first apple orchard in Florence. At that time, most apples were pressed for hard cider, not sliced in pies. By the late 1890s, Colorado was famous for the sweet eating apples it shipped east by rail.
Meanwhile, in 1887, a horse track on the west side of Denver known as Jewell Park was purchased and became Overland Park Club (the original name and home to the Denver Country Club), opening a nine-hole course in 1895. And before the century turned, Colorado Springs boasted two private courses: the nine- hole Cheyenne Mountain Country Club and the 18-hole Town and Gown Club, which now operates as the public 27-hole Patty Jewett Golf Course.
Also in Colorado Springs, Spencer Penrose bought Dixon's Apple Orchard in 1916 to create his estate next door to The Broadmoor, the grand hotel he would open two years later. Penrose named the estate El Pomar—Spanish for "The Orchard"—and that land eventually became part of the resort's golf course. Since 2001, in honor of El Pomar, fresh apples have been offered from a barrel to every golfer as they begin play on either the East or West course. Colorado apples have also always figured prominently in The Broadmoor kitchen's famous desserts and pastries.
The Broadmoor shares an uncomplicated recipe for a fall American classic, the Apple Brown Betty.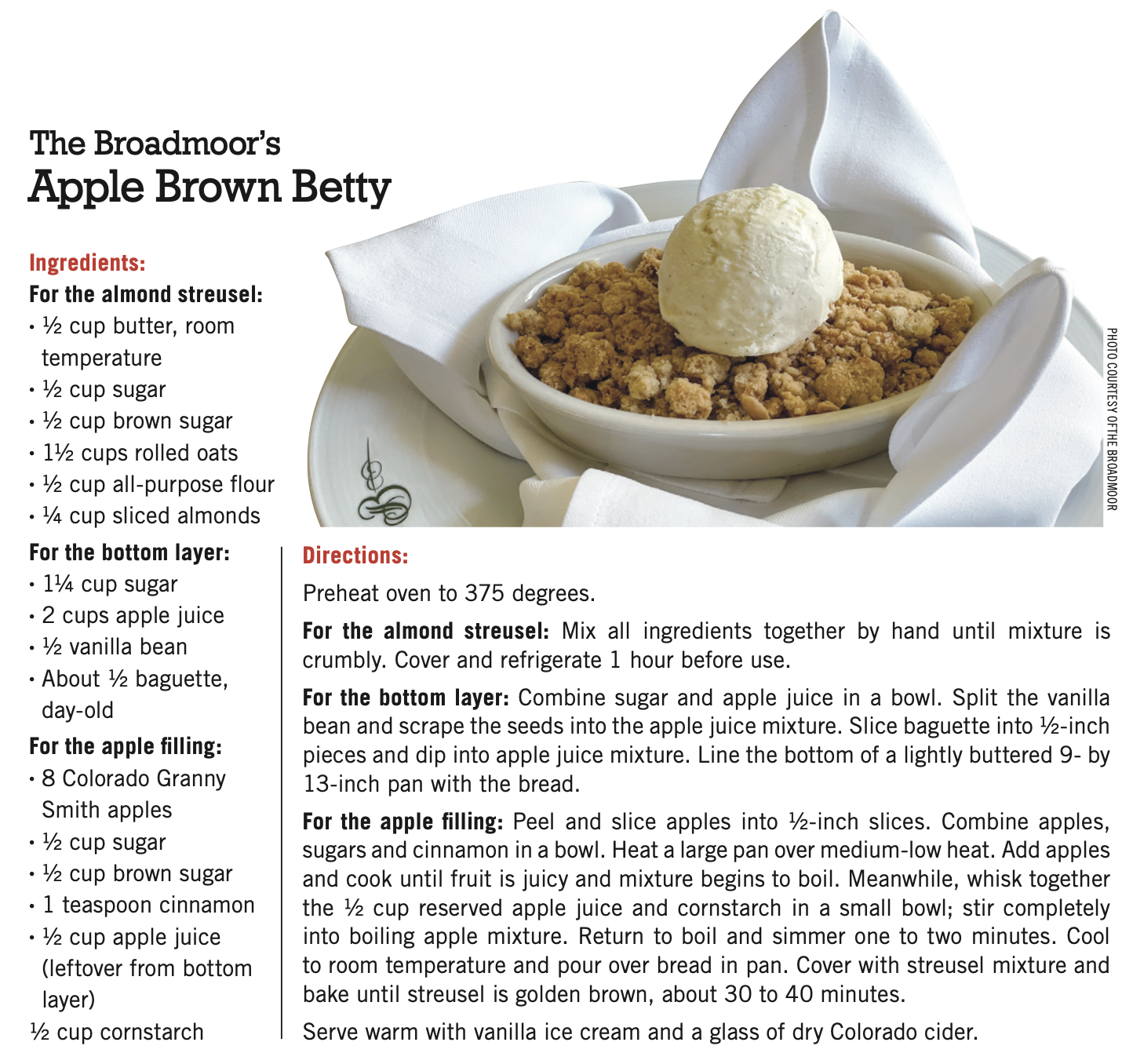 The Cider State
TO VISIT SOME of the Colorado cideries producing diverse styles, consult the cidery directory of the Colorado Cider Guild (cociderguild.org). Here are some of the best and most widely available Colorado ciders worth discovering.
Big B's Delicious Orchards
Hotchkiss (bigbs.com) BoCo Cider
Boulder (bococider.com) Clear Fork Cider
Wheat Ridge (clearforkcider.com) Colorado Cider Co.
Denver (coloradocider.com) EssoTerra Ciderworks
Dolores (esoterracider.com) Fenceline Cider
Mancos (fenceline.co) Haykin Family Cider
Aurora (haykinfamilycider.com) St. Vrain Cidery
Longmont (stvraincidery.com) Snow Capped Cider
Cedaredge (snowcappedcider.com) Stem Ciders
Denver and Lafayette (stemciders.com)
Talbott's Cider Company Palisade (talbottsciderco.com)
Wild Cider
Firestone (wildcider.com)
CAG Contributor John Lehndorff writes the Nibbles column for the Boulder Weekly and hosts Radio Nibbles weekly on KGNU (kgnu.org).
---
This article was also featured in the Fall 2021 Issue of Colorado AvidGolfer.
Colorado AvidGolfer is the state's leading resource for golf and the lifestyle that surrounds it, publishing eight issues annually and proudly delivering daily content via coloradoavidgolfer.com.