Colorado Golf Club pairs eye-popping golf with mouthwatering fare at this September's U.S. Mid-Amateur Championship.
By John Lehndorff | Photographs by Cassidy Hawkins/Colorado Golf Club
AT 6,100 FEET above sea level, with panoramic views that embrace Pike's Peak and Longs Peak, Colorado Golf Club inspires Instagrammable moments on its Coore-Crenshaw-designed course, and memorable alfresco lunches and relaxed dinners in its well-appointed clubhouse.
Typically, only members of this private club in Parker savor this peak experience, but September 14-19 the doors will open to the public, as 264 of the best non-professional golfers 25 years of age and older compete in the U.S. Mid-Amateur.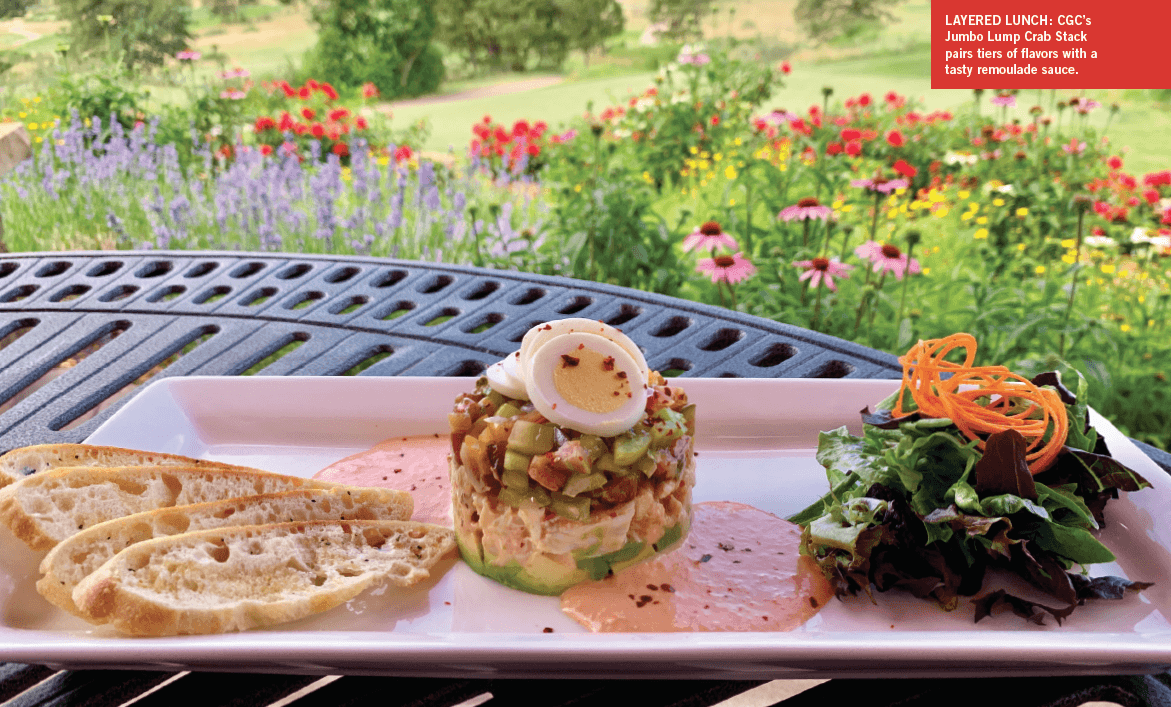 Unlike the roped-off, highly orchestrated PGA tournaments involving Tiger, Dustin, Brooks, Bubba and other one-name golfers, the U.S. Mid-Amateur is, well, more fun for average fans. It's a smaller, low-key affair with no grandstands and it's easy to follow the golfers from hole to hole.
This relaxed atmosphere extends to the menu planned by the club's new executive chef, Jason Hughes.
Taking care of 500-plus folks for breakfast, lunch, drinks and snacks each day of the tournament is "fun," says Hughes, who fed multitudes during career stops at Nashville's Belle Meade Country Club, Chattanooga Golf and Country Club and Omaha's Happy Hollow Club, where he served the likes of Warren Buffett.
During the Mid-Am, the clubhouse restaurant will offer elaborate breakfast and lunch buffets with a different theme each day. The breakfast spreads will include house-made corned beef hash and huevos rancheros along with the standard favorites.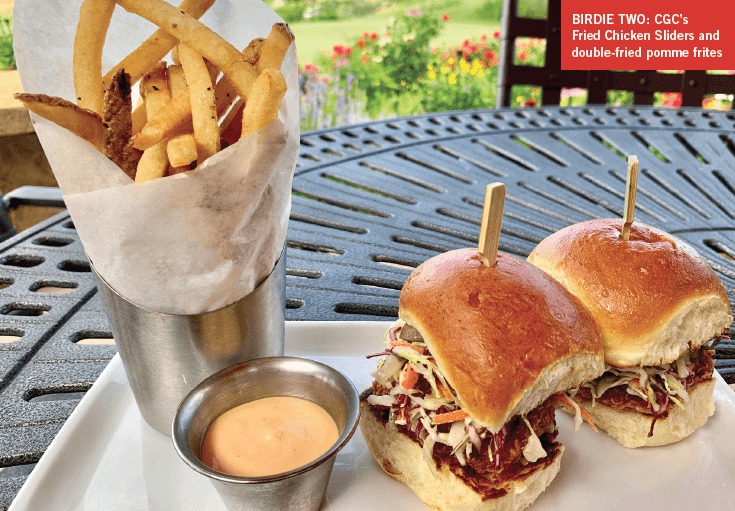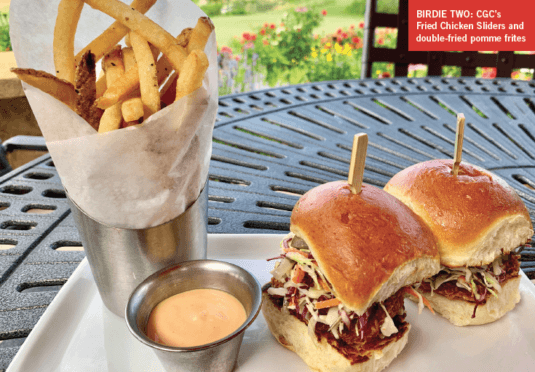 "For lunch, one day we'll feature house-smoked Texas-style brisket, pork butt and ribs. Another lunch buffet will have chicken sliders, Wagyu beef sliders and Wagyu meatball subs," Hughes says. The Mexican and Southwestern day includes some genuinely craveable quesadilla "cones."
Hughes says he likes to take familiar dishes and elevate them with fresh ingredients, Colorado meats and cheeses and flavor-boosting techniques like smoking and pickling.
"I take great beef brisket and fresh poblano peppers and slowly smoke them. Then I fold them in a big flour tortilla with caramelized onions and cheese," he says. The package is griddled 'til crispy and melty and dished with red and green salsas.
Hughes learned some things about fried chicken during his recent stint in Tennessee.
His chicken slider is a boneless local Redbird breast—fried with a crackly crust—and tucked with coleslaw on a toasted brioche bun. He's ready to make it "Nashville hot" on request. The crisp double-fried French fries are worth a visit by themselves.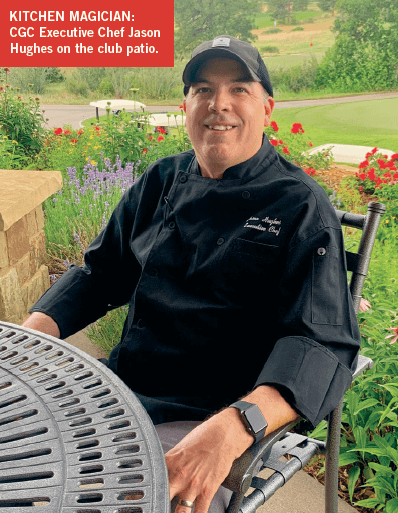 For a cocktail with a view on the patio, order the club's signature refresher, The Paintbrush—fresh sweet strawberry puree mixed with Tito's Vodka, sparkling water, ice and tart lemonade.
COMING HOME TO COOK
CGC represents a homecoming for Chef Hughes, who was among the first graduates from Denver's Johnson & Wales University. "I loved snowboarding in Crested Butte, and we've lived in Colorado off and on for years," he says.
In the process of updating the club's regular menu, the executive chef is sharing some of his preparations in the restaurant as nightly dinner features for members and their guests.
For instance, his cool compressed watermelon and feta salad with toasted pine nuts, basil, extra virgin olive oil and a balsamic reduction is getting a warm reception. Another appetizer star has been the jumbo lump crab stack layered with avocado, heirloom tomato, hard-boiled egg and remoulade dressing. And, for traditionalists, his Parmesan-broiled Oysters Rockefeller are always perfect.
Hughes' featured entrées have ranged from a 14-ounce dry aged bone-in Kansas City strip steak to soft shell crabs with butter-poached potatoes to house-made meatballs and spinach pappardelle with chile marinara.
An in-house pastry department crafts memorable meal-enders including a banana Heath Bar cheesecake and a chocolate cookie sandwich middled with "smoking" liquid nitrogen strawberry ice cream.
Having cooked at diverse courses across the country, Hughes has seen golf fare evolving as a younger generation of enthusiasts take over the game. "Today's golfers have traveled a lot and tasted a lot of cuisines," he says. "They also have more complex fitness and dietary needs, whether it is vegan, gluten-free or paleo.
"One of the things I like about cooking at a golf course is that you aren't locked into a cuisine. It can change daily. You have close contact with the members and can introduce new dishes that they like."
MUST-TASTES IN PARKER
Don't let the gauntlet of chain eateries lining Parker's thoroughfares fool you. Tucked away all over town are some seriously cool restaurants, bakeries and cafés dishing everything from ribeye steaks to Korean fried chicken.
On your way to the course, meet the morning at uber-cozy Fika Swedish Coffee House (fikacoffeehouse.com) on Mainstreet. Fika is Sweden's celebrated daily coffee-and-pastry break. The many nooks here invite conversations over organic Kaladi Coffee drinks and great baked goods. Must-Tastes: Chai latte, warm iced cinnamon roll.
The Parker Garage (parkergarage.com) occupies a historic building on Mainstreet. Celebrated chef Duy Pham guides the kitchen, but the menu is full of well-crafted approachable dishes. Lunch includes Korean fried chicken on brioche. Dinner features miso salmon with crab basil fried rice or lamb two ways with potato puree and English peas. Ask chef Pham about the exquisite Japanese kitchen knives he crafts by hand. Must-Taste: Southern Colorado Poutine—hot crisp fries and cheese curds bathed in Pueblo green chile—with eggs for brunch.
La Baguette de Normandy (labaguettedenormandy.com), a precious boulangerie near Jordan Road and Lincoln Avenue, has few tables but a splendid selection of French pastries, meringues and desserts. Take out a hot ciabatta panini with brie, apple slices and walnuts or the simple pleasure of a butter-spread baguette with ham, cheese and cornichon pickles. Must-Taste: Deeply flaky pain au chocolat—dark chocolate wrapped in butter-layered croissant dough.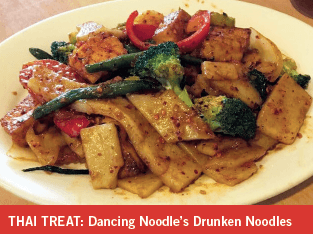 Meanwhile, at 9964 Twenty Mile Rd. (East of Parker Rd., off Lincoln), Vy Vietnamese Cuisine and Baguette builds stellar banh mi on their house-baked French loaves. Fillings for the authentic sub sandwiches range from sardines to meatballs. The classic combo includes ham, meatloaf, head cheese and pâté with mayo, cilantro, daikon pickle, jalapeño and cucumber. Must-Taste: Oysters in garlic butter on the half-shell, char-grilled with cheese.
Do not order your Paht Kee-Mao at the highest heat setting at Dancing Noodle Thai Restaurant (dancingnoodlerestaurant.com). The charming staff will simply laugh as you melt into a puddle from overestimating your chile tolerance. A helpful wall-chart offers heat level choices: No Spice, Little Warm, Good Heat, Thai Fire and Burning Inferno. Must-Taste: My all-time favorite rendition of Paht Kee-Mao or "drunken noodles." It's rare to find a Thai kitchen making its own rice noodles. These thick, almost dumpling-like noodles soak up the sauce as they pan-fry with green beans, tomatoes, Thai basil and broccoli. The "Good Heat" setting hits that "just right" spicy spot.
Parker's menu of favorites also includes:
John Lehndorff is the former dining critic of the Rocky Mountain News. He writes Nibbles for the Boulder Weekly and hosts Radio Nibbles on KGNU.
---
This article appeared in the 2019  August/September Issue of Colorado AvidGolfer.
Colorado AvidGolfer Magazine is the state's leading resource for golf and the lifestyle that surrounds it, publishing eight issues annually and proudly delivering daily content via coloradoavidgolfer.com.