MELVIN GORDON and his Vibez Golf Club are disrupting the game in a positive way.
By Jon Rizzi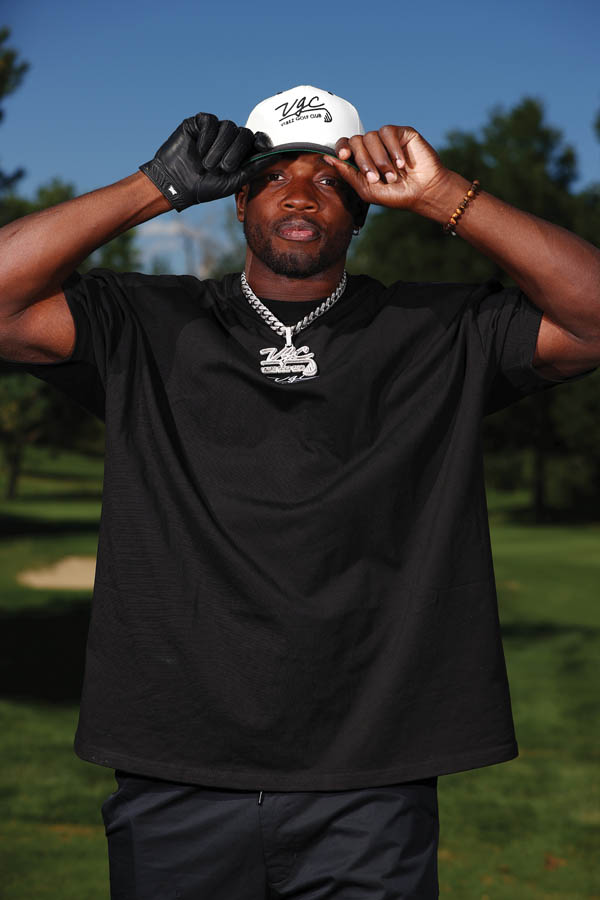 Hard by Lake Michigan, just north of the Illinois state line, Denver Broncos' running back Melvin Gordon' IIIs hometown of Kenosha, Wisc., features 45 holes of public golf. Until his senior year at Bradford High School, however, he had never played any of them.
And that first and only time at the course, with his friend and quarterback Gino DeBartolo, left him … underwhelmed. "I was like, 'I don't know what this is, what I'm doing,'" Gordon recalls. "I didn't really enjoy it. When they told me I had to wear khakis, and I didn't even own khakis, and I had to go out and buy them, I thought, 'There's too much that goes into this. I'm over it.'"
Gordon would earn a football scholarship to the University of Wisconsin, where in 2014 he broke LaDanian Tomlinson's single-game NCAA rushing record with a 404-yard performance against Nebraska on the way to becoming the all-time second-leading single-season rusher in FBS history with 2,587 yards. He won the Doak Walker Award, finished second in the Heisman voting and was the San Diego Chargers' first-round pick in the 2015 NFL Draft.
During his time in Madison, however, Gordon discovered that yards were also important metrics on the golf course. He joined Badger alum (and 2013 Broncos first-round pick) Montee Ball and a bunch of friends and players at a golf outing. "And I loved it," he says. "It's actually fun when you're out there with a group of friends. It's competitive, and I really like that side of it."
GETTING THE VIBE
Coincidentally, in 2015, the same year the Chargers drafted Gordon, one of his friends, Noe Vital, Jr.—a self-described "kid out of college with big aspirations"—took a job with the San Diego-based document platform GoFormz. "I was either going to surf or play golf," Vital says. "I picked up golf for the wrong reason—a way to show the world you've made it—then I realized how much I enjoyed it."
Vital would coax Gordon and former Badgers wide receiver Kenzel Doe into trips to the driving range "to get them to like the game more, so they would play with me. Even though they're great athletes, they struggled with it, but we had fun."
What wasn't fun, Vital says, was the reaction he got when he showed up at his father-in-law's country club with Jordan golf cleats. "On the course, I saw the way his friends were looking at me. You don't know what that feeling is until you've felt it … Wearing my Jordans, my hoodies and my hats, things like that—certain golf courses, they just don't accept that, which I think is ridiculous."
By 2019, Vital decided to apply his business degree and entrepreneurial instincts to the problem. He looked at how people had built successful companies and brands by making video games cool, like Faze Clan and 100 Thieves. "I thought we could do this with golf and have a real social impact," he explains.
That impact got a boost from the following year's protests over the high-profile police killings of numerous people of color—as well as the shooting of Jacob Blake in Kenosha and the ensuing riots that left two dead.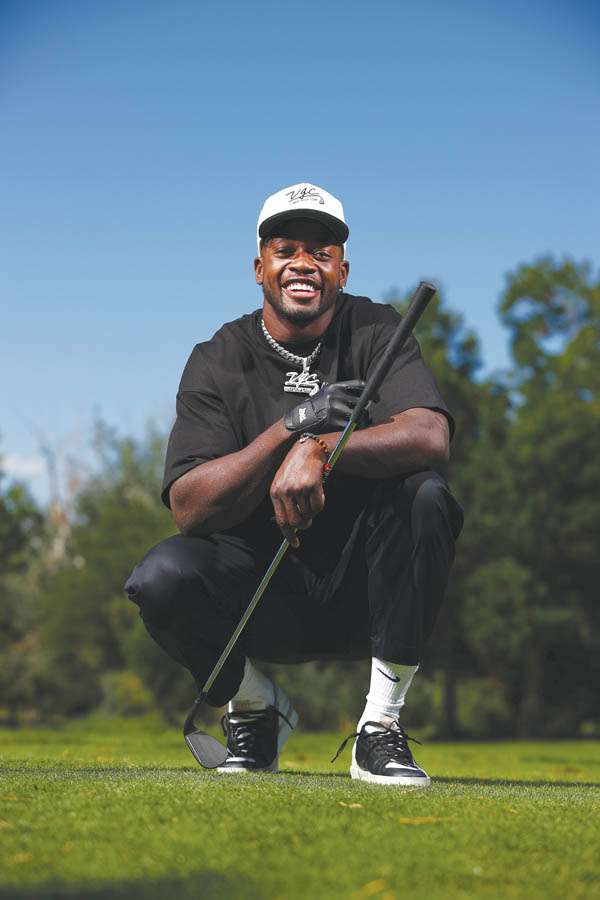 As the Black Lives Matter movement gained traction, the PGA TOUR, PGA of America and USGA prioritized diversity and inclusion. The developmental APGA Tour generated attention and major sponsors, and Roger Steele, an outspoken African American golf content creator, became such a social-media phenomenon that Callaway Golf gave him his own biweekly show and CBS hired him as part of its 2022 PGA Championship coverage.
Against that backdrop, in 2021 Vital, Gordon, Doe and seven other former Badgers—Hugs Etienne, Darius Feaster, Darius Hillary, Tanner McEvoy, Dare Ogunbowale, Austin Traylor and Robert Wheelwright—partnered to form the Vibez Golf Club. Each member has a specific job and title: For example, Gordon is director of social media; Vital is CEO; he shares the marketing leadership with Hillary, a fellow biz-school alum who serves as the CFO.
"We have a huge opportunity to disrupt the game in a positive way," Vital says, "and the way we do that is by just bringing our own personality to the courses with the levers that we can pull on today." Those include YouTube videos of group activities, social media posts, appearances at events, branding and merchandising. "You've got to show it to grow it," he says.
WATCH AND LEARN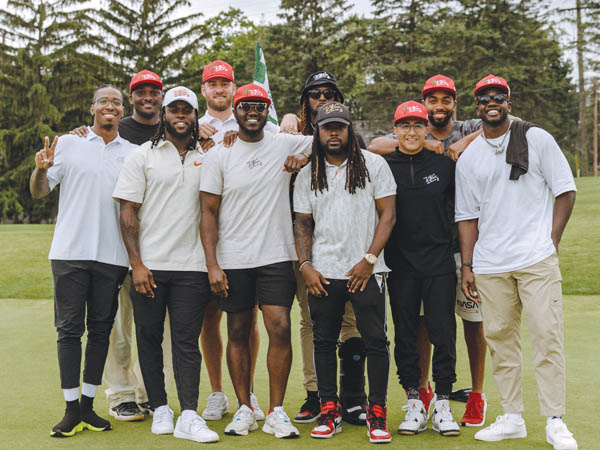 This summer's shows included a competition at Aurora's Saddle Rock Golf Course between VGC members Gordon, Feaster, McEvoy and Vital and Broncos Justin Simmons, Sam Martin, Josey Jewell and Courtland Sutton. A capsule of the match lives online. "We know kids love to watch YouTube, and this gives them a way to see a different side of golf in a competitive way," Gordon says. "They can see us trash-talking, being ourselves outside our jerseys."
In another July video, all 10 VGC members celebrated the organization's first anniversary with Vibez Go Crazy, a tournament at The Glen Golf Park—a nine-hole Madison muni restored by Michael Keiser that brought in Bo Jackson. Days later, at the PGA TOUR's 3M Open at TPC Twin Cities in Minnesota, Gordon and Ogunbowale and a few other VGC members visited with kids at the 3M Open Fan Village.
"We were also on a panel with Larry Fitzgerald, Roger Steele and a few other big names," Gordon says. "That felt special, to be part of the conversation about what golf means to us, and what we're trying to do and change, in front of a group of kids."
FLASH FORWARD
Gordon concedes his golf game is a work in progress. He has trouble off the tee, but, he says, "my short game's really good—a shout-out to years of mini-golf for that!"
The 29-year-old two-time Pro Bowler, who currently splits carries with the younger Javonte Williams, says he's so focused on getting to his first Super Bowl that he probably won't touch his brand-new set of PXG clubs until the season ends.
There is, however, a chance he'll take another swing at some iteration of the Topgolf fundraiser he held during last year's November bye week.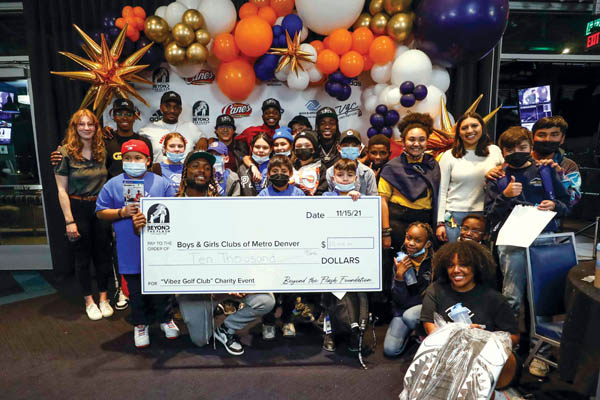 At that event—which included an exclusive silent auction and VIP Prizes—Gordon's own Beyond the Flash Foundation presented a $10,000 check to the Denver chapter of The Boys & Girls Club. The kids got lessons from instructors, entered raffles for X-Box games, jerseys and bookbags.
"They also got to meet some of the players," Gordon says. "I played arcade games with the kids, talked and laughed and just keep them entertained."
More than just swag, Gordon wanted the kids to leave having been exposed to golf—something he never experienced growing up in Kenosha.
"The goal, the mission, is to raise awareness and make golf attractive to minorities, guys like me, who came from poverty and were not really exposed to it," he explains. "My dad made sure I played a lot of sports growing up, but golf wasn't one of them. With Vibez, we're trying to make the game more approachable, especially for kids who look like me, act like me, have hair like mine. When I was a kid, I didn't think I could go to the golf course."
Meanwhile, Vital is looking into developing a Vibez Golf Club affiliate program and create a Vibez Golf Club "ecosystem of people, courses, apparel and like-minded brands."
The strength of that ecosystem, Gordon believes, depends on inspiring kids. "Where I'm from, kids only look at football and basketball as a way out, to provide for our families," he explains. "And it doesn't have to be just that."
"We're just trying to bring new eyeballs to the game," he continues. "This way, the next generation of golfers can look more like us. We want them to be from all over the place, not just one demographic. To me, the future is one day having some guy playing in the Masters with dreads and a fitted hat—and putting on that green jacket."
---
This article can also be found in the Fall 2022 Issue of Colorado AvidGolfer.
Colorado AvidGolfer is the state's leading resource for golf and the lifestyle that surrounds it, publishing eight issues annually and proudly delivering daily content via coloradoavidgolfer.com.