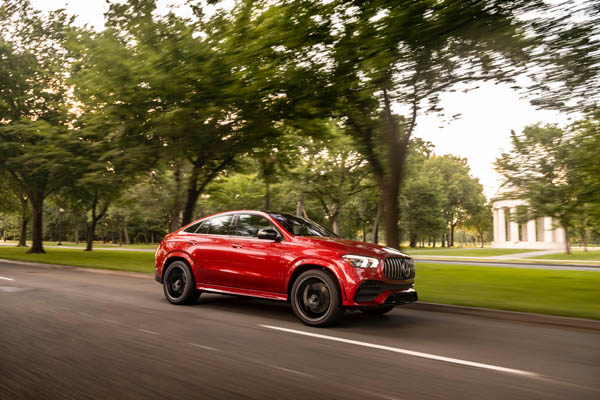 The sleek, fast GLE53 is a welcome addition to the AMG line
By Issac Bouchard
Now that SUVs and crossovers have replaced cars as the vehicle of choice for most shoppers, it should come as no surprise that there are multiple versions of each, like the Coupe versions of the Mercedes GLE. This is no different than the era of two-doors being built off of sedans, after all. In the case of the Mercedes-AMG, its sleek roofline brings a very distinct look from the side and rear. And while it loses 5 cubic feet of storage (which is equivalent to two carry-on suitcases when the rear seats are down and five less when the seats are in use) it's still one capacious machine.
There are two AMG versions: the GLE53 tested, and the insanely fun and powerful 63 S. The former's turbocharged, inline six-cylinder is of 3-liter capacity and pumps out a solid 429 ponies. It will hustle to 60 in 4.7 seconds and through the quarter in 13.4. That makes this Mercedes-AMG more than adequately fast for most. What the 53 lacks is the glorious hot-rod sounds the V8 in the 63 S. But it does get really decent fuel economy (16.6mpg average and up to 26mpg on the highway, according to the onboard computer) and the sounds it generates are very cultured.
The GLE53 chassis does nothing to undermine this; it handles the Mercedes-AMG's prodigious mass well, thanks to active antiroll bars and air springs, yet it rides really smoothly, unlike many sporty SUVs with wheels as big as the 22's the test vehicle wore. Those rims, being forged, are stronger and lighter, which certainly helped, as did high performance tires with a decent amount of sidewall to absorb expansion joints and manhole covers. Steering precision and brake performance were also impressive. The multiple drive modes add to the Mercedes-AMG's bandwidth, including the off road one, which made it much more settled on washboard dirt.
The interior is as impressive and expensive looking as the GLE53's price would lead one to expect; two 12.3in screens behind one large swath of glass, framed by lovely ambient lighting strips and high-quality materials make it a great place to spend time. The latest MBUX software is superb, and the voice command interface is generally excellent. Front seating comfort and support are distinctly Mercedes—the way the company implements under-thigh support and massage functions is quite unique. The second row is comfortable as well. All in, the GLE53 Coupe is a great addition to the AMG lineup.
EPA Ratings: 17/21/19mpg
0-60mph: 4.7sec
Price as tested: $94,025
Here is what Mercedes has to say.
4.5 Stars
Automotive Editor Isaac Bouchard owns Denver-based Bespoke Autos ([email protected]; 303-475-1462). Read more of his automotive writing, reviews and recommendations on coloradoavidgolfer.com and bespokeautos.com.
---
Colorado AvidGolfer Magazine is the state's leading resource for golf and the lifestyle that surrounds it, publishing eight issues annually and proudly delivering daily content via coloradoavidgolfer.com.