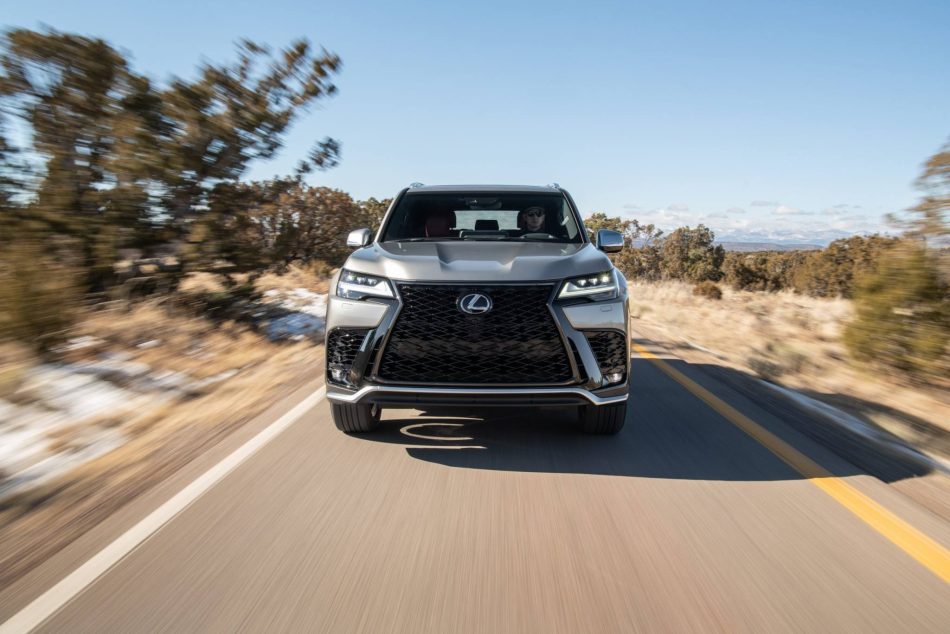 Get in Line – Consumers facing 12-month Wait For Lexus' Newest LX
By Issac Bouchard
It won't matter one iota what anyone—including me—says about the Lexus LX600; it's sold out across the globe, for literally years. In the US, the waitlist is also over 12 months, partially because the Toyota Land Cruiser upon which it is based is no longer sold here. Built on a new platform, it is still body-on-frame in construction, rides on a live rear axle and actually has the same, 112.2in wheelbase as previous generations stretching back three decades. As such it is smaller inside than competitors like the BMW X7, Cadillac Escalade, Lincoln Navigator, Jeep Grand Wagoneer or Mercedes GLS. Exclusively powered by a 3.5-liter, twin turbo V6 hooked to a 10-speed auto with low- and high-range AWD, the LX600 has more in the way of off-road chops than its competitors, but that focus compromises it for road use. F Sport trim means (in theory) a more driver-focused mission, but if that is the case, I can't imagine what interaction the other models in the LX lineup offer. Steering is much more accurate than the previous model, but there's no feel, and the chassis wallows so much in its softest setting that it can induce nausea over a rough road. The Lexus is best in its stiffer settings, but even then, body roll is almost nautical, and the otherwise-smooth ride is upset by potholes, pavement breaks and other common surface features of our roads. The LX600 is super quiet, though, and the 409hp engine remains muted as it dutifully goes about its business. 60mph takes 5.9 seconds, fuel economy is 1-2mpg better than competitors, and the 479lb-ft of torque mean the Lexus has stout midrange muscle.
The LX600 F Sport's interior is modern in appearance and exceedingly well assembled from solid materials. Front seat comfort is superb for a vehicle with so few adjustments and no massage function. However, middle row seating is tight and the third row is very compromised. Also, many of the plastics look like they belong in a $60,000 vehicle; one needs to spend $20,000 more to step up to the Ultra Luxury trim in order to get finishes worthy of the LX600's price—and this means giving up three seats. Cargo capacity is less than competitors, and the practical split tailgate is gone, too. The Lexus' interfaces look impressive but are not intuitive to use, and the one closest to the driver's right hand wastes precious real estate on off-road displays that will mostly go unused. And, while there's an underbody camera that will display the trail the Lexus is about to traverse (as if it is a glass-bottomed boat) there's no truly hands-free driving mode like Cadillac's Super Cruise or Lincoln's ActiveGlide. But as I said at the beginning, no buyer will care what I say; being a Land Cruiser at heart, the LX600 will probably outlast the Apocalypse, and hold value like an Aspen property. This machine is an institution.
EPA Ratings: 17/22/19mpg
0-60mph: 5.9sec
Price as tested: $107,585
Here is what Lexus has to say.
3 Stars
Automotive Editor Isaac Bouchard owns Denver-based Bespoke Autos ([email protected]; 303-475-1462). Read more of his automotive writing, reviews and recommendations on coloradoavidgolfer.com and bespokeautos.com.
---
Colorado AvidGolfer Magazine is the state's leading resource for golf and the lifestyle that surrounds it, publishing eight issues annually and proudly delivering daily content via coloradoavidgolfer.com.