Honda's sporty, more upscale new Civic SI won't break the bank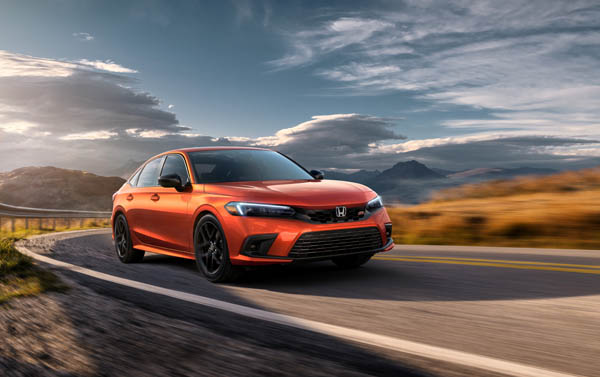 By Issac Bouchard
As once-affordable pocket rockets like the VW GTI move upwards in price, the Honda Civic Si seems a better and better value. The latest looks more upscale and mature and has an interior that is nicer to spend time within. Most materials appear high quality, the seats—with the caveat that there is no lumbar adjust—are comfortable and the steering wheel and 6-speed manual's shifter are pleasing.
It had better be, as there a stir-it-yourself gearbox is the only thing offered, but in the traditional Honda manner, it's a peach, with well-defined paths for the stick to move, and pleasing weighting to its throws, as well as the clutch's stroke. The 200hp, 1.5-liter, turbocharged engine has retuned power and torque curves that sync well; 0-60mph takes 6.8 seconds. That's slower than the old Civic Si by a couple tenths, but the engine is better isolated than before and more pleasing to push. There is now also the option to have the Honda match revs on downshifts automatically, though the pedals are placed well for those inclined to practice this skill themselves.
The Si no longer has adjustable dampers (other decontenting for 2022 includes heated seats and the aforementioned lumbar adjustment), but the tune feels right for these fixed units, and combines with stiffer springs and larger brake rotors to make this one eager beaver in corners, with a responsive nose and good body control. A key Si ingredient is a mechanical limited slip differential, which allows the front-drive Civic to put its 192lb-ft of torque down when coming out of corners, keeping the nose hooked up instead of washing into understeer or spinning up the inside front wheel.
The Si comes exclusively in the Civic 4-door body shell and is practical as its lesser brethren. It gets great fuel economy, will probably be a typical exemplar of Honda reliability and feels more than worthy of its sub-$30k price. In a world seemingly gone mad for size, power and flamboyant styling it is a compelling tonic, as well as a pleasing driver's car.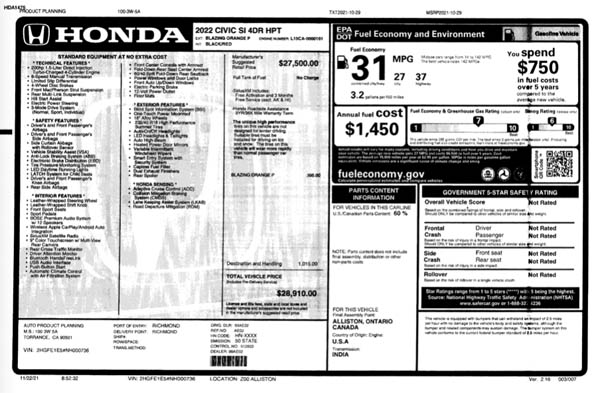 EPA Ratings: 27/37/31mpg
0-60mph: 6.8sec
Price as tested: $28,910
4 Stars
Here is what Honda has to say.
Automotive Editor Isaac Bouchard owns Denver-based Bespoke Autos ([email protected]; 303-475-1462). Read more of his automotive writing, reviews and recommendations on coloradoavidgolfer.com and bespokeautos.com.
---
Colorado AvidGolfer Magazine is the state's leading resource for golf and the lifestyle that surrounds it, publishing eight issues annually and proudly delivering daily content via coloradoavidgolfer.com.