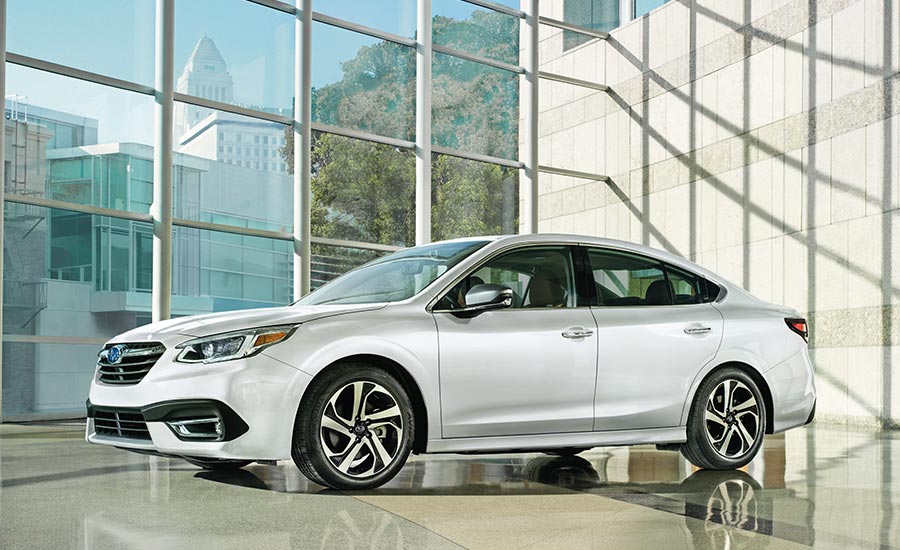 By Isaac Bouchard
Many of us shiver at the memory of those middle school dances we endured decades ago: the nervousness and excitement, how chagrined we were after being turned down when we finally struck up the guts to ask the person we were sweet on to hit the floor. The Subaru Legacy is like that wallflower who few initially think to ask, yet is turns out to have most of the right moves. The Legacy's appearance is nothing to write home about; the sheet metal is not unattractive, but it is tall and upright, and doesn't have that sexy, sweeping roofline of many modern sedans. Nor does it have the plastic cladding and other off-road addenda of its best-selling sibling, the Outback.  
Climb inside an upper tier model mile the Touring XT though, and the Subaru is impressive; there's a rich two-tone design scheme, soft touch materials and an 11.6in, vertically-oriented screen, all of which grab attention. There's a bit too much easily scratched piano black trim(many companies are guilty of overindulgence in this), and the vent registers seem pinched by that big screen—they don't pump much cooling air—but, by and large the Subaru cockpit is a comfortable place to be, with large windows, copious amounts of room front and rear, and very comfortable and supportive seats. It's quite too, with excellent insulation from road and wind noise at speed. In fact, the Legacy is one of the nicest highway cruisers in recent memory, with a superbly damped suspension and exceptionally compliant ride. The helm has a good sense of the straight ahead, and fuel economy at a cruise easily exceeds 30mpg, which is excellent for a vehicle with the forward thrust of the turbocharged XT model.
Its 260hp/277lb-ft don't lessen with altitude, like in a normally aspirated motor's, and it makes a decent partner for the continuously variable transmission, which spins the engine to the point where the turbine is making it boost quickly. 0-60mph takes a tick over 6 seconds in independent testing, which makes the Legacy XT competitive with the Toyota Camry V6, turbocharged Mazda 6 and Honda Accord. The Subaru has standard AWD, which gives it abilities the others can't match, since they are pulled along by their front wheels only. Where it doesn't equal the Honda and Mazda though, is in the corners. The Legacy's comfy suspension doesn't have their reflexes nor composure. Basically, it is a perfect slow-dance partner.  
The Legacy sure comes across as brainy, at least when you first make its acquaintance. There's that big hi-res screen, and all the current driver aids are standard. But the layout and graphics on said interface need some more thought. Some virtual buttons are too small and poorly placed, and one quickly realizes the lower third of the screen's real estate is basically just a replacement for conventional climate controls—and one that is harder to use, at that. Thankfully, this can all be updated later, so a there's hope the Legacy can be head of the class in this area. That Subaru still won't spec lane assist that vibrates the steering wheel instead of chastising the driver for drifting up against road markings with electronic beeps has gotten old. The adaptive cruise also chirps when the Legacy senses another car up ahead. This latter indication is a bit more useful, insofar as it gives the pilot notice to push through the gas and change lanes so as to get past slower traffic, but by and large other companies aid the driver in a more discreet manner. At least these systems are standard, helping to bolster the Legacy's 5-Star crash test rating. There aren't many cars that offer what the Legacy XT Touring does for its price. Between the powerful engine, comfortable and spacious interior and trunk, loads of standard equipment and all wheel drive, it almost stands along. European AWD machines cost tens of thousands more when equipped like it, and Asian competitors like the  Nissan Altima don't have its oomph. So while the Subaru may not be the first one asked to dance, it may very well be the car one ends up going steady with. 
EPA ratings: 24/32/27mpg 
0-60mph: 6.1sec 
Price as tested: $36,795 
Here is what Subaru has to say. 
3.5 Stars 
Automotive Editor Isaac Bouchard owns Denver-based Bespoke Autos ([email protected]; 303-475-1462). Read his latest address on how COVID-19 is affecting the automotive industry: Click Here
---
For more auto reviews, visit our LIFESTYLE PAGE.
Colorado AvidGolfer Magazine is the state's leading resource for golf and the lifestyle that surrounds it, publishing eight issues annually and proudly delivering daily content via coloradoavidgolfer.com.