THE BEST OF BOTH
Just as it straddles two states, Nevada and Arizona, The Palms Golf Club in Mesquite offers a choice between two different styles of golf. The 7,008-yard course features an opening nine with lush, resort-like features. The back nine is full of elevation and has a decidedly desert feel. casablancaresort.com/golf/palms

Read more in the 2020 Nevada's Getaway Guide:
PRESENTED BY

GETAWAYS | NEVADA
THE SURE THING
It's Never a Gamble Playing Golf in Nevada.
WHERE'S RICK?
Shuttered for a time because of the novel coronavirus, the Casablanca Resort reopened its doors in June. That means you can pamper yourself at the Spa & Salon at Casablanca or hunker down in the casino for a night of gaming. casablancaresort.com/spa

(NEVADA) OPEN SPACES
Playing at more than 7,000 yards from the tips, the Cal Olsen-designed Casablanca Golf Club lies etched into the wetlands of the Virgin Valley. Along with the Palms Golf Club, the Casablanca will host the Nevada Open in November. The three-day, 54-hole tournament, which has been conducted for more than 40 years, has a purse of $150,000. casablancaresort.com/golf/nevada-open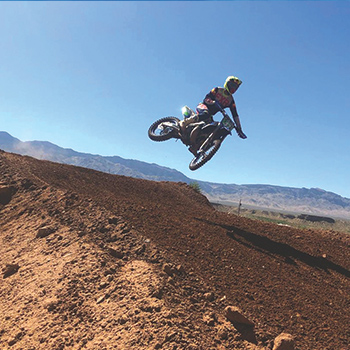 TURKEY WITH A 10W-40 CHASER
There's nothing like a traditional family Thanksgiving…turkey, pumpkin pie—and a night of motocross racing. Dinner, and a whole lot of dragon backs, will indeed be on the menu when the Thanksgiving MX Classic comes to Mesquite MX Park, Nov. 26-29. A "family tradition" for motocross enthusiasts, a slate of nightly activities are offered for the entire gang. thanksgivingmx.com
WE'LL NEVER TELL
Should you hop in your car, heading south out of Mesquite, and find yourself mesmerized by all the glittering lights about an hour or so into your automotive foray…well, who are we to judge? Two words: Vegas, Baby. lasvegas.com
THERE'S MORE THAN THE PALMS AND CASABLANCA WHEN IT COMES TO LOCAL GOLF.
Golf Mesquite is your one-stop shop to gain access to a number of compelling courses like Falcon Ridge Golf Course and the Coyote Springs Golf Club, where the individual holes have colorful nicknames like "The Flop," "Splash The Pot" and "On Tilt." Meanwhile, The Oasis Golf Club is an Arnold Palmer design. Rumor has it that "The King" thought the fifth, sixth and eighth holes were among the best 18 he'd ever designed. golfmesquitenevada.com
SURFIN' SAFARI
How many times have you woken up in the morning wishing you could go on a camel safari? Well, if you're in Mesquite, you're in luck. Besides its 30 camels, Camel Safari also has a two-toed sloth, an African-crested porcupine and six-banded armadillos on every tour. camelsafari.com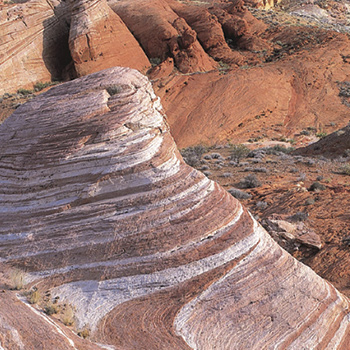 INTO THE FIRE
World-renowned for its 40,000 acres of bright red Aztec sandstone outcrops nestled in gray and tan limestone, Valley of Fire State Park contains ancient, petrified trees and petroglyphs dating back more than 2,000 years. While the park is open, special events—like the intriguing- sounding Annual Atlatl Competition (in which participants test their skills with replicas of ancient spears)—are on hold because of COVID-19 restrictions. parks.nv.gov
OTHER GETAWAYS TO VIEW
---
This Getaways article was also featured in the Fall issue of Colorado AvidGolfer.
Colorado AvidGolfer is the state's leading resource for golf and the lifestyle that surrounds it, publishing eight issues annually and proudly delivering daily content via coloradoavidgolfer.com.