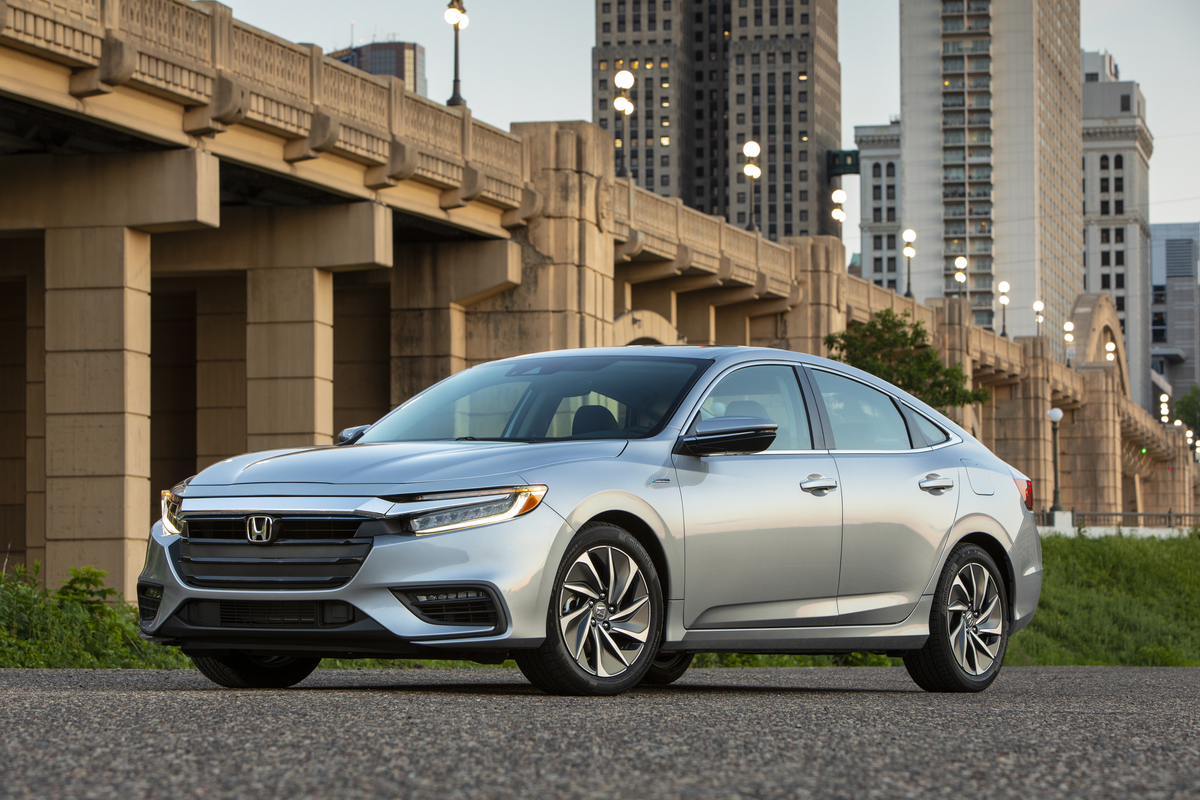 With precise steering, a buttoned-down yet biddable chassis and smooth ride quality, the Honda Insight Touring is a worthy drive.
By Isaac Bouchard
Honda was first to market with a gasoline-electric hybrid car, the 2000 model year Insight. With its teardrop shape, fender spats and manual transmission, it was radical in engineering and design. The second-generation version debuted in 2009, and was a wan, pale shadow of its predecessor's genius—and a mediocre rival to the Prius. This new Honda returns the Insight to the forefront of this small class of rivals, which, in addition to the Toyota, now includes the excellent Hyundai Ioniq. Based on the excellent Civic component set, the Insight is more rewarding to drive than those worthy rivals, with precise steering, a buttoned-down yet biddable chassis and smooth ride quality. Its combination of 107hp/99lb-ft 1.5-liter gasoline engine and 129hp/197lb-ft electric motor give it a total system output of 151hp and acceleration beats the others by a significant amount, yet fuel economy is at or near the best available (note that the Touring model tested nets 4mpg less than the lower trim levels). The Insight almost always feels fleet of foot, and the handoff between the various motive sources is near seamless. The level of regenerative braking—as well as throttle responsiveness—is driver adjustable.
The compact lithium-ion battery pack (placed under the rear seat) allows for a more commodious interior than the others, and a trunk that retains almost all the size and fold-flat passthrough practicality of the Civic. However the Prius and Ioniq are hatchbacks; the Insight's conventional four-door design works against it at times. The Honda has a really nice cockpit, with lots of soft-touch surfaces and many the luxury and tech appointments, like remote start, a tuneful 450-watt surround sound system, that are often the differentiator for more expensive vehicles. Its infotainment system is excellent and all the modern driver assist systems are present and work very well. What really sticks with you after time in the Insight is how thoroughly conventional it is. Unlike the otherworldly vibe of the first, or the low rent frugality of the second, this Insight makes a terrific alternative to more conventional sedans, all while returning almost 50mpg in normal, mixed driving.
EPA 51/45/48mpg
0-60mph 7.7sec (independent test)
Price as tested $28,985
Honda's take on the Insight
4.5/5 Stars
Contact Isaac Bouchard for help saving time, money and hassle when buying or leasing one at [email protected]
---
Colorado AvidGolfer Magazine is the state's leading resource for golf and the lifestyle that surrounds it, publishing eight issues annually and proudly delivering daily content via coloradoavidgolfer.com.