I have been accused of being a particularly harsh critic of recent Lexus (and Toyota) redesigns, and my first exposures to the latest, fourth-generation GS350 last year did little to change my opinion. As the owner of a third-gen, 2007 vintage model, I've felt my concerns are valid, but the public doesn't seem to agree, as it buys three times as many of the new GS as the old.
Was there something I was missing? I had the chance to find out recently, when a GS350, this time in Luxury Package specification, showed up for a week. I had no immediate change of heart, as this latest GS350, parked next to mine, looked like a bloated, amateurish caricature. Gone was the taught litheness of that earlier sports sedan, one the first Lexi to use the company's then new "L-Finesse" styling. In its place was the new model, with its overwrought, unfinished detailing and slab sides, perched precariously atop too-small wheels.
Yet a week driving them back-to-back had me revising many of my original criticisms. For in most every objective measure, the new GS350 was a better car to drive than mine. It road more serenely, with less noise and intrusion from road blemishes. It handled better, with faster turn-in and better body control. It was also faster and more frugal.
Credit that last to a reduction in mass, especially surprising in that my last-generation GS weighed in over 500 pounds lighter than many competitors. Yet this new one feels as rigid as the old, and the payoff at the gas pump is obvious. Even with mpg-sapping all wheel drive hardware, this latest Lexus averaged 2mpg better than my well run-in machine.
Tweaks to the excellent, long-serving family 3.5-liter V6 (now with 306hp and 274lb-ft) and six-speed automatic insure the GS350 remains competitive in acceleration (0-60 in under six seconds) and excels in fuel economy; Lexus also now pipes in some of the engine's intake sound to make it sound sportier. I could live without that artificial theatricality, as this is one buttery-smooth, refined sounding engine, but it seems to be the way things are trending. Even BMW's famous M-cars now synthesize engine noises using the cars' audio system, and Porsche's latest 911 also has a device that blasts intake pulses into the cockpit.
Braking performance seemed the same between the two cars, but the 2013's steering was slightly better, being as accurate, yet with better weighting (neither offered any genuine feel).
One area where the new car has changed quite dramatically was interior design and execution. Gone was the intimate cockpit of my car, replaced by a horizontally-themed tech-fest with plenty of space for four. That extra room was apparently badly needed for larger folk and families, and there's no doubt the older car is a tight fit for some. But the implementation of the new GS350's infotainment system still leaves me wanting. Its not the size or location of the massive, eight inch high-resolution screen, which looks great and is close to the windshield's base, theoretically keeping a driver's eyes from travelling as far from the road. But the use of an omni-directional "mouse" to control an icon on that huge display means that in practice, doing much of anything can be hazardous.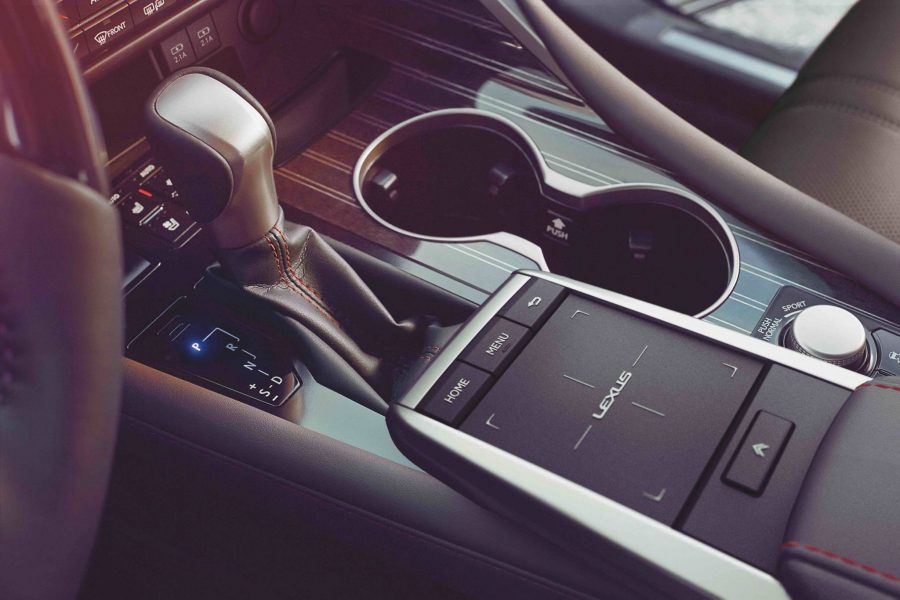 German companies also use complex menus and mice-like controllers, but by limiting the number of places the curser can go, they make things much more intuitive. Lexus tries to overcome this by offering "haptic" feedback through the controller, but it doesn't work. The curser is often hard to spot, and it's easy to overshoot where you want it to land, meaning you spend too much time with your eyes where they shouldn't be. Much better some "hard" menu buttons for oft-used functions and a touch screen (like the older car) or the ruthless Teutonic efficiency of an Audi, BMW or Mercedes.
Many newer Toyota and Lexus products suffer from interiors built of inferior materials as compared to their predecessors. The Luxury model GS350 didn't seem as afflicted, as its aniline leather, plastic moldings and real wood were quite nice. But current competitors from Asia and Europe still do it better, with polished accents (instead of mismatched, dull gray plastic) and more refined surfacing. And there's no doubt the moldings and materials in my six year old GS are of higher quality.
Yet in the final analysis, I concluded that Lexus has judged the new GS350 very well. It is now of the proper size for the class, drives almost as well as cars from Audi, BMW and Mercedes, and costs slightly less. It is also visually dramatic enough to catch shoppers' eyes. If it retains the long-term durability and reliability Lexus is famous for, it should continue to do well in this fiercely competitive sector, even if I wouldn't consider it as a replacement for my own.
EPA ratings: 19/26; 21mpg combined
Price as tested: $61,212
Here is what Lexus has to say about the GS350.
Colorado AvidGolfer is the state's leading resource for golf and the lifestyle that surrounds it. It publishes eight issues annually and proudly delivers daily content via www.coloradoavidgolfer.com.