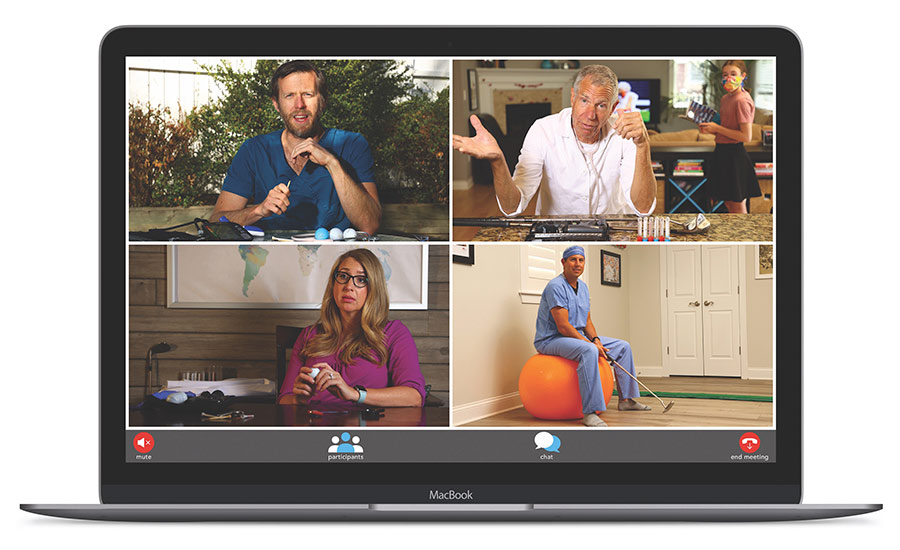 While golf isn't at the forefront these days, some health care workers say there are links between the game and their efforts fighting COVID-19.
Like anyone who's made the invariably ill-fated decision to pick up a golf club, Shannon Sovndal has at times found himself obsessed with the idea of finding his true, authentic swing. To the point where he's reached out to discuss the concept with Steven Pressfield—as in the guy who gave life to the term in his novel, –The Legend of Bagger Vance.
"We had this communication back and forth…I essentially live by that—the concept of trying to find your own authentic swing," says Sovndal, an emergency room physician at Boulder Community Health, and an EMT. "There probably aren't a few days that go by without me thinking about it…it's a moving piece and an analogy that I find very dear."
As it turns out, apart from taking a few swings at a golf-sized whiffle ball in his backyard, these days Sovndal hasn't had much of an opportunity to embrace the physical side of the metaphysical quandary posed in the novel. While he agrees with the idea that golf is an acceptable, even exceptional, way of coping with the COVID-19 pandemic—"You need to have stress relief…golf is one of those things; getting outside, smelling the fresh air, taking a moment to pause, reset your brain and get back to work"—he hasn't played an actual round in months.
Something about the 80-hour work weeks he's been logging as a frontline healthcare provider and first-responder battling COVID-19. His involvement started as a curiosity—as part of his first responder training, Sovndal spent time at Ft. Detrick Army Medical Command in Maryland. That facility shares research and information with a lab in Wuhan, China— the same one suspected of being at the root of the outbreak.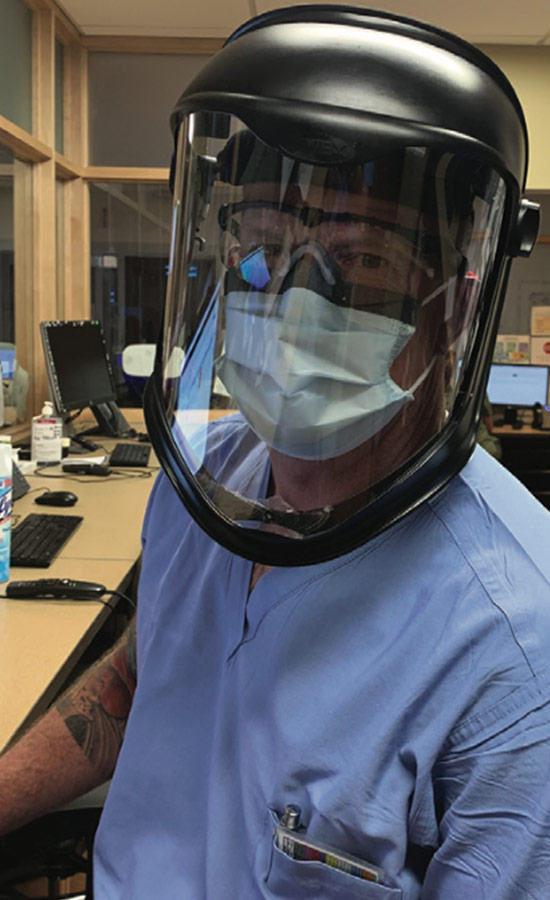 "It definitely caught my attention," Sovndal says. "That was around the end of January; by the end of February, I remember getting ready mentally, thinking, 'This is gonna make my life difficult…'"
Now, the days when Sovndal and his wife, Stephanie, would stroll out of their former home on the grounds of Coal Creek Golf Course at the end of the day and sneak in a few holes are just a fond memory.
"I've played in places like Hawaii and Las Vegas, but that's my favorite course," he says of the Louisville standard. "We would just take time and unwind together."
With COVID-19, the idea of scrambling has taken on an entirely different meaning for the family. Stephanie, who was working as a paramedic, has shifted to the full-time pandemic duties of running a household with four children, two of them under the age of four. And Shannon, instead of rocking some fashion-forward golf attire, is donning an entirely different outfit when he arrives at Boulder Health: Hospital scrubs underneath a protective yellow gown. That's accompanied by an N95 mask, safety glasses, a biotronic face shield (to protect him during aerosolized procedures) and gloves. Sovndal wears the same pair of shoes each shift—they stay at the hospital; he never brings them home or puts them in his car.
While not particularly heavy, Sovndal says the outfit is hot and annoying, not surprising given that he wears it for around 12 hours each day. He's also in the market for a mask that doesn't dig irritatingly into the back of his ears and all around "my bald head."
"There's not like a break, where you go and sit at your desk and you can sip your coffee," he says. "I'm putting that gear on and I'm kind of wearing it for the whole shift, which definitely adds an extra layer of stress and workload."
And like other physicians around the world who are seeing mutations, such as blood clots leading to strokes in younger patients, or even the purplish discoloration that has become known as "COVID-feet," Sovndal says that stress is exacerbated by the uncertain, impossible-to-put-a-finger-on-what's-happening nature of the virus.
"We just assume every patient that comes into the ER has COVID," he says. "This was apparent to me early on—in one of my shifts I saw two patients in a row: one had kidney stones and another needed back surgery, two totally unrelated complaints. They were not coughing, they didn't have flu-like symptoms, no COVID-like symptoms. But as I worked them up, I saw their lungs had all the telltale signs of COVID-19.
"So this just proves the point that every patient that comes in the ER, you don't know, and they potentially can infect you."
MAKING THE PUZZLE PIECES FIT
The obsessive desire to hit the perfect shot, let alone conquer the game, is what drives the masses to the course; but while golf can seem trivial in comparison to the real-life tragedies taking place, in some ways it's the oft-unattainable nature of the game that speaks to some of the healthcare workers as they seek answers to the unexplainable riddle that is COVID-19.
Throughout his youth, playing at his local high school in Branson, Mo., and then in college, Chuck Henry thought about making a career in the golf industry. While he rarely matched the prodigious distances seen in today's professional game, Henry nonetheless was able to compete, often succeeding because of his ability to think his way around the course.
But the entire time, even as he worked his way to becoming a club pro, Henry realized that he loved science in ways that went beyond the best approach angles to the green. The head pro at the club he was working at knew it too, telling Henry that he had to make a choice between part of a game and perhaps something much bigger.
"I think for me, at the end of the day, the element that science gave me that golf didn't was creativity—you can shape shots in golf, but really you're restricted to the dimensions of the course," he says. "In science, I saw that you could go further than that; pushing boundaries there go way beyond a golf course.
"I felt that was more important than being a club pro."
Eventually Henry put his clubs aside, and indeed, today he finds himself pushing boundaries. A professor in the chemistry department at Colorado State University, Henry is part of a team that's working on COVID-19 from a pair of different angles.
In some ways, he says, his work reminds him of his days out on the links.
"To me, golf is kind of a puzzle game; it's not just how far are you going to hit the ball. It's figuring out how to play the course and set yourself up for the next best shot," he says. "It's, 'I could hit a driver off the tee, but the fairway is a lot narrower there and it's not that much of an advantage relative to laying up off the tee.'
"It's just thinking through the different aspects of the different possibilities and trying to decide what makes the most sense—moving forward to get the best result. Science, the kind of science I do, it's often figuring out, how do we know? Maybe we understand this piece of the chemistry, maybe we don't, so how do we understand that better? And then, how do you use that to solve a problem?"
In one of the initiatives he's working on, Henry's team is developing diagnostic tests for COVID-19: someone wondering if they had the virus would take a finger prick, swab or saliva sample and eventually put it in a container that resembles a home pregnancy test. In a few minutes, the kit would show whether the person was infected.
One important factor in the efforts to solve the mysteries of the coronavirus is serology; studying blood serum in an attempt to determine antibodies that might indicate whether a person has been infected, and if so, when it occurred. That's the nature of the second project Henry is working on; as with the first test, the patient would mix his or her blood with a solution into a test kit that would show the presence of two different antibodies and ideally, reveal the history of infection.
Henry says that test, while driven by COVID-19, could be applied to a number of areas; previously, it's been a component of testing for the West Nile virus, along with Zika and yellow fever. He adds that CSU is collaborating with a team in Australia that hopes to use it in connection with detecting heart failure. The hope was that by the end of May, sample usage would have started with patients.
"I think we're probably the only ones in the world right now taking the approach that we're doing," Henry says. "We think that if we can get this to work, it will actually have a lot of impact, not only with coronavirus, but with other things going on down the road. I mean, I'd love for it to go faster, but I'd also like to be a scratch golfer again, so there you are."
Meanwhile, the diagnostic test may not reach the point where it can be sampled in patients until later this summer; the difference in timetables is part of the nature of science—and golf as well, for that matter— according to Henry.
"That's where they overlap and flow together," he says. "In golf, when you play like I do, you're always trying to figure out how to get yourself out of the trouble you got yourself into—you're always trying to figure out how to solve that problem. And in science it's 'How do we [solve] this COVID stuff?' How do we actually build something where, you can take a drop of blood, prick your finger, and I can tell you whether or not you've had this bug—they're both issues of trying to figure out a problem that you don't know the answer to when you initially walk up to it."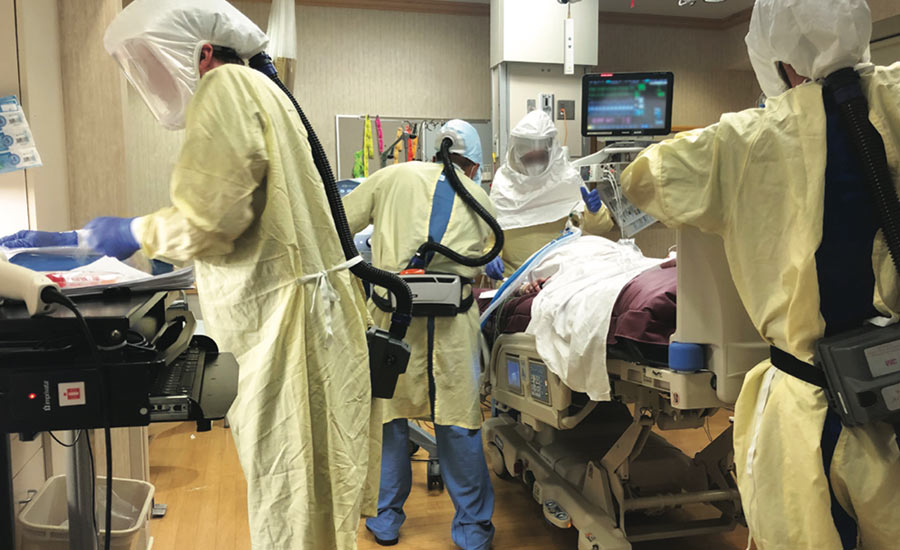 WHAT WE SIGNED UP FOR
On a wall in Ryan Lutz's Denver home, just before one descends into a man cave— complete with a widescreen television, ping pong and foosball tables and so many other goodies that it would be easy to imagine, under normal circumstances, his biggest concern being the horror of an empty potato chip bowl—there is a sign. It reads:
"Let whatever you do today be enough."
Three months ago, "enough" for Lutz, an anesthesiologist at Lutheran Hospital in Wheat Ridge, might have been lending his expertise to a number of garden variety procedures: a knee surgery one day, maybe an appendectomy the next. All of that has changed because of COVID-19, which has drawn Lutz into a sphere that he says he never could have anticipated. Now he's part of a team that provides acute care, often in emergency situations, for patients in need of assistance because of complications due to the COVID-19.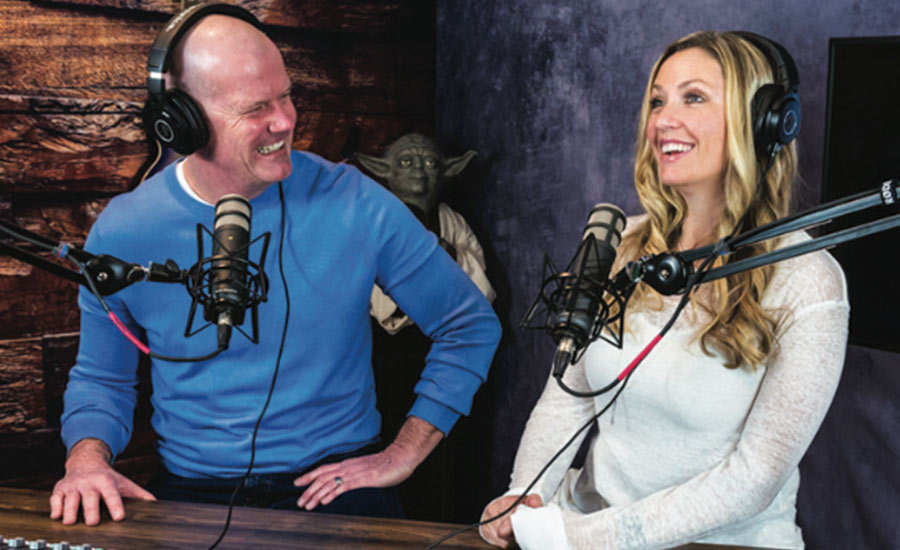 "What our hospital, what a lot of hospitals across the country have done is create a kind of intubating team; a lot of doctors in intensive care units are being overwhelmed right now—our skill sets can be used to help those providers in their situations," Lutz says. "I never thought in a million years I'd be doing something like this…we're crazy busy. It's a lot of patients who need our service urgently, as they suffer from the disease in ICUs or needing to be placed on ventilators or needing lines for IVs or central access—that sort of thing."
Lutz recalled a story of a weekend in April, when he had to assist in placing a breathing tube into the airway of an obese patient suffering from COVID-19; normally a challenging proposition because of the body mass. In this case, the team—Lutz, a second anesthesiologist, a respiratory therapist and an ICU nurse—had about 45 seconds to accomplish the feat before there would be a critical drop in oxygen levels. In a second case, Lutz acted more as an assistant, but the story speaks to the frantic nature that healthcare workers are facing amid the pandemic.
"We were called for another intubation; there were rooms after rooms after rooms of patients, some being placed on ventilators— you could just see all the people running around; doctors and nurses would write instructions on the glass doors so they wouldn't have to open and close them, minimizing any possible exposure and spread of the virus. People in face shields and hazmat suits…it's amazing.
"I think every job has its risks, like the airline pilot flying into a storm—this is one of our riskiest times to be a healthcare provider. We signed up for it, but I think innately, doctors and nurses want to help people, and you're seeing that over and over again."
Lutz says one of the reasons he went into anesthesiology is because the hand-eye coordination needed in his work mimics that in the sports he enjoys most. A former tennis player at the University of Denver, Lutz says he's more intimately familiar with that sport, but has always appreciated golf.
Early in the pandemic, when courses in Colorado were shut down, Lutz, who comes from a long familial line of golfers, said he'd get periodic text messages from an uncle in Aurora, asking him to come out and practice on the "driving range" he'd constructed on an open space adjacent to his backyard.
"I do miss it, absolutely," he says. "Probably watching it more than playing it."
A FRAGILE EXISTENCE
As much as he loves golf, the idea of Sovndal actually taking the time to sit down and watch a tournament seems laughable. Besides his time in the ER, Sovndal is responsible for training about 400 paramedics in numerous locations around the Front Range. Trying to educate them on the latest training techniques inspired him to launch a podcast, Match on a Fire: Medicine and More, which airs twice a month with Stephanie.
Sovndal has also recently written a book, Fragile: Beauty in Chaos, Grace in Tragedy, and Hope that Lives In Between. Released in May, the memoir, according to Goodreads "examines [Sovndal's] tenuous balance between trying to compartmentalize the trauma of tragedy while also preserving his own humanity."
Which, clearly, is something that might come in handy these days—and also brings us back to Bagger Vance and Steven Pressfield. When he wrote Fragile, Sovndal says, they provided the inspiration.
"It's beauty and chaos; tragedy and the hope that lies in between," he says. "We knew that life is fragile—people would have a heart attack or get into a car accident— but now we're living in a pandemic, and it's not just people in Boulder, or Colorado, it's the entire world that are experiencing these feelings.
"We're having these experiences and it can ruin you—you can be overwhelmed by your circumstances. But if you can manage to kind of stay on the event horizon and not get drawn in…it is hard, but the moment will change—we'll find our new normal and life will go on."
And when that happens, Sovndal says, look for him to be one of the first people back out on the golf course, resuming that quest for his true, authentic swing.
---
This article was also featured in the June 2020 issue of Colorado AvidGolfer.
Colorado AvidGolfer is the state's leading resource for golf and the lifestyle that surrounds it, publishing eight issues annually and proudly delivering daily content via coloradoavidgolfer.com.