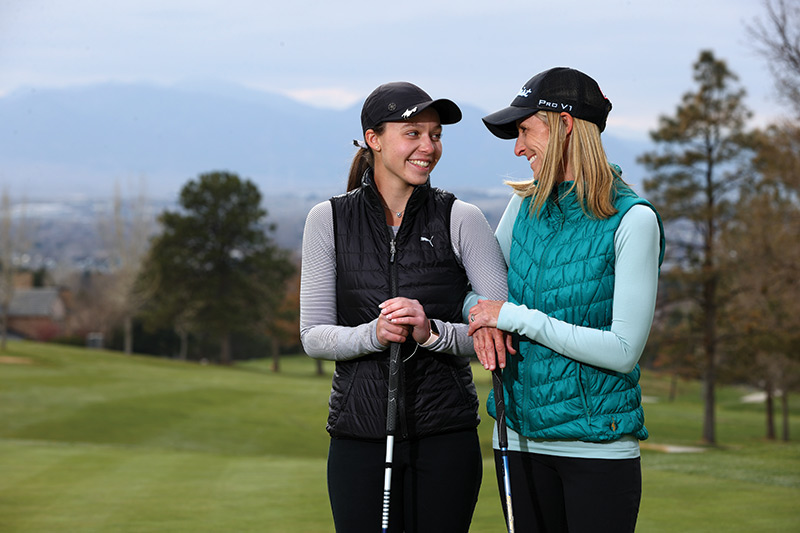 An early love of golf has only grown deeper for these Colorado Moms who share their passion with their children.
By Anthony Cotton | Photographs by Jamie Schwaberow / Clarkson Creative
WHEN JAXON FRANKLIN returns home to Westminster from his classes at the University of Northern Colorado, he takes up residency in the family's basement, where, like clockwork, his mornings are punctuated with an all-too-familiar sound.
"It's 7 o'clock in the morning and I'm hearing golf cleats on the floor—and I'm like, 'geez, she's going out to play,'" Franklin says of his mother, Kris. "She works so hard—she plays in the morning, then comes back and practices and then she goes out to play again in the evening.
"When I think of her and golf, it's about how competitive she is; she's just so driven." From taking up the game at a very
young age under the tutelage of her father, legendary Colorado prep coach George Hoos, to playing through college and around the world as a member of the Japanese version of the LPGA Tour, golf has indeed been one of the guiding forces in Franklin's life. And of course, after regaining her amateur status in 2017, she's been one of the top players in Colorado.
But as it turns out, these days, Franklin's favorite memories aren't hoisting one sort of trophy or another, following yet another tournament win at some course across the state—rather, they're being made closer to home.
"It's at 6 or 6:30 in the evening out at The Ranch; when everyone else has left and gone home for dinner or whatever, and we just jump out on the course and play together," Franklin says of her family—husband Brent, Jaxon, and her younger son, Walker, have spent at the Westminster country club.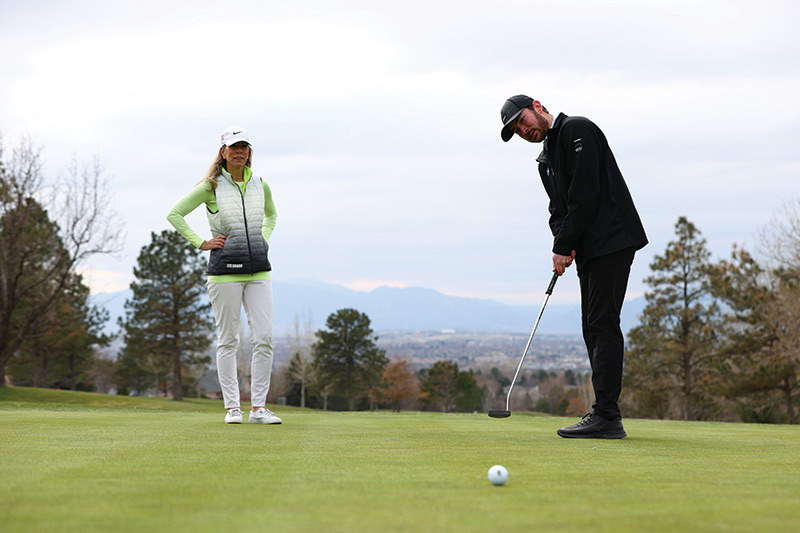 "There are times when I feel pretty small and insignificant because their swings are so strong and powerful and they're just sending the ball soaring and I feel like I'm just putting it out there with a 7-iron or something," she says, "but it's so beautiful, just going out and laughing at each other, or one person's upset because they're not play- ing well and everyone else has to be quiet…
"You're out there and saying to yourself, 'How blessed are we?'"
Franklin says when her boys were younger, the family spent time together watching soccer matches or baseball games, adding that if it were necessary, she would have figured out a way to make sure she was a part of her children's lives. But as it turns out, that wasn't really necessary, because it always came back to golf.
"It really is the family business," says Jaxon. "But for her, it's a passion that I can't even describe…I can't put into words how much she loves the game—it means everything to her."
While Jaxon (who is named after Jaxon Brigman, a journeyman pro golfer best known for signing an incorrect scorecard at Q-School, costing him a spot on the PGA TOUR) is taking a break from the game, Walker is a freshman playing for the men's team at the University of Louisville. Meanwhile, Brent, a member of the Canadian Golf Hall of Fame, is the associate head coach of the women's team at the University of Colorado.
"I love being with them and being a part of it with them," Kris says. "It's really neat when you get to play alongside them, maybe compete against them…I will drop anything and everything in the world for that time with them—without a doubt."
Maybe it's the equivalent of a father and son sharing a game of catch, as famously depicted in the baseball movie "Field of Dreams"—a parent sharing their passion with a child, which in turn perhaps creates a spark in the younger person and leads to a lifelong bond. It certainly isn't a given that it will happen, it's not automatic—how many Millennials or Gen-Zers are wrinkling their noses at the idea of spending two or four hours on a golf course, let alone with their parents? As if!
But when it happens…
"The love of the game will be passed on to the next generation, that's the hope," says Janet Moore, another Colorado women's great and a member of the state's Golf Hall of Fame. "I certainly have so many wonderful memories of playing with my parents; my Mom (Reta) ran the junior golf program at Lakewood Country Club—she had such patience…I remember one time, it was the second hole there, I broke 20—I mean, I literally shot a 17! I was so excited and my Mom was so happy for me.
"Golf is the activity that binds our family together; Steven (the Moores' oldest child) had a club in his hands when he was two and a half, and (daughter) Sarah used to run around with us playing in the bunkers on the Par-3 course we played—we used to have to bribe them with milkshakes to get them to come out with us…When Steven was 16 and Sarah was 14 we went to Scotland; I remember standing on the first hole of the Old Course at St. Andrews, taking it all in and realizing it was where golf started, and there I was with my kids, who I knew were feeling the same way about it as I was.
"It couldn't have been any more magical."
MOTHER KNOWS BEST
When Walker Franklin (unlike his older brother, there isn't a golf-related story to his name, like, say, the biennial golf matches between the United States and Great Britain) was being recruited out of high school, it was often by colleges that had experienced success in golf, schools that had sent numerous players from their ranks into the pros. When Kris accompanied him on visits to the schools, she made it a point to ask the coaches what made those high- achieving players different from the other members of the team. One area which often came up was being able to mentally navigate the course; how they were able to avoid putting themselves in bad positions that could ultimately lead to poor scores.
Recently, she asked Brent to create a spreadsheet for Walker, to log statistics like how often he hit a green in regulation— or conversely, got into trouble by, say, shortsiding himself on his approach shots to the green.
"For years we've been telling him not to shortside himself, that he can't be shooting for tight, back pins," she says. "But time and time again he does it, and later it's always, 'I know, I know, I shouldn't have done it.' So we made this spreadsheet and he went out and played and tracked everything and he saw he was three over par on the two holes where he'd shortsided himself.
"It was like, 'Aha!'—it really finally sunk in, and I think it was because it was coming from a different place than me; you can talk until you're blue in the face, but until they really get it…"
Franklin says when it comes to golf, and the idea of dispensing advice, it's probably best to give it in small doses.
"I think they listen…my boys hear me, but do they apply what I say to them? I don't know."
While she admits that it's probably all in her head without evidence of proof, Franklin offers that one reason why they may not be fully on board is because, despite all her accomplishments on the course, her sons are merely tolerant of her efforts at playing "Old-Lady Golf."
THEN AND NOW: Janet and Kent Moore used to have to bribe their children, Steven and Sarah, with milkshakes to get them to play with them when they were children. The pair would go on to become collegiate golfers at Wheaton College in Illinois, where they'd eventually be coached by their parents. In one memorable season, Kent and Steven won a Father-Son Colorado Golf Association championship while Janet and Sarah won the Colorado Women's Golf Association's Mashie Championship. PHOTOGRAPHS COURTESY OF JANET MOORE
"I don't know…I think I'm doing okay out there," she offers, before adding that she can remember only one time when she insisted that they listen about how things should be when they played the game.
"Way back when the kids were young, they would get huffy with us—'Well, I hit this shot bad because you told us to do it like that!'" she says. "Well, Brent walked off the course.
"I know I'm airing some dirty laundry here, but I told those boys, 'You listen here— do you even know who your father is? At one point he was ranked 85th in the world. The information he's giving you is correct, and don't you ever blame someone else for your play or your outcome. It's you on the end of that stick.'"
Jami Mason and her family are also members at The Ranch. Her husband Jim is a competitive player, as are their children, Jacob, a redshirt freshman on the CU golf team, and Jessica, a junior at Holy Family High School who's good enough to play in this month's qualifier (also at The Ranch) for the 2021 U.S. Women's Open at the Olympic Club in San Francisco.
When it comes to golf, Jami Mason says she's not about to try to give pointers to her children on how to swing the club. But as a former high school and college athlete herself, who works as a pediatric therapist, she says she knows something about how the human body works—both mentally and physically.
"I can help them a little bit with things like their mental approach—they probably haven't been as appreciative of that advice, but they kind of listen anyway," she says. "Their dad is probably a lot better at knowing when not to say something, but mom tends to—I guess I just expect a lot from my kids— I'm not pushy, but I do expect them to give their best effort in everything they do, not just golf, but being a good person and a good citizen."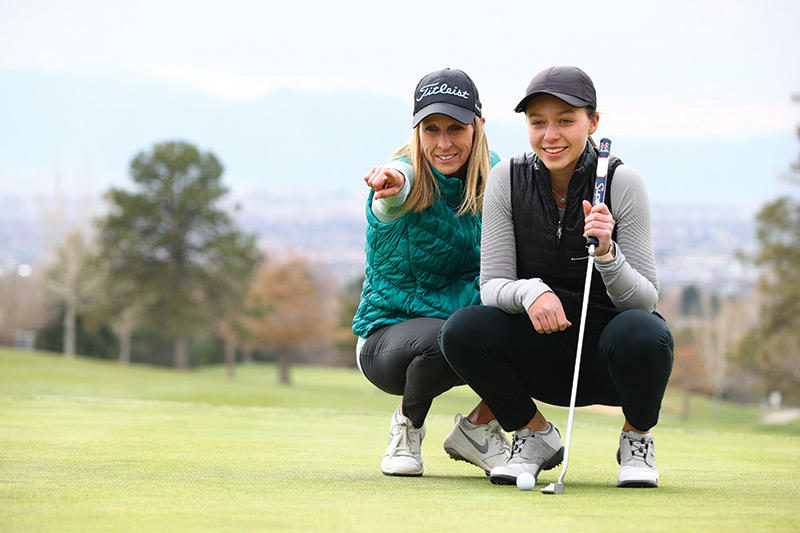 Jami and Jessica recently traveled to California and Nevada, looking at potential colleges. Wherever she decides to go, chances are Jessica won't find herself strolling through the quad with friends, only to look up and see…her mom. That was the case a few years ago, when, as students at Wheaton College in Illinois, Steven and Sarah Moore found themselves being coached by their parents.
"Kent and I had always thought it would be fun to coach college kids—not necessarily our own—and just before the school year began, an opportunity opened up where we could step in and help them out," Janet recalled. "Steven was a senior, so it didn't affect him as much; Sarah was a sophomore and actually, that same summer, she had decided she wasn't going to play golf, but run cross country instead. But there weren't many players who were available, so I asked Sarah if she would help us.
"I would have to go to the track coach and 'borrow' Sarah from the team. The first time, she hadn't played in months because she was running, but she shot a 76 on a Thursday and won the tournament, then went back to the track team and ran for it on Saturday…I know our children didn't go off to college only to have their parents follow them, but it turned out to be a special time for all of us."
Sarah has a similar memory of that time.
"It certainly wasn't too hard for me having them there; knowing my parents, who they are and what they would give to the team and how they would mentor the players, I thought it would be awesome," she said. "Growing up, she was always my coach and my mom; giving me pep talks or talking with me about my swing and thinking through my rounds.
"It was fun to see her play that role with the other girls on the team, and seeing how much they enjoyed it—it was like she was their Mom too. She would cook these big meals and her office door was always open, so they would come in and talk about stuff and life away from golf."
FAMILY AFFAIRS
Janet Moore has played in 30 United States Golf Association events; in Colorado, she has competed in countless Colorado Women's Golf Association and Colorado Golf Associ- ation tournaments (her husband Kent is the current CGA president), as of 2020, winning almost two dozen of them.
But interestingly, Moore says her run of sustained excellence didn't begin until after she had children.
"I believe it was the joy of motherhood; how it put everything into perspective for me," she says. "It helped me prioritize—it took the self-imposed pressure off and just let me enjoy the game. From that point, I never put my identity into the game, and the great joy I got in my life after having them allowed me to appreciate golf more when I went out there to play."
There have been times throughout her career when either Steven or Sarah caddied for Janet—Sarah was on the bag in 2018 when her mom qualified for the U.S. Senior Women's Open. In 2009, the duo combined to win the CWGA's Mashie Championship—a first-ever victory for a Mother-Daughter team.
"Mom was off in the junk and Sarah was hitting all these great shots to tight pins," Janet laughed.
When George Hoos was off coaching at Boulder's Fairview High School, young Kris Hoos would often tag along during practices at Flatirons Golf Course.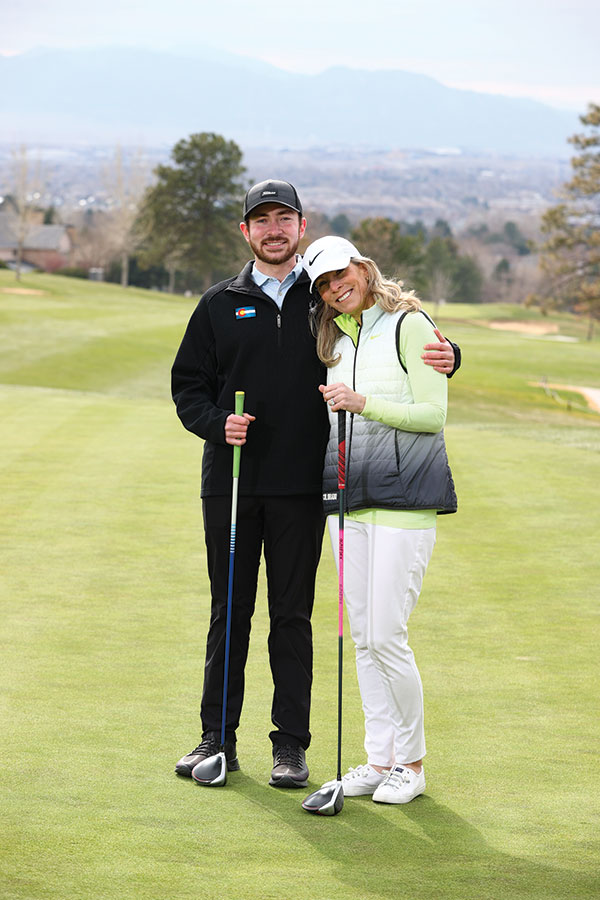 "We would go out there every day, and I never realized he was giving me lessons— we were just hanging out," she says. "So for me, it's the idea of just giving time to your children, because when you look back, the greatest thing is not just enjoying the game of golf, but everything that your parents passed along to you.
"My dad was kind of good at every- thing—fixing cars, fixing the house—we didn't call people to come over and fix things, we learned all that from him. I flip houses, and I say I learned all of my trades from him— pouring concrete, electrical, plumbing—all of that was from my father.
"And even with all of that, he still gave me the gift of golf."
 For the Masons, golf has also become a multi-generational pursuit; Jami's parents also are members at The Ranch, and they take every opportunity they can get to play with their grandchildren.
And at this point, Jami is happy that she's part of the love affair with the game.
"In high school, I was more curious about other sports; I ran track and cross country and was a gymnast and played basketball—I got away from it. Now I've come back to it; obviously because of the kids, but between work and dealing with all that they've got going on, I would say I don't get to play as much as I would like to.
"So yes, there are times when I kind of kick myself and say, 'Why didn't I listen to my parents when they told me I should be playing this game?'"
Anthony Cotton is the former editor of Colorado AvidGolfer.