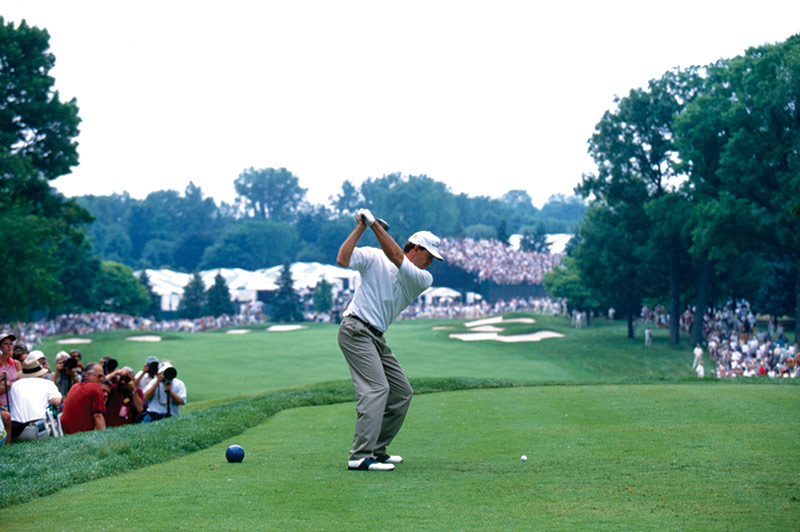 Yuma's STEVE JONES smiled his way to the 1996 U.S. Open title as the "ultimate underdog," taming "The Monster" and a pair of heavyweight contenders.
By Andy Bigford
TWENTY-FIVE YEARS ago this June, on the eve of the 1996 U.S. Open at Oakland Hills in the suburbs of Detroit, 37-year-old Steve Jones was finally shaking off the debris from a three-year injury hiatus. The 6-foot, 4-inch Jones had missed the cut in four of his previous six tournaments, still adjusting to the unorthodox reverse overlap grip he'd been forced to adapt after tearing ligaments in his left ring finger in a 1991 dirt bike accident. The previous week, he'd shown promise with a field-leading 67 in the first round of the Memorial Tournament, but he followed with a 79, another MC, and a date with sectional qualifying for the Open. Jones made it, in a playoff no less, though no one had won a U.S. Open that way in two decades.
Jones was not on anyone's radar, except his own.
"Every time I won," recalls Jones now, "I felt it." He suddenly had that feeling again at Oakland Hills. "I'd told a lot of people, 'I'm going to win.'" Even after a four-over 74 in the opening round left him seven shots back, the confidence never wavered.
Heading out for a late afternoon tee time for the second round, in danger of missing the cut and with the South Course's treacherous greens scarred by a day's spike marks, Jones passed the entourage of Greg Norman, who had just put up a headline-stealing 66. "Nice round, mate," Jones told the Shark. Four-plus hours later, Jones walked off the 18th to be greeted by a sportswriter's pique: "You ruined our story, Steve!" Jones had forced a rewrite by equaling Norman's 66, and was now in a tie for second behind four players. "Sorry," answered an earnest Jones.
A Saturday 69 left Jones in solo second, a stroke behind Tom Lehman, and paired in the final group. It was the ideal company for Jones, who, along with Lehman, is deeply religious. After they hit their opening drives, these two blue-collar-type golfers set out in the biggest pressure cooker in golf, Jones with his youngest brother, Scott, on the bag. Lehman suggested they pray, and they did.
3:10 TO YUMA
Steven Glen Jones was born Dec. 28, 1958, in Artesia, New Mexico. The family moved to Yuma, 140 miles east of Denver, when he was 11. Both his parents, Glen and Barb, coached youth sports, and they stayed busy with Steve and his five brothers. Jones was a strong athlete, competing in the hurdles and high jump in track (mostly to stay in shape) and earning All-State honors in basketball. He realized his hoops ceiling when he faced off against Tom Chambers, the Boulder Fairview star who went on to be a four-time NBA All- Star, in a state tourney.
Glen introduced Steve to golf at age 12 at the local nine-hole muni, now called Indian Hills. Even with the late start, lack of formal instruction, and a limited junior career, Jones wanted to be a professional golfer, particularly when he watched TV coverage of PGA tournaments in Hawaii and California while he was snowbound in Yuma. When the U.S. Junior Amateur happened to come to Hiwan Country Club in 1976, he qualified. Jones was near dead, four down with five to play in his second-round match, when his caddie-father Glen mentioned that he'd just overheard his opponent inquiring about the tee time for his next round match. Jones never knew if that was true or if dad was just a world-class motivator, but he won the next five holes, eventually advancing to the semifinals.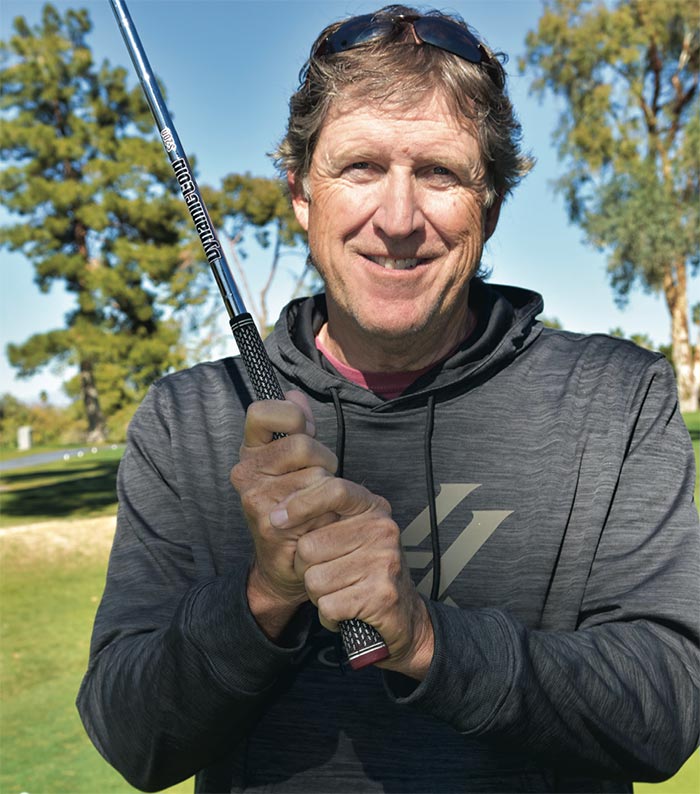 Jones was never on the national radar in recruiting circles; apparently, word of his two state sand greens titles hadn't gotten out. His only full- ride offer came from New Mexico State University in his birth state. University of Colorado coach Mark Simpson coveted Jones and cobbled together a three- quarter scholarship, but that still left too big a bill. In the 11th hour, a booster stepped in to cover the remainder, and Jones is believed to be the first full ride golfer at CU (the school's other U.S. Open champion, three-time winner Hale Irwin, came to Boulder on a football scholarship). Jones made All-Big 8 three times and bonded with Simpson, who would become a lifetime friend; Jones was one of the eulogists at the coach's funeral in 2005. In the spring of his freshman season, Jones was diagnosed with atrial fibrillation, an irregular heartbeat, requiring a procedure that shocks the heart back to a normal rhythm. Jones would get the procedure every couple of years for most of the rest of his life.
After graduation, Jones turned pro and moved to the Phoenix/Scottsdale area in late 1981, where he has mostly lived since. In 1985, through his friendship with longtime NBA All-Star Paul Westphal, who would eventually coach the Phoenix Suns, Jones was introduced to his future wife, Bonnie Buckingham.
It was a rocky road to stay put on the PGA TOUR, but in five years, Jones figured it out. He broke through at the 1988 AT&T Pebble Beach National Pro- Am, defeating Bob Tway in a playoff (he also won the Colorado Open that year). The next season brought three titles: the MONY Tournament of Champions, the Bob Hope Chrysler Classic and the Canadian Open. Then came the bike crash and a seven-year victory drought…before Oakland Hills.
CONQUERING THE MONSTER
U.S. Open Sunday was a roller coaster, with Jones falling three behind Lehman after eight holes, taking a two-stroke lead after 12, and then being caught by Davis Love III on 15, with Lehman lurking one back. The NBC broadcast of the entire back 9 is available on YouTube, with Johnny Miller providing his usual candor and color. Jones is aptly described as a "streaky player" (he never had consistent results week to week) and a "really good putter"—with a Bullseye pop stroke that was deadly on the countless six-footers that are the heart of Open success. He's also serenaded as the "ultimate underdog." Even though Jones had won three times more on the PGA TOUR than Lehman, those victories had come a lifetime ago.
The setting could not have been better for a classic U.S. Open slog; this was no Chambers Bay or Erin Hills, but an old-fashioned Open, where carnage is plentiful and pars win. Ben Hogan had deemed this Donald Ross course "The Monster" back in 1951, when his winning score of 7-over capped a legendary comeback from a bus collision. Despite the four-inch deep rough, nasty doglegs, abundant water and ultra-slick greens, Jones remains calmly composed, wearing a smile the entire way, laughing with his caddie over the occasional mishit, and acknowledging the crowd. On the 16th, Lehman and Jones pause again to pray, this time Joshua 1:19: "Be strong and courageous. Do not be afraid; do not be discouraged, for the Lord God will be with you wherever you go."
They need it: The last three holes rank 10th, third and first in scoring difficulty for the week, starting with the dogleg right par 4 16th. Jones flushes his drive and hits his second shot close, but just misses the birdie putt. Lehman bogies. Jones makes a rare bad swing on the par 3 17th, pushing it right of the green into deep rough. He bogies and Lehman pars.
This sets up the 18th hole drama, with Love, Lehman and Jones tied for the lead at -2 after 71 holes. Love III is two groups ahead and looking at a slick, downhill 20- foot birdie putt for what could be the win. He leaves it short, then misses the par putt, falling to -1. (Love III would win the PGA Championship the next year.)
Jones had a habit of never looking at leaderboards, but now he wants to know, and he finally asks his caddie-brother Scott where he stands. An anomaly on Tour, Jones draws the ball, but has been successfully fitting it into odd, uncomfortable hole shapes all week. The 18th is the ultimate test, a dogleg right with a reverse bank fairway that throws balls left. Lehman's slightly wayward drive skitters into a fairway bunker on the inside of the dogleg and settles under the lip; Jones threads the needle—again. "That's called clutch right there," declares color analyst Miller.
After Lehman fails to reach the green, Jones stands over the biggest shot of his life, a seven-iron from 168 yards. The shot is struck pure. It lands short, dances past the flagstick, and comes to rest a dozen feet above the hole, inside Lehman's par putt, which he misses. (Two months later, Lehman would win the British Open and ascend to No. 1 in the world.)
Jones now has two putts to win his national championship and the $425,000 winner's check. He does not hold back, just missing the hole and running perhaps a foot by, which he'll later call "probably the longest putt of my life." He finishes the week with 74-66-69-69 (278). Tiger Woods, playing in his last U.S. Open as an amateur, finishes 16 strokes behind.
In the 18th green celebration on Father's Day, Jones hoists his perfectly cute kids, Cy and Stacy (then 5 and 3), and hugs his wife, Bonnie. Despite "feeling" that he'd win all that week, he tells Dan Hicks that the Open vic- tory was "not in my wildest dreams." It caps a big week in Colorado sports as the Colorado Avalanche also win their first Stanley Cup in a 4-0 sweep of the Florida Panthers.
Jones thanks the Lord, and credits a recently published Ben Hogan biography for inspiration—and motivation to practice more. Later, he turns down a six-figure offer to promote the book because the author wouldn't agree to clean up the coarse language. He brushes off countless outing offers with their big checks and generally eschews the spotlight. He'd entered the Open after having ended a long association with Titleist and joining clubmaker Cobra, and as the newly crowned U.S. Open champion, he manages to triple the contract. At 37, Jones knows his priorities—God, family, golf—and sticks to them. The headline in Golfweek's Open recap sums it up: "Soul Survivor."
YOU NEVER KNOW
On the pro shop deck at Mesa Country Club just south of Scottsdale, Jones arrives on a sunny Monday in early March wearing jeans, running shoes and a hoodie with the logo for Vortex, a rifle sight company. Hunting, both bow and rifle, and fishing are lifetime passions.
On his way to the deck, members constantly stop him to chat; he is clearly at home here. This circa-1948 course, designed by William "Billy" Bell (who did Torrey Pines South, among others), looks more like a U.S. Open track than desert golf; tree-lined fairways and greens perched on steep hills, including the par-five finisher below us. He colorfully describes the local characters and typical money games, with loud music, nonstop heckling and sixsomes that sometimes grow to 10 or 20 players. The winners of the 2020 Member-Member here are PGA TOUR pros Brandon Harkens and Joel Dahmen, who just won a PGA event.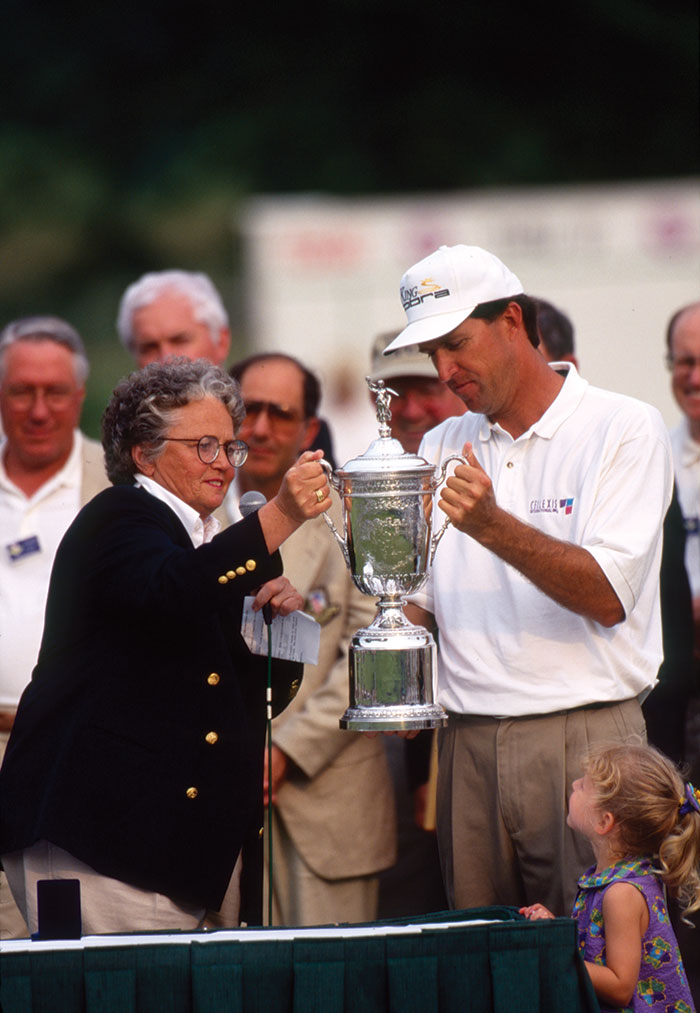 A foursome is just finishing the 18th when the banter begins. Jones congratulates head pro Scott Wright on making his birdie putt, and the retort is quick: "It's a lot easier than the 18th at Tucson."
Jones had just returned from playing in the Cologuard Classic Champions Tour event, where he came to the 18th in his open- ing round at Omni Tucson National at three under par, solidly in the top 10. He made an 8 on the par 4 and wasn't heard from again. He still plays a fairly full Champions Tour schedule of 12-15 events per year and is not that far from breaking through, having fin- ished T17 in the 2019 U.S. Senior Open and sixth in the 2019 Toshiba Classic. Staying healthy, and being able to practice, is always the issue: In 2019 alone, he had open heart surgery (the doctor told him he'd have lived maybe three more months without correcting the defect) and had his gall bladder re- moved. This comes in the context of a 40- year career in which he'd been sidelined for a full third of it by injuries; besides the heart issues and dirt bike accident, there was a broken thumb, shoulder and back woes, and even tennis elbow.
After his Open win in 1996, Jones would collect three more titles: His hometown Phoenix Open, a second Canadian Open, and the Quad City Classic. He also won the JCPenney Classic, the PGA-LPGA team event, with Jane Crafter in 1987. His career earnings are $7.5 million, mostly coming before the onset of "Tiger money."
Jones returns annually to Yuma, where his mother and three brothers still live. He was inducted into both the CU and Colorado sports Halls of Fame in 2013, and still meets and plays with the CU golf team when they travel down to Scottsdale. The youngsters hit it past him by 50 yards off the tree, but he usually wins. At age 62, his best days may be behind him, but he can still compete.
And if he gets that feeling again, you just never know.
Andy Bigford is a contributor to Colorado AvidGolfer.
---
This article was also featured in the May Issue of Colorado AvidGolfer.
Colorado AvidGolfer is the state's leading resource for golf and the lifestyle that surrounds it, publishing eight issues annually and proudly delivering daily content via coloradoavidgolfer.com.