Fueled by golf's many virtues, the former Air Force exec's business and personal life continues to soar.
By Judy Malone/Photographs courtesy of the Colorado PGA
On July 13-18, at the United States Air Force Academy's Eisenhower Golf Club in Colorado Springs, the Junior Golf Alliance of Colorado will host the 72nd U.S. Girls' Junior Championship. Inspired by this historic event, the Colorado golf community has designated 2020 as the Year of the Woman. Throughout 2020, the Colorado PGA and Colorado Golf Association will host numerous events and programs aimed at increasing awareness and participation in the game by women. Here we highlight Sue Payton, a woman who has both been impacted by and has had an impact on the game and the community in our state.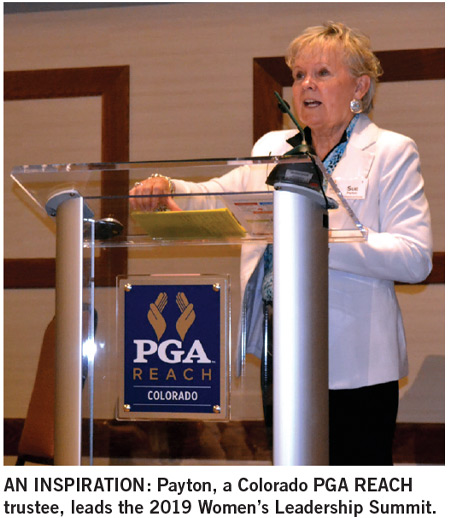 First on the tee is the Honorable Sue Payton. A prime example of how golf can be leveraged to build relationships and advance a career, the Illinois native has played golf for more than a half-century. During that time, Sue Payton has gone from Air Force wife to technology lab director to Deputy Under Secretary of Defense to Assistant Secretary of the Air Force for Acquisitions, where she directed a $30 billion annual budget and led the teams that provided war-winning capabilities to our troops in Iraq and Afghanistan. Today, she is the president and co-owner with her husband, Col. Gary Payton, of SCI Aerospace, a small engineering business that helps aerospace and defense companies grow their bottom line.
How were you introduced to golf?
My dad took up the game when my twin brother and I were 13. We three spent hours hitting balls into a bushel basket. Our dad wouldn't let us play a regulation course until we broke 100 on the local par 3.
How have you been able to leverage golf to impact your career?
So many things that sports—and especially golf—have taught me about discipline, patience, preparation, trust, empowerment, teamwork and managing risk directly impacted how I led organizations in industry and government. Just as each hole on a golf course offers risks and rewards, so does negotiating a multiyear F-22 contract or ensuring a successful radar replacement on the B-2 bomber when there is no schedule or performance margin available.
Over the 57 years that I have played this amazing game, no matter my handicap, golf strengthened my relationships with dear friends, business colleagues, bosses and young professionals that I mentored. From family outings to big corporate golf tournaments, golf is the great connective tissue that binds spirits for the fun of the game.

Colorado Launched its first women's leadership summit in 2018. What is its purpose?
The Summit is a way to invest in current and future women leaders by providing content, tools, mentoring and networking opportunities to support their career success. Over the years, we have recruited amazingly successful women to discuss the challenges they faced and the methods they used to eliminate barriers to their success in the hope that those in the audience could gain advantages from their examples.
What are some highlights from the last two women's leadership summits?
Awarding college scholarships to several very deserving high school and college students who are pursuing degrees in science, technology, engineering and math is a wonderful way to pay it forward. It reinforces that we are inspired by their efforts to grow and broaden their education—a fundamental concept in supporting the next generation.
Additionally, last year we had an exceptional keynote speaker who shed light on what makes people from different generations tick and what ticks them off! A leader from a successful Colorado Springs start-up bought the speaker's book, read the first 70 pages and, the next day, restructured parts of the company to better attract and retain employees from multiple generations. Our Women's Summits get results! (Note: The 2020 Women's Leadership Summit takes place July 12 at the U.S. Air Force Academy.)
Who's in your dream foursome–and why?
Condoleezza Rice, David Feherty and Julie Inkster. Rice displays a great blend of diplomacy, refused to see herself as a victim and went toe-to-toe with the Soviets. Feherty would help us find the humor in our quirky shots and ensure we did not take the round too seriously. And then I'd top it off with Inkster's tenacious, never-give-up attitude.
---
This article was also featured in the Spring 2020 issue of Colorado AvidGolfer.
Colorado AvidGolfer is the state's leading resource for golf and the lifestyle that surrounds it, publishing eight issues annually and proudly delivering daily content via coloradoavidgolfer.com. Follow us on Twitter, Facebook and Instagram.