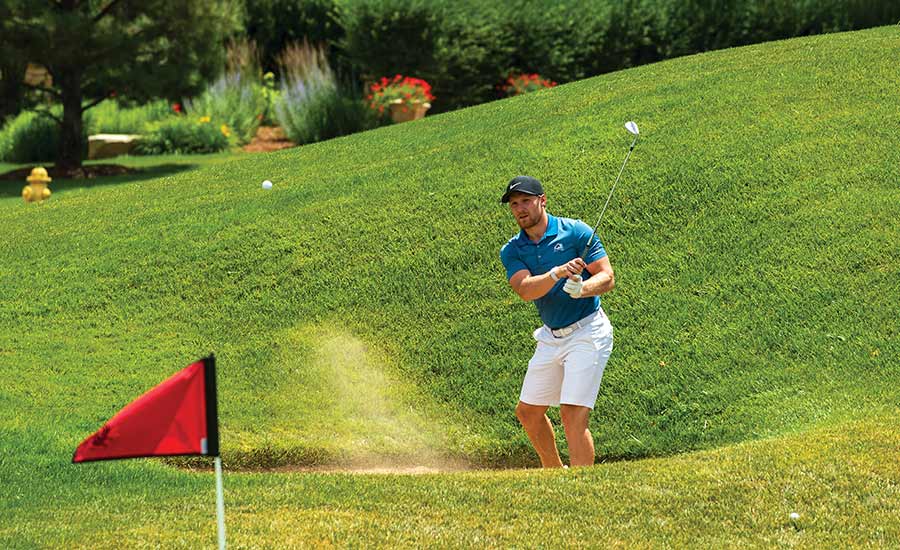 After nine seasons in Colorado, Gabe Landeskog has gone from baby-faced wunderkind to the unquestioned leader of the Avalanche.
By Adrian Dater
IN HOCKEY, the alphabet starts at A, just like anywhere else, but ends at C.
There are up to three alternate captains allowed in the sport, but only one player gets to wear the C on the top left of his uniform. Aside from taking a swig out of the Stanley Cup as a champion, there is no bigger honor for a hockey player than being a team captain—something Gabe Landeskog has been for the Colorado Avalanche since Sept. 4, 2012.
At 19 years, 286 days old, he became the youngest permanent captain in National Hockey League history, besting Sidney Crosby by 11 days. (Connor McDavid has since become the youngest ever, having the C bestowed on him by the Edmonton Oilers at 19 years, 266 days old.)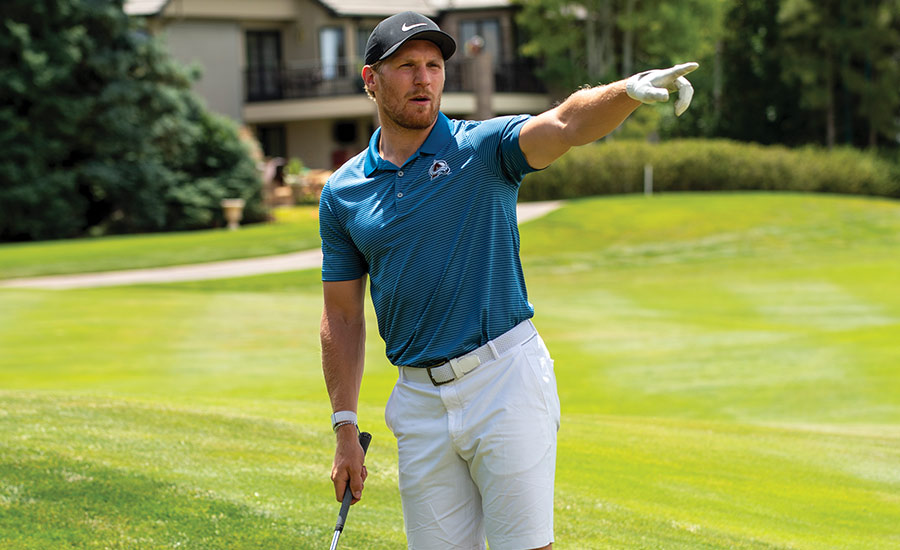 With his blond hair and blue eyes, with his winning smile and fluency in both Swedish and English, "Landy" has always seemed straight out of Central Casting as the perfect ambassador for a team. But it wasn't all that easy at first.
During his first, lockout-shortened season as Avs captain, 2012-13, the team finished 16-25-7 and there were some veterans who privately snickered at having a captain who was a decade or more their junior. In the "prove-it-to-me-kid, pay-your-dues" world of the NHL, Landeskog was seen by some teammates as just not worthy yet of wearing the hallowed C.
The Landeskog of Summer 2020 doesn't look much older than the teenager of eight years prior. The blond head of hair is still full and flowing, the jaw still chiseled, the demeanor still polished. There is an upper tooth missing now, though, a casualty of the 2019-20 regular season that was shut down March 12 because of the coronavirus pandemic.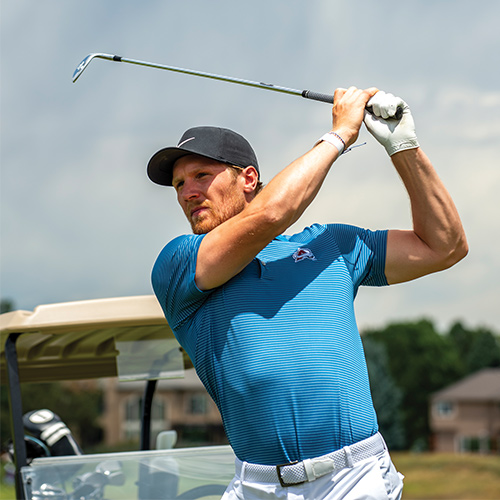 And yet, there are signs of time marching on—Landeskog and his wife, Melissa, became parents of a girl, Linnea, last November. When she was born, Landeskog was sidelined with a lower-body injury, so he got to spend a lot of quality time with her that an in-season pro athlete normally wouldn't get. Then came the pandemic, but that allowed for more quality time. The family went back to Toronto, where Melissa's family is from, and quarantined like everyone else.
When Toronto lifted some shelter-in-place restrictions in May, the first place Landeskog went was a golf course. For him and many of his teammates, golf outings have become precious getaways that, if they didn't fully appreciate them before the pandemic, they do now.
"Just to get out of the house and get some fresh air and walk around—wow, was that great," Landeskog says.
In June, the family moved back to Colorado, where Landeskog took part in informal NHL "Phase 2" practices at the Pepsi Center with Avs teammates. The time not spent with family at home and teammates on the ice has mostly been filled with teammates at various local golf courses.
Landeskog is a member of the Cherry Creek Country Club, but he also has played at the Broadmoor, at Castle Pines, at Sanctuary and at The Ridge. As of early July, he carried a 6.9 handicap, which placed him roughly third on the Avalanche behind Nathan MacKinnon (a 2 or a 3) and Andre Burakovsky (a 4). Those three, along with teammate Nazem Kadri, form a regular foursome that squares off 2-on-2, with Kadri and MacKinnon on one side and Landeskog and Burakovsky on the other.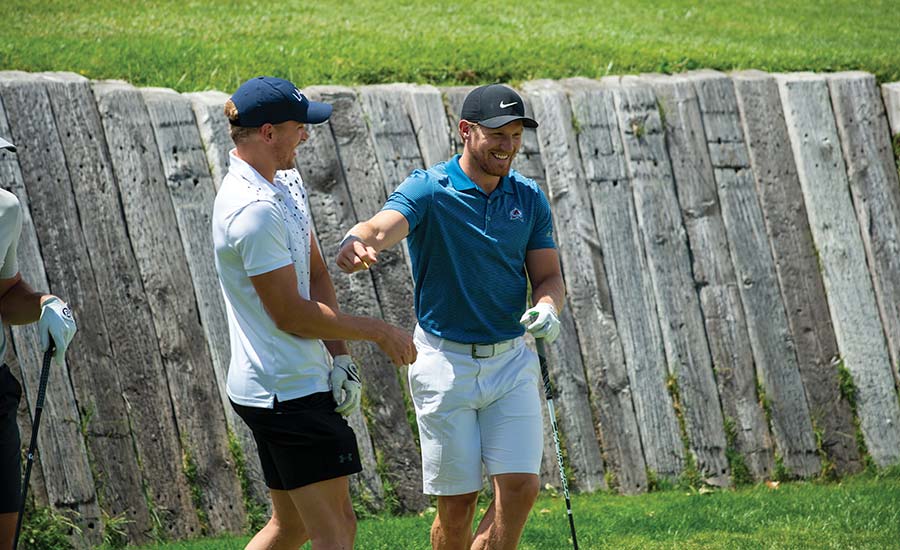 "It's all pretty fun and lots of smiles, until we get to 18," Landeskog says. "Then, it's very competitive. The smiles go away, and the curses come out. None of us like to lose, at all."
MacKinnon, the true household name of the Avs, is an obsessive golfer. He has hinted he might want to make a run at a PGA card when his hockey days are through. But Landeskog, when talking about recent competitions with his next-locker-over friend and teammate, is quick to add, "You might want to confirm this with him, but the last two times I think I've beaten him."
Landeskog is a left-handed shooter on a hockey rink, but is right-handed in every other aspect of his life, including his golf swing. Why is that?
"My dad (Tony, a former Swedish pro hockey player) was a righty and so all his clubs were for righties, and I just kind of went along with the program when I started hitting some golf balls back when I was a kid," he said. "Otherwise, I don't really know why."
BACK TO BUSINESS
Soon however, it will be time for Landeskog to trade his golf sticks for something a little more familiar. From Aug. 2, when the Avs were slated to play the St. Louis Blues in the first of three round-robin seeding games in Edmonton, until as late as early October, Landeskog's main focus will be on winning his first Stanley Cup. The Avs, who will be one of the top four seeds in the Western Conference regardless of the round-robin outcome, will be holed up together at the J.W. Marriott, right next to Rogers Place, for as long as they last in the four-round, best-of-seven playoffs. Players will have their own rooms, but will be prohibited from visiting any teammates' rooms because of safety precautions. There will be no fans in the stands the whole time. If the Avs are in overtime of the seventh game of the Stanley Cup Finals, the only sounds Landeskog or any other player will hear are those on the ice.
Which begs the question: Could the winner of this season's Stanley Cup go to the team that was best able to handle the mental aspects of playing in such odd surroundings, even more than the physical grind? Players are often spurred on by the crowd. But not this time. Will finding ways to internally motivate oneself be the secret to Stanley Cup success in this once-in-a-lifetime (hopefully) environment?
"It's a good question," says Landeskog, the NHL's rookie of the year in 2011-12. "Everybody gets motivated on certain things, whether it's outside or inside of you. The crowd is a huge part of the atmosphere. Without them, it'll certainly be very different.
"I'm sure it'll be pretty weird at the start, but once you get into elimination games, third period, situations where the next goal wins—it doesn't matter if it's a scrimmage or a practice—it gets pretty heated. It's still gonna be us versus whoever. Everybody wants to win so bad. It's gonna be real competitive, once you get over that there's no fans in the stands. It'll be different, but everything in this world is different right now. We won't even be able to shake hands after any playoff series."
UNQUESTIONED LEADER
In a sense, the Landy of 2020 now looks more like the hockey veteran who truly has paid his dues. Only Erik Johnson has more tenure on the Avs than the 27-year-old native of Stockholm, Sweden. Nobody in the dressing room questions his credentials anymore as captain of the Avalanche, and it is him that younger teammates such as Mikko Rantanen and Cale Makar will look to for leadership when the team ventures to Edmonton, Alberta, for a potential two-month, dystopian, postseason odyssey brought about by the pandemic.
"Gabe, he's kind of like a big brother to guys like me," says Rantanen. "He's only a few years older than me, but he seems older— in a smarter, wiser kind of way. He's very smart and always curious about learning new things."
That includes matters of social justice. The NHL has always been the major North American pro sport with the fewest number of players of color, and Landeskog wants to do something about that. At the very least, he wants to be a person who is part of a bigger societal solution to matters of racial injustice that were brought more to the world's consciousness after the George Floyd tragedy in Minnesota.
"These words aren't perfect, but I felt the need to try," Landeskog said, in a post to his Instagram account following the tragedy. "I don't want my silence to be misunderstood for ignorance. As a privileged white man, I do not know what black men and women go through every day, and I will not pretend like I do. I watched along with all of you how George Floyd was murdered and I am just like you, furious and frustrated. I do not have all the answers, but the one answer I do have is to open our hearts and listen. We need to educate ourselves so we can be better. We need to learn how we got to this point, so we can be better. Racism needs to stop. I want to raise my daughter in a world where love is stronger than hate. Where color does not matter. #Blacklivesmatter."
Those who have been around Landeskog for a while knew those words weren't just get-ahead-of-the-subject PR for his image. Despite all the gifts he's been bestowed in life, Landeskog has never portrayed any spoiled airs about him. Reporters who approach him can oftentimes get earnest questions asked back at them, and he can talk about other things besides getting pucks deep or getting traffic at the net. A couple of weeks after his Instagram post, Landeskog reflected further on the subject.
"It's about time racism stops and I'm sure it is a long road there, but I am glad this conversation is being had," Landeskog said. "I think it's important. It's a tough topic to speak about whether you are black or white, but I do think that everybody needs to make sure they have an open heart on this matter and listen. Some people say that you are going to listen is a 'follower-type' of move or whatever. But in my opinion, it is Step 1 to understand, and understanding love is going to be very important moving forward. At the end of the day, it does matter what your skin color is. We're all people and we should all be treated the same.
"I don't think we've ever had a problem inside of our locker room. Or I know we have never had a problem inside of our locker room when it comes to race. You look across the room and you see one of your teammates. It doesn't matter what color they are or what background they have. It's nothing that I have seen as a problem inside our locker room. I think it's important. You look around the league and see some of the statements that were put out by guys, and it's important that guys speak up."
If some of his initial, playing-out-the-string Avs teammates weren't impressed by Landeskog's leadership potential, other elder hockey people were. Longtime former NHL general manager Brian Burke said recently that Landeskog was the most "impressive interview" of a potential draft prospect he's ever encountered. Avalanche GM Joe Sakic is just as ebullient. "Great kid, smart, focused," Sakic says of Landeskog.
WHAT'S NEXT?
Landeskog's contract is up after next season, which means the Avs can start negotiating with him already on a potential extension. Otherwise, he'd become an unrestricted free agent. During those bad first couple of years, team-wise, it might have been forgivable if Landeskog ever thought, Get me out of here.
Not that he ever did, but talking with him now, it seems inconceivable he and the Avs will be parting ways anytime soon. He's still in his 20s, on a team considered one of the most talented in the league, with more room to grow. Not a chance does Landeskog not want to try and see through what he started as that teenage captain eight years ago.
"I love being a member of this organization, and part of this community," Landeskog says. "I have come to appreciate being here more and more, the more I've been here."
Adrian Dater has covered the Colorado Avalanche and NHL since 1995 for the Denver Post, Sports Illustrated and Bleacher Report, and today is owner and editor of Colorado Hockey Now.
---
This article was also featured in the August/September 2020 issue of Colorado AvidGolfer.
Colorado AvidGolfer is the state's leading resource for golf and the lifestyle that surrounds it, publishing eight issues annually and proudly delivering daily content via coloradoavidgolfer.com.