Coeur d'Alene packs a one-two golf punch.
By Jon Rizzi | Photographs ©PJ Koenig
CONTRARY TO WHAT the ill-informed Irishman I encountered at Spokane International Airport would have me believe, Coeur d'Alene does not derive from the name of some lovesick French explorer's paramour. "It means the 'Heart of Alene'" he swore.
Nice try, Seamus, but Coeur d'Alene actually means "Heart of an Awl," an appellation the 19th-century French-Canadian trappers gave to members of the region's Schitsu'umsh ("SKITS-wish") tribe because of their sharp trading practices.
From my experience, when it comes to golf in Idaho, the glorious northern panhandle's Coeur d'Alene region is more like the "Heart of it All." The area features the state's top two layouts: The Golf Club at Black Rock and Gozzer Ranch Golf & Lake Club. Although both are private, they lie within a 30-minute drive of Idaho's two highest-ranked public courses: Circling Raven Golf Club and the Coeur d'Alene Resort Golf Course.
Both belong to resorts with very similar names—Coeur d'Alene Casino Resort Hotel and Coeur d'Alene Resort—but deliver distinctly and delightfully dissimilar experiences. Combine them over a long weekend and you'll get to define Coeur d'Alene for yourself.
CIRCLING RAVEN GOLF CLUB
In 1993, descendants of the Schitsu'umsh, who now comprise the federally recognized Coeur d'Alene Tribe, opened the Coeur d'Alene Casino Resort Hotel some 25 miles south of downtown Coeur d'Alene. Six expansions and numerous renovations and upgrades later, it boasts all the amenities of a top-flight resort, with high-end finishes, 300 well-appointed rooms, 14 plush suites, more than 100,000 square feet of gaming space, the indulgent Spa Ssakwa'q'n (SOCKwahk- en), seven restaurants (including the stellar Chinook steakhouse), an acre's worth of meeting rooms and, as of 2003, the masterful Circling Raven Golf Club.
Owned and operated by the Coeur d'Alene Tribe, the 7,189-yard layout by Colorado State alum Gene Bates has consistently earned accolades since it opened. Both Golf and Golf Digest have counted it among their top 100 public courses, and earlier this year, Circling Raven garnered Idaho's No. 1 ranking in Golfweek's "Best Courses You Can Play" by State. Best of all, even during peak season, a round with a cart costs less than $100.
The course sprawls across 620 acres—roughly three to four times the amount of land usually occupied by 18 golf holes—and the only homes along the course belong to deer, eagles, foxes, ravens, trout and other indigenous critters.

Save for the presence of eight miles of cart paths, few golf experiences connect you as intimately with the natural surroundings. You traverse woodlands brimming with ponderosa pines, birches and aspens; Palouse grasses such as Idaho fescue and bluebunch wheatgrass; and protected wetlands vibrating with life. All of it oftenaccompanied by infinite vistas.
The enormity of the property requires proportionate holes, and Circling Raven delivers 18 times, giving you a scoring chance on the dogleg-left par-5 first and subtly ratcheting the difficulty up and down. Distinctive, amoebic-shaped bunkers define much of the strategy. "Did Gene Bates or Norman Bates design this hole?" a buddy joked as he hacked his way from the archipelago of silicate splitting the fairways on the par-4 fourth.
Strategic sandforms also lurk on other two-shotters: the shortish sixth, longish ninth, drivable 10th and well-guarded 18th, also known as "Discovered People" (the literal meaning of "Schitsu'umsh"). The 581-yard 12th clocks in as the longest and toughest hole on the back nine, but at 253 yards from the tips the par-3 13th isn't exactly a cakewalk.
As good as Circling Raven is, the Tribe won't rest on its laurels. It has commissioned Bates to develop a master plan to "reinvigorate" it for the future. In addition to some bunker additions, subtractions and renovations, the scope of work may include creating some new teeing areas, introducing a more poa-resistant strain of bentgrass on the greens, exploring the addition of nine holes adjacent to the practice area and identifying an area for destination-golf lodging.
Circling Raven bears the name of a prophetic 17th-century tribal chief, and the name of the course restaurant, Twisted Earth, comes from his successor. The tribe takes seriously its connection to history, its people and culture. The casino, resort and golf course provide for the people the way hunting and farming once did.
In keeping with this spirit, the Coeur d'Alene Casino Resort Hotel offers a raft of cultural tour options, including canoeing, kayaking, battle tours, powwows and a must-go visit to a working bison ranch.
COEUR D'ALENE RESORT GOLF COURSE
Mention Coeur d'Alene to any golfer and the term "island green" will invariably follow faster than a Tony Finau backswing. The green for the Coeur d'Alene Resort Golf Course's par-3 14th floats in Lake Coeur d'Alene at a yardage that varies by the day, thanks to a computer-controlled hydraulic winch system.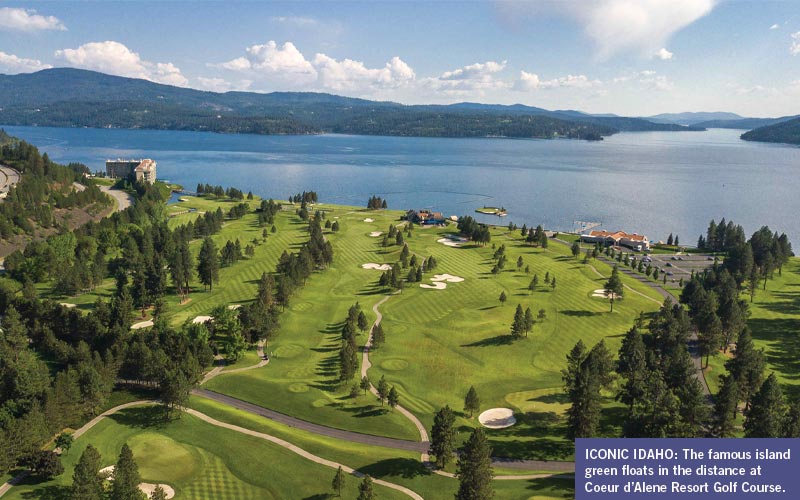 The world's only true island green is therefore also its only movable one—a marvel of engineering so iconic that it appears in the course's logo and on every item in the pro shop. The attendant experience is unique as well: A boat called Putter ferries your foursome to the adjoining dock, and the captain will issue a certificate of completion (including your score) if you desire one.
The novelty and excitement of the hole— "You know the 'Island of Misfit Toys'? This is the 'Island of Mishit Shots,'" I kidded after the first to hit in our group splashed one—tends to overshadow the majesty of the other 17 that architect Scott Miller routed through 200 acres of pines along Lake Coeur d'Alene and Fernan Creek. Those include four more photo-worthy par 3s, three of which (the lake-hugging third, continuous-bunkered fifth and plunging sixth) come within four holes on the front nine. The creekside par- 5 11th suggests Augusta National's 13th, and this course's actual 13th—a short, risk-reward par 4 with lake and bunkers everywhere—is perhaps more intimidating than the famed hole that follows it.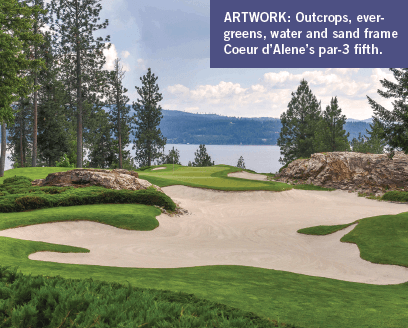 Your par-71 journey across the 6,803 yards of impeccable bentgrass tees, fairways and greens comes courtesy of luxe golf cars and the help of an experienced forecaddie. Massage therapists will knead you outdoors right next to the range. A sleek mahogany boat returns you across the lake to the lavishly upgraded resort, where cosseting spa treatments, fine dining at Beverly's, alfresco huckleberry lemonade cocktails and myriad water activities await.
As if golf on a floating green weren't enough, you can dine afloat as well. Hagadone Hospitality, which founded and runs the resort, also owns The Cedars Floating Restaurant— a fresh seafood and steak institution located where the Spokane River meets Lake Coeur d'Alene and reachable by boat or automobile.
INFO TO GO:
Circling Raven Golf Club
cdacasino.com; 800-523-2464
Coeur d'Alene Resort
cdaresort.com; 855-703-4648
Jon Rizzi is the editor of Colorado AvidGolfer
---
This article appeared in the 2019  August/September Issue of Colorado AvidGolfer.
Colorado AvidGolfer Magazine is the state's leading resource for golf and the lifestyle that surrounds it, publishing eight issues annually and proudly delivering daily content via coloradoavidgolfer.com.