True Temper, maker of the legendary Dynamic Gold steel shaft, has introduced a new graphite shaft for woods it says will optimize results off the tee (and fairway) for a wide range of golfers.
By Tony Dear
You probably know this already, but in case you don't, in geometry and mathematics a vertex is a point that terminates a line or curve or comprises the intersection of two or more lines or curves. Or it's a point where an axis of an ellipse, parabola, or hyperbola intersects the curve itself. It can also be the point opposite to, and farthest from, the base in a figure. As it relates to human anatomy, the vertex is the top of your head, the uppermost part of your scalp, or the crown. And, lastly, it's simply the highest point of something – the summit or apex.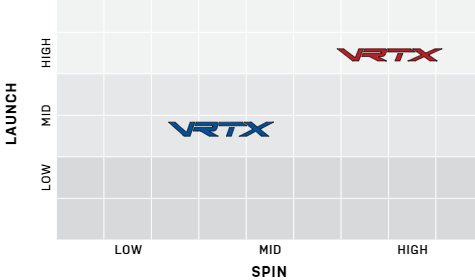 That last definition is that which True Temper leaned on when naming its latest shaft(s) – a graphite model for woods called VRTX which the venerable shaft-maker's Product Marketing Coordinator, Keenen Phillips, introduced on YouTube recently, saying the VRTX Red and VRTX Blue would only be available though custom club-fitters.
"They are custom fit-only for a couple of reasons," says Phillips. "The custom fit-only market is one we were previously not hitting with any Project X offerings, especially at a high-value price point, and there was some demand for a Project X-branded product in custom fit shops so this is our first step into that realm."
The second reason, adds Phillips, is that because the shafts were designed from a weight and flex standpoint using many years' worth of fitting knowledge and experience, they can really only perform at their very best when 'given to the right hands'. "We obviously want golfers to be fitted with the shaft that gives them superlative performance," says Phillips. "The combination of shaft design and fitting know-how should guarantee golfers get their best-ever results."
The VRTX Red (40, 50, 60) has what True Temper calls a 'soft, smooth profile and ultra-lightweight offerings to maximize speed and carry distance'. It generates a high launch and is aimed at golfers with 'deliberate' tempo – a player with a slower backswing and smoother transition. The VRTX Blue (50, 60, 70), meanwhile, has a firmer profile and generates a stable mid-low ball flight. It is recommended for golfers with 'moderate' tempo – players with a faster backswing and more aggressive transition that those with deliberate tempo.

$200
Flex range – 4.0-6.0 (Red), 5.5–6.5 (Blue)
Weight range –  47g–63g (Red), 54g-67g (Blue)
truetempersports.com
---
For more on the latest and greatest gear in golf, visit our GEAR PAGE.
Colorado AvidGolfer Magazine is the state's leading resource for golf and the lifestyle that surrounds it, publishing eight issues annually and proudly delivering daily content via coloradoavidgolfer.com.
Follow us on Twitter, Facebook and Instagram.