Whether your favorite golfer's taste runs to high-tech or high-touch, this holiday season brings plenty of choices.
By Suzanne S. Brown
WARMING TREND
Cold hands never make for a good golf swing. That's why golfers who play when the temperature drops are discovering what pro athletes have been doing for years—putting their mitts in heated pouches like the one made by G-Tech Apparel, a company specializing in heated clothing. G-Tech Heat is used by professional and collegiate football and baseball players, as well as competitors on the PGA and LPGA tours. Golfers such as Dustin Johnson kept their hands toasty using G-Tech's Heated Pouch during the 2021 Ryder Cup. With a lightweight rechargeable lithium battery and three heat settings, the Heated Pouch Sport 2.0 comes in five col- ors, $120. gtechapparel.com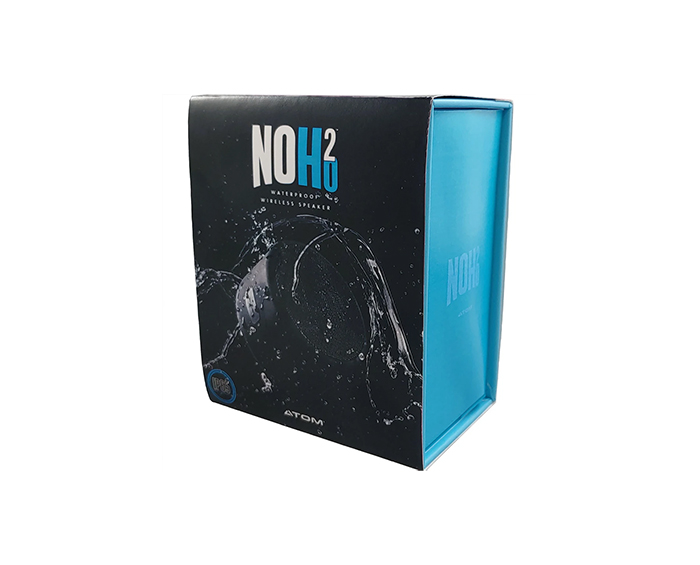 TUNED IN
Love them or loathe them, personal music devices have become ubiquitous on the golf course. Players who like to listen to favorite tunes while they swing a club are adding wireless speakers to their golf gear, and they make a great holiday gift. Offering clear sound as well as affordability is Lorente Golf's waterproof, wireless speaker that offers seven hours of playing time be- tween charges. Compact in size— 3 inches in diameter and 2 inches tall—the speaker is customizable with such graphics as the Colorado state flag or golf club logos, $50. For retail locations, [email protected]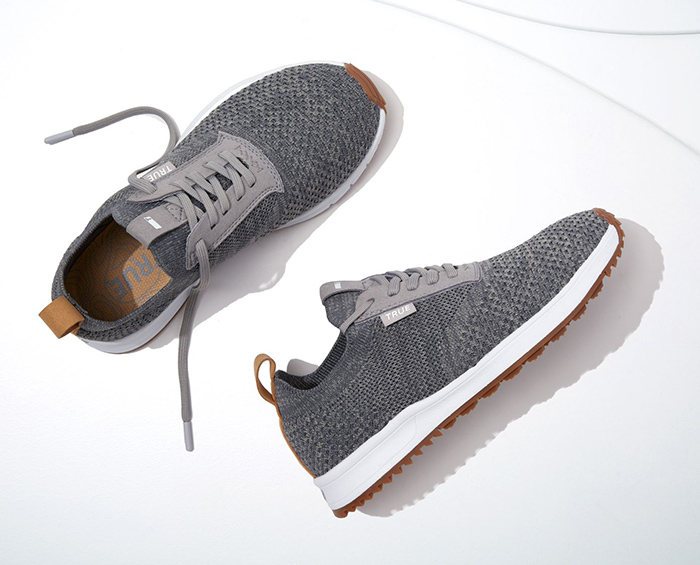 ON SURE FOOTING
Brothers Jason and Ryan Moore share a lifelong love of golf. Jason played competitively and then spent years caddying for Ryan, who's won five times on the PGA TOUR. Convinced that comfortable golf shoes did not exist, they set out to create shoes by and for the walking golfer. Their products, sold online at TRUE linkswear and select pro shops, offer comfort, natural motion and versatility in a minimalistic, modern aesthetic. And they're sustainably made: Several of their five core designs are manufactured from entirely recycled materials, and the shoes are packaged in reusable bags, not boxes. For the holidays, True is offering a limited-release OG Feel Dead Golfer style featuring a leather saddle and its signature dead golfer logo (a skeleton swinging a club in search of par), $155. Another good gift choice is the True Knit II, which has a sock-fit feel and is breathable for wear on and off the course, $140. Women's styles are available as well. truelinkswear.com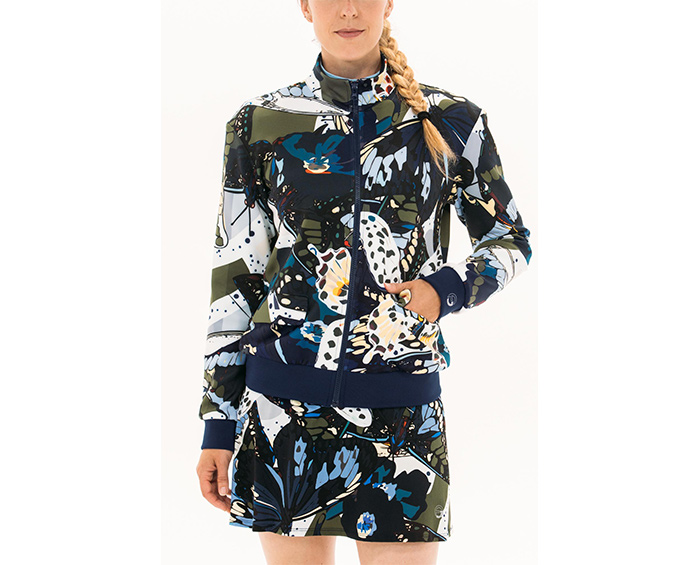 A FASHIONABLE FORAY
Foray Golf's Megan LeMothe treats golf apparel as more of a designer-boutique item than mass-appeal clothing. She uses fabrics found in both high-end designer collections and athletics apparel, and prefers doing capsule collections to big seasonal rollouts. Her stretch neoprene track jacket, $180, and clean A-line skorts printed with such motifs as winter's Modern Monarch feature dual front pockets as well as a back pocket and shorts in a four-way stretch, wrinkle-resistant Italian jersey. $150. Also from the company are pieces, such as golf gloves and towels, in the classic playing-card-queen motif. foraygolf.com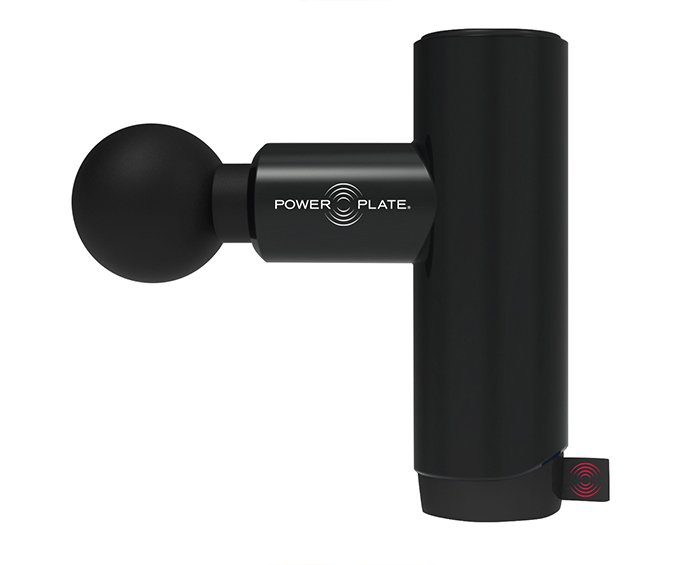 THE MEDIUM IS THE MASSAGE
While nothing beats a good table massage to soothe sore muscles, a stream of hand-held massage devices that aim to do the job without booking an appointment at the spa or with a physical therapist. One of the newer "percussive therapy" designs on the market is the Power Plate Mini+, which is quiet, compact and weighs just under a pound, making it convenient for use either at home, the club or when traveling. The massager comes with two attachments and operates at four intensity levels. Power Plate Mini+ has a five-hour battery life and recharges with a USB-C charging cable, $180; powerplate.com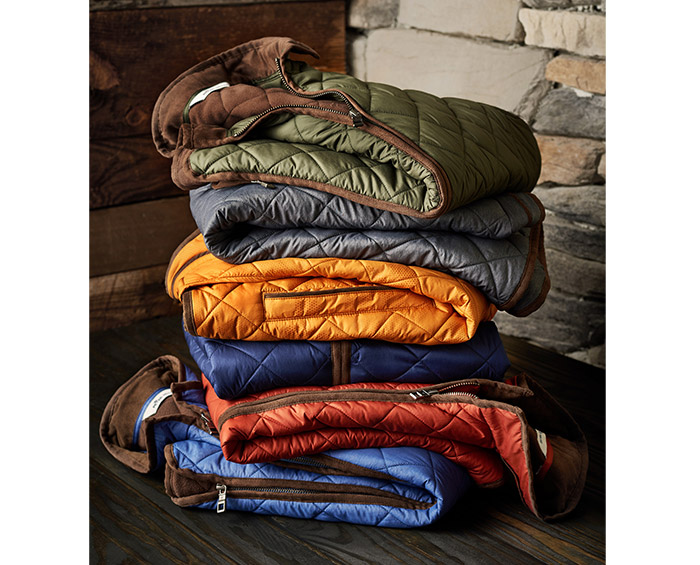 VESTED INTEREST
A light layering piece is a great gift for the stylish golfer on your gift list, whether he wears it on or off the course. Peter Millar's Essex Travel Vest is made of a quilted fabric that is windproof and water-resistant. It has lightweight insulation and a fleece-lined interior to offer warmth and comfort on chilly days. Packed with style as well as function, the vest is windproof, has six interior pockets, a stand-up collar, hidden zip-front snap-button placket and exterior side pockets. It comes in eight colors, $198. petermillar.co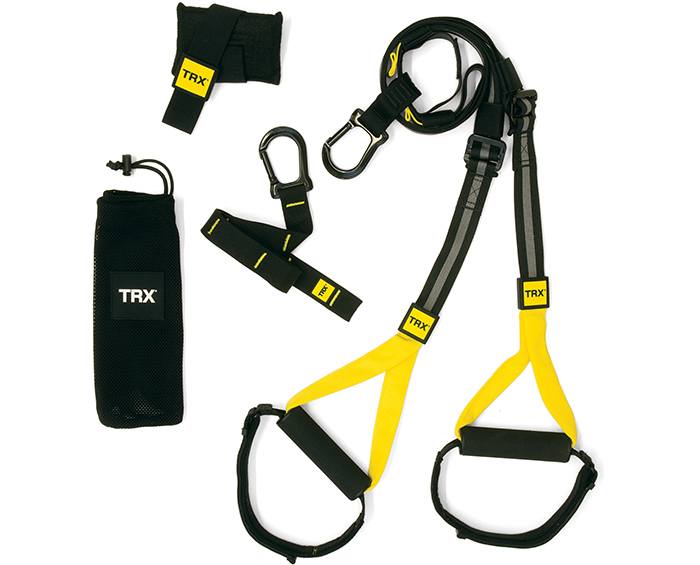 FITNESS FIRST
Just as the pandemic fueled a work-from- home movement, it accelerated home work outs. TRX (Total Body Resistance Exercise) has grown in popularity because it requires minimal equipment—ropes and webbing—to offer full body workouts. You just anchor the straps over an interior door or fixed pole outside and you're on your way. Specialized instruction is available via the TRX Training Club, a digital platform featuring self-guided workouts and live classes. The club is $20 a month after a free trial period. The TRX Home 2 Suspension Train- er system, $200, includes a door anchor, suspension anchor, straps with adjustable foot cradles, and a carry bag. Those who already have a TRX system will appreciate a new accessory—the Bandit, $30, ergonomically designed handles that snap onto one or more strength bands to improve comfort, leverage, control and form. store.trxtraining.com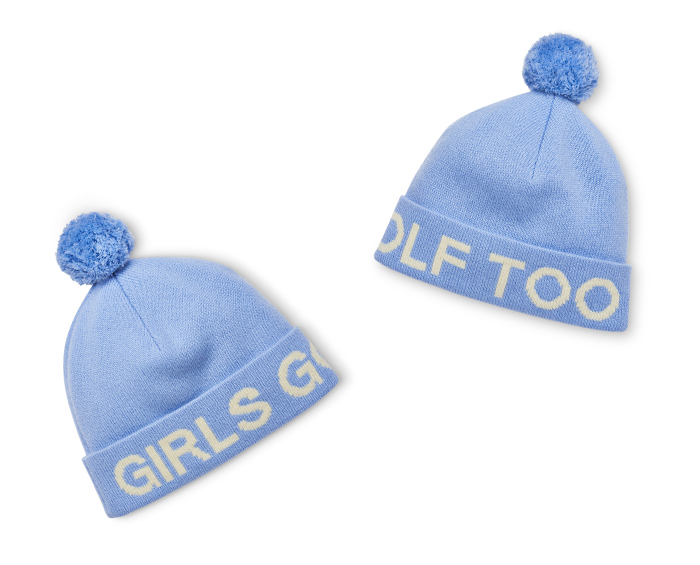 HEAD'S UP
When it's time to play cold-weather golf, nothing beats a beanie. The lady on your holiday gift list will love G/Fore's latest. Known for such sayings as "Pray for Birdies," G/Fore's hits its mark with a powder blue beanie that states simply and for all the world to know, "Girls Golf Too." In a soft and warm cashmere blend, the design has a classic yarn pom, $120. Gfore.com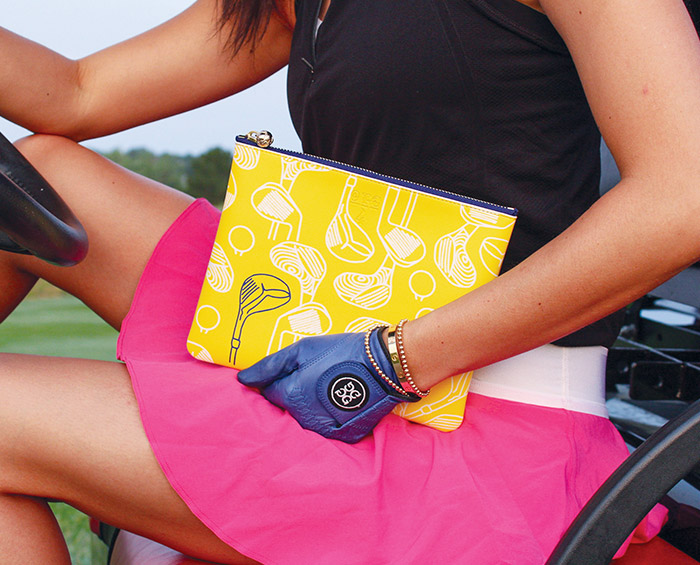 ZIP IT
Denver mom Amie Swan realized she could simplify her life if she separated the items she needed for various activities—whether it be a smaller bag for makeup in her tote, or the essentials for a round of golf. Her company OTG/247 now offers colorful zip-top bags in 10 sizes and three collections that mix and match to accommodate everything from business cards to a laptop. The golfer bags keep gloves, shoes, tees, accessories and sun-screen organized. The smallest hooks onto a bag or cart, and a larger insulated one is perfect for "birdie juice." $46 to $96. otg247.com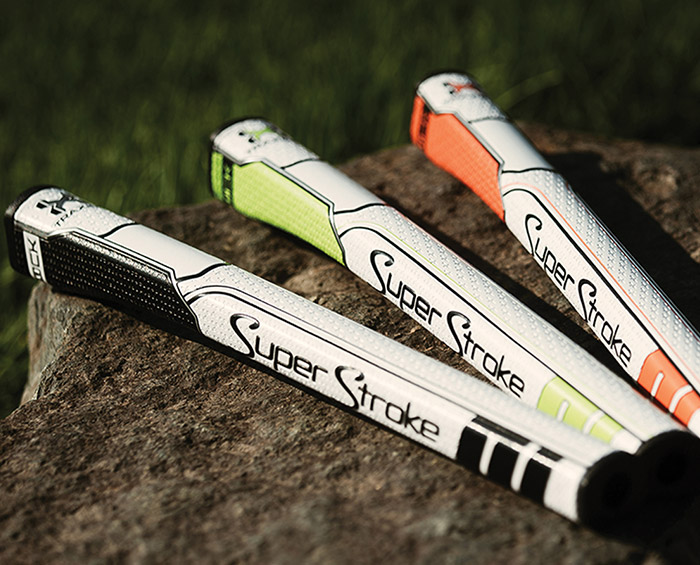 LOCKED IN
More PGA TOUR winners use SuperStroke putter grips than any competitor's product. The Custom SuperStroke Putter Grip, $30, features the new USGA-approved WristLock to prevent unwanted motion, leading to greater consistency in starting the ball on- line and distance control. The product's No Taper Technology evens out grip pressure, and the uniform lower-hand profile minimizes it, promoting a smoother, more consistent stroke for most putting styles. superstrokegolf.com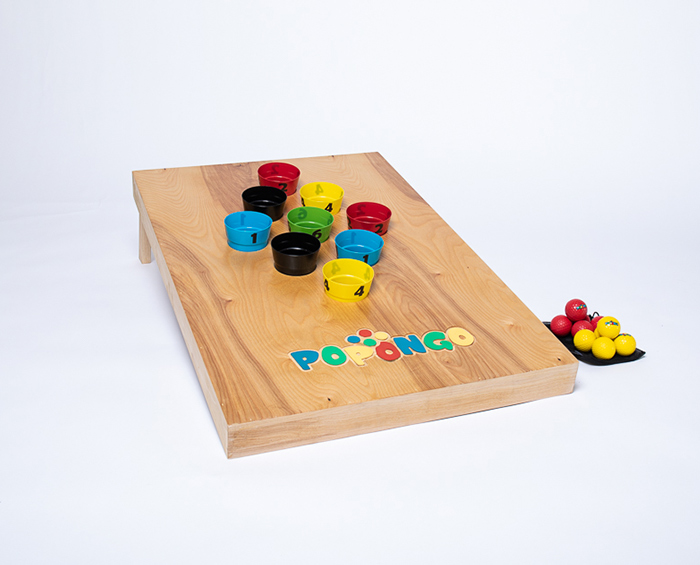 GAME ON
Bored during the pandemic, Denver resident Errol Anderson spent time reimagining traditional backyard games. In the process, he invented Popongo. It's a game that allows for social distancing and can be played indoors or out. Players take turns tossing foam balls (they have dimples like golf balls) from a distance of 15 feet onto a board with numbered cups that have different point values. The goal is to collect as many points as possible, while utilizing the black equalizer cup to your advantage—you can both gain points and lose them by landing balls in the cup. Popongo is $140 for a single board, which includes 9 cups and 10 balls (2 colors, 5 balls each color); extra balls are $11 for a set of five. playpopongo.com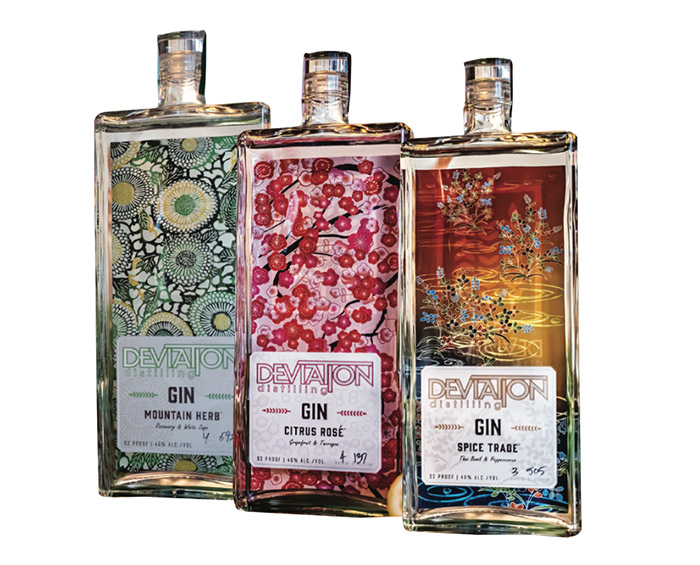 STIRRING
Shake up the holiday drink-making ritual by giving the gin lover on your list one of the spirits made by Denver- based Deviation Distilling. The company, founded in 2019 by Cindi Wiley and childhood friends Bob Wiley and Dave Gade, uses such ingredients as Szechuan peppercorns and a variety of botanicals in its gins. For the holidays, Deviation created a three-pack of its flagship creations: 200-ml bottles of Spice Trade, Citrus Rosé and Mountain Herb, $42. The holiday pack is sold only at the tasting room at Denver's Dairy Block, 1821 Blake St., #130, which opened in September and is worth a trip to sample a gin cocktail or one of Deviation's other products, such as coffeehouse-in- spired Barista Whiskey. deviationdistilling.com
Suzanne S. Brown is the former fashion editor at The Denver Post.
---
This article was also featured in the Winter 2021 Issue of Colorado AvidGolfer.
Colorado AvidGolfer is the state's leading resource for golf and the lifestyle that surrounds it, publishing eight issues annually and proudly delivering daily content via coloradoavidgolfer.com.