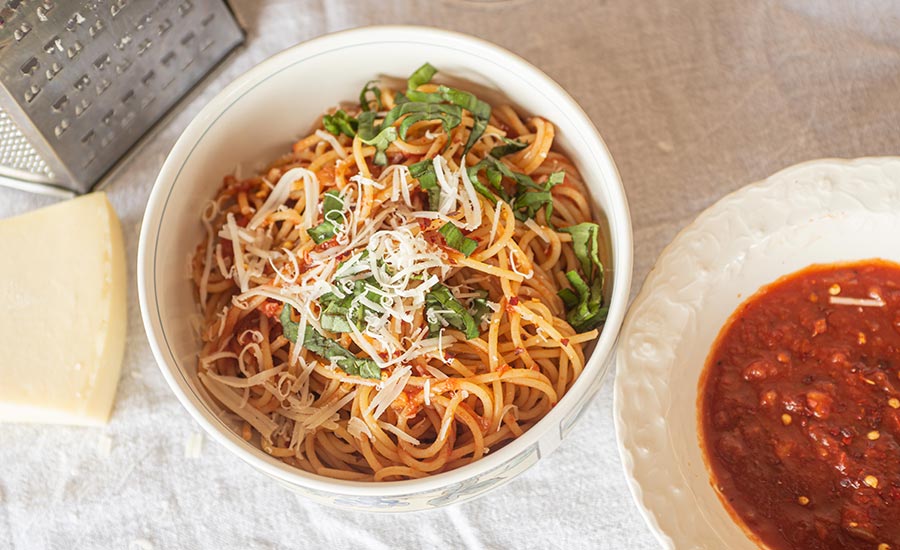 The secret to a memorable spaghetti sauce isn't the recipe.
By John Lehndorff
"MY SPAGHETTI SAUCE doesn't taste right." That's what an old friend told me recently as we "met" on Zoom for happy hour. I had asked Bill what he and his wife had been cooking during the stay-at-home time. They were trying to recreate old favorites. "The tomato sauce is okay I guess, but it's missing something. I can't ever make my sauce taste like I remember it. Got a recipe?"
I asked him what had made that sauce special. It wasn't his mother's marinara—she didn't cook Italian, but he loved the red sauce dished at family-run Italian-American eateries and pizzerias all over Southern New England.
Whether it is labeled tomato sauce, marinara, Sunday gravy or ragu, I know that taste, aroma and craving. My mom's parents were Sicilian immigrants, so spaghetti was on our menu. On Fridays she poached eggs in the sauce to serve over noodles as a go-to meatless meal. Mainly, Mom looked forward to those rare meals when we could all go out for Italian food.
The waitress would deliver a white china plate, mounded with long thin noodles coated in meaty sauce crowned with a meatball or a spicy sausage link. There were always shakers of grated Parmesan and red chile flakes on the table. The scent was three parts tomato, two parts garlic and oregano and one part pure nostalgia.
When push has come to shove in my life, I have often turned to spaghetti. However, until I cooked at an Italian restaurant years ago, I didn't understand how to build a great tomato sauce.
HOW TO THINK ABOUT A SPAGHETTI SAUCE
I told Bill that I would send him a recipe—my problem was that I don't cook using recipes.
In order to get Bill a recipe, I needed to make a batch and take notes. To start the sauce, I put extra virgin olive oil in the bottom of a heavy pot and heated it over a medium flame. Next up was garlic. My thoughts turned to the prison dinner scene in the film Goodfellas. Henry, the narrator, says: "Paulie was doing a year for contempt and had this wonderful system for doing the garlic. He used a razor, and he used to slice it so thin that it used to liquefy in the pan with just a little oil."
I sliced and chopped several large cloves of fresh garlic. I never use pre-peeled or chopped bottled garlic. Adding finely chopped sweet yellow onions, I sautéed them until they turned soft and translucent.
It's easy to get lost in supermarket canned tomato shelves with fire-roasted diced tomatoes, peeled and sliced tomatoes and tomato puree, paste, juice and sauce. I choose canned crushed tomatoes for spaghetti (and pizza) sauce because it provides some texture. Sometimes I add a can of diced tomatoes to enjoy a chunkier sauce.
Even the best imported canned tomatoes are relatively inexpensive, so I grab the best I can find. The same goes for dried spaghetti.
I stirred the crushed tomatoes into the onions and garlic and added a little red wine and some of the dried herbs. I like a lot of basil and oregano, but also smaller amounts of sage, thyme, marjoram, tarragon and rosemary. It depends on what is in the pantry. I love ground fennel seed and red chile flakes because they echo the flavor of Italian pork sausage. Salt is always used sparingly until the sauce is almost done.
"Everything you see I owe to spaghetti."
–Italian actress Sophia Loren
THE MEANS TO MAKE IT MEATY OR MEATLESS
There is a toolbox of tomato sauce ingredients that make it taste more savory or meaty. In Japan, the fifth taste is called "umami." I add smoked paprika, a couple of finely chopped kalamata olives or some roasted mushrooms–either shitake or cremini. Other "secret" ingredients include anchovies, miso paste and Worcestershire sauce, but only in tiny amounts. You have to simmer, tweak, taste and repeat.
To add meat later to some of the marinara, split the sauce between two pans. Pan-cook the meats in olive oil separately and then add them to half of the sauce for simmering before serving. It could be ground veal for melding into the sauce or Italian sausage links, pork belly or meatballs to dish on the side. This time I used boneless skinless chicken thighs for a chicken cacciatore meets chicken Parmesan effect.
THE RIGHT WAY TO SERVE SPAGHETTI
Here are the rules for serving spaghetti. To prepare the spaghetti, bring a lot of heavily salted water to a boil in a big pot.
Don't put the spaghetti in the water until the table is set, the wine is poured, and everyone is ready. Don't overcook the pasta because it will further absorb liquid from the sauce before it is eaten.
When you drain the noodles, do not rinse them. Put them immediately into a warmed serving bowl. Add ladles of hot sauce and toss briefly until the spaghetti is coated. Garnish the pasta with freshly grated Parmesan and chopped fresh basil or flatleaf Italian parsley.
Serve spaghetti immediately with extra sauce and Parmesan on the side and meatballs, sausage links, chicken thighs, etc. on a platter. A loaf of Italian bread is nice for sopping up all the great sauce.
Sauce Advice You Can't Refuse
"You see, you start out with a little bit of oil. Then you fry some garlic. Then you throw in some tomatoes, tomato paste, you fry it; ya make sure it doesn't stick. You get it to a boil; you shove in all your sausage and your meatballs."
–Peter Clemenza's cooking lesson for Michael Corleone in The Godfather. The recipe was from director Francis Ford Coppola's family.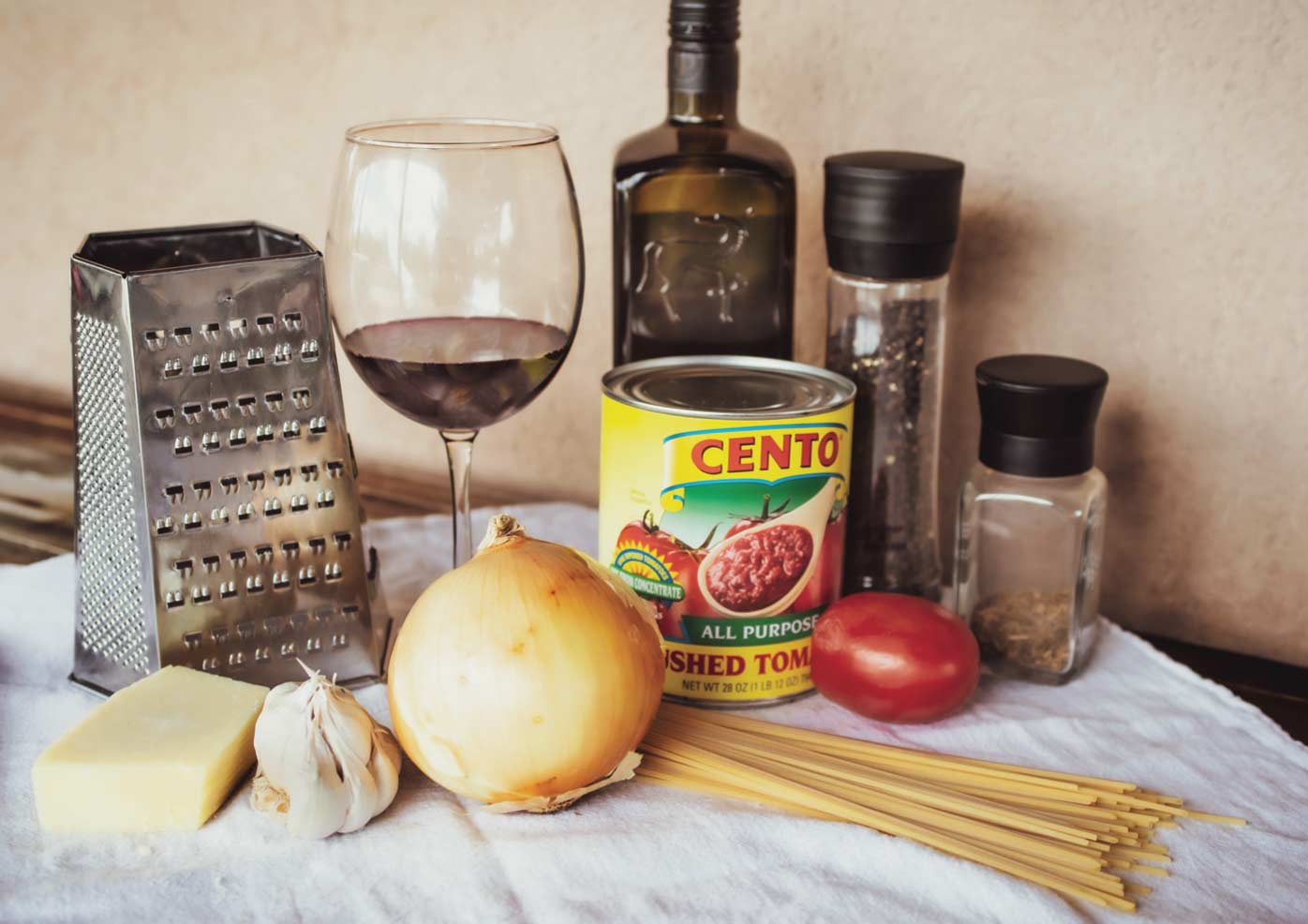 I FOLLOWED THE RECIPE, HE SAID
I sent the recipe to Bill and halfway through cooking his first batch he called. He sounded disappointed. He had tasted the sauce, but the flavor was still "blah," he said.
I asked how much garlic, basil and wine he had added. He admitted it had been minimal. Like a lot of folks, Bill's roadblock is fear of spicing or, more precisely, overspicing.
My reassurance was simply: "Add more." I asked him to visualize one tablespoon of dried basil next to a pan full of sauce infused with other flavorings. There's not enough basil there to make a flavor impact. I told him to triple or quadruple the amounts of all the seasonings (except salt).
I didn't want to get all Obi-Wan Kenobi on him, but there comes a time when you put aside the recipe and taste the sauce. More importantly, you sample the sauce repeatedly until you serve it. Seasoning in stages adds layers of flavor and the sauce keeps evolving taste-wise. It will tell you whether it needs more wine, garlic, basil or meatiness.
It's very hard to "ruin" a sauce unless you burn it. If it is too thick or if the seasoning is too intense, thin it with broth, water or tomato juice. One truth is that spaghetti sauce always tastes better the next day as all the flavors fuse. That's why you might as well make a double batch of sauce while you are messing up your kitchen.
A few days later, my friend Bill let me know that he and his wife both loved the sauce. "It tasted right," he said.
I got to twist my fork in a plate of spaghetti, too.
Whether your linguini is made with semolina or zucchini and whether your meatballs are veal or Beyond Meat, spaghetti is designed to gather people around a table, even if some of the family and friends join from a computer screen.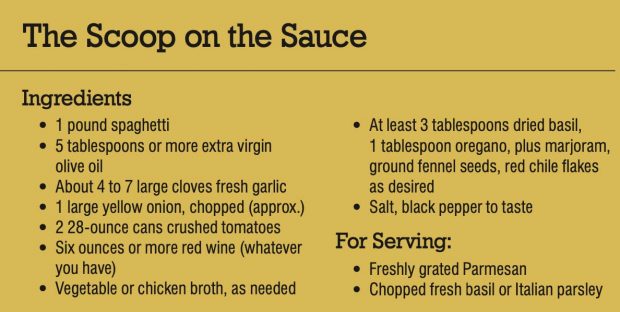 –John Lehndorff is the former Dining Critic of the Rocky Mountain News and Food Editor of the Boulder Daily Camera. His food writing has appeared in the Washington Post. He is a self- proclaimed pie expert.
---
This article was also featured in the June 2020 issue of Colorado AvidGolfer.
Colorado AvidGolfer is the state's leading resource for golf and the lifestyle that surrounds it, publishing eight issues annually and proudly delivering daily content via coloradoavidgolfer.com.