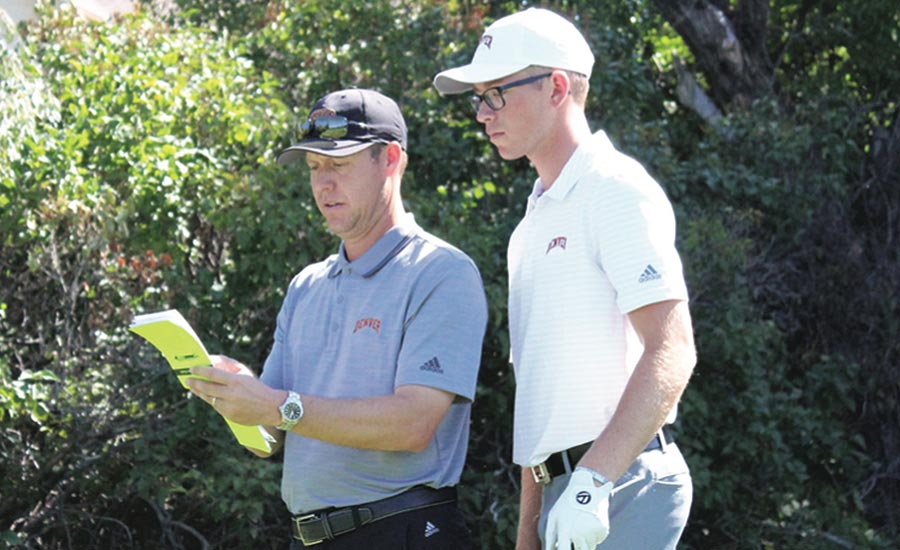 WITH A CAREER resume that includes a Colorado PGA Player of the Year award, a pair of Teacher of the Year awards and a collegiate conference championship, it's safe to say that Erik Billinger likes competition.
Which is why his decision to leave the University of Denver, where he's been the men's golf coach for the last six years, may not be as surprising as one might think.
"It's still competitive—it's really competitive," Billinger said of his new position with ACE Scholarships, a nonprofit organization that provides scholarships for low-income students in kindergarten to 12th grade. "You have to be competitive, you have to be gritty, you have to be persistent—a lot of the same qualities you need in golf, you can definitely apply to fundraising."
Billinger has been around DU in one way or another since his days as a student athlete for the Pioneers. A two-time NCAA individual qualifier, and a Sun Belt Conference Individual Champion in 2001, Billinger graduated the following year after being named an Academic All-American. After spending a couple of years working with the school's men's and women's teams, he spent the next decade working as an instructor out of the University of Denver Golf Club in Highlands Ranch.
He returned to campus in 2012, initially working as an assistant for women's coach Lindsay Kuhle. He was named the men's head coach in 2014.
"I don't think there's ever a good time to stop coaching and doing the thing that you love to do, but I support him 100 percent," Kuhle says. "He's one of my best friends; I'll still talk to him every other day and I probably will for the rest of my life."
Billinger says that while he'll miss the bonding and camaraderie that comes with leading a team, he also longed to ease up on the amount of time he spent traveling as a coach. He and his wife Megan, a former DU lacrosse player, have three children.
"It's tough to leave what you know and what you've done and where you have your so-called area of expertise, but this is exciting and refreshing," Billinger said, the excitement clearly palpable in his voice. "I think sometimes comfort can be like the enemy—being comfortable isn't always a good thing.
"I think you grow when you're uncomfortable … and I'm definitely leaving my comfort zone."
---
This article was also featured in the August/September 2020 issue of Colorado AvidGolfer.
Colorado AvidGolfer is the state's leading resource for golf and the lifestyle that surrounds it, publishing eight issues annually and proudly delivering daily content via coloradoavidgolfer.com.