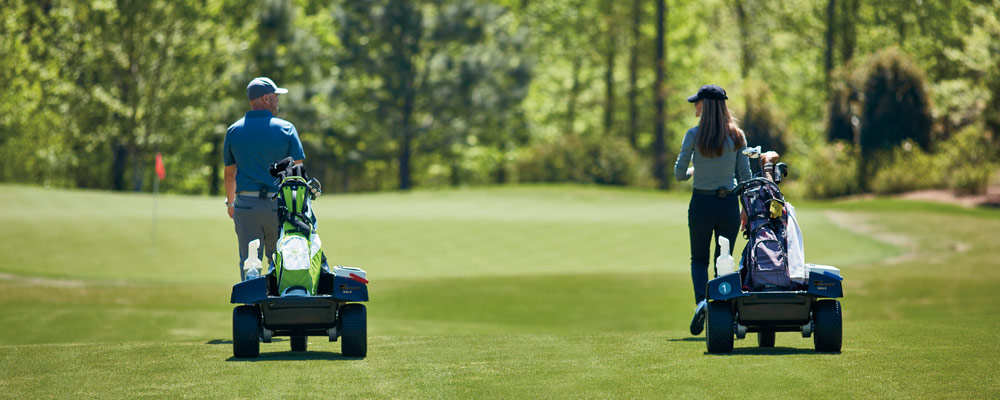 Leave the cart in the barn, smell the flowers, protect the turf and walk your way to lower scores, improved health and deeper friendships with your playing partners.
By Andy Bigford
AVID GOLFERS WILL digest via fire hose any information that may remotely promise to improve their game. So they are scouring this issue to learn how diet, exercise and fitness can help them launch 300-yard drives, calm their nerves over slick three-foot sliders and stay fresh through the closing holes. Perhaps the game's greatest irony is that the vast majority will then choose to ignore the gimme health option that is right in front of them on most first tees: the choice to walk instead of ride in a golf cart.
Whether carrying a bag, hiring a caddie, or using a trolley (even a motorized version), walking burns almost twice as many calories, can lower your score and improves the overall experience (except for those whose definition of good golf is being able to carry and consume a 12-pack). It also saves money on cart fees, allowing you to buy that new $650 A.I. driver, and prevents what can be significant damage to your golf course from the wear and tear of carts. Pace of play? No doubt golf can be faster in a cart, but typically the pace is set by the slowest groups on the course, and walking doesn't need to exacerbate the problem.
Golf has closed the door on its Scottish origins as a walk-only endeavor in favor of a sedentary game where the cart is viewed like the remote for your TV: a necessity. Today, an estimated 70 percent of rounds in the U.S. are played in a cart, despite mounting evidence that walking is good for you and the game in general. Alas, there's probably a better chance that marketing to the lazier tendencies of the population will win out, and that even less strenuous variations on the game, entertainment-based diversions such as Topgolf, will end up winning the match. And that's a shame.
"The golf cart has destroyed the game we know," says Ed Mate, the executive director of the Colorado Golf Association, after returning from a trip to Santa Barbara, Calif., where he drove by a perfectly flat muni to see that it was absolutely swarming with carts. "It has completely taken over." In his day job, Mate and the CGA advocate walking to this state's 65,000 members for all the obvious reasons, as does the game's national authority, the USGA.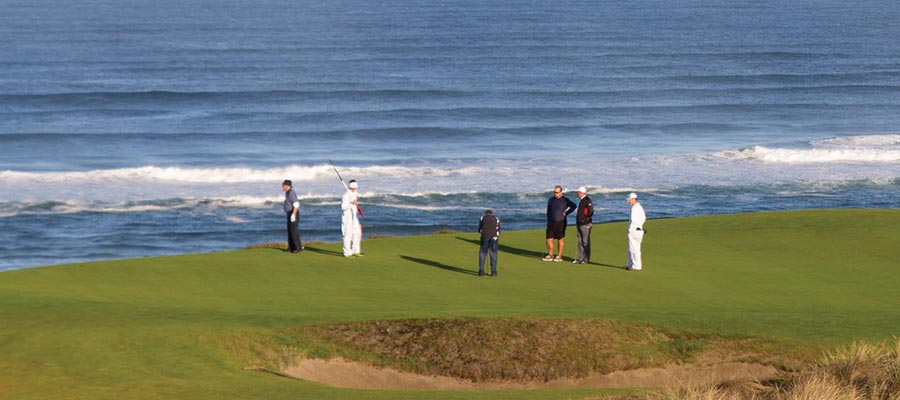 Personally, Mate goes steps further, as an extremely knowledgeable, thoughtful and skilled opponent of today's definition of golf as a cart-based game. As the incubator of the nationally trendsetting Solich Caddie & Leadership Academy at the CGA's CommonGround Golf Club, Mate uses that entree to demonstrate to cart devotees that walking promotes an enhanced version of golf, in which participants actually converse, stroll in leisure and escape from the world's problems for four hours. Between starts and stops, ins and outs, ball searches and cart-path only rules, riding in a cart robs players of the game's true charm. "No good conversation has ever been had in a golf cart," Mate maintains.
"I have a dream of a new golfer who wants to walk," says Mate, who has been brainstorming ideas to "put the cart Genie back in the bottle." His working plan is called Five-Club Golf: it would introduce new players to a walking sport, with a light carry bag, fewer stressful club choices (five to 10 clubs) and a simplistic approach. As a 2-handicap, Mate's experience shows he plays best with nine or 10 clubs, and that he most enjoys stripping down to five: One for the tee (3-wood), one for the fairway (7- iron), one for chip shots (sand wedge) and one for the green (putter). That leaves room in the bag for yet another choice, probably a 9-iron.
Such a movement could even lead to cracking the holy grail, bringing experiential- based newcomers (millennials?) to a sport that is not growing. It could also place Mate in the bull's-eye of two major players in the golf business: the clubmakers who sell Fitness Tip clubs and the course operators who rely on cart revenue.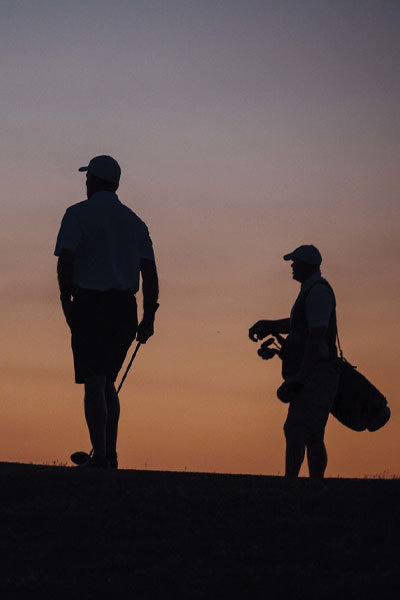 For this exercise, let's focus on the latter. It's true that for health reasons, some golfers absolutely cannot walk. It's also true that some course topography and weather demands carts, and, were it not for the existence of the golf cart, a number of stunning Colorado golf courses—including Sanctuary in Sedalia, which has raised more than $100 million for charities—would never have been possible. In addition, for many courses, cart revenue—even after factoring in the capital expense and operations (staffing, maintenance, battery charging, cart path construction and repair, etc.)—is a critical part of the bottom line, and that's just fine. But as no less than the USGA concluded in an exhaustive analysis of the issue in a 2014 report: "The net revenue from carts is important for many facilities, but it does not need to be the foundation for success."
Would you like to play Bethpage Black, Chambers Bay, Streamsong, Merion, Pinehurst No. 2, Seminole, Shoal Creek, Erin Hills or Cypress Point? All of these iconic layouts restrict cart use. Mike Keiser's Bandon Dunes Golf Resort on the Oregon coast is the most recent poster child for disproving the necessity of carts, and in fact the act of getting in shape to walk Bandon has become part of the "experience" of visiting the 2019 CAGGY Award winner for top destination in the country.
The successful experiment has also done its part to fuel a small revival of the caddie trade, which has been in decline for decades before seeing recent signs of life. It is now going strong in parts of Colorado, led by CGA's Commonground and a handful of Denver's premier, old-line private clubs—among them Cherry Hills, Columbine, Denver Country Club and Lakewood.
For a more mainstream example, look to Lake Valley Golf Club in Boulder County. Granted, it is located in one of the healthiest regions in the country; is an amenity-free golf-only club that tends to draw serious golfers; and offers a course that is quite walkable. Sixty percent of rounds at Lake Valley are played on foot, with only 40 percent in carts, more than an inversion of the nationwide norm. When the course went private in the late 1990s, the cart fleet was eventually reduced from 64 to 46 carts. If the rest of the applicable golf course world could follow this example, it would equate to no less than a major U.S. health initiative.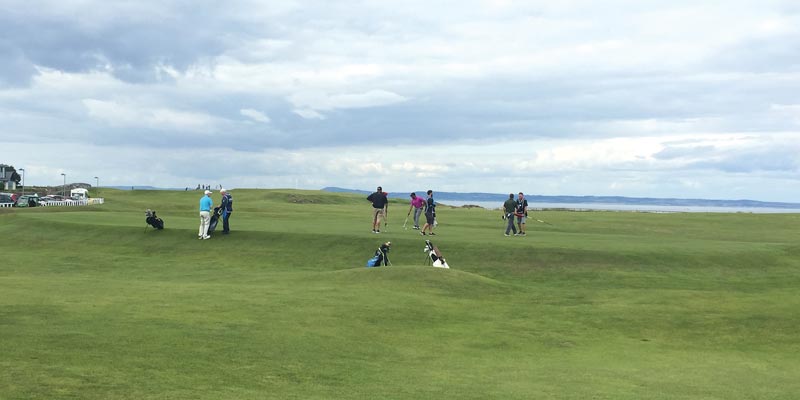 Lake Valley co-owner and GM Mitch Galnick monitors his membership habits closely, and notes that he's seen several long-timers who converted from carts back to walking—and the benefits are clear. "They lost weight and felt better," Galnick says. "It seems apparent to me that it really helped them." In the end, Galnick says there are all kinds of player and personality traits to accommodate, and the best approach is to let them do what they want to do, with a few friendly suggestions along the way. He also belongs to a club outside Scottsdale where 99.9 percent of the play is by cart, because it makes sense for that membership and that course (it's also in one of the residential areas where the cart has become all-purpose transportation, a growing trend).
Neil Wolkodoff, the medical program director for the Colorado Center for Health and Sports Science, wanted to see what science had to say. So he donated 500 hours of his time, bought $27,000 of complex equipment, recruited eight golfers and set out to look for answers. First and foremost, he learned that " just the act of swinging a golf club 100 times uses a significant amount of energy."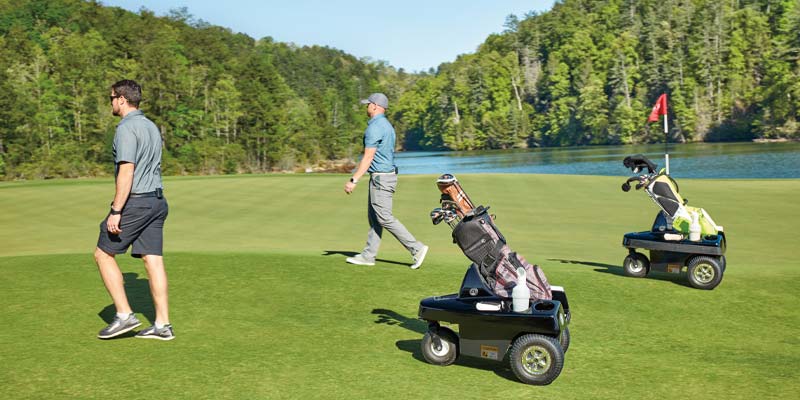 Carrying a bag burned 721 calories in just 9 holes. Using a push cart removes 718, while playing with a caddie registered 621. Riding in a cart dropped all the way to 411 calories burned on average. Golfers using a trolley or caddie scored the lowest average scores in Wolkodoff 's study, conducted at a Denver course; carts were next, and carrying a bag came last. The study did not include the fast-emerging battery-powered push cart, an ideal gateway for those looking to wean themselves off carts.
When physically fit collegiate golfers started rolling push carts a decade ago (and winning NCAA championships), some old-school PGA TOUR players reacted in horror. Then several pros revealed shoulder and other health problems stemming from their early years of carrying a bag, the stigma evaporated and trolleys became cool, not dorky, as well as healthy. A push-cart company CEO predicted three years ago that trolleys would become more prevalent than carrying by 2021, and their popularity will continue to rise…especially as scores go down.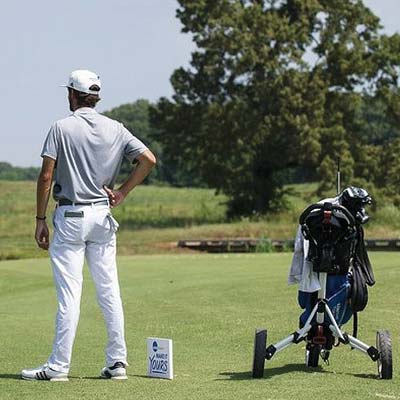 Walking 18 holes typically covers five to seven miles, easily eclipsing that 10,000-daily-step goal, and can be the equivalent of a two- to three-mile run. Besides maintaining proper weight, it can prevent or manage heart disease, high blood pressure and Type 2 diabetes, while strengthening muscle and bones and promoting balance and coordination. Wolkodoff cautions that golf (even while walking) is still an intermittent task, and that it probably can't be a primary source of exercise (Sorry, President Trump). So unless you're playing five rounds a week, Wolkodoff recommends other fitness regimes to reach the standard goal of burning 4,500 to 5,000 calories a week.
Phoenix/Scottsdale is the epicenter for many Coloradans seeking a winter golf getaway. But when its almost 200 golf courses are pared down to the high-quality ones you can walk, the list dwindles to a handful: TPC Scottsdale Champions, Ak-Chin Southern Dunes, Wigwam Blue and Papago among them. (Another, ASU Karsten, shuts down this month.) Mind you, there will be no discount for not taking a cart in most cases, but you are allowed to play the game as it was intended. Standing tallest on his soapbox, Mate (the traditionalist lover of the game, not the CGA leader) says bringing a new golfer to a cart-only golf course is like taking your child to a new school and introducing him to the loudest, most obnoxious bully in the schoolyard.
Maybe the riding-cart genie can be stuffed back in the bottle, one small step at a time. Today's "push carts" are a far cry from that rusty, rickety three-wheeler that your father used. ClubCar, a leading cart supplier, has just released Tempo Walk, a 90-pound, Jetsons-like walking cart that not only reliably follows you from four feet behind, but has all the amenities—GPS, USB, Bluetooth, bag transport—and other accessories of a luxury riding cart.
ClubCar foresees a trend toward walking, and so is aiming to appeal squarely at tech-savvy millennials, and to woo any golfers who want to leave their riding carts behind. It could also provide replacement revenue for golf course operators; it is not a consumer product, but will be leased by the facilities. Look for Tempo Walks at Colorado courses this summer.
The Troon North Pinnacle course is considered by many to be one of the finest in the Phoenix/Scottsdale area, but until a while ago you'd never be able to walk it. Then original designer Tom Weiskopf reconfigured the Pinnacle (swapping some holes with the resort's other course, Monument), eliminating the long green-totee distances between holes and restoring walkability. The designer said he was simply returning the course to its natural flow, as it was meant to be.
Just as the game of golf was meant to be played. On foot.
---
Colorado AvidGolfer contributor and lifetime golf bag schlepper Andy Bigford is now, after researching this story, using a trolley. He swears he'll quit golf when he has to ride a cart, but won't.
This article appeared in the 2019 May Issue of Colorado AvidGolfer
Colorado AvidGolfer Magazine is the state's leading resource for golf and the lifestyle that surrounds it, publishing eight issues annually and proudly delivering daily content via coloradoavidgolfer.com.