From the Chevy Corvette Stingray to the Mercedes-AMG GLS63, all eyes are sure to be on you when arriving to the links.
By Isaac Bouchard
THE CHAOS OF COVID-19 affected the automotive sector as much as any other, but in some unpredictable ways. Sales were down, mainly due to a shortage of vehicles. However, this same shortage—inventory levels haven't been this low since 2010—pushed prices for new and used vehicles up. Since car companies could reduce rebates and other incentives, many saw their profits increase. The end result was that several car companies made more money selling fewer cars. While many new vehicle introductions were delayed, some exciting new vehicles made it to market—if only in very limited numbers. Here are some of the best.
2021 CHEVROLET CORVETTE STINGRAY
EPA Ratings: 15/27/19* 0-60mph: 2.8sec
Price as tested: $85,330 *2020 model year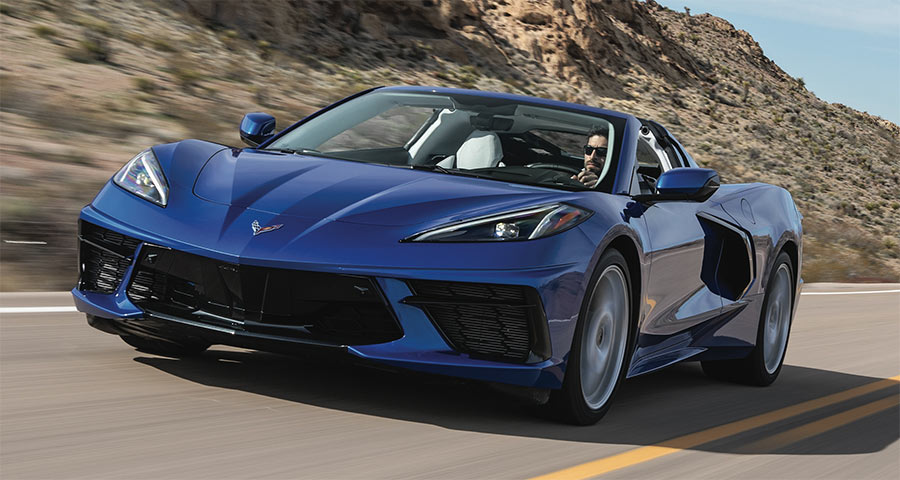 SINCE THE 60s, rumors have circulated regarding plans for a mid-engined Corvette. A half century later it has finally arrived in the all-new, 8th generation model. This is undeniably the finest driving and best finished basic Corvette ever. In the way it rides and handles it feels like some of the best mid-engined Italian exotica made; there is a suppleness to how it deals with bumps that only a low center-of-gravity vehicle can achieve, yet the C8 Corvette contains body motions superbly. Chevy built in a little frontend push for safety, but with approved factory alignment changes, much of this can be dialed out, creating a ferocious track-day machine. The engine remains a classic, pushrod V8: compact, fuel efficient, and torquey. That's what 6.2-liters of displacement will get you. And, with over 60 percent of the Corvette's mass now sitting over the rear tires, there is more traction than ever before, so this base model can annihilate the 0-60 sprint in just 2.8 seconds—as fast as the previous gen's top ZR1 model, which had 755 horses, compared to the C8's 495. There's only one tranny, and it's a peach: a twin-clutch 8-speed that stands with the world's best for instant shifts and immediate response to commands from the paddles mounted behind the groovy, trapezoidal steering wheel. Top down (the test car has a retractable hardtop that most people didn't even notice when it was closed) you can even hear the pneumatic puffs as it swaps cogs.
The C8 interior, even in basic form, is the highest quality a Corvette—or any GM car for that matter—has ever had; in 3LT spec it matches cars costing twice its price. It is very comfortable for the driver, though the passenger is forced to put arms and elbows into somewhat awkward postures. While the chassis is superb, the Corvette lacks the steering feedback of a Porsche, McLaren or Ferrari. But that is a small deficit to contend with when one remembers that equipped with just the essentials the C8 Corvette can be had for just over $70,000.
2021 MERCEDES-AMG GLS63
EPA Ratings: 14/18/16 0-60mph: 4.1sec
Price as tested: $149,740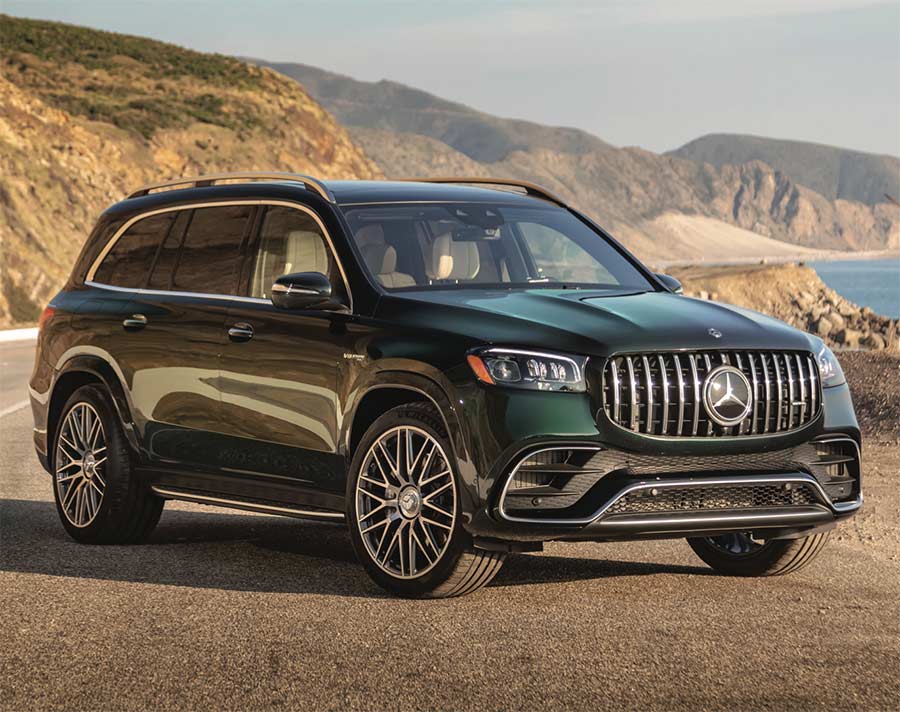 There's seemingly insatiable demand for massively powerful, large SUVs. The GLS63 represents the current pinnacle of this segment, with a 4-liter V8, hand built by one person, nestled into this 7-passenger rig's engine bay. 603 horses and a massive 627lb-ft of torque ensure all family members will get pressed back into their seats, and that everyone inside and out can hear the glorious symphony that this lovely engine produces. It's also a reminder that, no matter how fast current and future electric vehicles are, they won't intoxicate those with gasoline in their veins like this. The GLS63's giant 23-inch wheels look great, but make for a bit of roughness in ride quality over big bumps and holes. Loosening the suspension setting from Sport to Comfort helps, but leads to a small amount of float from the chassis. Steering feel is decent for the class—better than a BMW if not a Porsche—and brake feel and stoutness are excellent.
Inside, there is the wow factor of Mercedes' current interior architecture, which is dominated by the horizontal plinth of black that seemingly floats in front of the stitched leather dash and above the wood trim and polished air vents. Inset are two 12.3-inch displays, with great graphics and touch-screen activation. The latter is critical, as the current MBUX interface buries many commonly used functions one or two layers deep. While removing buttons makes a cockpit look cleaner and more high-tech, it has a downside in that it takes the driver longer to do simple things like change music tracks or radio stations, or activate the wonderful massage feature for the front seats—which can also be configured for max comfort using algorithms Mercedes has laid out. Middle and even third row comfort is excellent, making the GLS63 a true family vehicle. Since Cadillac Escalades and Lincoln Navigators are so good, Mercedes had to make the GLS extra good, and—most especially in AMG form—they delivered.
---
Contact Isaac Bouchard for help saving time, money and hassle when buying or leasing one at [email protected]
Colorado AvidGolfer Magazine is the state's leading resource for golf and the lifestyle that surrounds it, publishing eight issues annually and proudly delivering daily content via coloradoavidgolfer.com.
Follow us on Twitter, Facebook and Instagram.