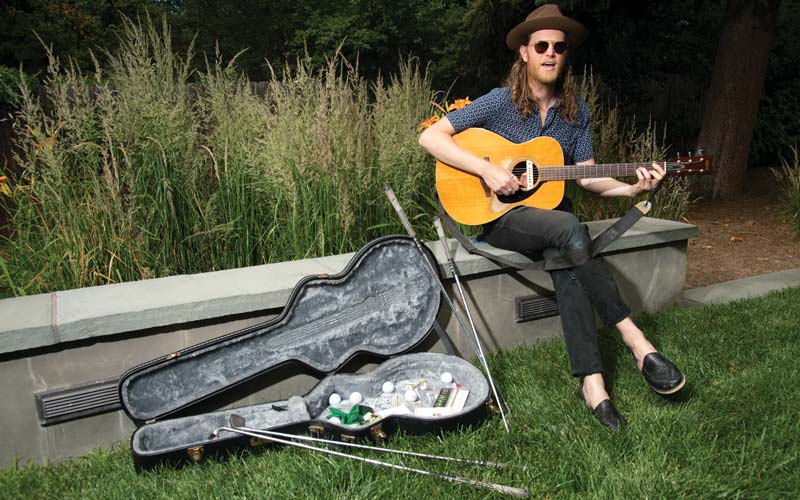 Before he ever played a guitar or wrote a lyric, The Lumineers' Wesley Schultz aspired to play pro golf.
By Jon Rizzi | Photographs by Jamie Schwaberow/Clarkson Creative
HIS LEFT HAND forming chords on an acoustic guitar, frontman Wesley Schultz of The Lumineers kneels by a plastic kiddie pool in the backyard of the 100-year-old Denver home he shares with his wife Brandy, their 18-month-old son Lenny and a kinetic pair of French bulldogs named Ethel and Baby Ray Davies. A high July sun warms the yard as Schultz uses his strumming hand to toss a soaked tennis ball that the squat canine pair comically tumble over each other to fetch.
Lenny's not amused—the tiny towhead is standing naked in the pool, intently slapping, picking and stroking the guitar strings while Dad changes the notes they produce.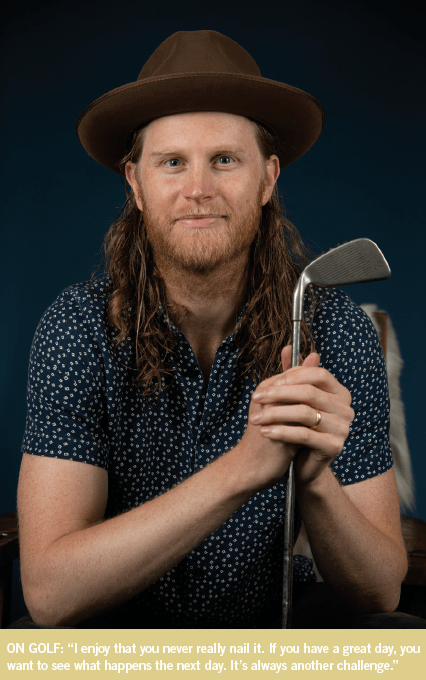 Schultz is enjoying a rare break in a touring schedule that will soon have the band leaving for sold-out shows in Australia, Japan and Canada before returning to Denver to headline the grand opening of the Mission Ballroom in RiNo Aug. 7. Soon after, the group will go back on tour—in the U.S. and Europe—to promote its new album, III, which drops Sept. 13.
Asked if he'll get in some golf during his current hiatus, the 36-year-old musician pauses. "Maybe nine holes somewhere," he says noncommittally. "It's just nice to enjoy our home. We haven't lived here that long. I actually get to golf the most when we're on the road."
That's right. The leader of the Grammy-nominated Denver band responsible for two multi-platinum albums and the hit singles "Ho Hey," "Stubborn Love," "Ophelia," "Cleopatra," "Angela" and "Gloria" has a stubborn love for golf, a game he's played avidly most of his life.
And he doesn't perform solo, either. "The crew and I go golfing, and two of us can really play—and I put that in quotes," Schultz says, referring to himself (a GHINless 10-handicap) and touring band member Brandon Miller, a multi-instrumentalist and single-digit player with two years of college golf experience.
"We show up at the course and we look like such an 'ungolfy' bunch," Miller says, laughing. But when Schultz, a hipster musician who bears a follicular resemblance to the British golf star Tommy Fleetwood, stripes his drive off the first tee, he obliterates any reservations about his "golfiness."
Schultz loves doing that. "Whether it's on a stage or on a golf course, I feel very underestimated," he says. "Like someone just looks at you and writes you off. Then you perform and they look at you like, 'He's the real deal.'"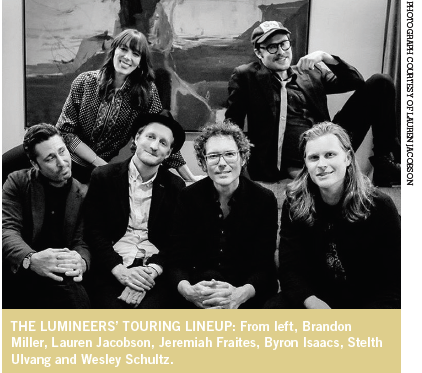 When The Lumineers crew hits the links, all are welcome. "There's no set group but it's usually two foursomes," Miller explains. "The skill levels vary. To make it viably competitive, Wes and I will be on two separate teams. We play a scramble format we call 'best ball,' which means everyone's usually hitting from my shot or Wes's, but we have to use a drive and a putt from each player on the front nine and the back. That makes it fun and keeps it competitive and inclusive."
Among the band members, Schultz's songwriting partner, drummer and pianist Jeremiah Fraites has "a good on-plane swing" to go with a great short game, according to Miller. Multi-instrumentalist Stelth Ulvang "has a good stance and solid fundamentals," and the group's new violinist and cellist Lauren Jacobson "can hit some good shots."
"Everyone has the best time and wants to come back and play again," Schultz says, noting that the indoor nature of being on the road or in a recording studio makes being outside extremely therapeutic.
"Also," he says, "golf is unique in that it's such a weird, learned, unorthodox motion, and it often leads to some pretty embarrassing moments. That's an especially good thing to do around people you work with, who see you in one particular role. It can be kind of bonding because you have to be filled with humility when you hit a really bad shot and allow everybody to laugh at you."
That doesn't mean that Schultz doesn't mind losing. "I'm very competitive," he admits, "but not justifiably competitive, you could say … I think that's where 'best ball' diffuses a lot for me."
But when he and Miller play—or when Schultz tees it up with his brother Sam or his uncle or cousin—he wants to win. "I know he's gunning for me and it makes me dig in," says Miller. "He hits it a mile, is crafty around the greens and you know somewhere along the line he's going to make a 30-foot putt."
Which is amazing for a guy who always rents clubs rather than travel with his own sticks. Then again, his set consists of a TaylorMade Burner driver, 22-year-old Ping Zing 2 irons, a Condor Golf 3-wood and and a putter of indeterminate provenance. "I know I should get new clubs," he says with a laugh. "The shafts are too short. I've had these since high school."
ALL IN THE FAMILY
A younger brother to Rebecca and older brother to Sam, Wesley Schultz grew up in a tight-knit family in Ramsey, a New Jersey town northwest of New York City. His father, Mike, worked as a clinical psychologist, while his mother, Judy, ran the home. Mike's brother Charlie—the subject of The Lumineers song "Charlie Boy"—died in the Vietnam War, and Judy, who appears as a child with her mother on The Lumineers' first album, lost her parents at an early age.
"Those losses brought home how important family is," says Gary Kinyon, Judy's brother and Wesley's uncle, who lives in Keene, N.H. "We all love each other very much."
That love helped introduce the Schultz brothers to golf. On vacations to Lake Bomoseen in Vermont, Wes (as he's known to family and friends) and Sam would accompany their dad and uncle to the local range. "Mike and I were in our 40s and just starting to play and we were horrible," Kinyon remembers. "We'd go to the biggest hack course we could find, and Wes and Sam always wanted to join us, as they learned the game. Their mom and my wife would sometimes play, too. It was a family affair."
Back in New Jersey, Mike and Judy enrolled their sons in lessons at the county-owned Darlington Golf Course. "They weren't going to get any better watching us," Kinyon laughs. "And they got better and better. Wes steadily grew to his height of six foot one, with a great slender athletic body to merge a golf swing into. And Sam comes out every year to partner with me in the Keene Country Club member-guest—which we won a couple of years ago."
Mike took lessons at the same time his sons did, but without the same success. "It was interesting to have something you were better at than your hero was," Wes reflects.
Wes got golf lessons of a different kind when he was 13 or 14—"not quite old enough to get a paying job on the books," he says—and started caddying at a private club just over the New York state line.
"I learned a lot about life," he says. "I remember carrying for this one guy who made it all the way to the finals of the club championship. He hit this shot on a par 3 that was one revolution from going in the hole and he didn't even react—even though there was a ton of prize money involved. He stayed so even, Zenned-out. His demeanor never changed throughout the round, and his opponent was just the opposite—he had a big temper and kept hitting those metal sprinkler boxes with his club."
When the hothead asked Wes's golfer if he wasn't mad that his near-ace didn't go in, he responded, "Well, I put a good swing on it, I picked the right club and I had the right distance. I estimated as much as I could, and the rest was out of my hands."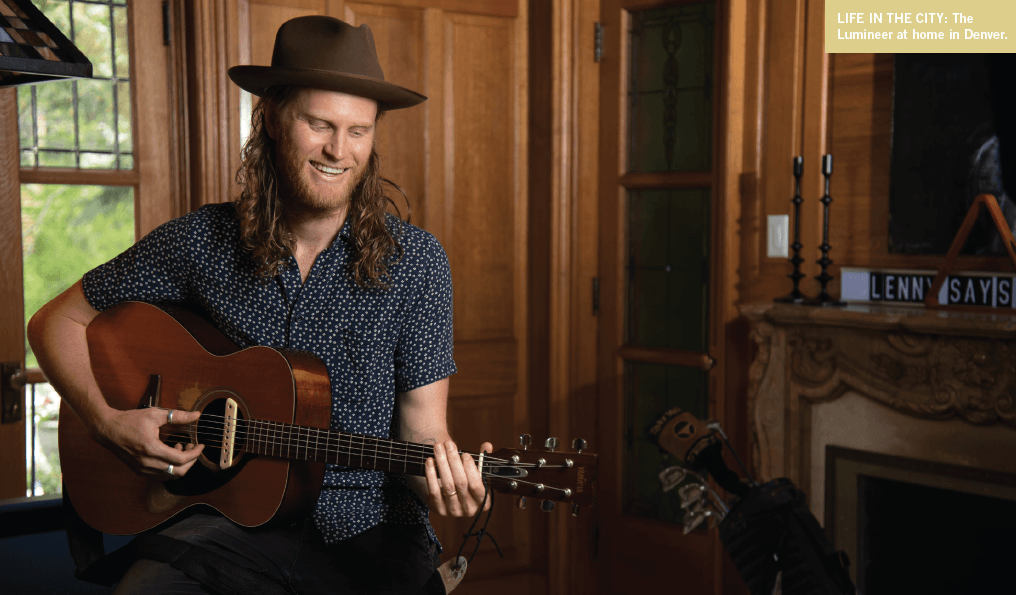 "That's how I feel about the entertainment business," Wes says. "You write the best song you can, you put on the best show you can, and sometimes the breaks go your way and sometimes they don't. You can only be mad if you don't do enough yourself. There's only so much you can control."
Caddying was also his entrée into the service industry in which he would work for many years in restaurants to fund his aspiring music career—first in New York and then in Denver, where he and Fraites bused tables for years at Sushi Den.
"Once you work in it, you have so much genuine compassion for anyone who's helping you with anything," he explains. "You learn to treat them well." That wasn't always the kind of behavior he witnessed at the club. He once saw a player throw a club so hard at his caddie that it stuck in the ground at his feet. "And one time my guy hit a ball so deep into the woods that there was no point in looking for it," Schultz remembers. "He got really embarrassed in front of his friends, so he picks on me, the kid. 'Did you see where it went?' And I did see, but I'd dropped my head because it was so bad. He glared at me. 'Next time, watch.'"
Perhaps the most unconventional lesson from his caddie experience came when he looped for an out-of-town player in the club's member-guest. "Do you know how to read greens?" the guest asked on the practice green.
"I said, 'Yeah,' even though I didn't that well," Wes recounts. "So the guy gives me his putter and says, 'Go ahead and putt.' I'd only putted on county courses, not on greens as fast as these. I send one screaming past the hole I was aiming for, and it settles next to a hole beyond it. I just looked at him and nodded."
"You were aiming for that one?" the player asked. Wes lied and said yes. "And during the round I read his putts beautifully and he was so happy," he says. The lesson? "Sometimes it's about faking it until you make it and pretending like you're supposed to be there and seeing what happens."
GOLF AND MUSIC
Wes didn't fake anything to make the Ramsey High School golf team. At one point, he told his parents he wanted to play golf for a living. "I started getting really into it and told them, 'This is what I'm going to do, and if I don't do this, I'm going to teach people.' I just loved that there was always a new challenge."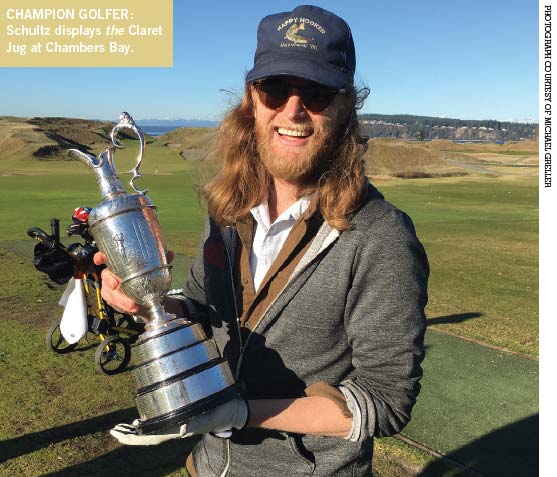 His admittedly obsessive nature got the better of him. "I took the joy out of it because my expectations were through the roof," he says. "I was always thinking I should be so much better if I'm going to be a pro, so after every shot that wasn't exactly where I wanted it—which was most of them—I'd get so negative and down on myself."
He would turn his fixation towards making music. He realized he had a gift for writing and learned how to play guitar "as a vehicle to sing songs." His parents supported his decision to pursue a music career instead of attending college.
"My mother said if I wanted to be a professional at something, then I had to put in 40 hours a week full-time," he remembers. "She'd always, ask 'So how many hours have you practiced guitar this week?' And to this day, I still remember that. It led to Jer ( Jeremiah Fraites) and I making up these rules about work and rehearsals and never making excuses, and as a result we became more serious. We approached everything like, 'let's leave ourselves no alibis or scapegoats for not succeeding.'"
True to that philosophy, and struggling to make ends meet in New York, the musicians moved to Denver in 2009 and hit their stride, adding cellist Neyla Pekarek and playing a distinctive brand of original folk-rock material at open mic nights at bars like the Meadowlark. They signed with an independent record label and, fueled by the ubiquitous single "Ho Hey," their self-titled 2012 debut album took off like a rocket, selling 3 million copies in the U.S. alone. Another monster album, Cleopatra, followed in 2016, and the next year The Lumineers sold out Madison Square Garden in the city they'd spurned.
The band's ambitious soon-to-be-released concept album III is already enjoying success, thanks to the strategic prerelease of the hit "Gloria" and its accompanying video.
The lyrics to the peppy upbeat hit actually concern the dark topic of a spiraling addiction, which impacts the protagonists of the album's three "chapters." Schultz calls the musical combination an "interesting collision" and analogizes it to golf.
"It's like Tiger Woods being so emphatic in his celebrations; it set the sport on fire. It was this weird collision between this athletic dude who worked out and expressed himself and this proper, dignified sport. He was so good that people just accepted it, and everything exploded. In fashion, in sport, in art, it often takes this weird juxtaposition of things to make things work. Like listening to music that makes you really sad and then wanting to hear it again."
Wesley Schultz remains a grounded family man. He bought his mother a house, brings Brandy and Lenny on tour and regularly gets together with his siblings and uncle. His father—"One of the most important people in my life, a psychologist in the best of all possible ways"—died 12 years ago at the age of 57, and Wes sports an inner-forearm tattoo bearing the handwritten word "love" taken from a letter his dad had sent him. His father's battle with cancer also inspired him to write the emotional "Long Way from Home," and The Lumineers covered "This Must Be the Place (Naive Melody)" by Talking Heads—Mike Schultz's favorite group—for the deluxe edition of their debut album.
Wes plays public golf and genuinely wonders why people want to listen to music on the course when "the whole point is to disconnect and be in the moment," he says. "I love that feeling of stillness, of being miles and miles away from everything for a while."
The former caddie's most memorable round came southwest of Seattle at Chambers Bay, which he got to play with arguably the best-known caddie on the PGA TOUR—and the most famous trophy in all golf. "Michael Greller, Jordan Spieth's caddie, lives in Washington and is a fan of the band," Wes explains. "He and I met at a Seahawks game when we were in town for a show."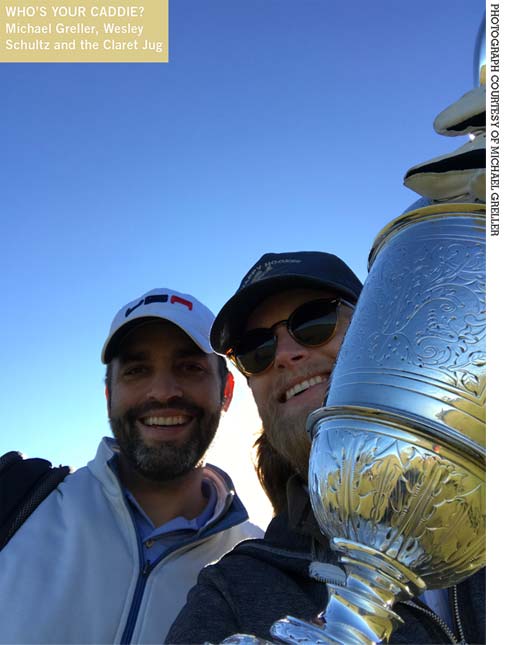 Not long after Spieth had won the 2017 Open Championship at Birkdale with Greller on his bag, the caddie invited Schultz and Miller to Chambers Bay, his home course and the site of Spieth's 2015 U.S. Open victory. For their round, Greller brought a surprise guest: the Claret Jug, which accompanied the players for 18 holes of photo opps.
Tellingly, Wes doesn't cite that experience as his greatest golf moment, which, he says, came at … a wedding.
"It was at a country club, and they had this long-drive contest," he says. "I really hit one, and after everyone else had gone, this guy says, 'I want to know what gorilla hit that shot.' And I'm like this lanky, skinny kid in my early 20s. He looked at me like, 'He did?'"
For his effort, he got a gift card to the pro shop. "I gave it to my Uncle Gary, and I felt good that I was taking care of my uncle. He was proud of me for hitting the long ball. That was a really gratifying moment. For some reason, I got a kick out of that."
Never underestimate Wesley Schultz.
Jon Rizzi is the editor of Colorado AvidGolfer.
---
This article appears in the 2019 August/September Issue of Colorado AvidGolfer.
Colorado AvidGolfer Magazine is the state's leading resource for golf and the lifestyle that surrounds it, publishing eight issues annually and proudly delivering daily content via coloradoavidgolfer.com.