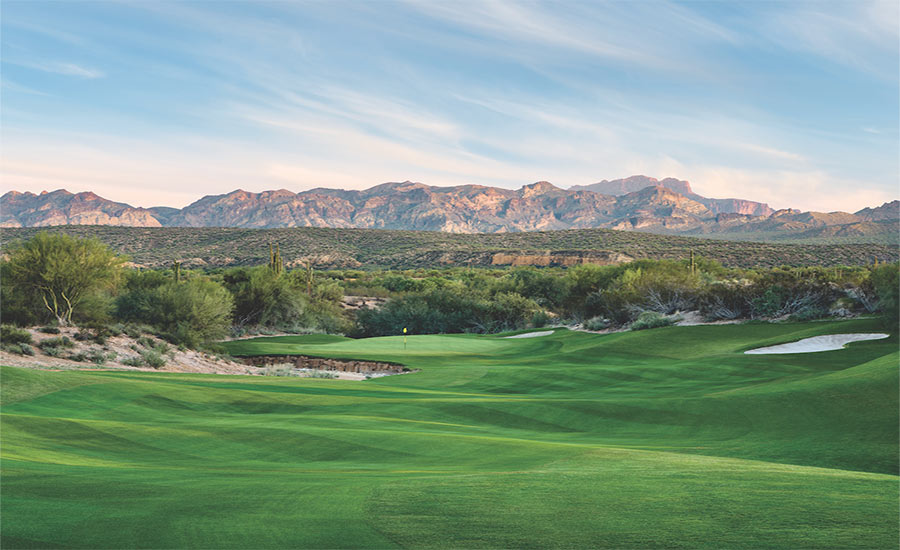 A buddies' trip to the WE-KO-PA CASINO RESORT proves to be the perfect antidote for the 2020 blahs.
COMMITTING TO A buddies' golf trip in 2020 was a lot like a New Year's resolution to hit the gym and get in shape. The idea was inspiring and motivating. The planning was encouraging and exciting. The execution, however, was exhausting, but ultimately worth it. Especially when you have a chance to play with some of your best buds in Scottsdale—one of the world's most complete golf destinations. So my buds and I took the plunge and did it. And if you're dead set on setting off to Scottsdale for your winter golf trip, you'll find no fewer than 20 incredible golf properties from which to choose. We-Ko-Pa Golf Club and their two award-winning courses—Saguaro and Cholla—need to be on top of your list.
THE SETTING
The Phoenix area is a sprawling metropolis built more out than up, but at the edge of the suburb of Scottsdale, about 30 minutes from Sky Harbor International Airport, the desert abruptly reclaims the landscape and steel skyscrapers and strip malls are replaced by spectacular sunsets and Saguaro cacti—found in only one place on earth: the Sonoran Desert. There are no homes or roads—or anything really—anywhere near the golf course, which gave us the incredible feeling of being alone and unbothered, something normally reserved for member- guest days at your local private club.
THE DIGS
We were lucky. We happened to be in town for the grand opening celebration of the all-new We-Ko-Pa Casino Resort—a Four-Diamond property—which features everything you can expect from a high-end gaming establishment outside of Las Vegas. We checked-in to We-Ko-Pa's exclusive golf suites, which have a Augusta National "crow's nest" feel to them, complete with a kitchen, living area and room for your friends to forget you took their money. More on that later.
The new digs now rival the gaming and lodging competitors of Talking Stick and Ak-Chin—home to Southern Dunes in nearby Maricopa—but the golf is where We-Ko-Pa separates itself.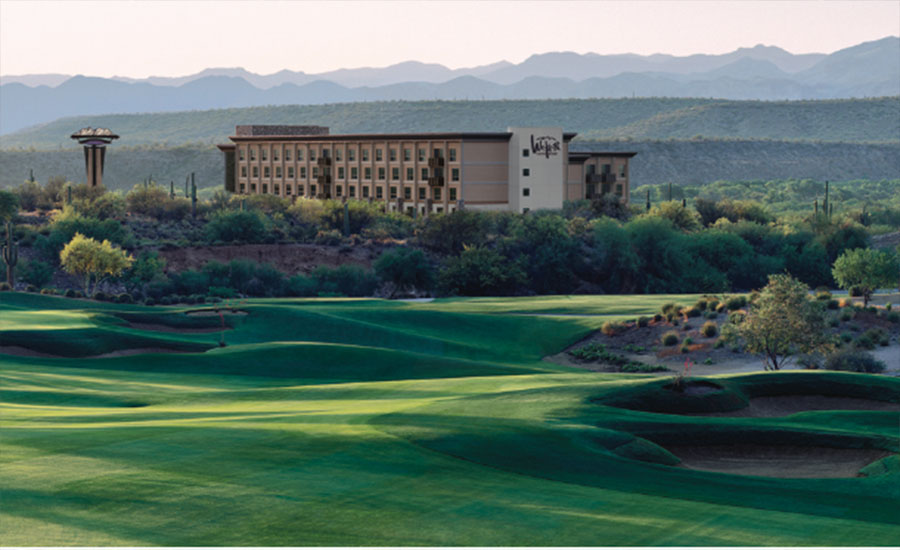 THE GOLF
We purchased We-Ko-Pa's 36-hole package and decided to knock 'em down in one day with Saguaro up first. Let's just get this out of the way from the beginning: the turf conditioning on both courses is incredible. Not a single blade of grass is out of place anywhere on the property and the bunker conditioning is exceptional—especially for desert courses.
Unless you've been living under a rock and haven't picked up any golf trade magazine—including ours—for the past decade, you know that We-Ko-Pa's Saguaro course is one of the most decorated tracks in the southwest. Saguaro has held the top spot in Arizona's public-course rankings for nearly 15 years straight. Evidence as to why is found on the first tee, where you'll read a quote from "Gentle" Ben Crenshaw: "This old, boney ground has some sting to it."
Yes. The celebrated and world- renowned design duo of Bill Coore and Ben Crenshaw are to thank for this masterpiece which follows the natural elevation changes, hills, swells and arroyos of an ancient, boney land. They built the course without moving any dirt, and their minimalism philosophy led to a few interesting and unusual attributes for a desert course.
Touted as "links style," Saguaro offers the ability to walk the course—extremely uncommon for the Southwest. Saguaro also opens up the entire golf-shot arsenal, allowing players—like my mountain-course buddies—to play low runners, skied short- irons and other creative shots on approach to imaginative greens. And you won't find any repeated holes or even repeated approach shots here. Each shot on every hole is completely unique to its specific and untouched original landscape cut by bygone riverbeds thousands of years ago.
After an unexpected and expensive Nassau beat-down from my buddies, an outstanding Scottish-style ale from the local brewery and a perfectly crisp bratwurst from the Saguaro Grille—a standalone quasi-clubhouse—I was ready for Cholla, the older of the perennial award-winning sister courses.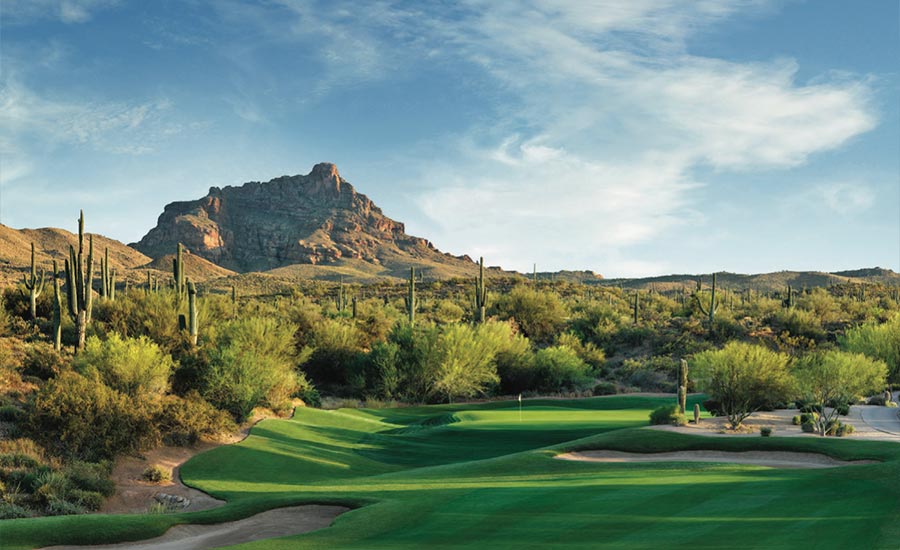 Designed by Scott Miller—the brain behind a number of awesome Phoenix- area golf courses, seriously, look it up— We-Ko-Pa's Cholla course is a fair and rewarding golf experience where the line is clear and it's up to you to execute. Trouble is straightforward, visible and penalizing. Don't hit it there. But like its sister Saguaro, Cholla has no cookie-cutter holes. No "golf holes for the sake of golf holes."
The allure of Cholla resides in its risk/ reward nature. Sure, there's risk on every hole—especially when you play from the desert like my buddies—but every hole has an aggressive line that transforms a 7-iron approach shot into a wedge and a 3-wood into a smooth hybrid. It pays to be on the correct side of a Cholla fairway—just ask my cohorts after I recouped my losses and then some.
Here's how it boils down. The setting is extraordinary. The digs are brand new and world-class. And the golf, well, the golf is about as good as it gets anywhere in the world. A must-play for anyone visiting Scottsdale.
Douglas Ceselli is a contributor to Colorado AvidGolfer.