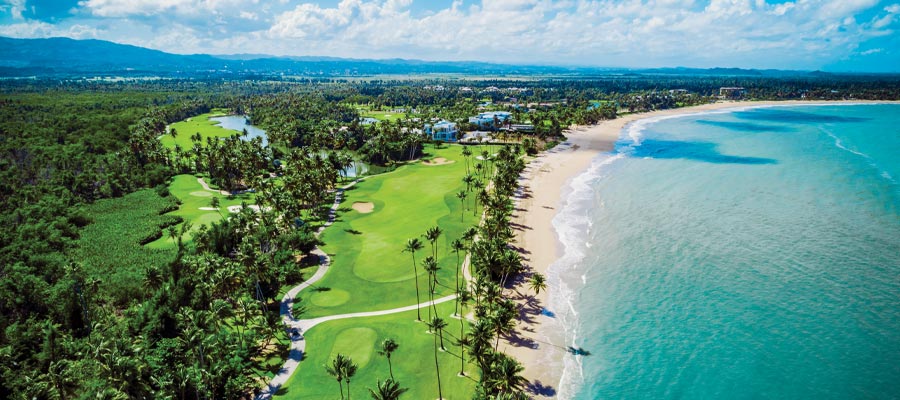 18 months after Hurricane Maria, Puerto Rico's golf resorts are flourishing again.
By Suzanne S. Brown, photography by Suzanne S. Brown & featured resorts
FOLLOWING THE BELLMAN along a dark, winding path to my room at the St. Regis Bahia Beach, I couldn't help but notice the late evening soundtrack.
"Ko-keee, ko-keee, ko-keee" came the refrain—loud, persistent and somewhat otherworldly.
"Is that a bird or an insect?" I asked. "Neither one," he replied. "That is the coquí, our native frog." One to two inches long and weighing a couple of ounces, the creature might be tiny, but the song it uses to attract females has been measured at 90 decibels, about as loud as a lawn mower. It's a sound you quickly get used to hearing and lulled by, like crickets on a summer night.
Yet, as befits a luxury property like the St. Regis, the rooms are soundproof. Once inside, you can block the frog's song if you so desire. Hoteliers on the "enchanted isle" cater to every need of their visitors, and that is as true now as it was before the American territory suffered its worst natural disaster in 80 years.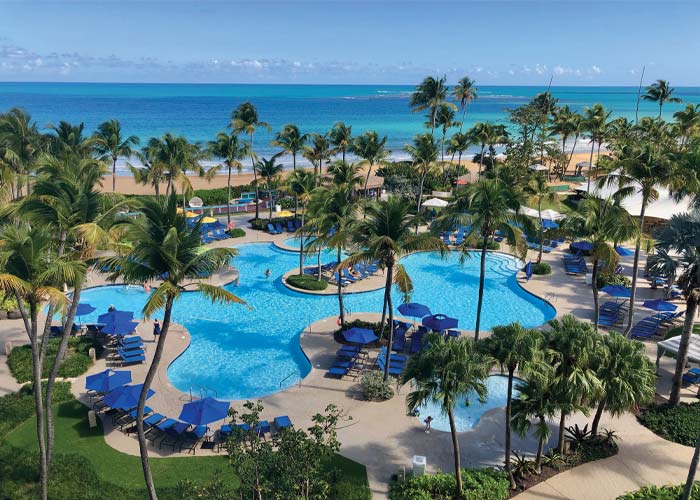 A devastating Category 4 storm, Hurricane Maria landed in Puerto Rico two weeks after Hurricane Irma in September 2017. It was responsible for 3,000 deaths, while the cost of damage to both manmade structures and natural areas exceeded $90 billion. All of which makes what vacationers were experiencing just 18 months later that much more impressive. Discover Puerto Rico reports that 139 hotels were up and running at the end of February. Add short-term rental options such as Airbnb and HomeAway and the number increases to 8,000-plus lodging options.
"People need to know that Puerto Rico is open for business and ready for visitors," says Xiomara Rodriguez, communications director for Discover Puerto Rico. An island native, she recently moved back after spending 20 years in Florida.
It might seem hard to find the positives resulting from a storm that took a $43 billion toll on the Puerto Rican economy, but not only have the island and its top properties recovered, operators of golf courses and resorts used the bad fortune of Maria to upgrade and refresh their holdings. The St. Regis spent $60 million to restore and improve its facilities, guest rooms and landscaping. At the Ritz-Carlton Reserve in Dorado Beach, 114 beachfront guest rooms and suites were redesigned, the landscape replanted, a restaurant added, menus updated and the spa refreshed. The Wyndham Grand Rio Mar replaced furnishings in guest rooms and public areas, renovated its conference center and created new restaurant concepts.
And that's not all that's happening at a few of the island's top golf resorts.
BAHIA BEACH GOLF CLUB
Located about 30 minutes from San Juan in Rio Grande, Bahia Beach endured less destruction than many courses on the island because the storm mainly damaged vegetation rather than structures, according to Alberto Rios, the club's general manager and PGA professional. The golf club opened a month after the hurricane hit, even though extensive cleanup was required, as well as work restoring 48 of its 60 bunkers.
The golf course, designed by Robert Trent Jones Jr., opened in 2008. The Troon Golf-managed property is certified as a silver signature sanctuary by Audubon International and those with sharp eyes can occasionally spot a Puerto Rican parrot as well as other avian occupants.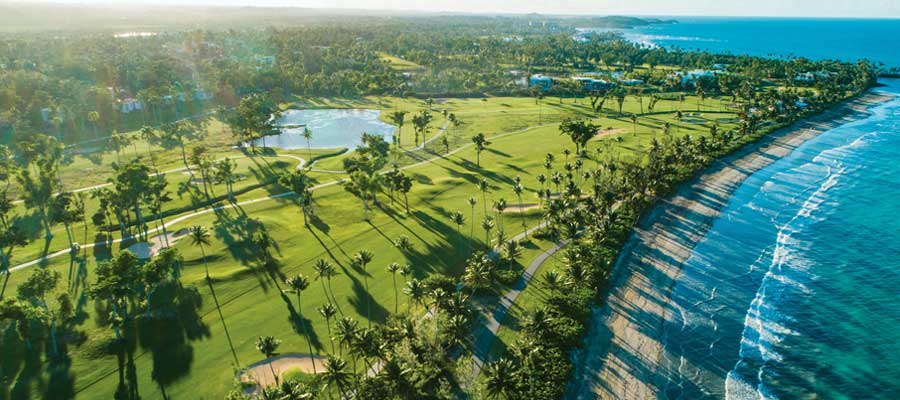 With five sets of tees, ranging from 6,890 to 5,277 yards, the course accommodates golfers of all abilities, including beginners and youths who can use the family tees. There's also a par-3 course in the practice area. Since water comes into play on many of the holes and tight fairways and bunker placements also provide challenges, Rios recommends first-timers use a caddie.
Stay and play: The St. Regis resort's 139 rooms have been upgraded with new furnishings and amenities, as has the full-service Spa Remede. Dining options include Seagrapes for breakfast and lunch and Greek-inspired Paros for dinner. Paros, which occupies the upstairs floor of the Plantation House, is sleekly remodeled with contemporary furnishings. The muted color scheme draws your gaze to large windows looking over the green lawn and ocean beyond, as well as to the bright painting hanging above the St. Regis Bar. Puerto Rican artist Arnaldo Roche Rabel's mural, The Long-Awaited Voyage, sustained damage in the hurricane, and the artist restored the work shortly before his death late last year, according to general manager Jose M. Torres. Room rates go from about $900 to $2,500 per night at the property and include butler service. bahiabeachpuertorico.com
TPC DORADO BEACH
About 35 minutes west of San Juan, Dorado Beach has a rich history and is now a Ritz-Carlton Reserve property loaded with amenities (a waterpark, nature trails, surf-side equipment rentals and five-acre spa, to name a few). Covering 1,400 acres of coastal island real estate, the area was a coconut and citrus plantation first developed by Dr. Alfred Livingston in 1905. Laurance Rockefeller bought it in 1955 and turned it into a resort and nature sanctuary that drew the likes of John F. Kennedy and Hollywood stars.
Today, Puerto Rican celebrities like Ricky Martin own homes at Dorado, and swanky residences line sections of the East Course originally designed by Robert Trent Jones and redesigned by his namesake son in 2011. While four Jones courses once inhabited the property, two remain: the East and Sugarcane. The facility became part of the TPC network in 2015.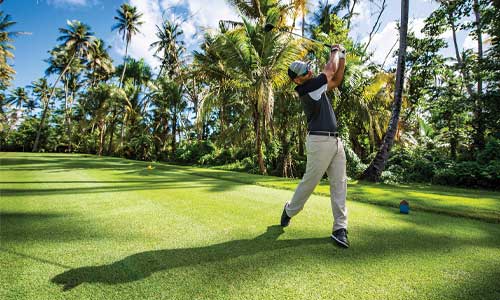 The East Course's 481-yard, par-5 No. 4 is a double dogleg that asks a competitive player to cross two ponds to make it to the green for a birdie opportunity. "The hole is one of the best risk-reward holes you will play," says Jeff Willenberg, director of golf and the PGA pro at the property, noting the hole is famous for the swaying palm trees that sit behind the green and the ocean glimmering beyond.
Stay and play: Bring your wallet if you'll be lodging at either the Plantation Resort Residences luxury villas or the Ritz-Carlton Reserve. This is luxury with a capital "L." The website lists high season rates for the residences starting at about $1,000 a night, and $1,200 and up for the reserve accommodations. doradobeach.com; doradobeachreserve.com
WYNDHAM GRAND RIO MAR GOLF & BEACH RESORT
The two 18-hole Troon-managed courses adjacent to the Wyndham Grand resort in Rio Mar were designed by two different architects and reflect the variations in their tropical surroundings. El Yunque National Forest borders the property to the south and the Atlantic Ocean lies north, with the Mameyes River flowing along the east side. Greg Norman did the layout for the River Course, while Tom and George Fazio created the Ocean Course.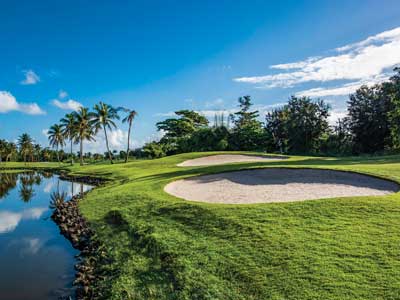 The River Course took the biggest hit from Maria, with trees and tree stumps flowing through the river after being swept down from El Yunque, reports Jamie West, general manager of the golf club. They're still removing trees from both courses and have renovated all the bunkers. The 35,000-square-foot clubhouse which sits above the golf courses was completely redone and has a pro shop, restaurant, bar and terrace with expansive views. The spacious locker rooms have saunas, Jacuzzis and spa services.
Stay and play: Compared to some of the seriously swanky oceanfront resorts in Rio Grande and Dorado, the Wyndham Grand is a bargain, starting at about $300 a night. The hotel got a major refresh after the hurricane, with all 400 rooms redecorated. Views are outstanding, with scenes of either the ocean or El Yunque from guest-room balconies. A spa, casino, pools and beachfront beckon. There's little need to leave the property since nine dining options are available, including Roots Coastal Kitchen, serving Caribbean comfort food. wyndhamgrandriomar.com
COCO BEACH GOLF & COUNTRY CLUB
Coco Beach hosted the PGA TOUR's Puerto Rico Open tournament for the 11th time in February and the course remains in great shape. Martin Trainer got his first PGA TOUR win at the event, carding a 5-under 67 in the final round.
The Open took place on the Championship Course, one of two layouts designed by Tom Kite featuring seashore paspalum and beaucoup water hazards. Averaging 10 percent longer from each set of tees, the Championship plays about four shots harder than the International course.
The Rio Grande property sits on a peninsula jutting into the Atlantic Ocean, so trade winds blow constantly. "If wind blows around, it makes the course a lot harder," said Sidney Wolf, president of the Puerto Rico Golf Association and a former Open tournament chairman.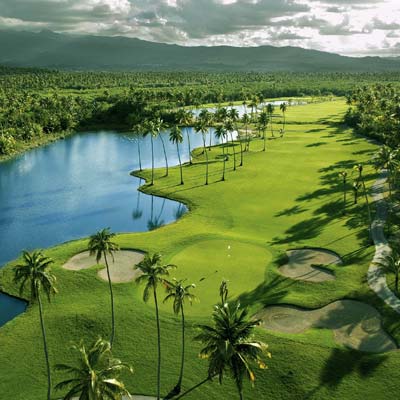 Stay and play: The resort hotel on the property is in the process of being sold and isn't currently open, but there are villas and timeshares that can be rented as well as other hotels nearby. cocopuertorico.com
SAVORING SAN JUAN
Even the most golf-obsessed visitor has to eat, right? Puerto Rican food is a delicious combination of influences from the native Taíno people, Spanish, African and American cuisines—all waiting in San Juan.
Puerto Ricans love strong coffee and fine chocolate and the ideal place to sample both is Chocobar Cortés in Old San Juan, which has been family owned since 1929. The chocolate-centered menu features everything from indulgent chocolate pancakes for breakfast to chocolate martinis for cocktail hour. Want to try something new? Among the 12 types of hot chocolate is the Puertorriqueño Traditional, served in a glass mug and accompanied by a little square of cheddar cheese. As the cheese melts into the hot chocolate, the savory quality cuts the sweetness and the resulting flavor is addictive. chocobarcortes.com
Vianda is getting a lot of buzz in the Santurce neighborhood. Chef Francis Guzman's concept is a farm-to-table menu anchored by local ingredients and products, evolving depending on the season. Entrées include items like grilled shrimp with a green tomato salsa verde and avocado (above), and lamb sausage with chimichurri and smoked mustard cream. viandapr.com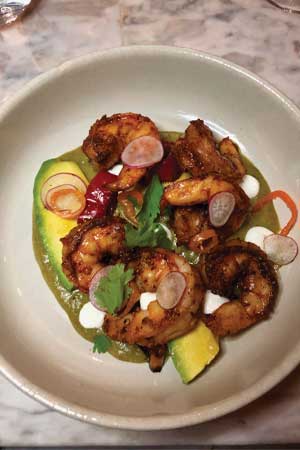 Among the other new hot spots is Raya in the O:LV Fifty Five, a boutique hotel adjacent to the beautiful Condado Lagoon in Condado. The décor is ultra-stylish with marble-top tables and lime green velvet seating. Chef Mario Pagan creates tasty bits like Korean fried chicken, wasabi grilled cheese and lobster lollipops. Before or after dinner, head to the rooftop bar Arya for drinks overlooking the water. olvhotel.com; book dining reservations through opentable.com
After a tour of the historic governor's palace of La Fortaleza, stop by Barrachina, which claims a bartender on its staff invented the piña colada in 1963.
SAN JUANDERING
Be sure to stroll the cobblestone streets of Old San Juan to shop, dine and visit cultural sites and museums. The most Instagrammable spot? The colorful umbrella art installation (right) on Fortaleza Street just outside of the governor's vivid blue official residence, La Fortaleza.
Another must-visit is the Castillo San Felipe del Morro fort built in the 16th century, a National Historic Site maintained by the National Park Service. Take a tour, enjoy views of San Juan Bay and watch people fly kites on the grassy area below. nps.gov/saju/index.htm
The artsy Santurce neighborhood is known for the Plaza del Mercado or, locally, "La Placita." By day, vendors sell fresh produce and trinkets. At night, the area comes alive with bustling restaurants and bars.
For more ideas, visit discoverpuertorico.com.
---
Suzanne S. Brown is Colorado AvidGolfer's Style Editor.
This article appeared in the 2019 May Issue of Colorado AvidGolfer
Colorado AvidGolfer Magazine is the state's leading resource for golf and the lifestyle that surrounds it, publishing eight issues annually and proudly delivering daily content via coloradoavidgolfer.com.