You'll have a job twisting the face on either the Black Ten or Bird of Prey Stroke Lab putters.
By Tony Dear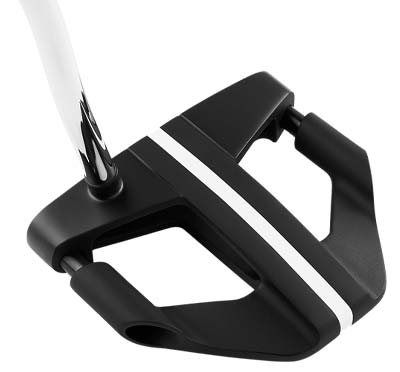 On Friday, Odyssey's Stroke Lab putter stable will grow by two. First released in January with ten models and characterized by the part-graphite, part-steel shaft that is 40g lighter than all-steel shafts, Stroke Lab putters have enjoyed an incredibly successful year both on the professional tours and at retail, and the speculation is that by releasing two new models now, the company is gearing up for another big Stroke Lab launch in January.
The new putters are the Black Ten and Bird of Prey–both mallets each with a huge Moment of Inertia (MoI); a single, thick, white alignment line; White Hot Microhinge insert: and, of course, the stiff, 75g multi-material shaft that enables Odyssey to counter-balance the putter by pushing some of the discretionary weight into the head but most of it into the grip end of the club to help the golfer stroke the putter more smoothly and consistently.
The Black Ten, which readers will notice bears an uncanny resemblance to TaylorMade's Spider putter, also features a lightweight polymer in the middle of the sole that helps improve the sound of impact and pushes weight to the perimeter of the head thus increasing the MoI which, Odyssey says, reaches 5,504. Sean Toulon who played a lead role in the development of the Spider, but who was made General Manager of Odyssey in August, 2016 says the similarities are evident but adds that he felt he could still improve the putter's MoI with a few tweaks.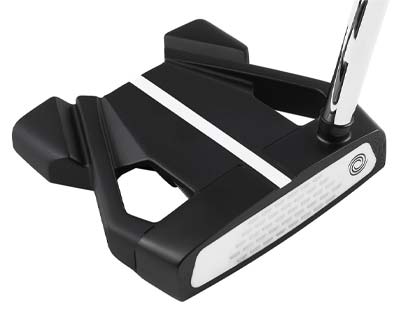 The more triangular-shaped Bird of Prey, meanwhile, reportedly has an MoI of 5,700 making it the more forgiving of the two. Unlike the Black Ten which features weights in both the toe and heel wings, the Bird of Prey features a single weight at the back of the sole.
The Microhinge insert, which graces both putters, was first introduced in the O-Works line in January, 2017 and has been updated for the two new Stroke Lab models with a slightly firmer feel. Made from thermoplastic elastomer co-molded to a 304 Stainless Steel 'hinge' plate, the insert creates topspin allowing the putt to roll better. Toulon says he and his team have also worked to match the sound with the speed of the ball coming off the face.
$300
odysseygolf.com
---
For more on the latest and greatest gear in golf, visit our GEAR PAGE.
Colorado AvidGolfer Magazine is the state's leading resource for golf and the lifestyle that surrounds it, publishing eight issues annually and proudly delivering daily content via coloradoavidgolfer.com.