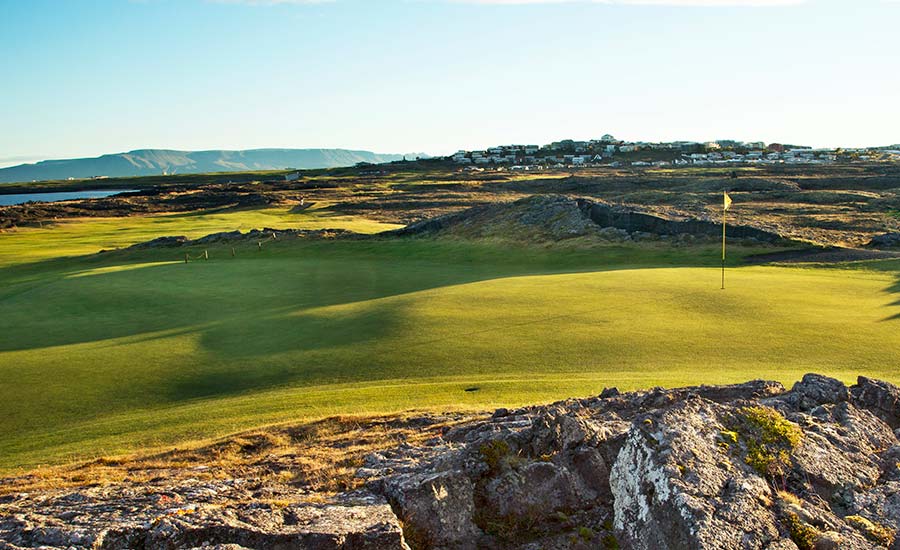 During an Icelandic summer, the sun never sets on your game.
By Chad Chisholm
ICELAND—THE LAND of fire and ice, geysers and sagas—is also a hotbed of golf. With 66 courses and a population of 364,134, you're talking about more golf courses per capita than any other country in the world: one for every 5,518 people. By comparison, there's one course for every 10,000 Scots. Granted, only 15 of Iceland's courses have 18 holes, but the ratio of holes to golfers (470-1 versus 570-1 in Scotland) still greatly favors the Frónbúi.
As in Scotland and Ireland, many of those holes hug the coastlines. But in Iceland they also perch atop cliffs and traverse spectacularly rugged volcanic terrain. And while the Old Course at St. Andrews may have the Old Course at Reykjavík Golf Club beat by about five centuries, what Icelandic golf lacks in history and heritage, it more than makes up for with the uniqueness inherent to playing at a latitude 600 miles north of the British Isles.
Plus, unlike Scotland, Iceland features regular direct flights from Denver.
ARRIVING IN ICELAND
Less than seven hours in the air brought us to Keflavík International Airport, and a glorious 40-minute coastal drive rewarded us with Reykjavík, a capital city of charming low-lying buildings, walkable cobblestone streets and the bustling town square known as the Austurvöllur.
There, at the Café Paris, we opted for Aperol instead of shots of the local akvavit Brennivín and admired the architecture of the Parliament Building and the Lutheran Cathedral next to it. A statue of Jón Sigurðsson, the father of Icelandic independence, watches over the square, casting his benevolent gaze at tourists strolling in newly acquired Icelandic wool sweaters, peering into stalls selling handmade jewelry and reading displayed menus outside of popular restaurants.
The culinary scene in Iceland is notable, with some world-renowned chefs and restaurants. Casual cafes and bars with excellent food balance the Micheli star offerings at Matur og Drykkur, Dill, Nostra and VOX Brasserie. For a special treat, head to the Restaurant Renaissance. Located in the Hotel Holt—which houses Iceland's most extensive privately-owned art collection—the Renaissance treats diners to a guided preprandial art walk every Friday and Saturday at 5:30. (Reservations obviously required.)
Lamb and every conceivable preparation of cod, salmon and other North Atlantic fish dominate the menus. Exotic fare such as reindeer, whale and shark also appear. You'll find puffin, too, though you may shy away after seeing these feathered friends when you head to Heimaey island to play Vestmannaeyjar Golf Club. And once you've encountered a diminutive Icelandic horse—and you will at one of the country's ubiquitous horse farms—you might think twice about ordering the foal meatballs or íslandshros steaks served throughout the country.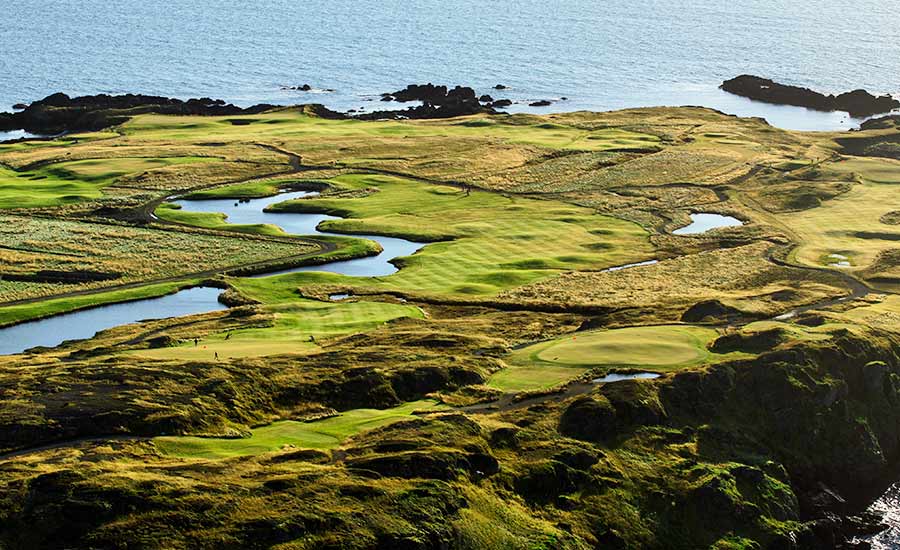 PLAY ALL NIGHT
Imagine playing five rounds of golf consecutively. What nighttime skiing did for the alpine industry, Iceland does for golf.
The country's location just south of Arctic Circle means as many as 22 daylight hours between May and July, leaving plenty of time for late-night rounds with perfect visibility. Most courses are relatively uncrowded early mornings and late evenings and those are often some of the most exciting times to play. Wind speeds tend to drop at nighttime, and golfers can experience some amazing sunrises and sunsets.
Most of the courses require advance arrangements (and higher fees) for those early-morning tee times. One place that has made the most of its location is Akureyri Golf Club, the world's northernmost 18-hole course. Located in the country's Island Fjord (Eyjafjörður) region, the 80-year-old club has welcomed as many as 120 players a year from all over the world for the two-night Arctic Open Golf Championship. The handicapped event began in 1986 and— pandemic pending—this year's tournament runs June 24-27.
NOT JUST A NOVELTY
Beyond the uniqueness of teeing off at 3 a.m., the attraction of golf in Iceland lies in the country's incomparable topography. Shaped by volcanic eruptions and perpetual geothermal activity, the land bristles with lichen-covered igneous boulders, lava fields, rich farmland, spouting geysers (the word is etymologically Icelandic) and the world-renowned bioactive waters of the Blue Lagoon spa.
Dramatic land makes for dramatic courses, including some of the six and 12-hole variety. One of the latter, Brautarholt Golf Club, is truly unforgettable, with views across Faxa Bay to Reykjavík and Snæfellsjökull glacier. Designed by Iceland's iconoclastic Edwin Roald (author of Why 18 Holes?), Brautarholt's holes hang precipitously above waves lapping black sand beaches and snake through tuff, marshes, ponds and hardy fescue.
While Reykjavík Golf Club, which dates to 1934, is the birthplace of the Icelandic game and now features the Grafarholt and Korpa courses, the "Old Course" at Grafarholt has only occupied its current location since 1968. Complicating matters, the two courses sit four miles apart and have different clubhouses. Both pose great challenges and have hosted numerous national and European amateur championships.
Designed by Sweden's Nils Sköld, Grafarholt's front nine swoops through a volcanic bowl before flattening out on the back. The exception comes on the plunging 600-yard par-5 15th, which sports a spectacular city view and a 210-yard carry from the back tee before doglegging towards a small green ringed by water.
Four miles north in Korpúlfsstaðir spreads the 6,800-yard Korpa course, which native son Hannes Thorsteinsson designed in 1997. The linksy front nine runs along the Atlantic Ocean coastline with stunning views of "the Esja," Reykjavík's signature mountain. The Korpa River winds through the back nine. Few bailout areas make the course a stern test, especially on the narrow par-4 12th.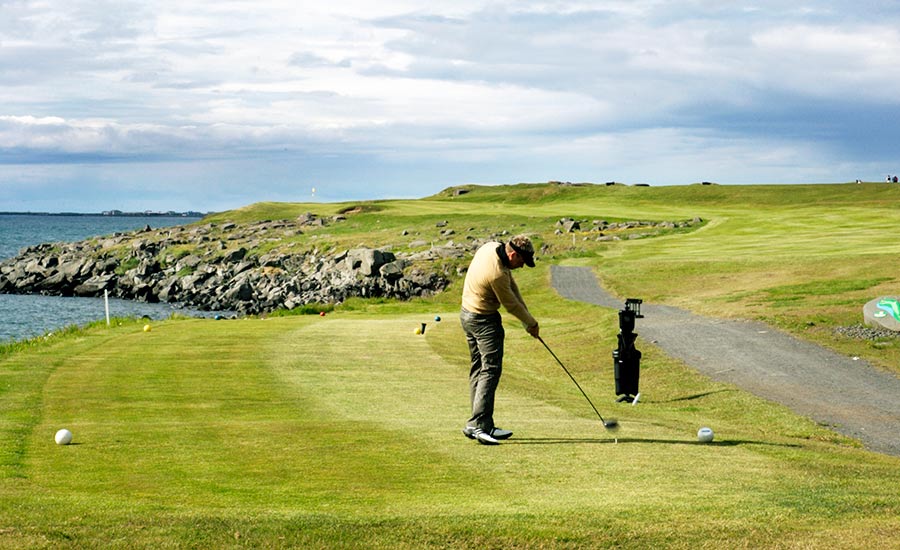 "LOFT" ADJUSTMENTS
To get an inside view of Iceland's version of the Royal and Ancient Game, we caught up with Ólafur Björn Loftsson, who as an amateur in 2011 became the first Icelandic player ever to compete in a PGA TOUR event, missing the cut by a stroke at the Wyndham Championship.
Loftsson—who also won the 2009 NCAA Division III individual and team championships as a member of the Oglethorpe University Stormy Petrels—currently helps aspiring Icelandic teenagers follow his footsteps to U.S. collegiate golf programs.
"I love how passionate Icelanders are for golf," he said with a wide grin. "That passion equates to great atmosphere, quality and devotion all over. Our playing season might be shorter than in many other places in the world, but we certainly make up for it. It's always easy to find enthusiastic playing partners and get a good game going, and you can always find something different, as most of the golf courses are special in their own way."
Born to a big golf family, Loftsson's father is a former Icelandic National Champion and his grandfather a co-founder of the nine-hole Nesvöllur Golf Club, which plays as a 6,590-yard par-72 for 18 holes.
"I grew up on Nesvöllur and that place will always bring special emotions to me," said Loftsson, who once carded an 11-under 61 there. But "with regards to design, condition, and views, I would say the Keilir Golf Course is my favorite."
You can see why. Conveniently situated off the road connecting Reykjavík and the airport, Keilir was originally conceptualized by Skjöld in 1967, with the new front nine completed in a lava field 30 years later. The volcanic landscape plays a major role on the front nine, with contoured fairways and greens—and no bunkers and scant rough— slithering through the pitch-black fields like a volcanic dragon ready to torch the chances of all who stray into the adjacent outcroppings.
You go from lava to links on the inward nine, which occupies a small peninsula at the entrance to Hafnarfjordur harbor. These more forgiving holes are a delightful romp, highlighted by the par-4 14th, which curls along the coast, and the brutally beautiful par-3 that follows it. With sod-faced bunkers covering the left side and the ocean on the right, it stretches 207 yards from the tips, but "only" 152 from the golds. Either way, precision is paramount for a chance at par.
PUFFIN' IT
"Vestmannaeyjar Golf Club on the small island Heimaey is definitely a course I'd recommend everyone to visit," explains Loftsson "It's certainly worth a day trip and I guarantee that golfers won't be disappointed. Make sure you arrive with a fully charged phone as you're going to want to take a lot of photos and videos."
Accessible by ferry from Landeyjahofn (85 miles from Reykjavík) and anglicized to Westman Islands Golf Club, the stirring layout begins in the crater of an extinct volcano and culminates with holes that tightrope along the sea. While the breathtaking course is short on yardage (just shy of 6,000) and long on photo ops (you can spot the island's famous Elephant Rock and ocean caves from a number of holes), the main attraction are the dozens of seabird species that flock to Heimaey. And no star shines brighter than the delightful puffin.
The island boasts the largest Atlantic Puffin (one of four species of the bird) colony in all Europe. Thousands of the wee, friendly birds congregate along Heimaey's northern shore, where the golf course finishes. They alight atop the emerald green cliffs and breed in burrows all along the coast. No relation to penguins, puffins can fly as well as dive for fish. The viewing season runs from April to early September, and guided tours are plentiful.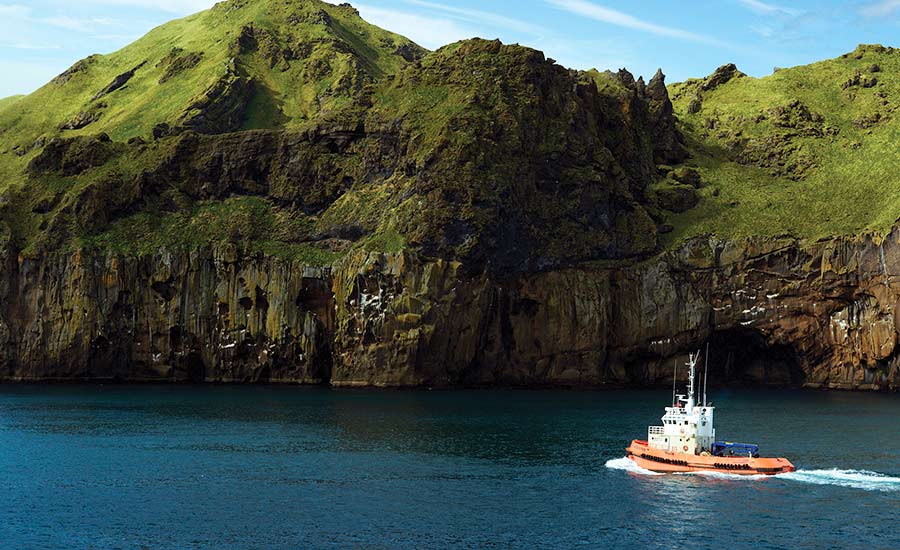 MORE THAN A STOPOVER
A week in Iceland will expose you to a golf culture that took root in some of the wildest terrain on earth. With the copious amounts of time available on the courses and the readily available golf options, the pace of play is significantly lessened, allowing for time for the perfect shot setup or a selfie with a glacier in the background.
When asked if he has been to Colorado, Loftsson laughed: "As a short hitter, I would love to play golf in Colorado as I've heard the ball goes further." With flights to and from Reykjavik, he can certainly pop by any time.
–Chad Chisholm is a freelance photographer and travel writer. Contributing to outlets such as Justluxe, AvidLifestyle, Robb Report and Cowboys & Indians, he always looks forward to the next destination he has the opportunity to explore. Staying on the Star Pride by Windstar Cruises enabled him to see several parts of the country in a relatively short amount of time.
---
This article was also featured in the June 2020 issue of Colorado AvidGolfer.
Colorado AvidGolfer is the state's leading resource for golf and the lifestyle that surrounds it, publishing eight issues annually and proudly delivering daily content via coloradoavidgolfer.com.