Two new options as Mazda continues to offer compelling cars and crossovers
By Issac Bouchard
The Mazda CX-30 and CX-50 have more luxurious interiors and better refinement than any competitors near their price. They also are faster and—based on Mazda's ratings from independent sources—amongst the most reliable vehicles can buy. All this comes as clear evidence that the company was being truthful when it began to discuss moving upmarket and away from other mainstream Asian companies like Honda and Nissan, yet would continuing to offer excellent value.
Mazdas are quite a bit less expensive than rivals from Acura, Genesis, Infiniti and Lexus, despite offering the kind of elevated driving experience and luxurious trappings those brands are known for. Are they perfect? Of course not; to keep prices in line, both the CX-30 and CX-50 use less expensive, twist-beam rear suspensions instead of the fully independent ones that the company had offered in the past. This means Mazdas are no longer the clear favorite as driver's machines, though their steering feel is still best in class. But that savings allowed such things as panoramic moonroofs.
One area where Mazda remains behind the curve is its infotainment interfaces, which can only be controlled via a European-style control knob for most functions, whereas most companies (including Audi, BMW and Mercedes) have opted for letting the driver choose how to interact. The CX-50 does allow touch control for Apple and Android phone mirroring, but the screen is quite a reach. And both models are smaller inside than many competitors, a downside of their stylish, sleek bodies. Offsetting that, most all semi-autonomous drivers aids like adaptive cruise control and lane assist are standard on all models.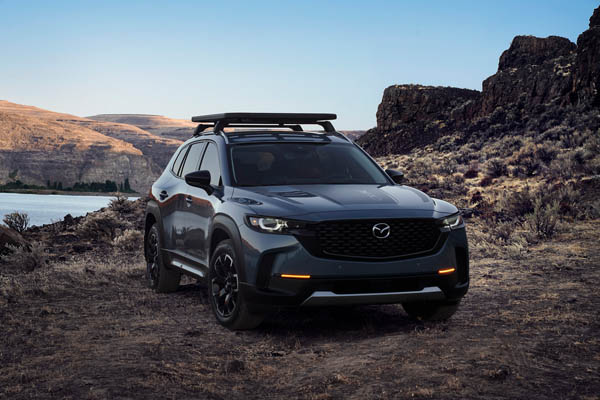 When equipped with the potent 2.5-liter, turbocharged engine option (a non-turbo is also available) the Mazdas can hit 60mph in the roughly six seconds and feel effortless in their thrust. This allows them to get away with only six gears in their transmissions too, instead of the eight some offer. Thankfully Mazda has resisted the urge to fit CVTs in place of real gearboxes, so they don't 'Moo' while accelerating, or face huge transmission failure rates at higher mileages. Hybrids are coming, but are still a year or two off.
In hindsight it was savvy for the small Hiroshima company to begin the migration to greener pastures, as was their tie-up with Toyota, the most valuable mainstream player in the world. This should allow Mazda to continue to offer compelling cars and crossovers in a world increasingly obsessed with both brand image, yet one where value still matters.
CX-30                          CX-50
EPA Ratings:                              22/30/25mpg           23/29/25mpg
0-60mph:                                     5.8sec                         6.6sec
Price as tested:                          $36,345                      $43,170
Rating:                                           4.5 Stars                     4.5 Stars
Here is what Mazda says:     CX-30                        CX-50
Automotive Editor Isaac Bouchard owns Denver-based Bespoke Autos ([email protected]; 303-475-1462). Read more of his automotive writing, reviews and recommendations on coloradoavidgolfer.com and bespokeautos.com.
---
Colorado AvidGolfer Magazine is the state's leading resource for golf and the lifestyle that surrounds it, publishing eight issues annually and proudly delivering daily content via coloradoavidgolfer.com.