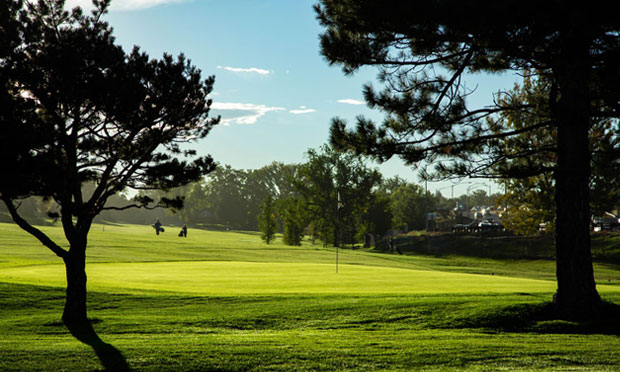 A found Volvik proves why even the worst shot makes someone happy.
By Jon Rizzi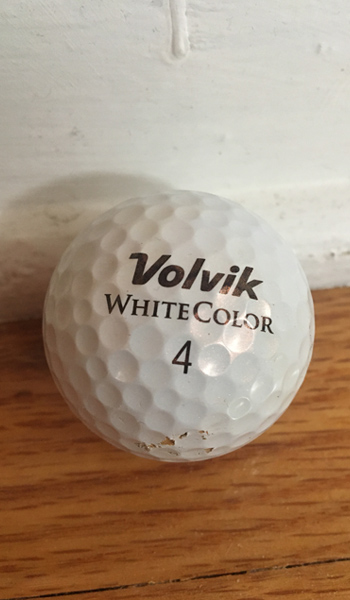 At this time of year, the Colorado golf scene is as dormant as the grass, making the prospect of a compelling local golf story akin to searching for a dandelion at Augusta National.
Most players I know have shelved the clubs in favor of skis and snowboards. Or they have fled to balmier climes.
Thanks to a recent warm spell, however, golfers have filled the fairways at my local course, Willis Case in North Denver, and I'll join them on occasion. But mostly I watch while walking with my wife along Tennyson Street—which runs parallel and adjacent to the potentially drivable downhill par-4 11th.
We'll frequently find an overcooked tee ball in the curb strips and flower beds fronting the tidy homes lining the block.
Some shots even bounce and roll all the way to the underpass of I-70, some 400 yards from their launching area. Should I retrieve one of these dimpled orbs, depending on its brand and blemishes, I'll often toss it towards the 12th tee, an elastomer Easter egg for some lucky golfer.
Easter at Christmas
A few days before Christmas I discovered such a surprise on one of these walks—a Volvik White Color with the number 4.
I didn't find it on Tennyson, however. I spied it in the tall grass bordering the one-mile trail around Berkeley Lake Park. That trail is more than 450 feet from Willis Case's 12th tee and 300 from its 12th fairway. The 484-yard par 5 hole runs along most of the course's southern border, and nearly all the expanse between it and the Volvik is occupied by the six-lane bedlam of I-70.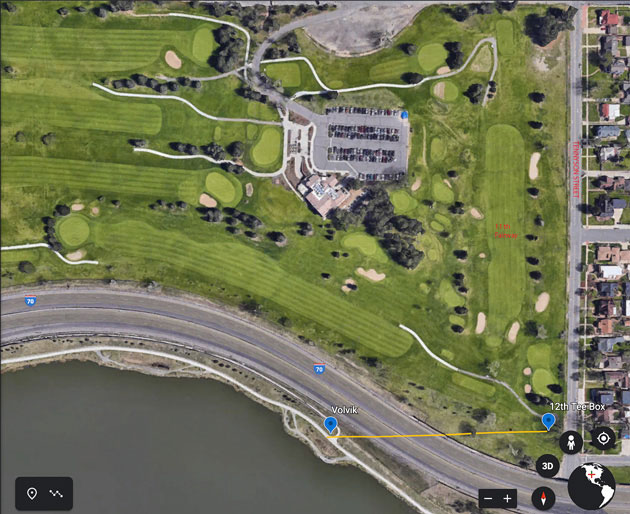 The "Really-Bad-Shot" Theory
I don't consider myself a forensic writer, but the evidence strongly argues this Volvik began its journey on the 12th tee and somehow cleared the 120-foot-wide elevated highway.
That's one heck of a wayward drive.
I suppose a lefty could have sliced one off the tee, but chances are this was a "Thurman Munson"—a "Dead Yank" of epic proportions—by a righty golfer.
But wait. The cut on the ball suggests it may have hit the highway, in which case it eluded, Frogger-like, some of the more than 100,000 cars that use that portion of the road every day.
It was thus a really bad but really lucky shot, especially when you consider the launch it would have taken off the asphalt. It would have made a bounce off the cart path look like Mickelson's victory leap at the 2004 Masters.
The "Hold-My-Beer-While–Try-This" Theory
The person who hit this shot may not have been playing golf, but betting that he (and believe me, only a member of my gender would engage in this kind of idiocy) could clear the highway with a shot. In this case, he was stupid but hit it on the screws.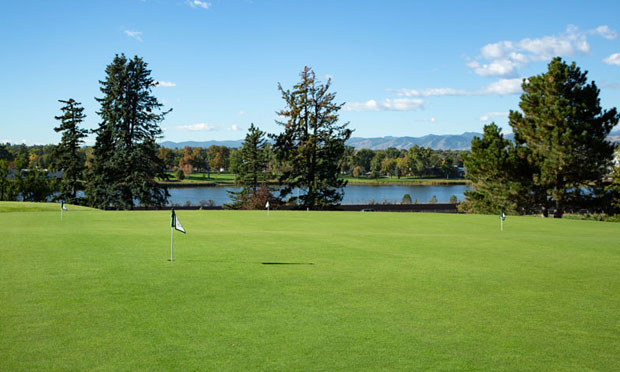 The Decoy Theory
Someone like me may have picked up the ball on Tennyson and, not being a golfer, tossed it into the grass as he or she walked around the lake. It could have been a gesture of goodwill, or a ruse to get someone to speculate on how a golf ball could have strayed so far from its natural habitat. In that latter case: Mission accomplished.
The "Muse" Theory
I've heard there's no such thing as a slow news day; just lazy reporters. Well, winter is Colorado golf's downtime, so perhaps this ball was meant for me to find. What may have cost its owner two strokes rewarded me with a shot of inspiration.
And if you think you might be the person who launched this salvo, I thank you for providing a muse.
Here's hoping all your shots stay on course in 2020!
What's the weirdest place you've ever found a golf ball? What's the weirdest place you've ever lost a golf ball? We encourage you to share your stories with us via social media.
For a brilliant ode to the wayward shot, read John Updike's foreword to the book Lost Balls by Charles Lindsay.
---
For more of the latest Colorado golf news, visit our NEWS & PROFILES PAGE.
Colorado AvidGolfer Magazine is the state's leading resource for golf and the lifestyle that surrounds it. CAG publishes eight issues annually and proudly delivers daily content via coloradoavidgolfer.com.