Long drives, steady play earn Dunkle a two-shot victory.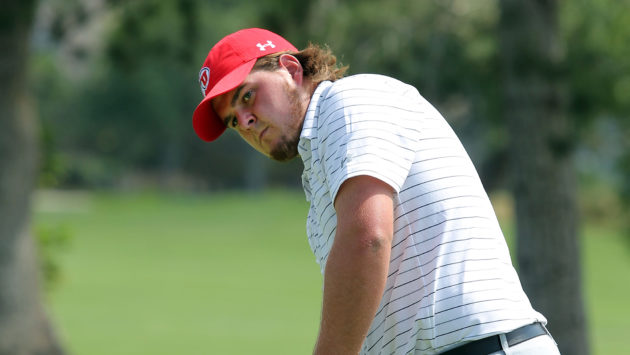 Kyler Dunkle, who last week earned low-amateur honors in the CoBank Colorado Open, shot a 14-under-par 266 at Pinehurst Country Club to become the Colorado Golf Association's 2018 Amateur Champion.
Formerly known as the CGA Stroke Play Championship, the event has had as champions Hale Irwin and Bob Byman—each of whom won it three consecutive times—as well as Les Fowler and the winners of the CGA Player of the Year Award that bears his name.
Dunkle is now one of them, having won the Les Fowler Player of the Year in 2016, the same year he transferred from Colorado State University to the University of Utah, where he's about to enter his last year of NCAA eligibility.
With his dad, former University of Northern Colorado player Jason Dunkle, as his caddie, Kyler started the final round two shots behind UNC's Coby Welch.
But Welch's lead had evaporated by the sixth hole on Sunday, the result of three bogeys. He would card a 2-over-par 37 on the front nine, while Dunkle shot a 1-under 34.
Going into the par-5 16th, the two found themselves all square. But Welch, who had birdied the hole in the three previous rounds, ran into all kinds of trouble. After finding sand off the tee, he failed to reach the green in regulation and wound up carding a six.
Dunkle, who'd eagled the hole the day before, reached in two and got down in two for a birdie four.
The two-shot differential on 16 is what would separate them in the final tally.
A shot behind Welch in third place were Tyler Zhang, Dominic Kieffer and Griffin Barela. Like Welch, Barela had a chance going into the 16th, only to bogey the hole and the two following it. Zhang closed with 65, Kieffer 67,
Going into next week's U.S. Amateur at Pebble Beach, Dunkle (who qualified at Collindale) is clearly feeling dialed in. He and Welch (who qualified at Columbine) will compete again in next week's Also in the field will be 10th-place finisher AJ Ott of Fort Collins (who also qualified at Collindale, a shot ahead of Dunkle). The stroke-play portion begins Aug. 13.
For CGA Amateur scores, CLICK HERE.