The latest offerings from Audi, Volvo and Hyundai deliver power and utility at different price points.
By Isaac Bouchard
---
2018 Audi Q5

EPA ratings: 23/27; 25mpg combined
0-60mph: 5.8sec
Price as tested: $56,100
---
The compact luxury segment of crossovers has begun to eclipse that of sports sedans, long the defining product of companies like Audi. Therefore it comes as no surprise the company invested in an all-new factory in Mexico to build this new, second generation Q5.
New also accurately describes this Audi itself, with body, interior, drivetrain and infotainment system all freshly redone. From the outside, this Q5 certainly looks different than before, with the busy lines and intricate detailing.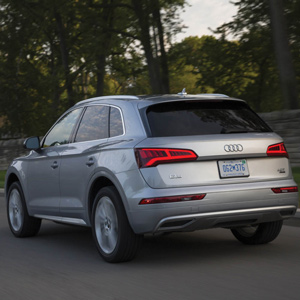 Inside, we find the current Audi themes of flattened linearity to the dash front, center stack and the console. There's more room in front and especially in the back seat, with slightly more cargo volume as well. Quality isn't quite as uniform as the prior machine; whether this is because of where the Q5 is made, or a cost-cutting choice on Audi's part, is unclear.
The infotainment system is a typically excellent affair, with sharply drawn graphics and intuitive menus. The configurable Virtual Cockpit instruments serve as an excellent example of how Audi demonstrates its technological excellence in a literally in-your-face manner.
Along with the A4 sedan and Allroad, with this Q5, it seems Audi is continuing its search for the perfect blend of sports and luxury in the driving experience, with the latter getting greater emphasis—a proper choice based on how these vehicles are used. It's all well and good to talk about how many g's a sporty German driver's device might pull in a corner, but how smoothly it absorbs crap roads is much more relevant.
In this regard, Audi has basically nailed it with the Q5—at least in the Prestige trim, with its adjustable damping. Lesser models only ride compliantly on smaller wheels, but this one copes exceptionally well with the extra mass of 20-inch footwear. Its first-rate noise suppression solidifies the luxurious vibe.
The Q5 handles like Audis usually do, too, with a balance that leans towards nose-led and inert, but not objectionably so. Steering is accurate and weighting good, not something one could always say of older models. Braking has good feel through the pedal and strong retardation. The updated 2-liter engine features 252 horses and 273lb-ft of torque and feels even stronger—with punchy acceleration at most all speeds, running vibration-free right to redline and very little engine noise.
It is also efficient, easily achieving fuel economy in mid-20 mpg thanks in large part to the excellent gearing and programming of the eight-speed gearbox and also to the newest version of quattro drive, which is more of an on-demand system than earlier iterations. All said and done, this critical offering for Audi represents a top-tier entrant in the luxury crossover category.
---
2018 Volvo XC40

EPA ratings: 23/31/26mpg
0-60mph: 6.2sec
Price as tested: $45,835
---
Volvo continues its stunning return to market relevance with the new XC40, a premium compact crossover that is not only a superbly executed piece of design but also really enjoyable to drive. Its chunky, broad shouldered and four-square stance and contemporary forms blend superbly to create a unique aesthetic—something increasingly hard to do in this segment, and moving the Volvo design canon forward without betraying the venerable firm's heritage.
Inside it's equally intriguing, with new uses of materials like the "Cutting Edge" inlays in the dash and a unique interpretation of how to design door panels. Materials are modern and class-appropriate, and the nine-inch tablet-like infotainment system (aside from its slowness to boot up when the XC40 is first started) is wonderful to use and offers Wi-Fi, Android Auto and Apple CarPlay. There's decent room front and back, a generous cargo area and all the practicality that comes standard with the two-box utility vehicle shape.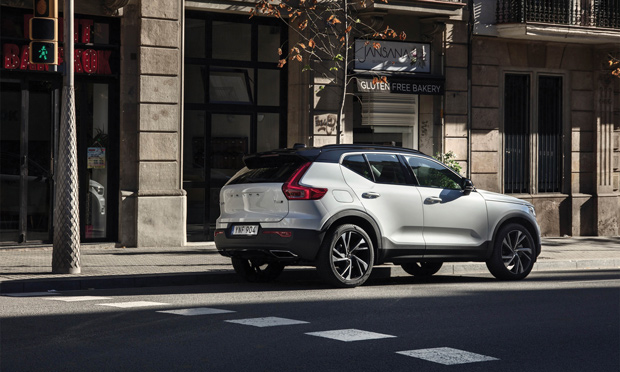 The "sport" side of what we used to call SUVs is well handled too, with a torquey 2-liter turbo punching through an eight-speed automatic. Enthusiast requests for acceleration are aptly answered with 248hp and 258lb-ft of torque. 0-60mph takes 6.2 seconds, which is a tick or two faster than most competitors. Also, it doesn't suffer from the non-linear power delivery that can afflict the super- and turbocharged version of this engine, which comes in the larger Volvos.
The XC40 debuts a new platform for the company, and it is a commendable blend of rigidity, noise suppression, good ride quality and fast-twitch responses. Steering is accurate and brake feel decent. When one is stuck in urban gridlock, the pain is made more tolerable with the adaptive cruise and lane keeping functions of the optional Pilot Assist system, which are amongst the best available.
In summation, the XC40 comes across as one of the most pragmatic, fun and hip entrants into this rapidly expanding segment. Volvo is also being audacious in how it plans to move the XC40 into homes, with a bundled offering of insurance, maintenance and payment, called Care by Volvo.
---
2018 Hyundai Kona

EPA ratings: 26/29mpg; 26mpg
combined
0-60mph: 6.6sec
Price as tested: $29,775
---
With a lineup heavily weighted towards sedans, Hyundai saw its sales stall during the explosion in crossovers as the Korean company lacked the production capacity to deliver fresh offerings in the now de rigueur light truck segment.
The Kona represents one of the first of a new generation of two-box movers from Hyundai, and if its execution is any indication, the company had better get set for another jump in production demand.
The Kona joins such subcompact crossover class leaders as the Mazda CX-3 and Subaru Crosstrek at least in Limited and (as tested)
Ultimate trim. Running big brother Tucson's 1.6-liter turbo engine in a smaller, lighter package, it outperforms most of the competition in the class, zipping past 60mph in just over six seconds, and running hard at most any altitude. The seven-speed twin-clutch gearbox has undergone software revisions to remove most of the hesitancy that plagued it in normal or eco mode, making it an excellent dance partner to this
potent, 175hp/195lb-ft motor.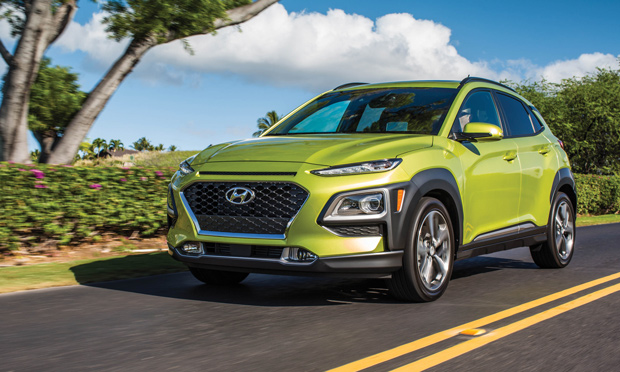 Fuel economy doesn't suffer either, demonstrating that you don't need to resort to pathetic CVT-type trannies or gutless engines to generate good EPA numbers. The Kona's chassis is also something of a surprise; prior Hyundais often couldn't combine good ride and handling, but this one sure does. It turns in adroitly, handles in an engagingly interactive manner—partially due to brake-biased torque vectoring—and rides really well. Isolation is better than the Mazda and on par with the Subaru.
Inside, the Kona suffers the compromises inherent in this size vehicle; while room is excellent in front for folks of most any size, those in the back better hope the driver and front seat passenger are of small stature, or be really good at holding yoga poses. Cargo room is fine, especially with the seats folded; this Hyundai will work well for most kid-free households. Interior quality is class-average, with cheaper moldings low down and some really nice ones nearer eye level.
The placement of the infotainment screen is great, and it is fast reacting and intuitive to navigate. Oddly, however, there is only one USB port.
Although the color palette is blasé (with the exception of the lime green trim on a few models), the exterior is quite extroverted. The Kona succeeds in looking distinctive in a class that is hard to stand out in. But it's really the powertrain and performance that distinguish the Kona. Since Nissan decided to replace the funky, fast, turbocharged Juke with flaccid, mainstreamed models, nothing else will run with it here, especially for the price.
---
Colorado AvidGolfer Magazine is the state's leading resource for golf and the lifestyle that surrounds it, publishing eight issues annually and proudly delivering daily content via coloradoavidgolfer.com. This feature appears in the August/September 2018 issue of the publication.