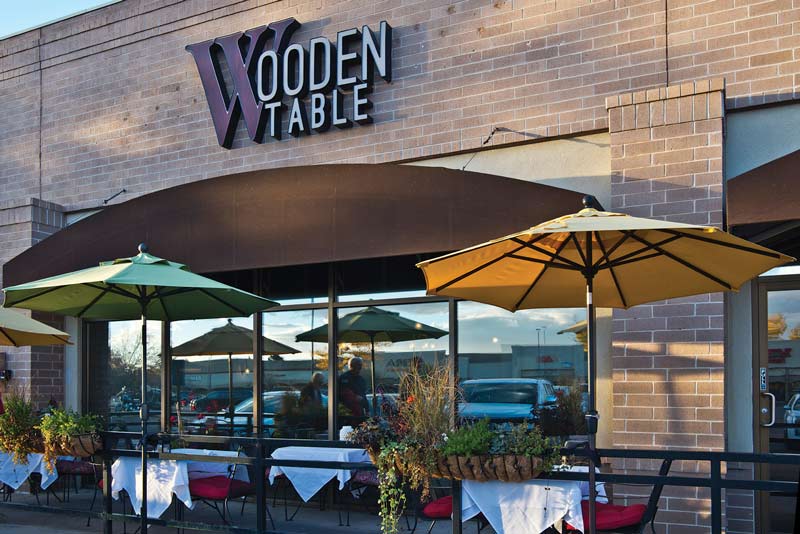 For restaurants as well as children, it takes a Village—in this case, Greenwood.
Chef Brett Shaheen and manager Jane Knauf met years ago when they were both working at Sambuca, Denver's erstwhile jazz supper club. They then accrued a period of fine-dining experience between them—for Shaheen, it was cooking at Frank Bonnano's Luca d'Italia and Osteria Marco.
Five years ago, the seasoned duo opened their own concept, The Wooden Table—in Greenwood Village, an upscale district of small residential subdivisions, shopping plazas and business parks.
"We had worked downtown and were tired of the scene," Shaheen muses. "We both live in the suburbs and we always complained that there was nothing good to eat. There was a need for something unique. The Greenwood Village location was a nice affluent area, and we thought it could work."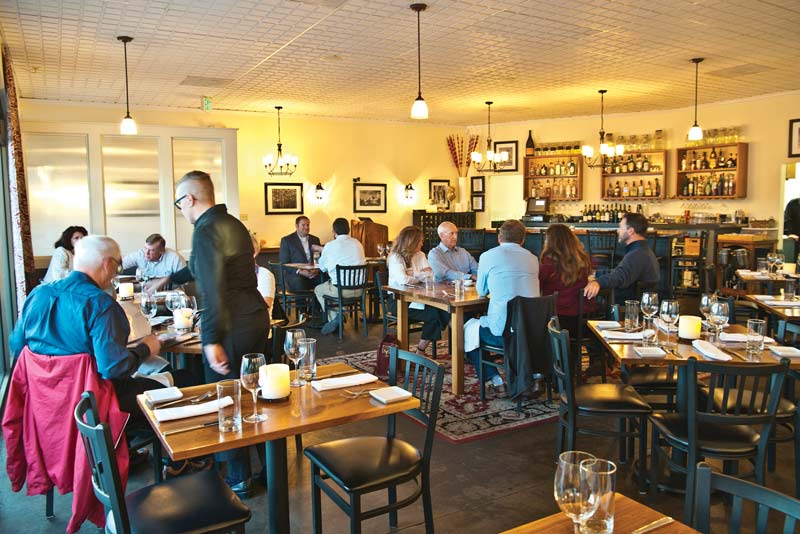 And so The Wooden Table has distinguished itself in the neighborhood for the long run. The view might not be much—the suburban strip mall of Cherry Hills Plaza—but the refined, contemporary space is stylish yet casual, sometimes clamorous yet always friendly. The single-plank wooden bar and hand-hewn myrtlewood community table are stunning.
"My father-in-law is a woodworker in Taos," Shaheen explains. "He's good at it—he's in a couple of galleries on Canyon Road in Santa Fe—so I knew going in he'd be making the tables and a centerpiece."
The Wooden Table fills up with a lunch crowd that craves a cosmopolitan alternative to fast-food chains. "We want to be an upscale fine-dining restaurant, but at lunch we serve sandwiches and a couple of entrée salads—salmon salad, steak salad—and hit a better price point for that crowd," Shaheen explains. It's at dinner that he really shows his culinary savvy. On a recent visit, my party tried his menu items, which balance Italian-fused fare with some New American touches.
Sweet, silky ricotta cheese adds sumptuousness to the Polenta appetizer, finished with dollops of red sauce and melted fresh mozzarella for depth and complexity. The steamy, saucy Mussels meet up with spicy, savory house-made sausage and saffron, served with grilled ciabatta. Heaps of tasty accouterments accompany the artisanal slices on the Cheese Plate.
There's an art to the Grilled Octopus appetizer. When the tentacles are lightly seasoned and charred, the delicate meat is white and succulent (a mild cross between shrimp, scallop and calamari). But whereas most chefs dress octopus with lemon, Shaheen plates it with watermelon gazpacho, Tuscan cantaloupe and English cucumber.
Food selections at The Wooden Table:
"The cool freshness and brightness of the melons and cucumbers made sense for summer, with the contrast of the warm grilled octopus," Shaheen says. "There's also a little bit of serrano chile in there, a touch of spice. And there's quite a process to preparing the octopus prior to grilling it. We braise it in milk and water and egg whites and cornstarch, on a very low simmer for four or five hours. I don't know the science, but the egg whites and cornstarch make it tender."
The specialty salads include Spinach and Caesar, plus a sprightly, elegantly composed Arugula salad that tangles fried oyster mushrooms with pecorino romano, onions and white truffle oil for color and vibrant flavor.
Shaheen's delicate house-made pasta takes the staple to the next level. He gets wild with his velvety smooth Bolognese sauce, using nicely gamey ground venison; only large, flat swaths of pappardelle pasta can stand up to its heartiness.
"The first thing in the pan is pancetta, rendered down until the fat releases and the pork crisps up," Shaheen divulges. "And at the end, we use our chicken liver mousse to add richness."
Among the refined entrees, the duck is marvelous—a breast roasted until a rosy, juicy medium rare, served with candied baby turnips, browned butter and fennel puree, and a balsamic cherry reduction. The Hanger Steak comes with delicious morel mushrooms, peas and potatoes and a sweet Vidalia onion puree.
Scallops are a signature dish—a trio of plump mollusks served atop a shrimp cake with lobster emulsion (fresh and mild, not fishy) and beautiful rainbow carrots. What's the secret to searing scallops properly—opaque around the edges and
a cream-colored, slightly translucent center?
"The biggest keys are to get fresh, not frozen, and the scallop should be patted dry," Shaheen says. "Preheat a pan so it's about to smoke, then add a little oil and sear the scallop on one side until it's golden brown. Then flip it and add a couple of tablespoons of butter and baste the scallop with the butter. We do it in the pan on the stove; we don't put them in the oven. And a couple of drops of lemon juice is always good."
Our server, the enthusiastic, professional Johanna, suggested a bottle from the hand-selected wine list that would pair with all our entrees. I adore the red wines from Siciliy's Mount Etna, and the Etna Rosso "Barbazzale" Cottanera blends Nerello Mascalese and Nerello Cappuccio, the two varieties of local grape cache.
For dessert, nothing beats a simple Affogato ("drowned" in Italian), a scoop of sweet vanilla bean gelato topped with a shot of hot, caramelly espresso—and another of Irish cream liqueur.
Shaneen offered one more course—of action, that is.
"We're in the process of expanding, to Belmar in Lakewood, open in December," he reveals. "It'll be a bit more approachable and casual, not as expensive, a bigger bar and patio area. The same menu for lunch and dinner—homemade pastas, salads, sandwiches, appetizers. It's going to be called Brodo, Italian for broth or stock."
So get ready for "The Two Towers" of Shaheen cuisine. Brodo lives!
2500 East Orchard Road #C
thewoodentablerestaurant.com; 303-730-2152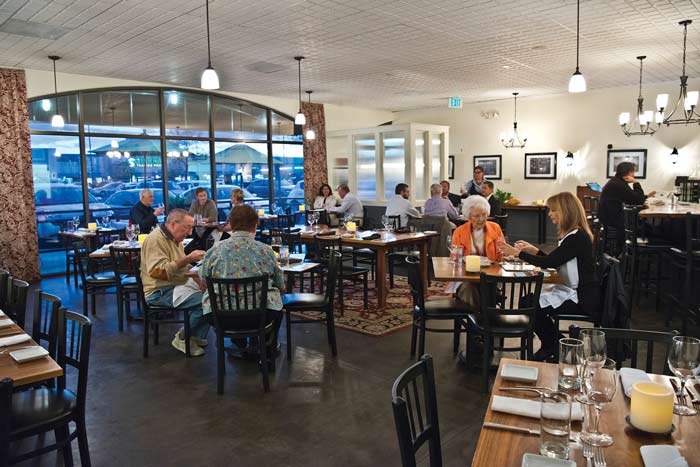 ---
This article appears in the Winter 2016 issue of Colorado AvidGolfer. Subscribe today!
RELATED:
The 10 Best Denver Steakhouses
Adelita's: South of the Border on South Broadway
Saving Grace at the Ridge
How Many is a Brazilian? Café Brazil Shines in Denver
Colorado AvidGolfer is the state's leading resource for golf and the lifestyle that surrounds it, publishing eight issues annually and proudly delivering daily content via coloradoavidgolfer.com. Follow us on Twitter, Facebook and Instagram.