A world of advice on preparing for your next golf trip.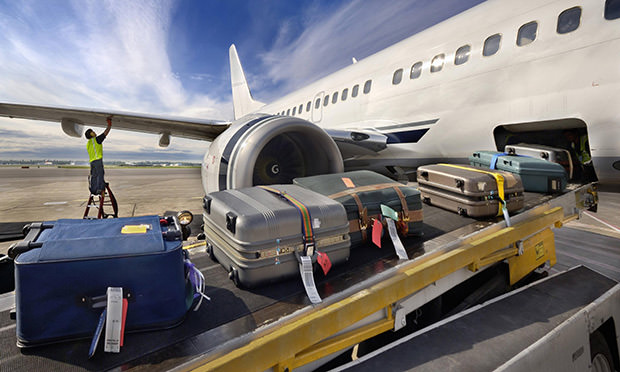 By Jon Rizzi
---
AT SEPTEMBER'S Flor de Caña Open in Nicaragua, American Michael Buttacavoli won the longest sudden-death playoff (10 holes) in PGA Tour Latinoamérica history. However, golf fans may remember the 29-year-old former Rice University standout better for his well-documented sudden-death matches with airlines earlier this summer.
In June, Buttacavoli missed a chance at qualifying for the U.S. Open when the airline lost his clubs between Ecuador and Florida. After he withdrew from the qualifier, the sticks turned up.
Then, a month later, Buttacavoli's bag again went missing when he flew to London to qualify at Woburn for the 147th Open Championship. This time, the wise young Owl had lined up a local friend's set as a contingency—although his clubs arrived on another flight in time for him to finish five shots behind Ian Poulter for the third and final spot.
From missing clubs to missing putts, golf travel can challenge even the most seasoned players. We got some frequent flyers to weigh in on how best to take your game on the road.
---
PACKING
Watch your weight. Anything heavier than 50 pounds incurs an airline surcharge. "I always clean out my golf bag to lighten it so I can pack extra stuff in the traveling case, up to the 50-pound limit," says Denver Golf Expo owner and operator Mark Cramer.
Dress the part. When invited to play an exclusive club for the first time, know the dress code. "On my initial visit to Monterey Peninsula Country Club, I arrived in nice golf shorts and was promptly told pants are mandatory," says Colorado Open Golf Foundation CEO Kevin Laura. "I had already dropped my luggage and travel bag at the hotel and it was a beautiful day so I had no rain gear. I was unable to buy anything in the golf shop (member charge only). Thankfully a player in my group had rain pants in his travel cover and loaned them to me."
Streamline. "Only bring 10 clubs," Colorado Golf Association Executive Director Ed Mate advises. "You won't miss the other four."
Don't "excessorize." For a five-day trip, don't pack for ten. Bring an outfit for each day but no need to take more than a sweater or windbreaker. A vest makes an easy layering piece. And remember, "You can always send clothes to the cleaners," says Colorado Golf Hall of Fame member Kent Moore. who also advises packing no more than five balls if you're heading to a competitive tournament. "If you need more, it won't matter anyway."
Spike the Softspikes. Don't pack golf shoes; wear them. Major manufacturers all boast stylish, cleat-free, deep-treaded shoes that function not only on the course, but also along the concourse, in the clubhouse and around town. As examples, CAG contributor and avid golfer Suzanne Brown points to Ecco's BIOM and Casual Hybrid lines (us.shop.ecco.com); Skechers' Go Golf line (skechers.com) and FootJoy's Pro/SL and Club Casuals (footjoy.com).
Don't forget to Dopp. Nothing can ruin a golf trip faster than an untended wound or injury. Keep a first-aid kit in your golf bag stocked with Band-Aids, sunscreen, fingernail clippers, aspirin, insect repellent, atomic balm, antibiotic cream and New-Skin or tape for blisters.
---
PROTECTION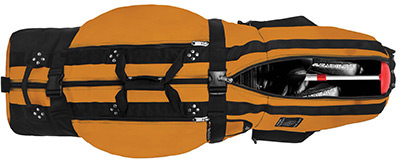 Show some club love. Stiff-arms aren't just for running backs. Club Glove's Stiff Arm (clubglove.com), a $30 telescoping crutch that protrudes from your golf bag and wedges into the top of a travel bag, absorbs the full force of impact on clubs. "I've taken more than 100 golf trips, and I have never had a shaft broken using the Stiff Arm," says Colorado Golf Hall of Fame member Gary Potter. "Put it on the longest possible setting that still fits in the travel cover," adds fellow Hall of Fame member Kent Moore. "It's much cheaper than a new driver."
Cover Your Assets. There's no guarantee you'll be reunited with your clubs upon arrival. With the majority of airlines limiting coverage for sports equipment, look into purchasing additional travel insurance (plus an optional rider to cover the clubs). Also, make sure to include your golf equipment on your homeowner's policy schedule (as you would expensive cameras, jewelry, etc.). And hold onto your baggage claim ticket.
He who hesitates… may lose his clubs. "I always make a point to get to the baggage claim as quickly as possible," Potter says. "Golf clubs are very conspicuous, easy targets to purloin."
Eclipse the sun. The pain of sunburn can ruin a golf vacation, and the carcinogenic effects of ultraviolet radiation can ruin your life. Sunscreen at resorts can cost double or triple what you'd pay at a home, so remember to bring and apply SPF-30 sweat-proof "sport" sunscreen on all exposed skin, and wear hats, shirts and pants made of UVA- and UVB-protective fabrics.
Arm Yourself. Nike, UnderArmour and other brands make UV-protective sun sleeves, which have the added benefit of compression to prevent muscle fatigue and sore elbows.
Get shady. Golf-specific sunglasses will protect your eyes and aid in reading greens.
---
TRANSPORT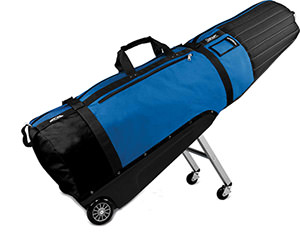 How do you roll? Invest in a Sun Mountain Clubglider (shop.sunmountain.com), a durable travel case with two sets of wheels for incomparable ease of pulling.
Case study. "I use a small bag in a soft-sided travel cover with a Stiff Arm," Potter says. "Hard cases are often tough to fit into rental cars."
Fly Southwest. The carrier still allows two bags—including golf totes under 50 pounds—to fly free.
Ship, don't schlep. With airlines charging for bags and oversized luggage, toting your sticks can run north of $200 for a round trip. For about the same amount of money, Ship Sticks (shipsticks.com) provides reliable door-to-door service to hotels, golf courses and homes, and insures your clubs up to $1,000, with an option of up to $3,500 in additional insurance.
Bring cash. Service professionals—bellmen, drivers, valets, caddies, bag and locker-room attendants—like "a little something, you know, for the effort…" They usually don't break 20s or take credit cards. "Bring plenty of small bills," Colorado Golf Hall of Famer Janet Moore recommends. "People like to feel appreciated."
---
ACCLIMATE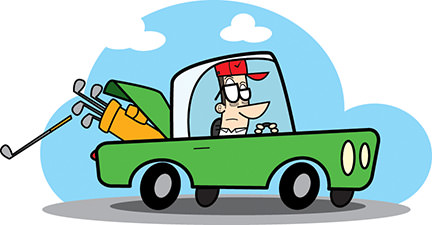 Travel today, play tomorrow. Try not to schedule golf on the day you arrive. Changes in air pressure on a plane don't only affect your hearing. They can affect your inner ear and, ergo, balance—as can a bumpy flight, boat ride or a twisty drive from the airport.
Rest easy. "Go buy a pillow if a hotel doesn't have good ones," advises Janet Moore. "It's not worth getting a stiff neck." She also always brings a Bluetooth Bose travel speaker to listen to familiar music on the road.
Stay strong. Not all hotels have a gym. Easy-to-pack resistance bands increase power, stability and range of motion. Do a routine of 20 chest presses, core rotations (both sides), rows and straight-arm pull-throughs. Always secure the bands firmly to a bed, door, etc.
---
ON COURSE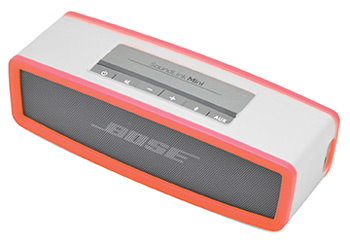 Adjust your attitude. "Bad weather, a bad hotel room, late flights, back spasms, smoky rental cars—all are just little bumps in the road," says Janet Moore. "Have the attitude that nothing is going to bother you, and be grateful for an experience most people will not have."
Adjust for altitude. "If you turn up your nose at anything under 7,200 yards in Colorado, you'll be surprised at how long 6,700 yards can play in Florida or Hawaii," cautions Michael Ritter, the PGA general manager at Granby's Grand Elk Ranch & Club. "Your first day, play a shorter version of the course and figure out the distance you're getting on your average drives, not just the great ones. Notice how much more difficult it is to carry fairway bunkers or water hazards. Try to gauge if this altitude is one or two clubs different on your approach shots. Then you can figure out the appropriate tees for the rest of the trip."
Watch the wind. At lower altitudes, the denser air will have a greater effect on your ball flight. "Shots played into the wind will be knocked down more than the usual math will suggest," Ritter says. "If it feels like a one-club wind and you add one more for sea level, consider adding yet one more. You might go long, but don't be surprised if you're just fine."
Don't Hazard a Guess. With all the available golf-related apps and GPS products (SkyCaddie.com, GolfLogix.com, 18birdies.com), there's no excuse for not knowing the distance of a carry, or being surprised by a stream fronting a hole. At the very least, buy a yardage book or hire a caddie.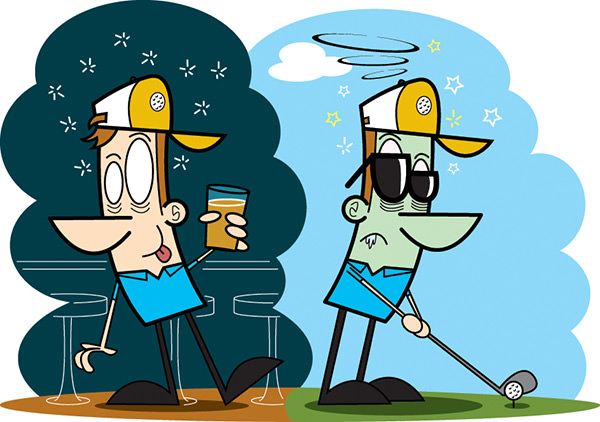 Watch your consumption. "Eating healthfully on the road, especially at locations with good restaurants, can be  a challenge, but it definitely helps performance," advises Kent Moore.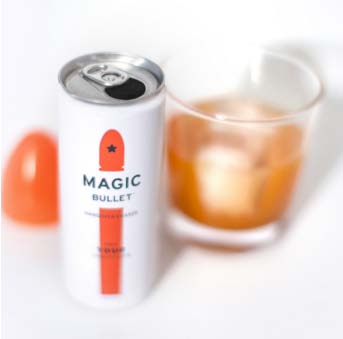 Drink wisely. Excessive tippling can turn a memorable golf experience into a forget-table time. Try Magic Bullet (drinkmagicbullet.com), an all-natural, blood orange-flavored "hangover-eraser" that neutralizes alcohol toxins and tastes great alone or in a cocktail. Who knows? It might give you an edge on your overserved buddies.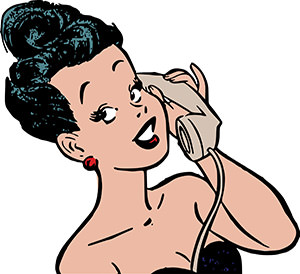 Silence the phone. Unless you're using it for on-course GPS guidance, keep your Smartphone in Airplane Mode during a round. Why invite distraction? You can still take photos but free yourself from the annoyances from which you've escaped.
Heed Jim Brown's advice. "If you are traveling to Ireland or Scotland for 10 days of golf," the Colorado Golf Hall of Fame treasurer cautions, "be sure to call your wife at least once or twice."
---
This article appears in the Winter 2017 Issue of Colorado AvidGolfer Magazine, the state's leading resource for golf and the lifestyle that surrounds it, publishing eight issues annually and proudly delivering daily content via coloradoavidgolfer.com.