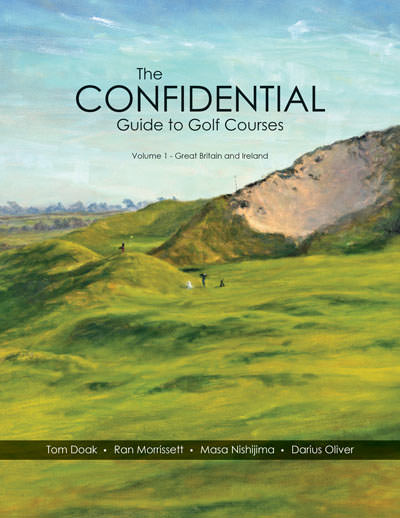 Ballyneal Golf Club rises to the top in Colorado by a wide margin, and even ranks above Augusta National and Pebble Beach. Sanctuary is "further proof…of the infatuation some ranking panels have with exclusivity and great grass." Denver Country Club has seen so many redesigns that "there's not much to hang one's hat on." Despite its scenic appeal, Jack Vickers' Castle Pines Golf Club, former proud host of The International, is an artistic failure, while Arrowhead Golf Club gets a "Dumb Blonde" award—"gorgeous but lacking substance."
These and many other often-biting insights can be gleaned from architect Tom Doak's The Confidential Guide to Golf Courses, which PGA Tour veteran Brad Faxon calls "one of the ballsiest books ever written." Doak spent much of his youth traveling the globe to catalogue golf courses, and his sharp opinions were first published in book form in the mid-1990s, attracting such a cult following that copies were fetching up to $500 on the Internet. The Guide also served as a coming out for Doak, who railed against contrived, big-budget courses (and their designers) while advocating a natural, return-to-roots approach. He eventually applied those principles in designing some three-dozen acclaimed courses, from Bandon's Pacific Dunes to Cape Kidnappers in New Zealand.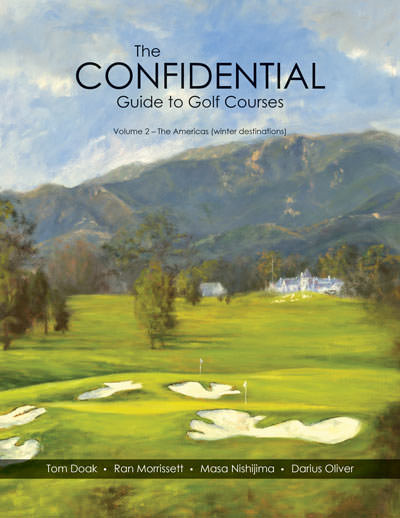 With new course commissions drying up over the past decade, Doak is now re-packaging and expanding the Guide, enlisting three other design experts to weigh in as well: Ran Morrissett, Masa Nishijima and Darius Oliver. This ambitious new effort, delivered in Doak's authoritative but conversational voice, will produce five coffee-table format hardcover volumes that will encompass much of the golf course universe. 
The rankings are based on the 1-10 Doak Scale; in the U.S., only Cypress Point, Pine Valley and Sand Hills earn 10s from all four reviewers. I've played several courses ranked as a "3" that I'll happily play again, and a Doak "5" often can be a delight. Doak says the write-ups are more important than the numbers, and that the premise is to simply help you decide where—and where not—to play.
Doak designs what he likes and likes what he designs, so it's not surprising that his own courses get extraordinarily high marks. This does leave a fishy smell compared to the purity of the original Guide, when Doak didn't have much skin in the game. But Doak and his colleagues deserve credit for calling it the way they see it, and for consistently digging up obscure gems that would otherwise go unnoticed.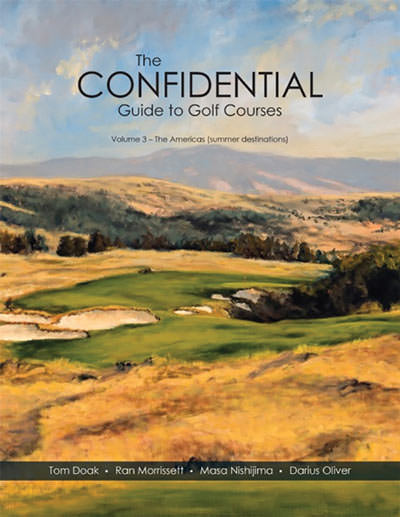 Just released in late 2016 is Volume 3, covering summer destinations of the U.S. and Canada—including musings on 29 Colorado courses. Doak's Ballyneal—"a riot of contour from tee to green"—scores 9s from all four experts. The Colorado Golf Club (7/6/6/7) in Parker, the work of Bill Coore and Ben Crenshaw, is a distant second (Doak laments the encroachment of housing). Cherry Hills Country Club, the William Flynn standard and host to six major championships, rated a 7 from Doak and 6s from two of his colleagues (not all four have played, and therefore rated, all the courses). Both the Doak-designed CommonGround (6/6/5/—) and Broadmoor East (5/—/5/—) earn mention in the back-of-the-book "Gazeteer" as "Sleeping Beauties"—"More than meets the eye."
If you embrace the intricacies of golf-course design and enjoy seeking out courses big and small, the Confidential Guide is a great read and resource, especially for those who travel frequently. Just don't take the reviews personally, or let them spoil your enjoyment of a golf course. When a friend recently invited me to play at his glamorous, challenging and impeccably maintained private club in California, I immediately summoned the Guide, only to read this: "Dullest Jack Nicklaus design ever." The course still got a 5, and I can't wait to play it.
Andy Bigford is a CAG contributor. For more information and to order The Confidential Guide, go to renaissancegolf.com. Each volume costs $60 plus $15 (S&H). You can save $20 and buy all five for $280, or spring for one of the 100 stunning handcrafted, leather-bound and gilt-edged editions signed by Doak and his three co-authors. Each slip-cased book costs $1,000 ($5,000 for the set).
RELATED:
2017 CAGGY Awards presented by Gentleman Jack
Paige Before Beauty: Paige Spiranac
The Rise and Rise of the Club at Ravenna
Colorado AvidGolfer is the state's leading resource for golf and the lifestyle that surrounds it, publishing eight issues annually and proudly delivering daily content via coloradoavidgolfer.com. Follow us on Twitter, Facebook and Instagram.