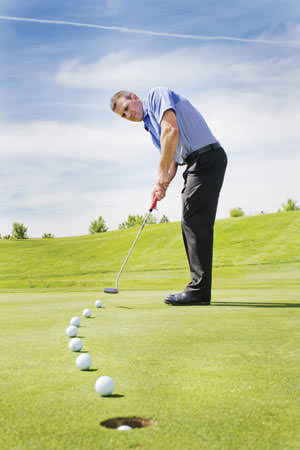 Tournament golf is the best way to evaluate your level of skill and how you handle your emotions. I highly recommend even recreational golfers to enter tournaments, as most amateur events have different flights or levels to ensure players with very similar capabilities are on an equal playing field.
A lot of golfers, however, say they don't want to compete in tournaments because of the "pressure." I firmly believe that you only feel pressure when you do not know what you are doing. In golf, this often leads to failure because you lack the preparation for the uncomfortable or unfamiliar situations that arise during a round. Preparation means practice, and practice means training your body and mind to be comfortable with being uncomfortable—by putting yourself in the unfamiliar territory of tournament golf.
Preparing for a tournament is fun if you know how to do it. Commit to these pointers and the so-called pressure will evaporate.
Develop a consistent pre-shot routine
As someone who has competed professionally as a football placekicker and as a touring golfer, I go through the same three-step process before every shot.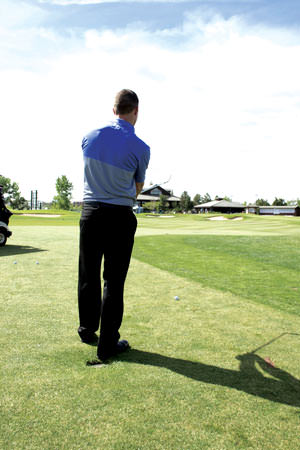 1. See it. Picture the task at hand of the ball flying perfectly to your desired target, almost as you are watching yourself on TV to reinforce it. Never aim outside of your target. Because your eyes are so powerful, aim "small and straight," with tunnel vision.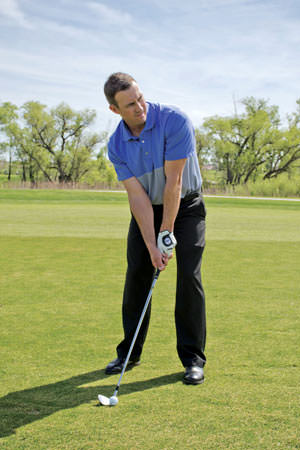 2. Feel it. Take constructive rehearsal swings of what your trying to reproduce kinesthetically that matches what you visually see. You own this routine; when it starts it's like you are in a bubble and no one can get to you because your body knows it's "go time." The task at hand is a response to the training for the moment.
So trust it.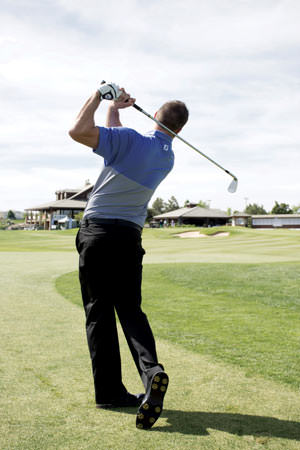 3. Do it. Allow your shot to unfold and happen. Be disciplined. If you are not 100 percent committed—if you start thinking of other outcomes or fear failure—you must back off your shot and restart your routine from the beginning. This discipline of commitment and confidence only comes with results. Your subconscious mind controls the image you have of yourself, and image only changes with good or bad results. Your image of yourself as a golfer is up to you based on how much time you put in.
Remember every shot is equal
Handling so-called pressure starts with training your mind that every shot holds the same value, whether it is a one-foot putt, a delicate pitch shot over a bunker or a 300-yard drive to carry a hazard.
Always focus on putting
Take pride in being a good putter. Being a good putter or a bad putter is a choice. It starts with attitude. You are the only one that has to believe you are going to make that putt.
Practice your weaknesses
Don't be in robot mode, hitting driver after driver or iron after iron, and focusing on hitting perfect shot after perfect shot. Instead, learn to play games with yourself and hit to various targets with the same club.
Simulate
Practice holes similar to those on the course hosting the tournament. Better still, play a practice round or two on the course.
Be ready to scramble
Golf is full of bad bounces and bad shots. Accept that sometimes you just have to save par the hard way. Visualization is a great way to change your subconscious and believe in yourself.
If you put the time in to do the routine and keep your mind in the moment good things will eventually happen. Sometimes we get discouraged as golfers at all levels because we feel that we are not improving fast enough or scoring as well as we should be. All of those factors go into the decisions we make—from how we practice, to what clubs we select on the course and targets that we commit to. I never can tell when one of my tour players or beginners is going to play the best golf of their lives. What I do tell them is that they better be ready for when it happens.
---
Jason Witczak is the PGA director of instruction at Green Valley Ranch Golf Academy in Denver. Specializing in kinesiology and proper setup, he teaches players of all skill levels. Reach him at 303-371-8700; [email protected].
Visit our Instruction area for more golf tips, instruction, and lessons.
RELATED ARTICLES:
GVRGA Gets A Kick with Jason Witczak
5 Steps to Being a Better Driver
This article appears in the July 2016 issue of Colorado AvidGolfer.
Colorado AvidGolfer is the state's leading resource for golf and the lifestyle that surrounds it, publishing eight issues annually and proudly delivering daily content via coloradoavidgolfer.com. Follow us on Twitter, Facebook and Instagram.