It may not look like a serious training aid, but the Swing Coach Club might be the most effective swing gadget you own.
By Tony Dear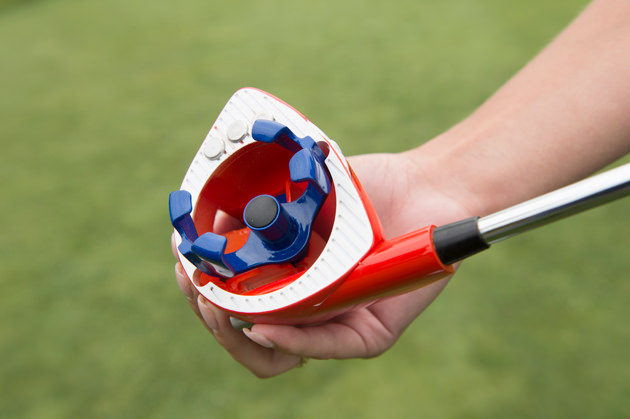 Mistake number one was judging the book—or, in this case, what looked like a plastic children's novelty golf club—by its cover. My next foolish error was failing to read the instructions on how to use it.
I'm guessing most people's initial reaction to the Swing Coach Club will be similar to mine. Without seeing it in action, and before anyone explains its function, you might also assume it was designed as a starter club for toddlers.
Actually, the Swing Coach Club is meant for you and me, and is the result of eight years of constant evolution, involving a lot of brainache and money.
Bill Parks, the device's inventor and owner of NuPro Golf Products LLC, based near Asheville, N.C. had the idea in 2009 after chatting with golf instructor Brad Brewer in Orlando, Fla.
"I asked Brad what he wished all his students could feel," says Parks. "He told me it would be the proper feeling of release—having the club approach the ball on the correct path and reaching top speed at the correct moment."
Parks went straight to the drawing board, envisaging something that gave the user instant feedback on both clubhead path, and proper clubhead acceleration. At a time before prototypes could be made quickly and relatively inexpensively, he invested almost $3,000 on making the first version of his swing trainer—a club that ejected a ball toward the target if swung on the correct path and at the correct speed.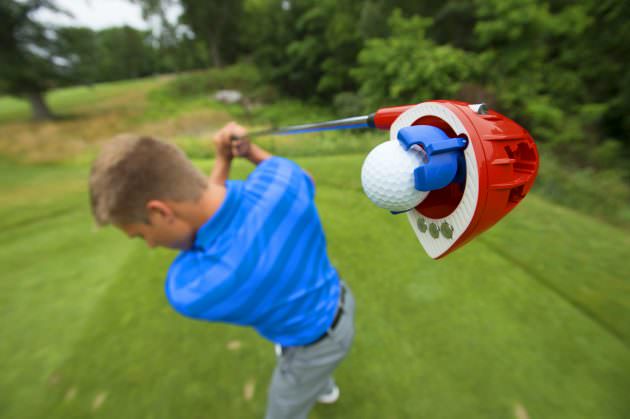 Though its head needed to be a certain size (more reminiscent of a driver) to hold the ball and its cradle, Parks designed the club to feel rather like a 7-iron – about 38 inches long and weighing roughly 425g. "I wanted it to feel like the club amateurs are most comfortable hitting," says Parks.
Two years ago, Parks approached respected teacher Dean Reinmuth at Crosby National GC in San Diego to see if he might be interested in promoting the product. Reinmuth's endorsement would surely give the Swing Coach Club credibility, but at first he wasn't convinced it would do what Parks believed it could.
"He definitely had something," says Reinmuth. "I liked the concept, but it certainly wasn't ready to go into production. It needed to be tweaked, so I declined to be involved at that time."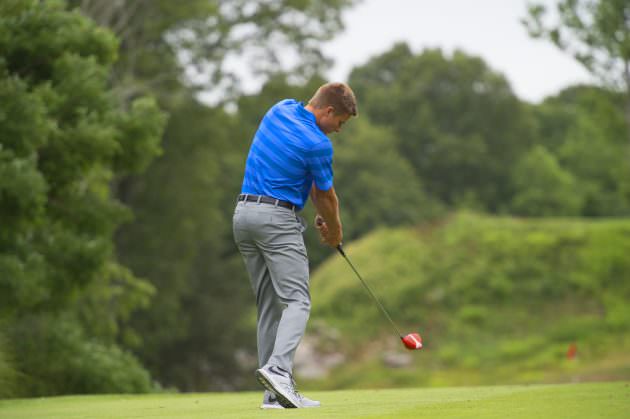 After making the necessary alterations, and now absolutely sure his product would be effective, Parks tried Reinmuth again and this time won his seal of approval. "I think it's a very useful tool," says Reinmuth. "If used correctly, it will accelerate the process of learning a good clubhead path and feeling how to accelerate the club correctly so it reaches maximum velocity at the moment of impact."
Before you give it a try, though, take the time to read the instructions. If you don't, and swing at full speed, the ball will come out of its cradle before you reach the impact position and thud into the ground behind you, leaving you to wonder what this thing is supposed to do.
But read the enclosed guide, and you'll discover the Swing Coach Club was designed for mid-high handicap golfers who swing the club at about 75 mph (or faster swingers when hitting a pitch shot). Swing at that speed and the ball will leave the cradle on the correct trajectory and toward the target, assuming the clubhead path is correct. If it's not, it will spew the ball out to the right (too much in-to-out) or left (out-to-in).
Parks is currently working on adding other versions to the line in response to feedback he received at this year's PGA Merchandise Show. "A cradle for higher swing speeds—95 to 100mph—is currently in development," he says.
Get over the initial reaction to seeing the Swing Coach Club, read how to use it, use it frequently, and before long you will be releasing the club at the right moment in the downswing—and adding significant yardage to your shots.
$77
swingcoachclub.com