Could This Be TaylorMade's Best Ever Iron?

The P790 ticks a lot of boxes
By Tony Dear
To the layman, TaylorMade's current catalog of irons might look somewhat narrow, with plenty of overlap between the various models.
Of course, the P730 blade and M1 and M2 cavity-backs look utterly unalike, and likewise perform very differently. But as you move into the P700 series, it seems the lines between the various models become a little blurred, and categorizing each of them beyond labeling them all "better player irons' is not exactly straightforward.
Jory Mendes, TaylorMade's Global Brand Communications Manager, begs to differ. "The P700 Series is geared for the better player and the aspirational golfer," he says, "and each iron is unique in terms of playability, trajectory and forgiveness." The P730, he adds, has the smallest clubhead in the range, and is designed for the very best ball-strikers. It features a relatively low inertia making it the company's most workable iron.
In March, we featured two new better-player irons from TaylorMade – the P750 and P770 which look pretty similar and could only be told apart, surely, by the better players they are designed for. They each offered increased forgiveness with forged feel and the cultured look lower-handicappers prefer.
Now comes the latest in the series – the P790 (pictured below), which Mendes says is "all about distance."
"But it's packaged to suit the more discerning eye," he adds.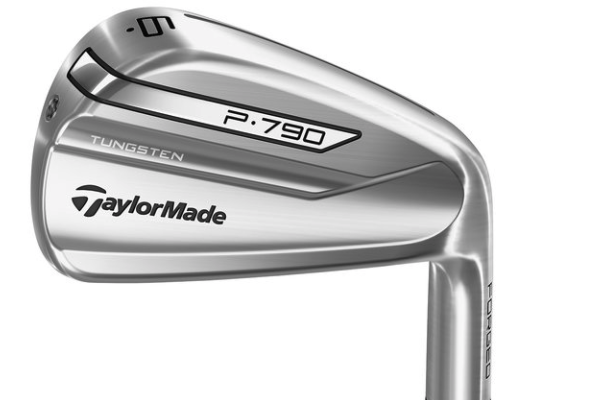 When you combine a great look, forged feel, and a number of shot-enhancing technologies, you get what Tomo Bystedt, TaylorMade's senior director of product creation for irons, calls the "Holy Grail of what we are trying to do."
The most noteworthy technology in the P790 is the hollow cavity filled with a low-density polymer TaylorMade calls Speedfoam which expands to fill the space. Mendes says it took TaylorMade the better part of two years to develop the substance which not only improves the sound of impact, but also supports the 1.75mm forged 4140 carbon-steel clubface (the body is built with 8620 carbon-steel).
The face flexes at impact increasing ball speed, and a speed pocket positioned in the sole helps you generate greater distance too.
To increase stability and inertia, a small tungsten cylinder is positioned in the heads of the 3-7 irons meaning those greater ball speeds are available from most points on the clubface.
Like Bystedt, Mendes thinks the P790 is pretty special. "Combining distance with proper sound and feel is always a challenge," he says. "But we nailed it with the P790."
---
$1,300 (3-PW) with True Temper Dynamic Gold 105 steel shaft.
$1,500 with UST Mamiya Recoil 760/780 ES SmacWrap graphite shafts.
Available – September 15th
---
RELATED LINKS:
TaylorMade's Latest Putter Line Brings Stability and Forgiveness