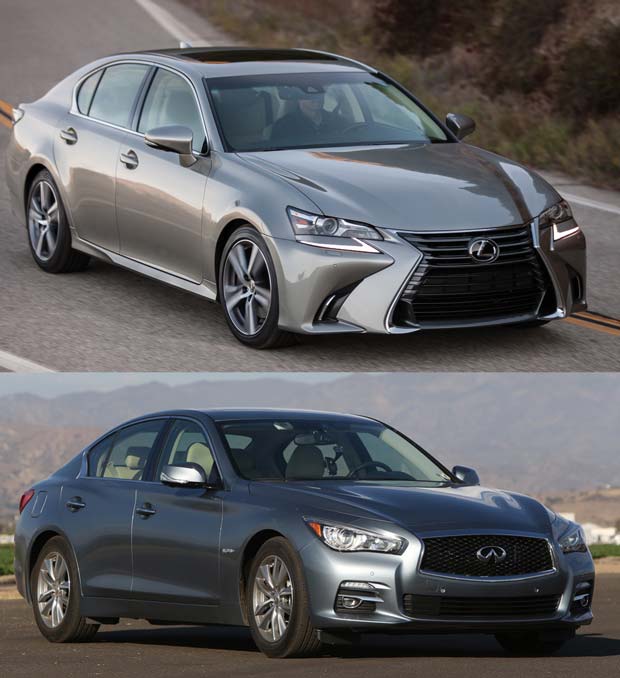 BMW started the trend towards midsize luxury liners powered by 2-liter, turbocharged engines. Aside from the EPA ratings benefit, does this make sense for real-world use? Two weeks in two models from Infiniti and Lexus gives insight.
There are obvious differences between the Q50 2.0t and the GS200t; the former is smaller, and the test car had rear wheel drive (AWD is available); but they both are compelling. The Infiniti still looks good to these eyes, and if the smaller wheels and high profile tires don't fill out the fenders the way I might like, they certainly bring ride quality benefits—the Q50 is superb in this respect, and well ahead of the GS200t, which tends to patter away on the big wheels and low profile tires that came on the F-Sport tester. I will admit that I was probably too disparaging of Lexus' latest styling language when it first emerged,, comprised of its gaping "spindle" grill and forms that never really resolved. Now the grills are even bigger and though many forms still don't resolve, I see it as boldly confident, and as they've pushed it even farther in this updated GS, I find it even more appealing.
Inside both are excellent in terms of design and quality. Infiniti has been pretty consistent here; Q50s are well constructed of high-end materials, though I really think it is high time car companies embraced all the new textiles and brought back some lovely cloth coverings as an alternative to leather instead of faux leather—vinyl, really—being the basic offering. Lexus has recovered from its flirtation with cheapness; the GS is now the top shelf paragon I remember from my own 2007-year model.
Photos of the Infiniti Q50 2.0t
Both are roomy and comfortable—obviously the Lexus is the larger machine—and both have interfaces that boast some great features but aren't quite the best when you're on the move and focused on traffic or road conditions. The screen in the GS200t is an amazing site, but its mouse-like controller is still hard to land where you want on its 12.3in expanse. The Q50's two displays mean you're always able to see the navigation screen but they don't quite match in terms of resolution and how you interact with them. That said, I do find it more intuitive and easier in the long term than the Lexus' system.
But all this could apply to any of the models in each respective lineup. What we really want to know is how an engine of the size that used to power a basic econobox works in a premium car. In the Infiniti's case, it is a superb choice; rated at 208hp, the Mercedes-sourced engine runs much harder than you'd think, with excellent low- and midrange muscle (peaking at 258lb-ft) and a decent top end. It certainly bolsters the case that German horses are stronger than those bred in other countries, for whether it is the BMW N20, Audi's various fours, or now this Benz powerplant, they run much harder than their ratings imply. The Q50 7-speed transmission's programming helps; this is actually the best I've ever seen this gearbox behave, with smooth and snappy shifts and an intuitive ability to grab the right gear. The same cant be said of the Lexus's implementation. As in the NX200t, the numbers of 241hp/258lb-ft look competitive, but delivery is somehow grudging, with lag, then boost, then a flat top end. The car never feels as fast—or delivers the economy numbers—you'd hope. The 8-speed transmission is a bit lethargic in normal mode; bumping the systems up to Sport or Sport+ helps with lag, but makes the GS200t a bit high-strung. At a lower altitude it may be fine, but up here the superbly sonorous 3.5-liter V6 GS350 seems the better option.
Photos of the 2016 Lexus GS200t
One benefit of the smaller engine in both cars is that weight distribution improves and they both exhibit a liveliness to their front end response that betters their six-cylinder versions. Each also displays really nicely balanced handling and steering (as long as you don't opt for Infiniti's optional fly-by-wire system) and are fun in the corners.
Of the two it is easier to recommend the Q50 in 2-liter form; there seem to be no compromises that come with the smaller engine as compared to the outgoing VQ-series V6. Of course, now that Infiniti offers 300hp and 400hp twin-turbo models, those of us who are a bit power-mad might opt to spend more oomph, but for the vast majority of shoppers, the 2.0t is a perfect choice. In the case of the GS, the better option for Colorado is the lovely 3.5-liter six; it suits the Lexus' character better and allows one to focus on the incredible machine that it has once again become.
Info: Infiniti Q50 | Lexus GS200t
---
Isaac Bouchard is owner of Bespoke Autos, an auto brokerage that helps people save time, money and hassle when buying or leasing vehicles. Since 1991 he has helped his clients save over $1 million dollars. He has written extensively about getting the best deal possible when buying or leasing a vehicle, arranging financing or trading in a car. Isaac has been a professional automotive journalist as well for over 12 years, having reviewed most all types of car, truck and SUV.
Visit our Nice Drives section for more car reviews and comparisons.
Colorado AvidGolfer is the state's leading resource for golf and the lifestyle that surrounds it. It publishes eight issues annually and proudly delivers daily content via www.coloradoavidgolfer.com. Follow us on Twitter, Facebook and Instagram.