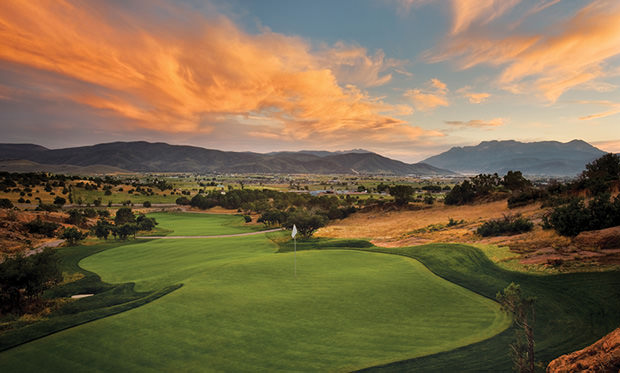 Color Outside the Lines in Utah
---
The weather is turning here in the Denver area and it's time to start looking to our southwesterly neighbors for warmth and the continuation of golf season. Highlighted by one of the best golf trails in the region, Utah and the St. George area abound with golf destinations every player should salivate at the chance to play. From Sand Hollow to Sky Mountain, you're sure to find a favorite or two in Utah.
---
Southern Utah's Premier
 Golf Destination
Sand Hollow Resort blends the appeal of the state's top golf course (per Golfweek, eight years running) and a spectacular red-rock setting with six types of foursome-friendly suites, spacious villas and luxury homes; two swimming pools and numerous other amenities. The clubhouse grill serves dinner Tuesday through Thursday, and then turns into a live music venue Friday and Saturday nights. Attentive service, equipment rentals and local opportunities for boating, motor sports, biking, and hiking at Sand Hollow Reservoir, the Sand Mountain Dunes, and Zion National Park help complete the rosy picture. sandhollowresort.com
---
27+ Holes of Award-Winning Golf
Framed by the native landscape, Sand Hollow's 7,300-yard, Par-72 John-Fought-designed Championship Course perpetually cops top honors among Utah courses. It takes brilliant advantage of the red rock outcroppings, natural vegetation, indigenous sand bunkers and rolling fairways that define the region's beauty. And that's just the front nine. The back nine holes, as Fought says, "are unlike anything in the West." They tightrope along ledges, undulate wildly and perch precipitously along a towering ridgeline, affording camera-worthy views and birdie-worthy shots. sandhollowresort.com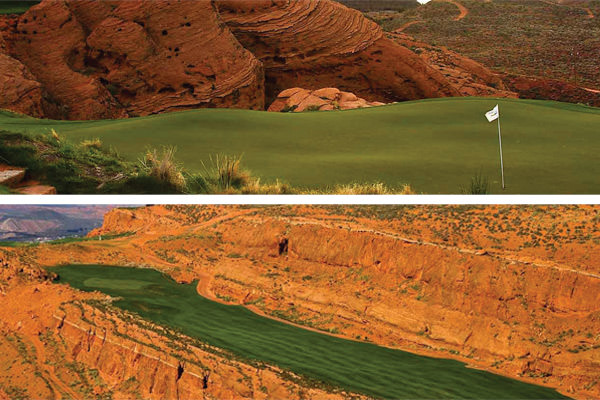 The Auld Sod inspired Sand Hollow's 3,600-yard 9-hole Links Course, designed by Fought and Andy Staples. It suggests an old-world course—i.e. sheep fencing—with a desert twist and the state's largest greens and fairways. sandhollowresort.com
Pitch, Chip, Flop, bump and run and lob your way around Sand Hollow's nine-hole Wee Course, which offers both fun for the whole family and a quick short-game practice round. Holes vary from 50  to 120 yards, and require players to hit those pesky scoring shots to go low.  sandhollowresort.com
---
Stops on the Trail

From the Elevated teeing areas, the appropriately named Sky Mountain Golf Course delivers amazing views of Zion National Park and the azure rim of the distant Pine Valley Mountains.  A public 18-hole golf course owned and operated by the City of Hurricane, the 6,383-yard Jeff Hardin-design plays tougher than the scorecard suggests. redrockgolf.com
The Santa Clara River weaves along the narrow front nine of the eminently walkable Southgate Golf Course, bringing water—and your ability to avoid it—into play on eight holes. The slightly longer back nine adds the element of risk/reward and allows you to recover shots lost on the front nine. redrockgolf.com
The History of golf in the St. George area begins in the mid-1960s with the nine-hole par-34 Dixie Red Hills Golf Course, which took St. George from a gas-station stop to a true place of tourism. In addition to sandstone formations, hundreds of mature cottonwoods and pines provide ample shade when it's hot. redrockgolf.com
---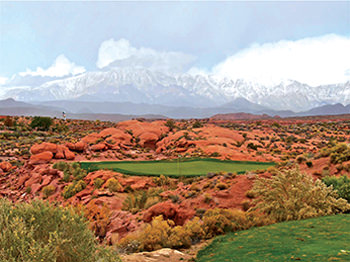 Colorful Golf in St. George
Comprising 10 stellar golf courses within a 30-minute radius, the Red Rock Golf Trail is a complimentary service provided by the St. George and Zion National Park Tourism Office. In addition to Sand Hollow Golf Resort, the service connects you to the nine Southern Utah courses of Sunbrook, Coral Canyon, Southgate, Dixie Red Hills, Green Spring, Sky Mountain, as well as The Ledges Golf Club, St. George Golf Club and Falcon Ridge Golf Course in Mesquite. A one-stop shop for staying and playing, The Trail has partners with 11 hotels, two of which—Sand Hollow in Hurricane and The Ledges in St. George—are located on-property at the golf course. redrockgolf.com
Ever play golf in a postcard? At The Ledges Golf Club (pictured atop) in St. George, that's what the red rock panoramas from the rim of Snow Canyon State Park make you feel like. Designed by Matt Dye, this innovative and challenging 7,200-yard course has a friendly atmosphere with an upscale pro shop and delightful Fish Rock Grill restaurant. The front nine sets up well to help you break in your driver, and the back nine is a great test of iron play. redrockgolf.com
---
These excerpts appear in the 2017 Fall Issue of Colorado AvidGolfer, the state's leading resource for golf and the lifestyle that surrounds it, publishing eight issues annually and proudly delivering daily content via coloradoavidgolfer.com. For more information and travel tips on Utah and other destinations, read our 2017 Fall Travel Guide.