Following his legendary father's lead, Colorado's David Duncan uncorks Silver Oak's potential.

By Jon Rizzi
---
HE OCTOBER FIRES that whipped through Northern California's wine country consumed 200,000 acres, killing at least 41 people, displacing 100,000 more and leaving as many as two-dozen wineries and vineyards damaged or destroyed. Apart from some personal losses endured by employees, Silver Oak Cellars and its sister, Twomey Cellars, sustained "little direct impact from the fire," according to Silver Oak CEO and President David R. Duncan.
The news came as a great relief to the multitudes of Silver Oak aficionados across Colorado and the U.S. who have made the brand's iconic Napa and Alexander Valley Cabernet Sauvignons among the best-selling and well-respected wines in the world. On February 3, hundreds of devotees will flock to its Oakville Winery to attend the Release Day of the 2013 Cabernet Sauvignon—a $50-per-person pilgrimage highlighted by limitless wine and plates of delicious food prepared by Winery Chef Dominic Orsini.
The Oakville Winery receives throngs of visitors daily, many of their cars sporting "Life is a Cabernet" license-plate holders. They come not just to taste vintages or buy the bottles (Napa runs $125, Alexander Valley $75), but also to celebrate and reflect on their own personal Silver Oak connections, what Duncan calls "bottle stories."
"It's amazing and deeply gratifying to hear people talk about the impact our wines have on their lives," says the CEO. "It's really about the people and the experiences: the couple that drinks it on every anniversary or always serves it on Thanksgiving; the people who made it a part of a memorable meal; even the tattooed Millennials who say they love Silver Oak because it's been on their parents' tables for as long as they can remember." Relishing this, Duncan freely gives out his email address and invites posts on Twitter and Facebook, many of which appear at silveroak.com.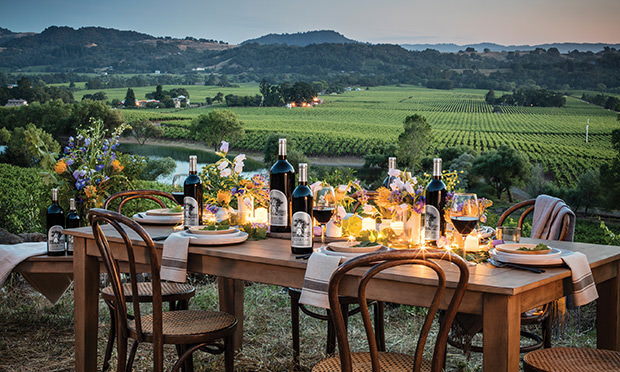 Silver Oak, which David's father, Ray Duncan, co-founded in 1972 with vintner Justin Meyer, may have helped put California on the international wine map, but its origin story is 100-percent Colorado.
That story begins in 1958, when Ray Duncan, a Notre Dame grad and Korean War veteran, moved from Indiana to Durango to join his father in wildcatting oil and gas. He founded Duncan Oil, and in 1965—the same year David, the youngest of his four sons, was born—also founded Purgatory Ski Resort. In 1968, the family moved to Den-ver, where Duncan Oil still headquarters.
Visiting college friends Jack and Mary Novak of Spottswoode Winery in the Napa Valley in 1970, the entrepreneurial Duncan saw an opportunity in the budding California wine business and started buying land to grow and sell grapes. He met Meyer, a Christian Brothers winemaker, who convinced him also to open a winery devoted exclusively to producing a rich, complex Cabernet Sauvignon achieved through an extensive aging program of approximately 25 months in American oak barrels and 15-20 months of cellaring in bottle. Silver Oak's first vintage, the 1972 North Coast Cabernet Sauvignon, produced with grapes from its Alexander Valley vineyard, didn't go on sale until 1977. (That pattern continues to this day: Silver Oak released its 2013 Alexander Valley Cabernet Sauvignon in August 2017; the 2013 Napa Valley releases in February.)
From the get-go, connoisseurs raved about Silver Oak, which by the early 1980s featured two wines per vintage—one each from grapes harvested in their respective valleys and made into wine at separate wineries.
By the late early '80s, the cult of Silver Oak had begun. It found fertile ground in Colorado, thanks to Ray Duncan's high profile in the state's business and philanthropic communities. His involvement extended to golf as well, when in 1981 he became one of the 12 founders of Castle Pines Golf Club, started by fellow oilman Jack Vickers.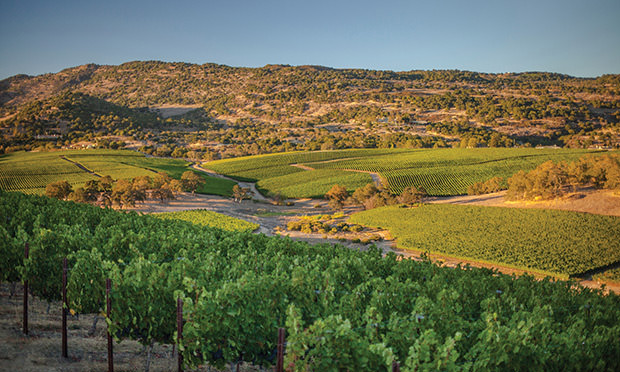 David attended Cherry Hills Elementary School, where he vividly remembers teacher Ruth Ann Steele's "Clean Air, Land and Water" ecology lessons. While at Kent Denver and during breaks from his studies at Notre Dame, he played "at least 150 rounds" at Castle Pines. "Then I went to work for the oil company," he says. "Eventually someone—I think it was Mr. Vickers—strongly suggested I become a member or stop coming. So I joined. I'm still a member, to honor my father's legacy, though I honestly haven't played a lot of golf." The 23 handicap still keeps his card at Castle Pines, where he last recorded a round in 2002.
In addition to stroking putts, the teenaged Duncan spent summers riding horses, roping cattle and baling hay at Diamond Tail Ranch, the family ranch just south of the Wyoming border. There he developed the work ethic and environmental and agricultural appreciation that would carry over during trips with his father to Napa and Sonoma. After working as Duncan Oil's exploration manager, David became its president while pursuing his MBA at the University of Denver. His final project? A financial model for Silver Oak Cellars.
Why not for Duncan Oil? "My father once told me something Justin Meyer said in the '80s," David remembers. "'Raymond,' Justin said, 'the way I look at it, the barrel you're producing is worth $30; the one I'm producing is worth $30,000.' I'll never forget that."
When Meyer retired in 2002, Ray asked David to move to California and run the business. David's brother Tim would serve as vice president. Three years earlier, the Duncans had started Twomey Cellars, which today produces distinctive Merlots in its Calistoga winery and Pinot Noirs and Sauvignon Blancs in Healdsburg.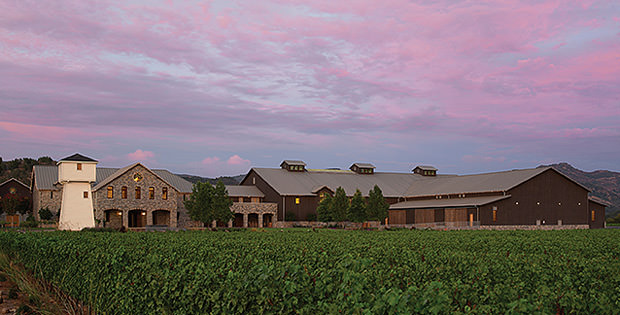 Ray Duncan died in 2015. "My dad was an amazing guy," David says. "I worked side-by-side with him for 25 years. In no way did he quit and I take over. But I had to make it my own. You incrementally do what you do and make it better."
David got his first trial by fire 11 years before October's conflagrations. In February of 2006, he arrived at Silver Oak's original winery in Oakville to find it engulfed in flames. The management team retreated to Ray Duncan's home on the property. "What are we going to do?" CFO Rickie Piña said.
"I said, 'We're going to rebuild the winery!'" David recalls. "You could just feel the tension leave the room. It was a seminal moment."
Not only did they rebuild the winery, they did it David's way. Combining the lessons he learned in Colorado with innovative leadership, he seized the opportunity to rethink the business. He employed forward-thinking proprietary technologies and analytics from Silicon Valley companies and installed 1,500 solar panels to power the site. He achieved sustainability by building with thousands of reclaimed white oak 4-by-4s and another 550 tons of chipped-face limestone from a dismantled Kansas flour mill. The winery was the first commercial winery in the world to be Platinum LEED (Leadership in Energy and Environmental Design) certified by the United States Green Building Council. Visiting is itself a "bottle story."
The same distinction should apply to Silver Oak's new Alexander Valley Winery, which is scheduled to open early in 2018. Located on the lush 113-acre former estate of the Sausal Vineyards and Winery in Sonoma County, the state-of-the-art structure is employing the same sustainable principles the Oakville winery, incorporating alternative energy sources, water-reuse solutions, reclaimed building materials, LED lights and the kinds of ecologically progressive elements that would have made Mrs. Steele proud.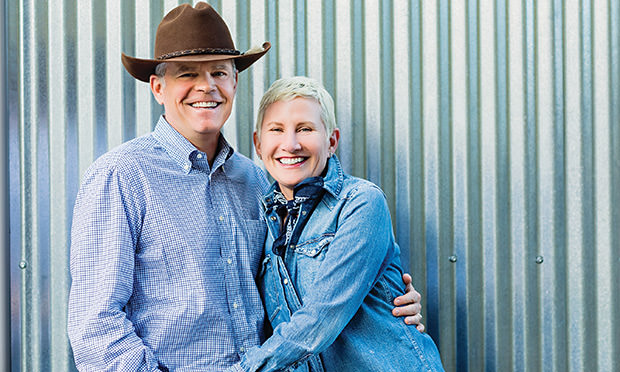 David and his wife Kary, a dermatologist, have three children. He sits on the boards of numerous California industry, charity and civic organizations—many of which have raised millions in wildfire relief aid—and even sings in a band of winemakers known as the Silverado Pickups. "I'm a Wine Country cowboy," he croons. "My soul is in the soil, and my blood runs through these vines."
But it's the way David Duncan has run the company for the last 15 years that hits the highest note. On his watch, Silver Oak and Twomey have acquired no fewer than 16 vineyards and in 2015 became the first North American winery to own and operate an American oak-barrel cooperage, giving the winery total control over the quality and supply of the barrels that give Silver Oak Cabernet Sauvignon its distinct aroma, flavor and texture.
"We're not in pursuit of more," Duncan says, "we're in pursuit of better, and there's no question in my mind—and the market supports it—that we're making the best wines we've ever made."
For that he credits a loyal and devoted staff, especially Nathan Weis, who in 2016 succeeded the retiring Daniel Baron as director of winemaking. Weis, Baron and Justin Meyer are the only winemakers in Silver Oak's 45-year history. "Consistency has built the brand," Duncan says. "People identify with the style. They trust it. That's my favorite word about Silver Oak: Trust."
---
This article appears in the Winter 2017 Issue of Colorado AvidGolfer Magazine, the state's leading resource for golf and the lifestyle that surrounds it, publishing eight issues annually and proudly delivering daily content via coloradoavidgolfer.com.