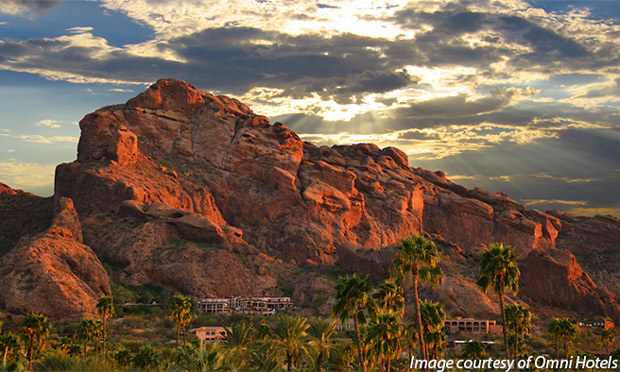 The Best Scottsdale Hiking, Biking, and Adventure
We're pretty bullish here on our golf, especially when it comes to traveling down to Arizona in the winter— but even more adventure is in our Coloradan blood. We introduced you to some of Scottsdale, Arizona's best golf resorts and courses to play this fall, but you can't play golf all day every day…
Check out some of our favorite Scottsdale hiking and adventure destinations to get that outdoor fix you're craving this fall and winter. Just because the snow is on it's way doesn't mean you need to put the camping and hiking gear away! Go west, young man, and take the dog with you.
---
Camelback Mountain
One of the most popular hiking destinations in the Scottsdale area is the 2,704 foot summit of Camelback Mountain (pictured above). Complete with two main trails, Cholla and Echo Canyon, Camelback is home to the best Paradise Valley views around. Explore dozens of caves, Hohokam dwellings and scale ample free climbing areas throughout the north-facing portion of the hike. Prime hiking months are October-April, so get after it!
---
Mountain Biking Loops for Days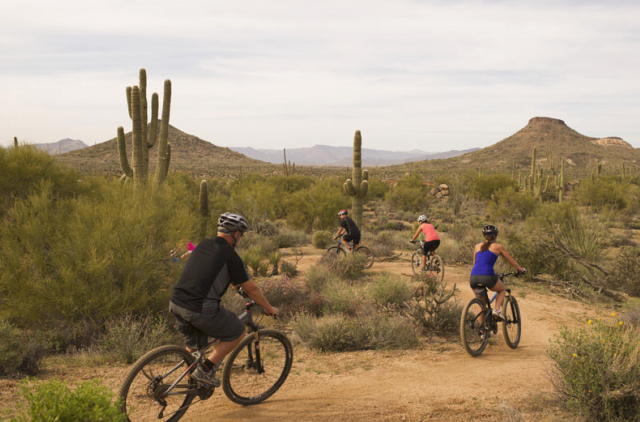 Advanced mountain bikers looking for the most rigorous terrain should hit the steep Gateway Loop or the technically demanding National Trail at South Mountain. For gentler rides, head to McDowell Mountain park's popular 15-mile Pemberton Loop, Desert Park and Coachwhip trail. 360 Adventures, among other outfitters, provides exhilirating tours for all levels. For more information visit: 360-adventures.com
---
MacDonald's Ranch
Looking for a different way up the mountain? Then saddle up! The premier Scottsdale stable, MacDonald's Ranch, specializes in individual, group and moonlight horseback and stagecoach rides, cookouts and more! Hop on at: macdonaldsranch.com
---
Tom's Thumb in McDowell Sonoran Preserve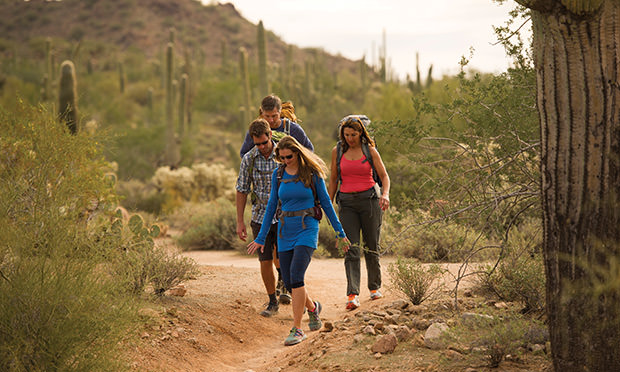 A trail mix from easy to difficult can be found in the superb Hiking and Trail Guide available at the Scottsdale Tourist Information Center in Fashion Square. Among the recommendations is the 30,200-acre McDowell Sonoran Preserve, where five trailheads lead to a latticework of two-footed adventures such as the Granite and Cholla Mountain loops and the slightly tougher Tom's Thumb Trail. Also at the preserve, Sunrise Trail to Sunrise Peak, a popular morning excursion. Learn more: experiencescottsdale.com
---
Pinnacle Peak
The 1.75 mile manicured trail winds up and over the shoulder of one of Scottsdale's most distinctive formations, thrusts up and down through a bend of saguaro, cholla, ocotillo, creosote and more. Rewards come at two overlooks with benches. The top, which requires the deftness of an experienced rock climber, is a little farther up. The trail isn't a loop, so you get to double your fun coming down! Learn more at: experiencescottsdale.com
---
Some of these excerpts appear in the 2017 Fall Issue of Colorado AvidGolfer Magazine, the state's leading resource for golf and the lifestyle that surrounds it, publishing eight issues annually and proudly delivering daily content via coloradoavidgolfer.com. For the full Travel Guide and issue, click here to view the Digital Issue.