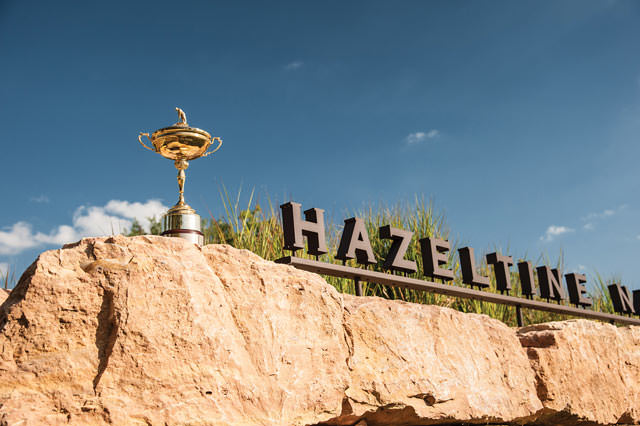 1. Davis Love III follows seven other men as a multiple-time Ryder Cup captain. Which of the following legends is not among them?
a) Walter Hagen
b) Ben Hogan
c) Arnold Palmer
d) Byron Nelson
2. Which former Ryder Cup player said Hazeltine, then the site of 1970 U.S. Open, was missing "only 80 acres of corn and a few cows to be a good farm"?
a) Dale Douglass
b) Dave Hill
c) Sam Snead
d) Tommy Bolt
3. In what year did the U.S. team lose for the first time in the United States?
a) 1987
b) 1931
c) 1983
d) 1995 
4. Which course was the site of Jack Nicklaus' famous "concession" in the 1969 Ryder Cup?
a) Royal Lytham & St. Anne's
b) Muirfield
c) Old Warson
d) Royal Birkdale
5. How many Ryder Cups have ended in ties?
a) 1
b) 2
c) 3
d) 4
6. Which American on this year's team* has the highest winning percentage in Ryder Cup competition?
a) J.B. Holmes
b) Phil Mickelson
c) Patrick Reed
d) Dustin Johnson
7. Which European on this year's team* has the highest winning percentage in Ryder Cup competition?
a) Justin Rose
b) Rory McIlroy
c) Henrik Stenson
d) Sergio García
8. Which American never lost a match (minimum of three Ryder Cup appearances)?
a) Jack Burke 
b) Jimmy Demaret 
c) Horton Smith 
d) Ben Hogan 
9. Which European has the all time highest winning percentage (minimum of three  Ryder Cup appearances)?
a) Colin Montgomerie
b) Ian Poulter
c) José María Olazábal
d) Luke Donald
10. Which U.S. course will host the 2020 Ryder Cup?
a) Whistling Straits
b) The Country Club (Brookline)
c) The Ocean Course (Kiawah)
d) Oak Hill
11. Who holds the all-time Ryder Cup record for most points?
a) Walter Hagen
b) Nick Faldo
c) Colin Montgomerie
d) Jack Nicklaus
12. Which of these European countries has never had a Ryder Cup participant?
a) Belgium
b) Denmark
c) Italy
d) The Netherlands
*As of August 15, 2016
Scroll down for answers…
This article appears in the Fall 2016 issue of Colorado AvidGolfer.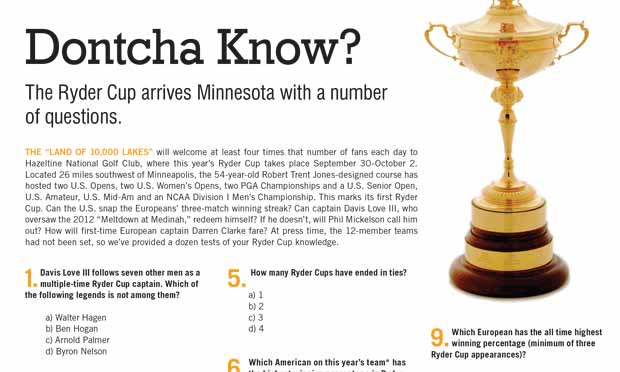 [box]Ryder Cup 2016:
U.S.A. Proves Equal to Ryder Cup Task. Photos & Video from the 2016 Ryder cup
The Numbers Game: How data analysis is having an impact on the 2016 Ryder Cup
The Unseen Hours: The role of practice in preparation for the Ryder Cup
The State of Mind: How to 'Get in the Zone'
How do you direct 4,000 Ryder Cup volunteers? Q&A with Eric Wilkinson
Dontcha Know? Ryder Cup Trivia[/box]
Colorado AvidGolfer is the state's leading resource for golf and the lifestyle that surrounds it, publishing eight issues annually and proudly delivering daily content via coloradoavidgolfer.com. Follow us on Twitter, Facebook and Instagram.
ANSWERS: 1-d, 2-b, 3-a, 4-d, 5-b, 6-c, 7-a, 8-b, 9-b, 10-a, 11-b, 12-d